Arctic Cooling MX-4 Thermal Compound
Everywhere I look there are new thermal compound revisions and Arctic Cooling is the first to submit a sample of MX-4 to our labs for the latest gen in interface materials testing.

Published Tue, Jul 6 2010 1:48 AM CDT
|
Updated Tue, Nov 3 2020 7:02 PM CST
Introduction

Arctic Cooling needs no introduction; they have been around forever it seems. They have been making coolers for both CPUs and graphics cards for as long as I can remember and also they're the makers of one of my favorite thermal compounds, MX-2. The reasons behind why it is my favorite compound? Well, first off, it spreads very nice. There is no need for a special spatula or use of a credit card. Just put a blob in the middle of the die and spread it around by any means. Secondly, it takes no time to cure and has no conductive properties, a definite plus, especially if you apply too much material. In this case, what squeezes out the side will cause no harm; it just makes for a bit more cleanup later. The last reason I usually go for a tube of MX-2 is the availability and pricing.
I have seen better thermal compounds, especially since I get to try a few for free each year. I know the guy sitting at home doesn't want to shell out $5-10, sometimes even more for a tube of paste, especially for a test like this one where that would require getting something like $50 worth of TIM just to see if it was even worth it in the first place. So I dug through a box I have filled with various tubes of compound and brought them to testing to compare with our latest submission to TweakTown's labs.
Today we are looking at a pre released sample of MX-4 so I can test it and tell all of you what I found. Since I use AS-5 for the TECC and I usually use MX-2 for my daily replacement TIM, I am eager to see what the new evolution of TIM from Arctic Cooling brings to the table. I know from previous testing that I did, I found that the MX-3 from them was a better performer, but was more of a pain to spread evenly without using a spatula or a card of some sort. I found it was more a paste that you were best served to just put it in various spots on the die and use the compression of the cooler to do the spreading for you.
Let's venture further into the testing and see how the new MX-4 compares with some very well known TIMs already on the market today.
Specifications, Availability and Pricing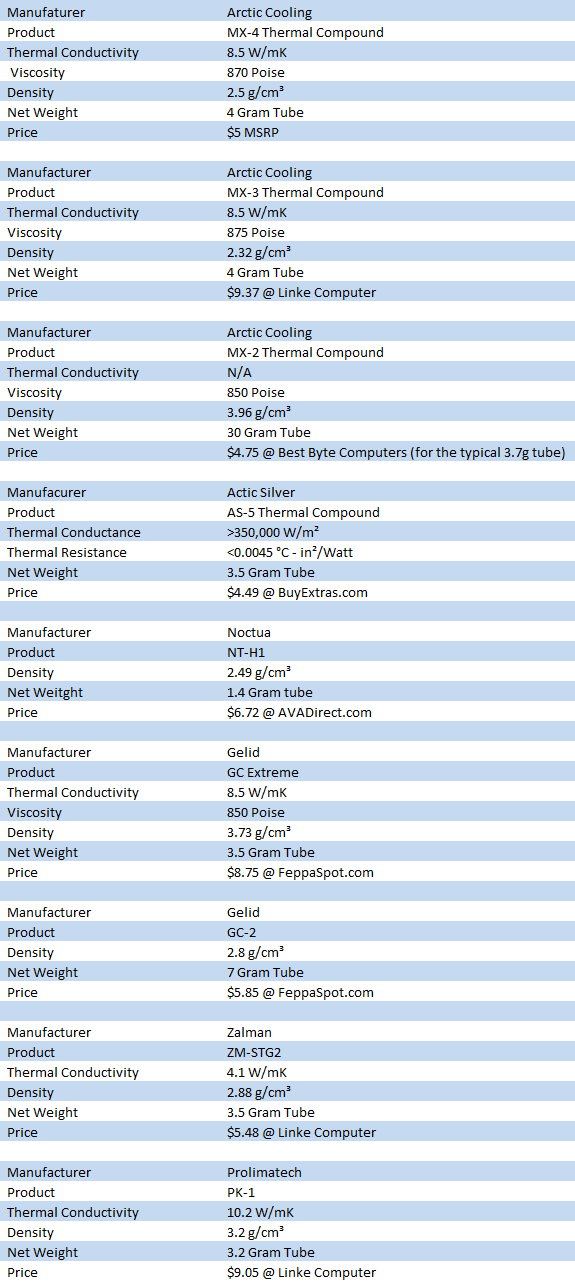 I went ahead and listed all the specs for the TIMs I would be testing today, so that you could run a head to head comparison of all of the compounds properties that are available. The MX-4 from Arctic Cooling is listed first and shows that this new compound keeps the same thermal conductivity of 8.5 W/mK as did the MX-3. Viscosity is at 870 Poise for the MX-4, which is a little less than the MX-3, but a little more than what MX-2 offers. The density of the MX-4 comes in at 2.5 g/cm, and again is less than the MX-2 by a lot, and just more than what MX-3 offers. What does this all mean? Well to me, just from the specs I see of these three compounds, I would guess that theMX-4 is a bit more easily spread than MX-3, but should offer similar temperatures, but we will let a huge series of tests do that math for us.
One of the biggest complaints I heard from MX-3 users, was the fact that the paste just wasn't spreadable. It seems Arctic Cooling has taken that into consideration with the new release. On top of the customer base, it only seems right that a new product should not only be easier to use, but should also perform better. My previous thermal compound tests showed that even though they got the consistency wrong with MX-3, they did however make a better product. Conducting heat is the main job here, so I will throw the "spread-ability" of the compound out the window, and just state, that at least MX-3 was a better product than MX-2 in the resulting temperatures during its use. Let's see if they got it right with MX-4.
Another thing I listed across the specs chart was the cheapest pricing that I could locate a tube of any of the other TIMs. Here is where Arctic Cooling got it right. With an MSRP set at $5 per every 4 gram tube, even if it doesn't score as the best, it is surely an affordable solution to your TIM needs. As you can see there are a few others that list at around or below that $5 mark, but most only supply 3.2 - 3.7 grams of material, where Arctic Cooling offers a few more tenths of a gram per tube, and honestly that is one or more CPU applications in each tube for your dollar. Word around the Arctic Cooling camp is that the new MX-4 will be ready, with packaging, around mid August, so keep your eyes peeled at your favorite e-tailers, as it is only like six weeks away now.
MX-4 and The Competition

Since we got the sample of MX-4 as a pre-released product, there is no packaging. My sample of MX-4 arrived in a plain brown box with some paper packing inside. Arctic Cooling does seem to have a design and artwork concept already, as they did take the time to have sticker made for the four gram tubes for our testing. Nothing out of the ordinary here, they kept the same syringe and press on cap design we are already used to.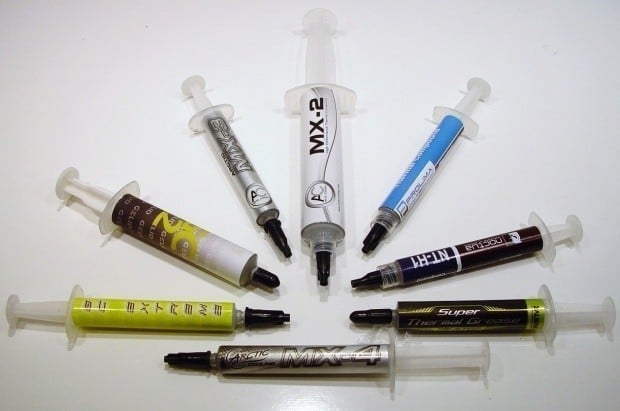 You saw the list of specs for them all, and here is the competition with the MX-4 sitting front and center.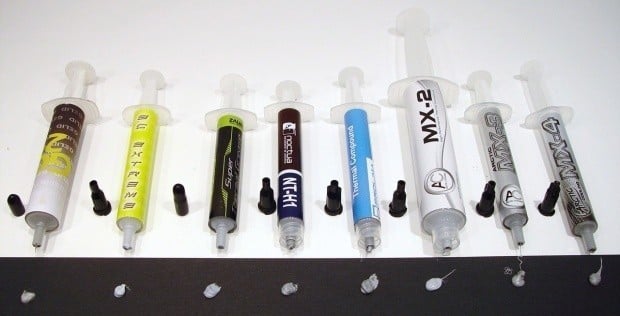 I wanted to do a small "spread-ability" test for all of the TIMs in the lineup. I know I can't be the only guy out there who likes the ability of putting a "dob" of material on a die and just spreading it thinly with a finger tip. As you can see, I tried to squeeze out equal amounts of TIM for each on the list.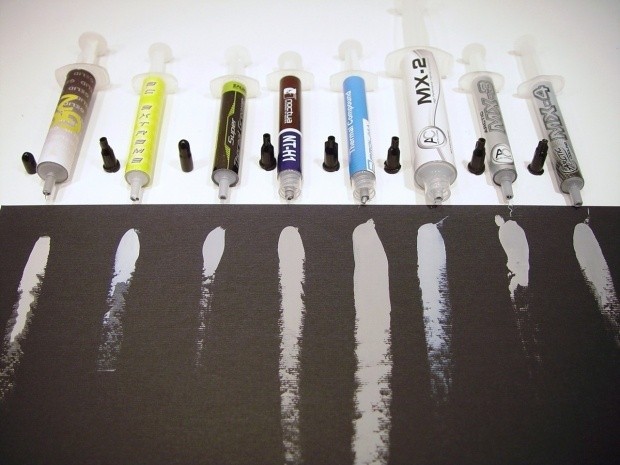 Taking a few of the spatulas I received from Gelid over the years, I took the spatula to each "dob" of the TIM. The coarseness of the paper is not unlike a milled heatsink, so it shows very similar results as if it was applied to a heatsink or IHS. You can see that the NT-H1, the PK-2 and the MX-2 in the middle along with the GC-2 spread well with even the spatula. The other four are what I would say are those that have limited "spread-ability" and will most likely end up with more material on the spreader than on the surface.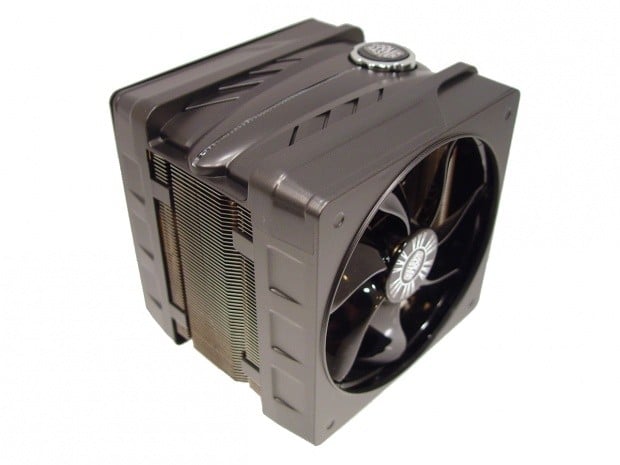 This is the other half of the torture testing. I will be using the new Cooler Master V6 GT to do the cooling, while our TECC brings on the pain from underneath.
Testing and Results
Each of the compounds in the testing were all set on the HIS and spread as consistently as humanly possible. Once the compound was on and the cooler was in place, I allowed the TECC to run for thirty minutes to allow for any settling or setting of the compounds. After the thirty minute set in run, I allowed the box to cool down and ran idle and load testing three times for each compound. The results in this chart are the average of the three runs for each of the compounds.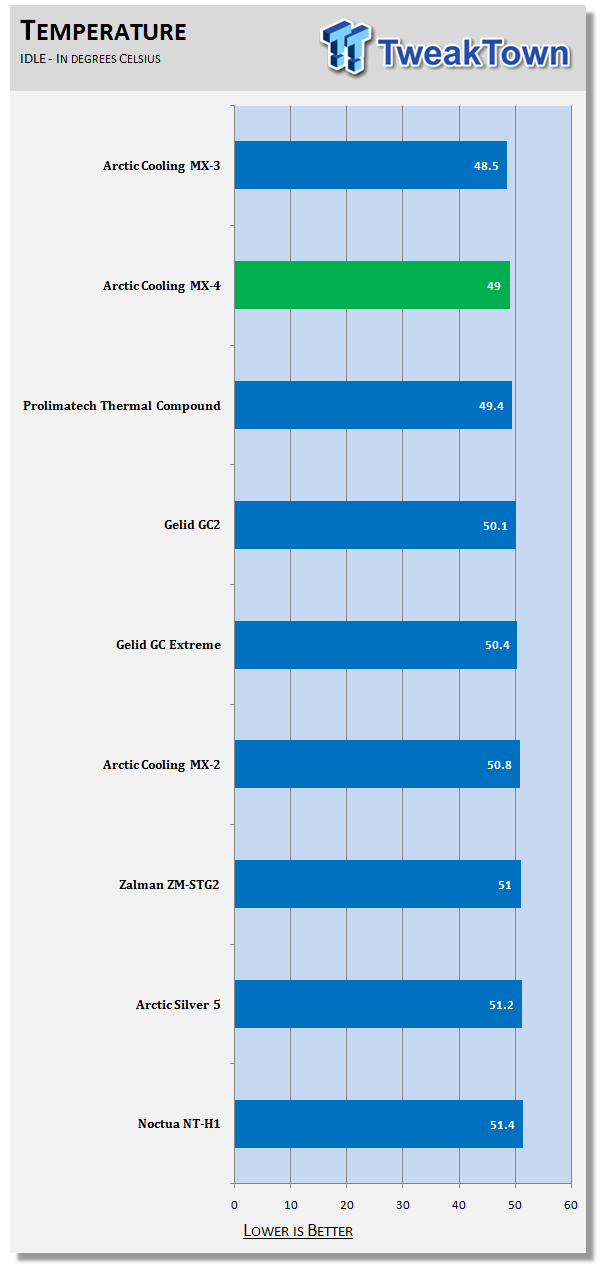 Under 9.5V idle testing the MX-4 falls slightly behind the runs with MX-3, but does cool better than all of the rest I tested.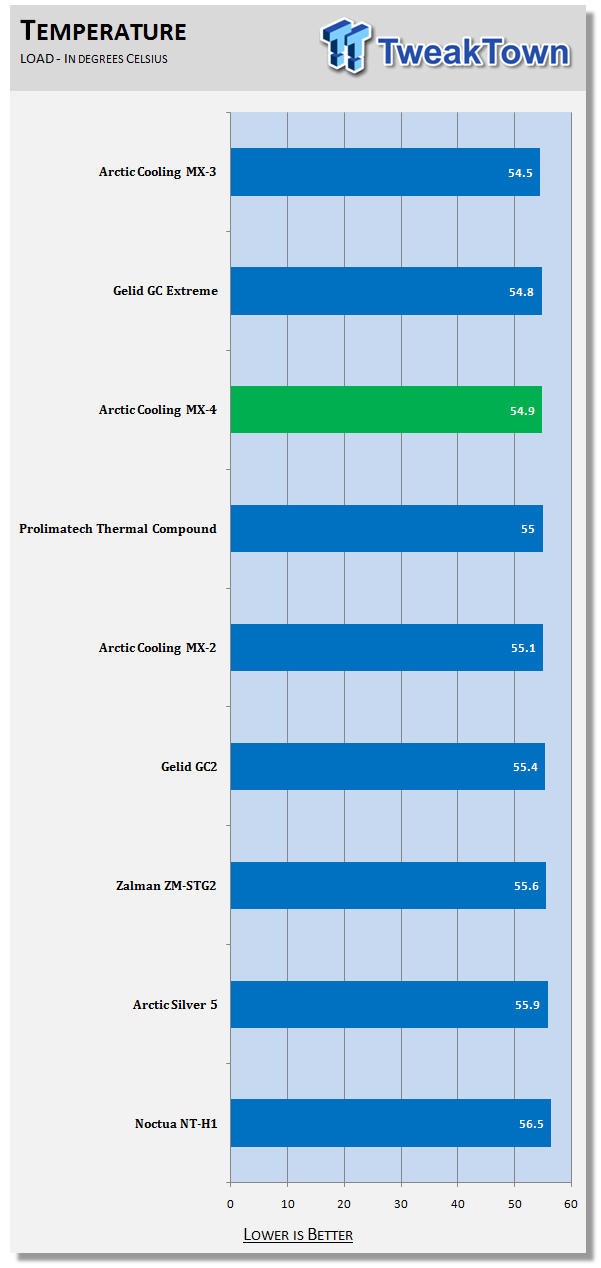 Falling to third position under load tests was a surprise, but we are talking about 0.4 degrees between first place and the MX-4 in third. Not a bad showing at all.
Final Thoughts
While MX-4 didn't take top honors in either the idle or load testing, it does do well in a couple other categories. First off, for the four gram tube of MX-4 it will only set you back $5. To get either paste that tested just a slight bit better, it will cost you near twice as much. Bang for the buck, I would deal with less than half of a degree to get twice as much MX-4 as the other two in the top three. Secondly, while still not the most spreadable TIM, it does move better than MX-3 while on the TECC. I was able to play around a bit, and I got similar results spreading MX-4 with a baggie covering my finger. With a bare finger, I did end up with more on my finger than I did on the TECC's IHS, but there are more ways to apply than just the basic finger.
What this testing proves beyond a shadow of doubt is that just like with air cooling, I think it will take a revolution in compounds to bring out the "next big thing" in thermal transfer materials. With an above average cooler, the choice of TIM, as I see it, isn't going to make or break an overclock, especially with today's Intel processors that will operate just less than 99 degrees Celsius. So in other words, one or two degrees isn't going to be the breaking point in an OC, nor will one degree make or break the reason to re-apply it to a GPU when the drop in temperatures could be as much at ten degrees, there is room to give one up. To me it really comes down to other criteria than getting every last degree from a compound.
The biggest thing MX-4 has going for it is the pricing. I mean, who doesn't like getting double the product for your hard earned dollar? While not topping the charts, for a compound released today, a $5 price tag makes you look past other downfalls. I really don't mean to say downfall, as I don't take half a degree as a real issue. If I want that half of a degree I can just as easily get that if I want it, but I see no need to shell out more money for that little of a gap. I will give you the same advice I spread like wild fire on the forums. Most of the top brands of thermal Interface materials offer only a two to three degree gap from worst to best, so just buy what is high on the list at the best value. Arctic Cooling's MX-4 is exactly one of these compounds and I will suggest when it becomes available you give it a try for yourself.
PRICING: You can find products similar to this one for sale below.

United States: Find other tech and computer products like this over at Amazon.com

United Kingdom: Find other tech and computer products like this over at Amazon.co.uk

Australia: Find other tech and computer products like this over at Amazon.com.au

Canada: Find other tech and computer products like this over at Amazon.ca

Deutschland: Finde andere Technik- und Computerprodukte wie dieses auf Amazon.de
We openly invite the companies who provide us with review samples / who are mentioned or discussed to express their opinion. If any company representative wishes to respond, we will publish the response here. Please contact us if you wish to respond.