Introduction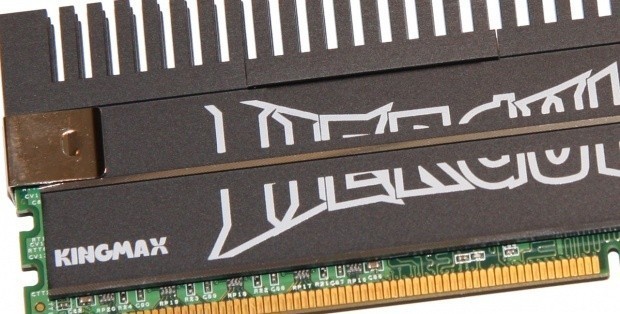 Every time I think of Kingmax my mind instantly goes back to the days of wishing so much that I could buy PC-150 TinyBGA modules from them, but only being able to afford PC-133 Apacer modules. There was a time when Kingmax was the memory to own; when we moved to DDR2, though, they did get left a bit in the dust to new performance company Corsair with its XMS lines of overclocked memory.
These days, though, it's almost impossible to call a specific memory company an outright winner; the performance arena is full of so many brands that you can just about buy RAM at any price point you want.
Over the years we've seen Kingmax pull out a few stand-out performance modules, but recently they've been fairly quiet. With some new kits out and a new Hercules series they might just have what they need to get back into the lime light again.
Let's have a look at what Kingmax are bringing to the table in this 4GB kit before we look at the all important overclocking ability and performance of these modules.
The Packaging and Modules
The Package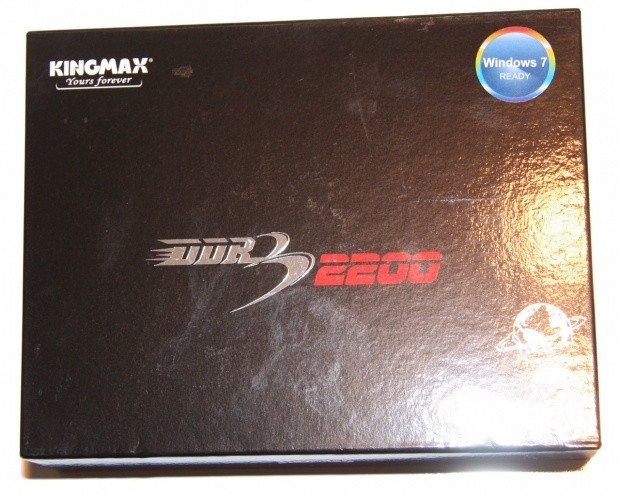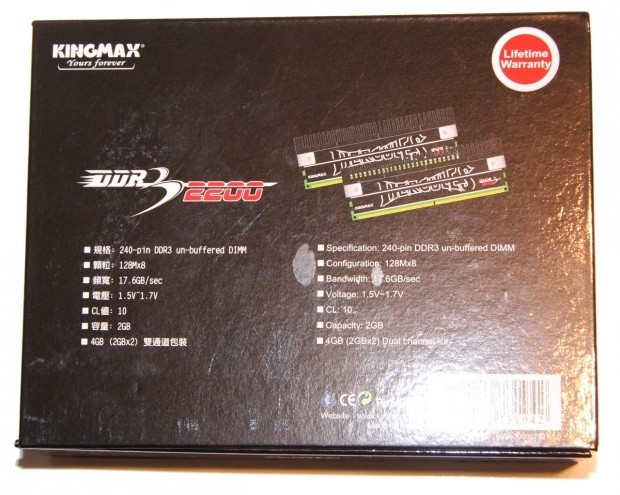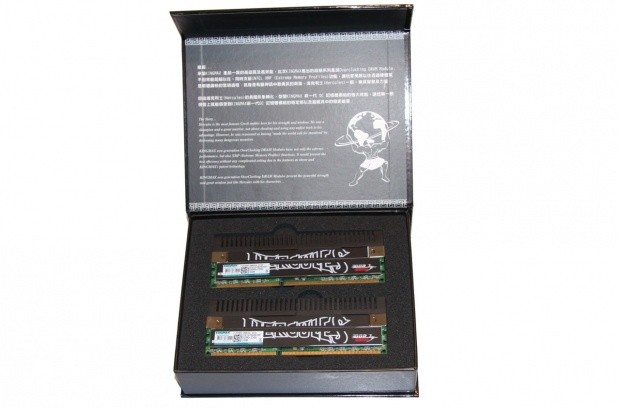 Kingmax have gone a bit fancy on the package compared to many other companies we see. Considering the $200 US a module Corsair Dominator GTX comes in a brown box, it's nice to see a bit of retail packaging. With the speed and other standard information on the outside of the box, when you open the inside you can see a bit of a blurb about Hercules. Yes, there's more to him than just a TV character.
The Modules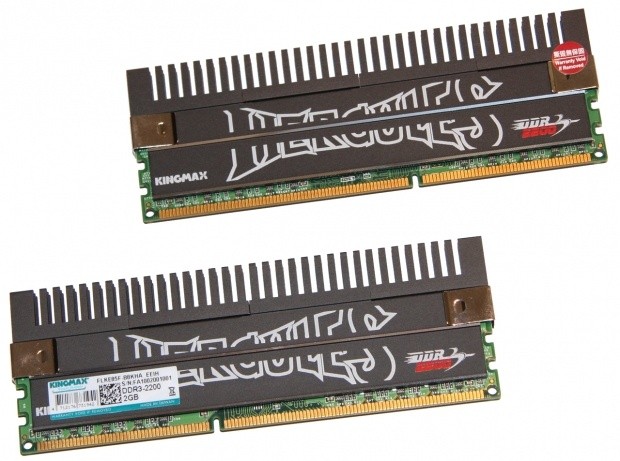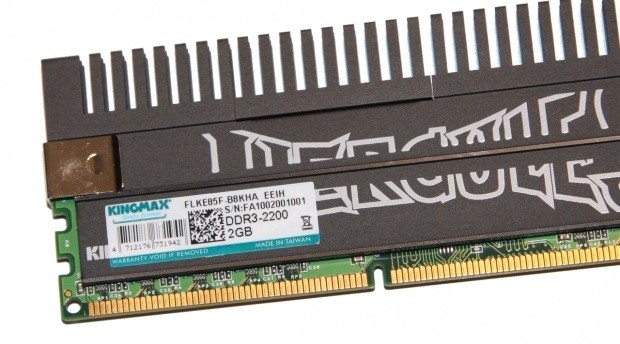 The kit itself looks really nice, not just in a design way, but in the quality of the heatsink. The heatsink is really high quality and feels absolutely fantastic. We can see the Hercules name on each side along with the DDR3-2200 logo. One side also has a little sticker with speed, size and serial number information.
Overclocking
This isn't the first time we've tested modules with such a high standard MHz, so we expected not to run into any problems; and we didn't! - Which doesn't come as much of a surprise.
On the timings front the kit is fairly relaxed with a 10-10-10-30-2T setup at 1.65v.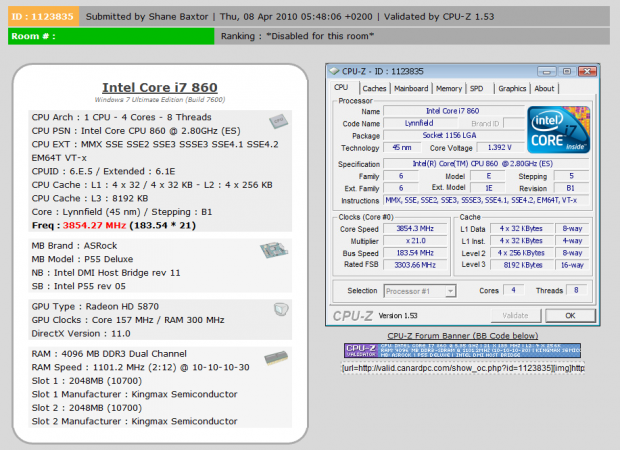 You can see the validation
here
.
What we had hoped to achieve from the kit with the relaxed timings was a higher overclock than usual, even though they're already carrying a stock 2200MHz DDR clock.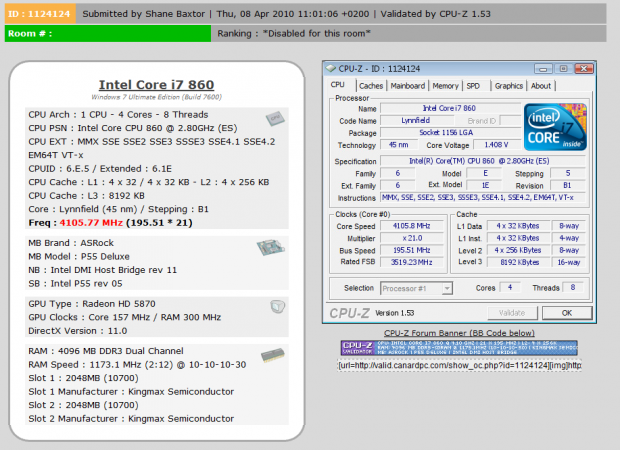 You can see the validation
here
.
The good news is that we flew past 2300MHz DDR and ended up at a very nice 2346MHz DDR at the same 10-10-10-30-2T @ 1.65v setup. The gains should yield with it some impressive performance increases, so let's get stuck into it and see for sure.
Important Editor Note: Our maximum overclocking result is the best result we managed in our limited time of testing the memory. Due to time constraints we weren't able to tweak the motherboard to the absolute maximum and find the highest possible FSB, as this could take days to find properly. We do however spend at least a few hours overclocking every motherboard to try and find the highest possible overclock in that time frame. You may or may not be able to overclock higher if you spend more time tweaking, or as new BIOS updates are released. "Burn-in" time might also come into play if you believe in that.
Test System Setup and wPrime
Test System Setup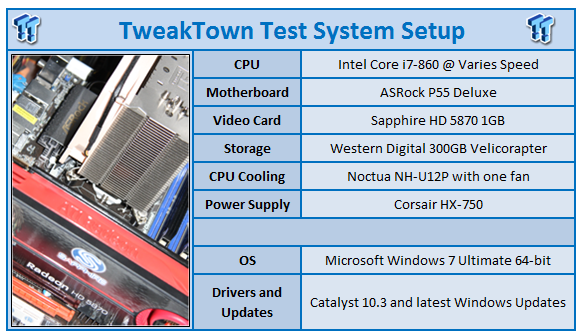 We would like to thank the following companies for supplying and supporting us with our test system hardware and equipment:
Intel
,
ASRock
,
Sapphire
,
Western Digital
,
Noctua
and
Corsair
.
With the new GTX 400 series being released we thought it was time to drop the GTX 285 for a more updated card. But since the GTX 400 series is quite limited we thought we would stick to the old faithful Radeon line and have chosen to now use the Sapphire HD 5870 1GB.
Since we've got a new video card in, we've got to start again when it comes to benchmarks, so today we'll only be comparing the Kingmax in its overclocked form and stock form. We've also added the TPR and TVR graphs which you may've seen in our recent video card reviews.
Let's get started!
Important Note: When modules are overclocked we adjust the BCLK which not only lets us fine tune the MHz out of a module, but in turn increases the overall CPU clock speed. While we always make the effort to include the BCLK and CPU Speed in our graphs, please just make sure that you make note of these when looking at the results. In some tests that don't purely test the memory speed the extra MHz on offer from the CPU can increase the result. Of course, it's worth noting that having faster memory gives you the ability to run your CPU at a higher speed.
wPrimeVersion and / or Patch Used:
1.62
Developer Homepage:
http://www.wprime.net/
Product Homepage:
http://www.wprime.net/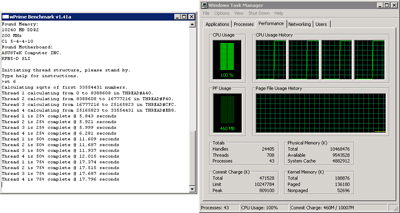 wPrime uses a recursive call of Newton's method for estimating functions, with f(x)=x2-k, where k is the number we're sqrting, until Sgn(f(x)/f'(x)) does not equal that of the previous iteration, starting with an estimation of k/2. It then uses an iterative calling of the estimation method a set amount of times to increase the accuracy of the results. It then confirms that n(k)2=k to ensure the calculation was correct. It repeats this for all numbers from 1 to the requested maximum.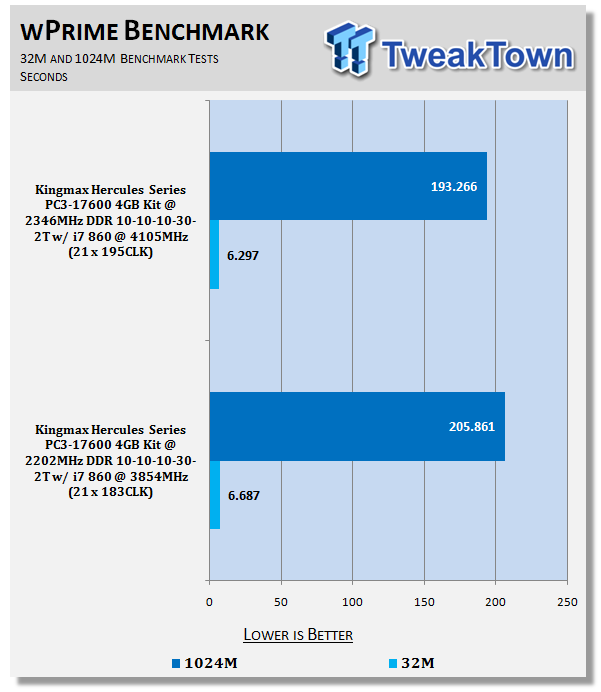 You can see that when we crank up the MHz the performance of the modules really shines thanks to the extra MHz on both the core and memory.
Benchmarks - Everest Ultimate Edition
EVERESTVersion and / or Patch Used:
Ultimate Edition
Developer Homepage:
http://www.lavalys.com/
Product Homepage:
http://www.lavalys.com/products/overview.php?pid=3&ps=UE&lang=en
Buy It Here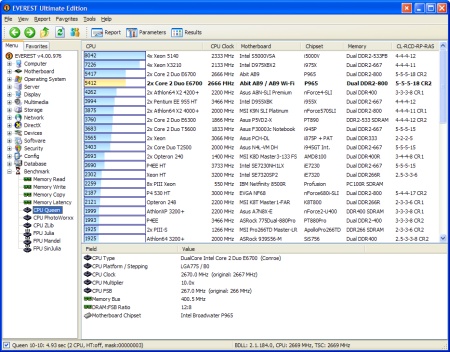 EVEREST Ultimate Edition is an industry leading system diagnostics and benchmarking solution for enthusiasts PC users, based on the award-winning EVEREST Technology. During system optimizations and tweaking it provides essential system and overclock information, advanced hardware monitoring and diagnostics capabilities to check the effects of the applied settings. CPU, FPU and memory benchmarks are available to measure the actual system performance and compare it to previous states or other systems. Furthermore, complete software, operating system and security information makes EVEREST Ultimate Edition a comprehensive system diagnostics tool that offers a total of 100 pages of information about your PC.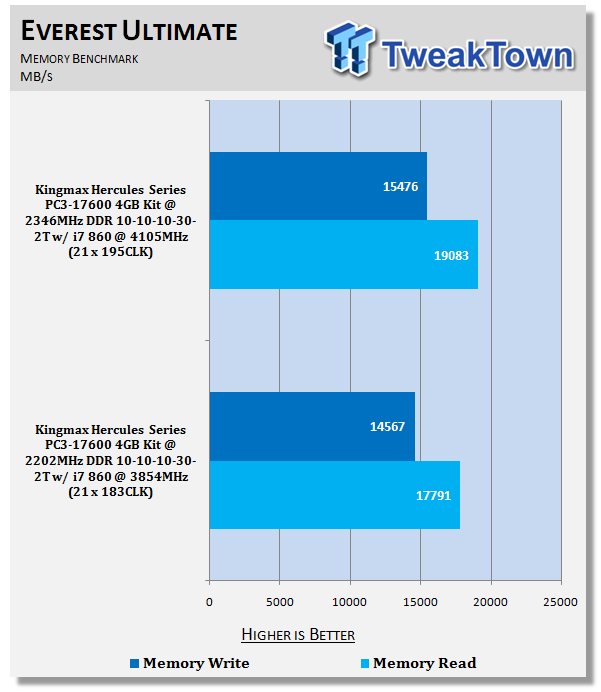 Looking at raw memory performance under Everest you can see we get a good bump in performance; especially when we have a look at the read times.
Benchmarks - SiSoft Sandra
SiSoft SandraVersion and / or Patch Used:
Professional Home
Developer Homepage:
http://www.sisoftware.co.uk
Product Homepage:
http://sisoftware.jaggedonline.com/index.php?location=home&a=TTA&lang=en
Buy It Here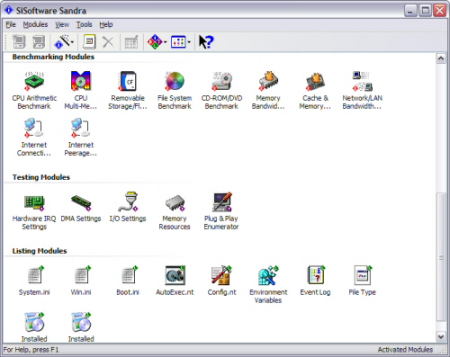 SiSoft Sandra (
S
ystem
AN
alyser,
D
iagnostic and
R
eporting
A
ssistant) is a synthetic Windows benchmark that features different tests used to evaluate different PC subsystems.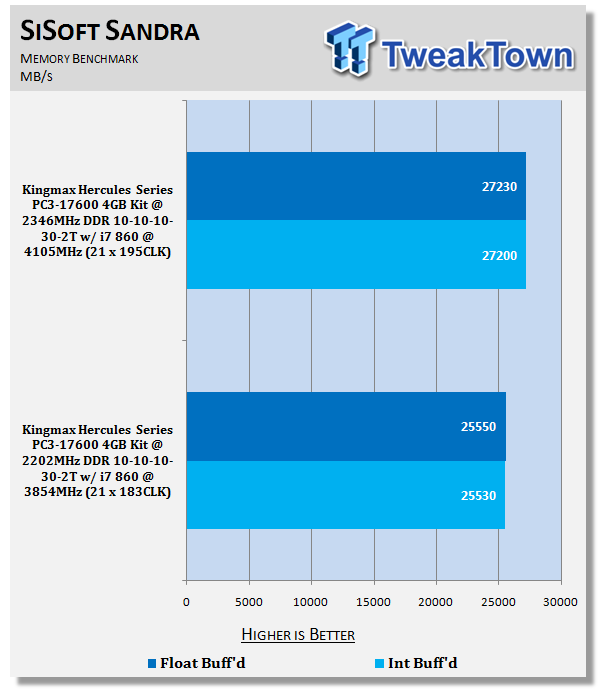 SiSoft Sandra again shows us the memory performance and you can again see the extra performance on offer when the Hercules kit is overclocked to 2346MHz DDR.
Benchmarks - Sciencemark
ScienceMark 2.0
ScienceMark 2.0 is a mathematical program designed to stress the memory subsystems of both desktop/workstation and server environments to determine the read/write latency as well as the overall memory bandwidth available between the CPU and the memory controller.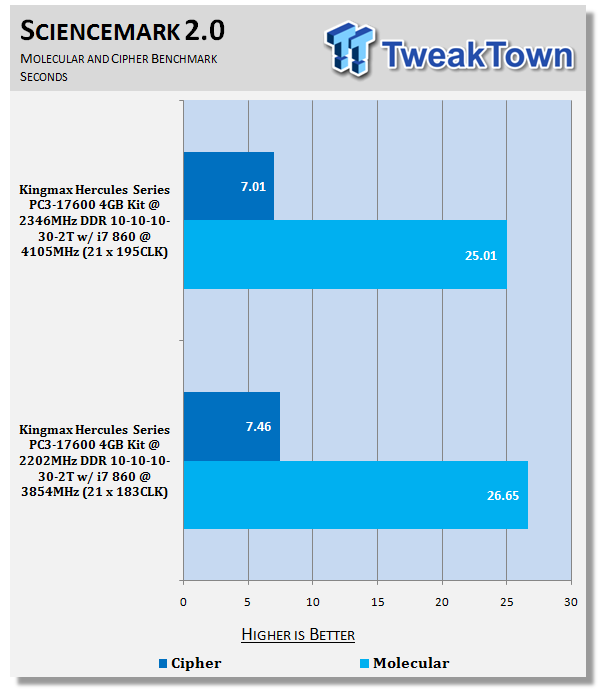 The extra MHz on offer from the CPU thanks to the increased memory speed does a good job of helping bring down our Sciencemark times.
Benchmarks - Far Cry 2
Far Cry 2Version and / or Patch Used:
1.03
Timedemo or Level Used:
Ranch Long
Developer Homepage:
http://www.ubi.com
Product Homepage:
http://www.farcry2.com
Buy It Here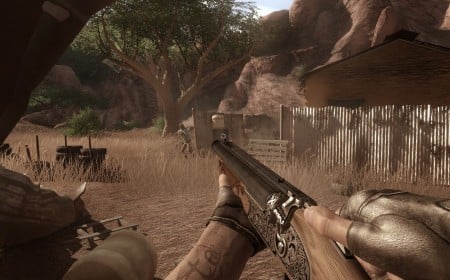 The Dunia Engine was built specifically for Far Cry 2 by the award-winning Ubisoft Montreal development team. It delivers the most realistic destructible environments, amazing special effects such as dynamic fire propagation and storm effects, real-time night-and-day cycle, dynamic music system, non-scripted enemy A.I. and so much more.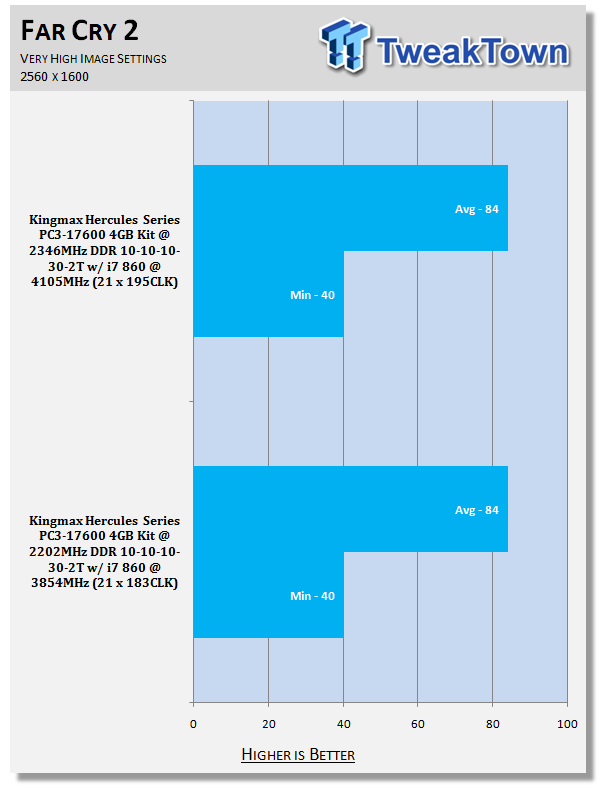 With Far Cry 2 running at an intense resolution you can see that there's no difference when it comes to performance numbers under a game.
Total Performance Rating (TPR)
Total Performance Rating
The TPR graph is a combination of all our benchmarks in which we test our memory modules with.
The TPR number is a combination of:-
wPrime Benchmark, Everest Ultimate, SiSoft Sandra, Sciencemark 2.0 and Far Cry 2.
Due to the nature of some benchmarks where scores having a lower is better result, we've had to change the way we do the numbers when compared to our video card ones. Far Cry 2, SiSoft Sandra and Everest Ultimate numbers are all combined. In Sciencemark 2.0 and wPrime Benchmark where a lower number is better, we have a base number of 300. The score we get from the kit is then removed off that number. There's a total of 600 base points.
For example; if the wPrime Benchmark score is 193.266 and 6.297 for 1024M and 32M respectively, the number that is added to the graphs is 400. That number is obtained by using the following equation:
600 - 193.266 - 6.297 = 400.437
. It's then rounded down to 400 in this case. In the event that the RAM was slower in wPrime, the total would be lower which represents our TPR graphs exactly how we want.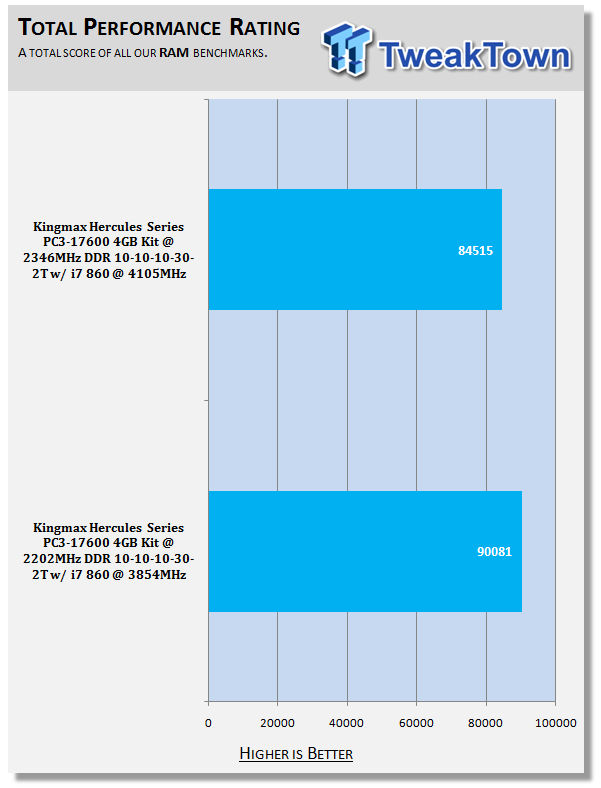 You can see when overclocked there's a good jump in overall performance. But due to the limited sample pool at the moment it's hard to put it into perspective.
Total Value Rating (TVR)
Total Value Rating
The TVR graph is the TPR score divided by the price of the memory kit. The price of the memory kit is based on the list price of the model on Newegg.com. In the event the kit isn't listed, it will be based on the U.S. $ MSRP given to us by the manufacturer.
In the event we can't source a price from either, the product will not receive a TVR rating. As with our TPR graph, the amount of memory kits on the list will grow over time and the price of the model won't change from what it was when first reviewed. For this reason the U.S. $ price that the kit is based off will be included next to the name of the model.
In the event you want to find the TVR rating yourself based on the current price, all you have to do is simply divide the TPR number by the list price.
TVR numbers are rounded to the nearest whole number; 100.3 will be 100; 100.8 will be 101 and 100.5 will be rounded down to 100.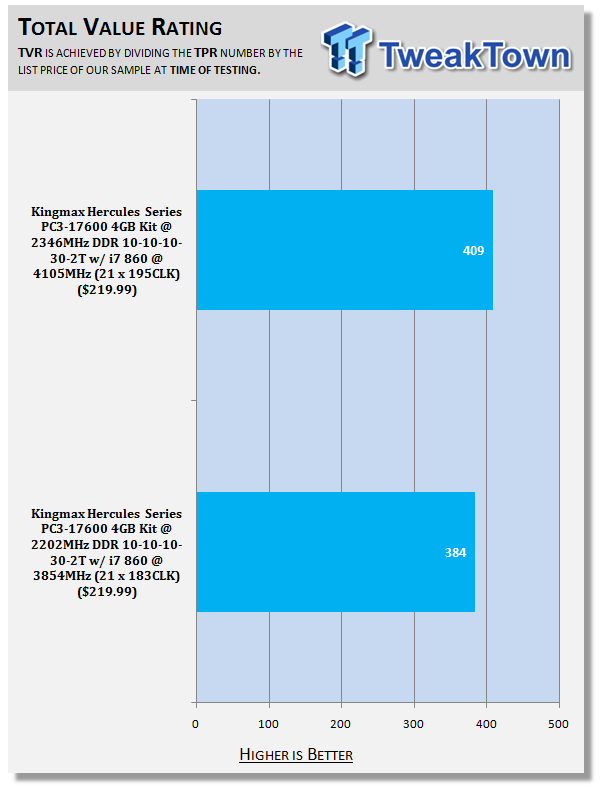 You can see the value goes up when overclocked. Again, though, with the limited sample pool here it's hard to show exactly how the kit sits when compared to our current TVR video card graphs.
Final Thoughts
Just because we haven't heard much from Kingmax recently, it doesn't mean they've been sleeping on the job. Having a look today at this Hercules kit, it's clear that the company has been hard at work bringing the next generation of high performance memory to the market.
Kingmax have put together a really nice kit of RAM here that not only performs great, but also feels of really high quality when it comes to the heatsink. While the Hercules name is a bit dorky and the package is overkill in the sense that it doesn't need to be as big as it is, there's still no denying that the modules can perform. And honestly, when it comes to buying memory this is the most important factor.
Overclocking potential was surprising to say the least; we don't tend to see heaps of room when it comes to 2200MHz DDR modules for the simple reason that most companies have them already maxed out when it comes to speed. The relaxed timings, however, gave us the impression that we might have a bit more head room and we were right. Over 2300MHz DDR is indeed impressive and you can see when looking at the numbers the performance gain is nice.
With strong performance, a competitive price and a really nice quality module, the Kingmax Hercules kit is impressive. If you're looking for something that is fast and not going to break the bank, the Hercules 4GB kit is one worth checking out.