Introduction

The release of the P55 has brought with it the release of new low voltage dual channel kits. This isn't anything new, though. It's something we've mentioned in every dual channel kit review since the launch of the P55 chipset.
What's important about this is that it's easier to get two modules to work together at a higher speed than it is to get three. For this reason we're seeing dual channel kits of memory offer us some serious speed and very quickly after the release of the P55 chipset. Since PC3-16000 is being offered by most performance memory manufacturers, it's time for companies to begin to mix it up even more.
Today we'll be looking at a PC3-17600 kit from G.Skill. How many MHz is that? Well, we're not going to give that away just yet. Before we look at the MHz of the kit we'll have a quick look at the package and also a closer look at the modules and any extras on offer. Then we'll see if we can get to PC3-17600 speeds without any real dramas before seeing just what kind of bandwidth a kit of this speed offers us.
The Packaging and Modules
The Package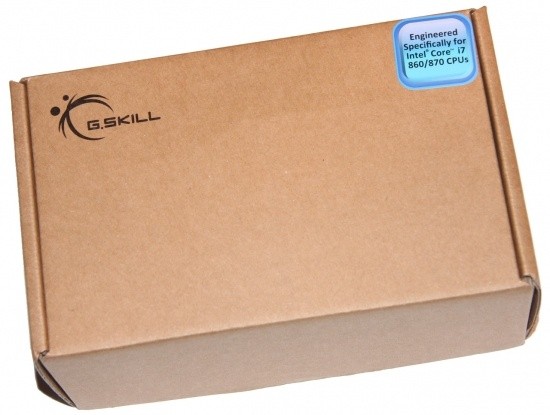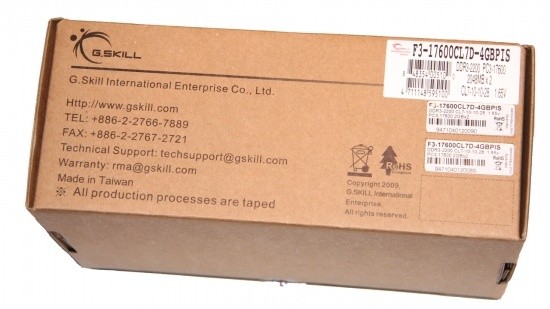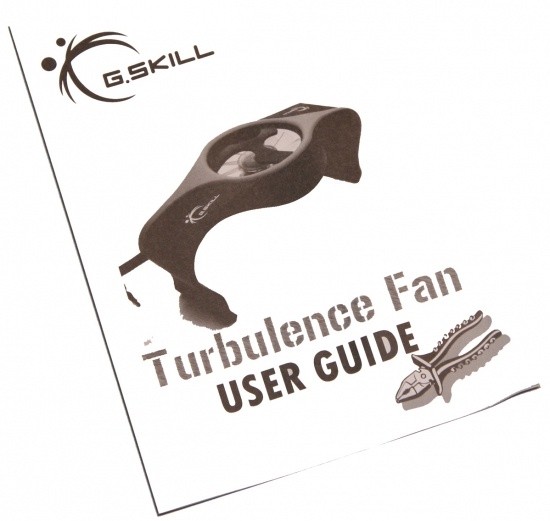 We always say how memory packaging isn't all that fancy, but this one really takes the cake. Inside there isn't any fancy packaging; this is how the memory kit comes and as you can see there's not a whole lot being shown. On one side, though, we do have the information about the modules and inside we find ourselves looking at a manual for the installation of a fan.
The Modules and Extras
We've had a look at a Pi kit from G.Skill in the past and this kit is different in a few ways. The massive speed on offer means we've got a fan included in the package which sits on top of the RAM, while the modules themselves have a pretty high build quality and some pretty big fins out the top.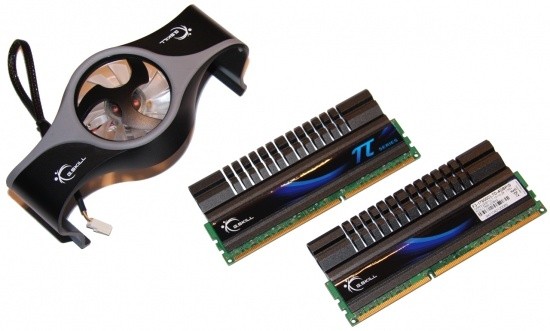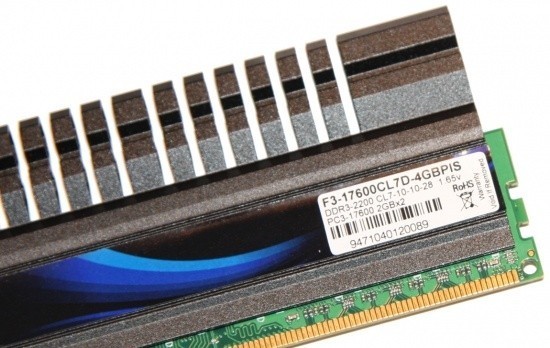 While one side of the modules have the G.Skill and Pi series logo, the other has only the company logo along with a sticker that gives us a run down on the modules. You can see that it's a 4GB PC3-17600 kit. As for the rest of the information, we'll break that down on the next page.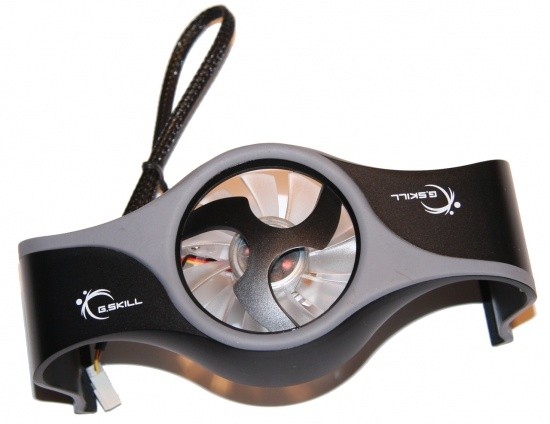 Just quickly on the fan that G.Skill has included, we've got a single fan design that will sit straight over the top of our modules when installed. The whole design is plastic and does feel a bit flimsy; I'm not sure if I would say it felt cheap, but I wouldn't want to be too rough with it. Really, though, once you've installed the modules and fan you shouldn't be touching it again anytime soon.
Overclocking
Getting to 2200MHz, we needed to achieve a BCLK of 220 if we wanted to continue using the same memory divider we always use. Unfortunately we didn't have much luck getting to 220 BCLK. In saying that, though, our other option is a 183 BCLK which is where you'll get pointed to if you use the Extreme Memory Profile (XMP). So with our BCLK at 183, our memory was clocked at 2202MHz DDR at 7-10-10-28-2N which is the default timings. Not being able to achieve the 2200MHz DDR clock at the 220 BCLK, this was no fault of G.Skill; our CPU simply didn't want to play at that BCLK nicely.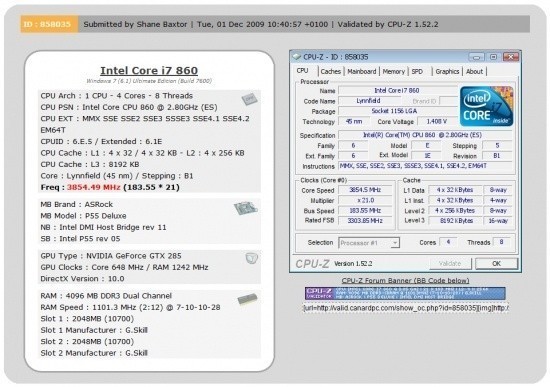 You can see the validation
here
.
When it came to testing, our numbers were a bit all over the place. Because we had to drop the BCLK, our CPU MHz dropped and in turn it dropped our performance.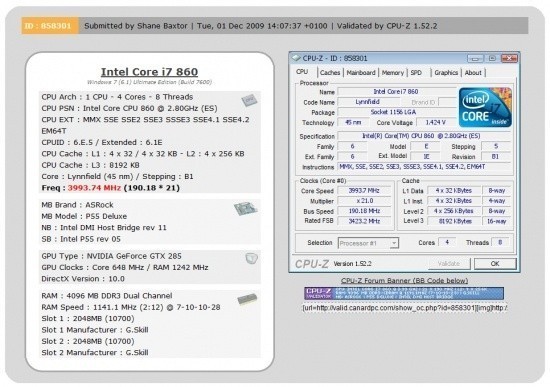 So when it came to trying to get more speed using the same divider, we saw what we could do. What we ended up with was a BCLK at 190, a 3993MHz CPU clock and our memory sitting at a very nice 2282MHz DDR which is 82MHz DDR over the already insanely high stock clocks on offer.
You can see the validation
here
.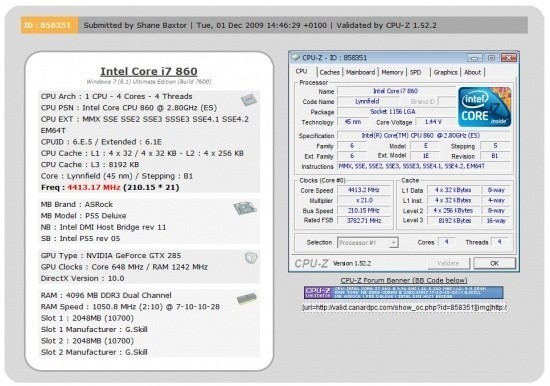 What we also did from there was move the divider to the one we would normally use and try and get just as much MHz out of the CPU we could while moving the memory with it.
We ended up with a CPU clock of just over 4400MHz and a memory clock of 2102MHz DDR. To try and achieve the highest clock, we disabled hyper threading which let us get the BCLK slightly higher than when it was on.
You can see the validation
here
.
Important Editor Note: Our maximum overclocking result is the best result we managed in our limited time of testing the memory. Due to time constraints we weren't able to tweak the motherboard to the absolute maximum and find the highest possible FSB, as this could take days to find properly. We do however spend at least a few hours overclocking every motherboard to try and find the highest possible overclock in that time frame. You may or may not be able to overclock higher if you spend more time tweaking, or as new BIOS updates are released. "Burn-in" time might also come into play if you believe in that.
Test System Setup and wPrime
Test System SetupProcessor(s):
Intel Core i7 920 @ 3.8GHz (190MHz x 20)
Cooling:
Noctua NH-U12P (Supplied by
Noctua
)
Motherboard(s):
ASROCK P55 Deluxe (Supplied by
ASROCK
)
Video Card:
Gigabyte GTX 285 896MB (Supplied by
GIGABYTE
)
Hard Disk(s):
Western Digital 300GB Velicorapter (Supplied by
Western Digital
)
Operating System:
Windows 7
Drivers:
ForceWare 191.07
Today we're all over the place when it comes to CPU speed. We've got everything from 3855MHz to over 4400MHz. We've got the G.Skill modules in three different forms which can all be seen on the previous page.
We've also included the G.Skill Ripjaws at 2000MHz which we recently looked at. The other kit we've included is the A-DATA Xtreme Series, one which offers the same speeds as the Ripjaws, but with slightly more aggressive timings.
We've added so many versions of the PI series because the results were a bit all over the place. While it's a bit hard to explain here, once you have a look at our benchmarks and we start breaking them down, you'll have a better idea.
Let's get started!
Important Note: When modules are overclocked we adjust the BCLK which not only lets us fine tune the MHz out of a module, but in turn increases the overall CPU clock speed. While we always make the effort to include the BCLK and CPU Speed in our graphs, please just make sure that you make note of these when looking at the results. In some tests that don't purely test the memory speed, the extra MHz on offer from the CPU can increase the result. Of course, it's worth noting that having faster memory gives you the ability to run your CPU at a higher speed.
wPrimeVersion and / or Patch Used:
1.62
Developer Homepage:
http://www.wprime.net/
Product Homepage:
http://www.wprime.net/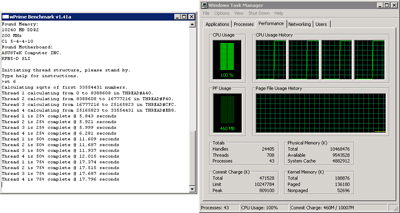 wPrime uses a recursive call of Newton's method for estimating functions, with f(x)=x2-k, where k is the number we're sqrting, until Sgn(f(x)/f'(x)) does not equal that of the previous iteration, starting with an estimation of k/2. It then uses an iterative calling of the estimation method a set amount of times to increase the accuracy of the results. It then confirms that n(k)2=k to ensure the calculation was correct. It repeats this for all numbers from 1 to the requested maximum.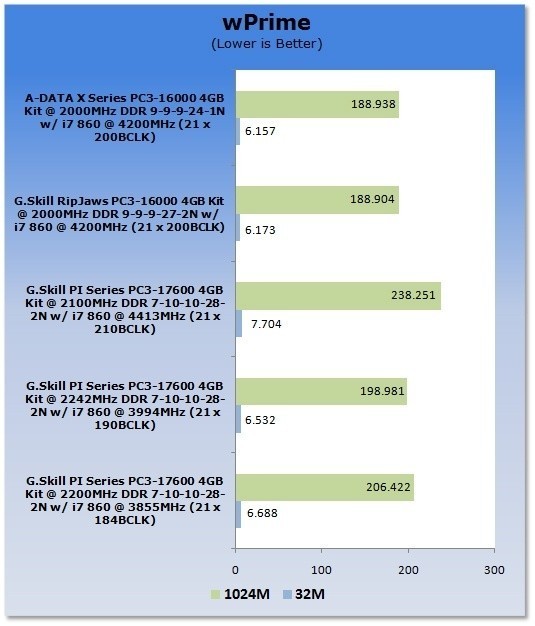 When we clocked our CPU right up, the wPrime numbers just went crazy. For some reason the 1024M and 32M tests took significantly longer than the other kits which actually come in slower. As for the kit at 2200MHz DDR and 2242MHz DDR, due to the lower CPU speed we can see that the performance isn't as attractive.
Benchmarks - Everest Ultimate Edition
EVERESTVersion and / or Patch Used:
Ultimate Edition
Developer Homepage:
http://www.lavalys.com/
Product Homepage:
http://www.lavalys.com/products/overview.php?pid=3&ps=UE&lang=en
Buy It Here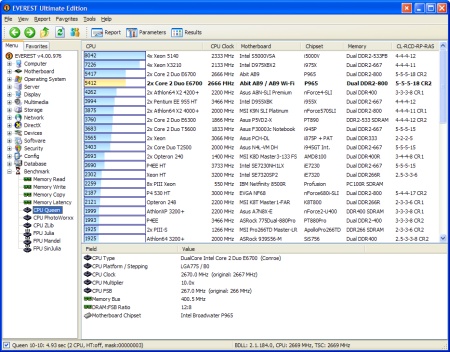 EVEREST Ultimate Edition is an industry leading system diagnostics and benchmarking solution for enthusiasts PC users, based on the award-winning EVEREST Technology. During system optimizations and tweaking it provides essential system and overclock information, advanced hardware monitoring and diagnostics capabilities to check the effects of the applied settings. CPU, FPU and memory benchmarks are available to measure the actual system performance and compare it to previous states or other systems. Furthermore, complete software, operating system and security information makes EVEREST Ultimate Edition a comprehensive system diagnostics tool that offers a total of 100 pages of information about your PC.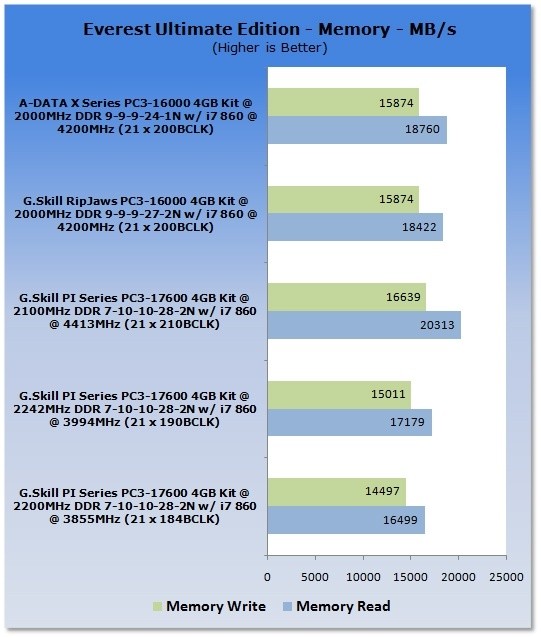 This is quite interesting here. Bandwidth is slower than the 2000MHz DDR kits which are at a higher clock speed. When we move the BCLK to 210 and the G.Skill PI kit goes to 2100MHz, the performance is extremely fast.
Benchmarks - SiSoft Sandra
SiSoft SandraVersion and / or Patch Used:
Professional Home
Developer Homepage:
http://www.sisoftware.co.uk
Product Homepage:
http://sisoftware.jaggedonline.com/index.php?location=home&a=TTA&lang=en
Buy It Here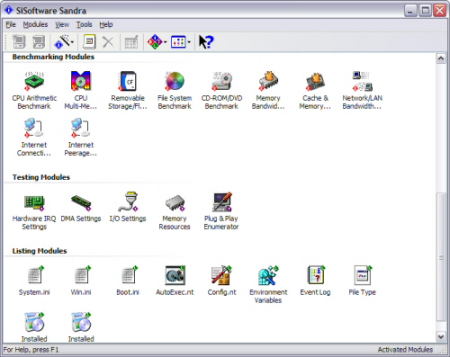 SiSoft Sandra (
S
ystem
AN
alyser,
D
iagnostic and
R
eporting
A
ssistant) is a synthetic Windows benchmark that features different tests used to evaluate different PC subsystems.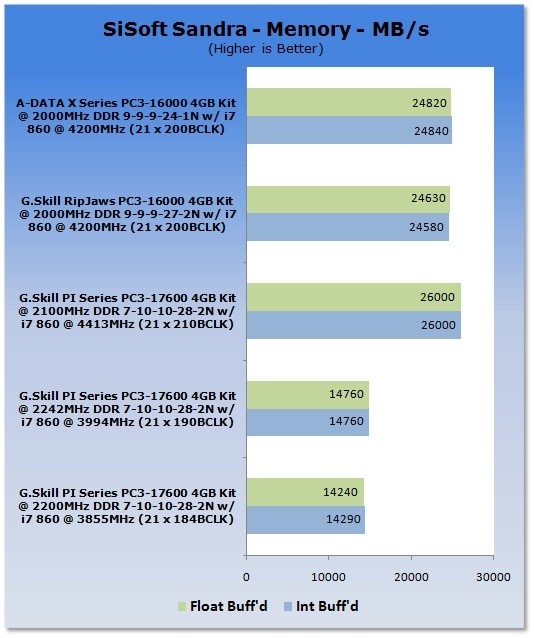 Sandra paints exactly the same picture as EVEREST. While 2200MHz DDR and 2242MHz DDR is faster than 2000MHz DDR, the slower CPU speed seems to limit the performance. Move to our standard memory divider and give the RAM some real breathing room and you can see it flies along at 2100MHz DDR when the CPU is clocked at over 4.4GHz.
Benchmarks - Sciencemark
ScienceMark 2.0
ScienceMark 2.0 is a mathematical program designed to stress the memory subsystems of both desktop/workstation and server environments to determine the read/write latency as well as the overall memory bandwidth available between the CPU and the memory controller.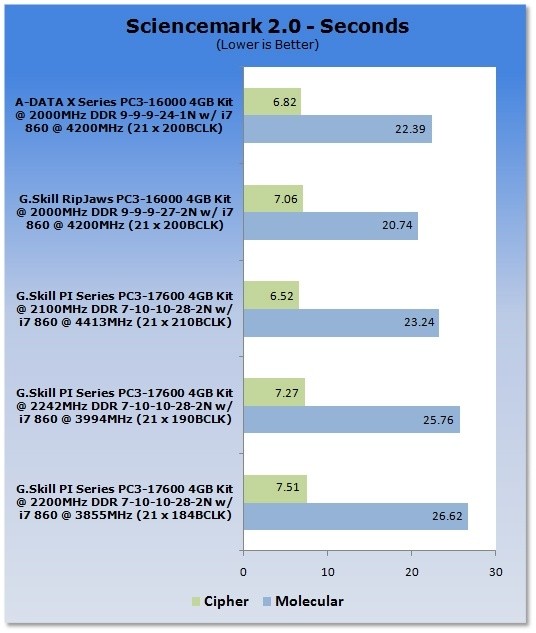 We again have another benchmark that is quite affected by our CPU speed. As we climb to over 4.4GHz the Cipher test is the fastest out of the bunch.
Benchmarks - Far Cry 2
Far Cry 2Version and / or Patch Used:
1.03
Timedemo or Level Used:
Ranch Long
Developer Homepage:
http://www.ubi.com
Product Homepage:
http://www.farcry2.com
Buy It Here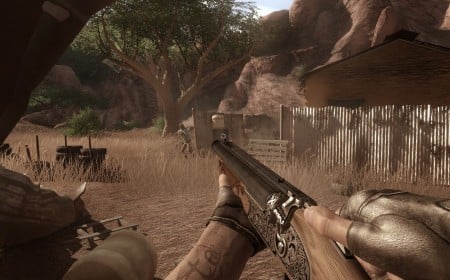 The Dunia Engine was built specifically for Far Cry 2 by the award-winning Ubisoft Montreal development team. It delivers the most realistic destructible environments, amazing special effects such as dynamic fire propagation and storm effects, real-time night-and-day cycle, dynamic music system, non-scripted enemy A.I. and so much more.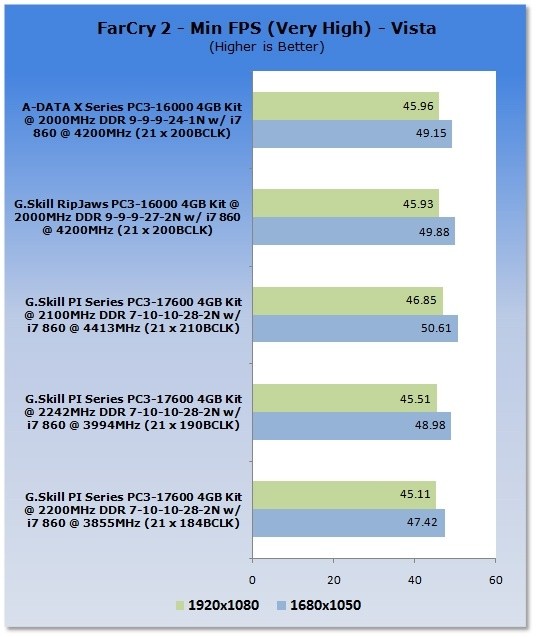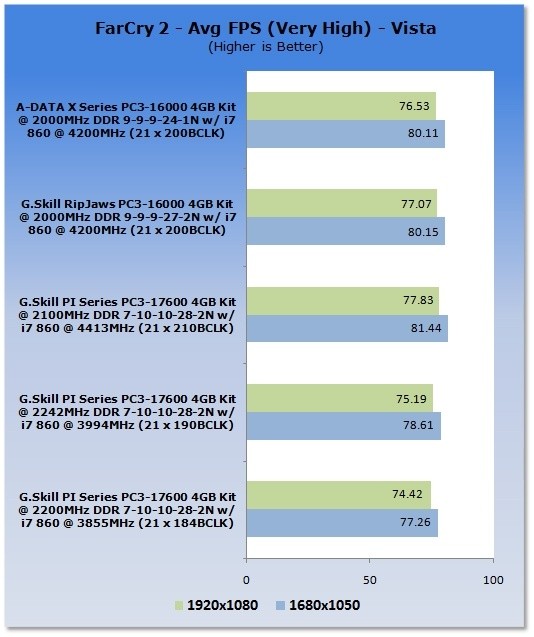 The reason we add Far Cry 2 is to give you an idea of how fast memory allows you to achieve a higher clock speed. For that reason we're able to get better performance under games.
You can see while not a huge difference, when our CPU was clocked at 4.4GHz with the G.Skill PI memory at 2100MHz DDR we receive the highest numbers. On the other hand, when the memory was at 2200MHz DDR and above the lower CPU speed means that we didn't see any FPS advantage; it was actually the slowest out of the bunch.
Final Thoughts
When you have a look at some of our graphs you can find yourself a bit disappointed by the fact that when you're at 2200MHz DDR or above the performance is slower than the other kits which are running at a slower memory speed. Unfortunately the higher CPU speed means that the lower MHz clocked kits run a bit better.
Everything changes when you start moving above that 200 BCLK. As the RAM gets some more breathing room and a 4.4GHz+ clock speed to play with, performance across the board is almost a win every time.
This is what's really important about the memory kit and should help you decide if you can
spend $179.99 on it
(current price at Newegg) and make full use of it. The first thing is you want to have a bit of experience with overclocking or access to people who can give you a fair bit of help. Now, if you're able to achieve a 220 BCLK this is a great kit of RAM for you. If you can get slightly higher you'll be laughing, as we even had a bit of OC room on this kit.
Now, you might find yourself thinking that without this RAM you won't be able to find out if a 220 BCLK is possible. You should have a number of memory dividers in your motherboard which should give you the ability to achieve a 220 BCLK, but have your memory run at a significantly lower speed. If you don't really know how to do any of this, the chances are the kit isn't going to be for you.
If 220 BCLK or higher is achievable and you want your memory running as fast as possible, then this is what you want. PC3-17600 is the new PC3-16000 which has become quite competitively priced in recent times.
For under $200; albeit by 1c, you're not only getting some of the fastest memory on the planet, you're also getting a pretty cool little fan. If you have the need for speed and the ability to achieve an awesome BCLK, look at this RAM. While it might not be for everyone, we need companies like G.Skill to innovate and give us faster speeds as it's progress and that's why we love computers.