Introduction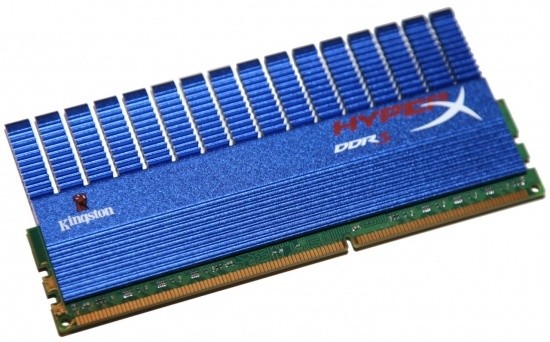 Kingston has been in the game of making memory modules and flash products for a long time. They have become so successful at the game that they are the biggest memory maker in the world and have held that position for quite a while now.
For a long time Kingston focused on simple and affordable RAM, but some time ago now they decided to start catering for the enthusiast DIY computer users with their rather well known HyperX brand of memory.
The HyperX line-up of memory hasn't always been the first choice by enthusiasts; not to say that the memory is poor in anyway, it's just that the likes of Corsair, OCZ and G.Skill usually push their memory modules faster and work on a lower quantity at the high-end by vigorously hand picking each memory chip that is put onto a memory module. These memory makers strive for the absolute bleeding edge of memory technology, while Kingston's HyperX brand sticks to a more moderate level, but they are relatively still fairly high at the top end.
Kingston is no slouch here today, though; no, not at all. In our hands we have a Kingston HyperX DDR3-2000 triple-channel 6GB memory kit with a cache latency rating of 8-8-8-24 at 1.65 volts and it also comes with Intel XMP support to allow for easier overclocking on Intel X58 Express based motherboards that are teamed up with a Core i7 processor.
Stick with us over the next few pages as we take a close look at this memory, see exactly what it can do and then give you our final thoughts on the product.
The Package and Modules
The Package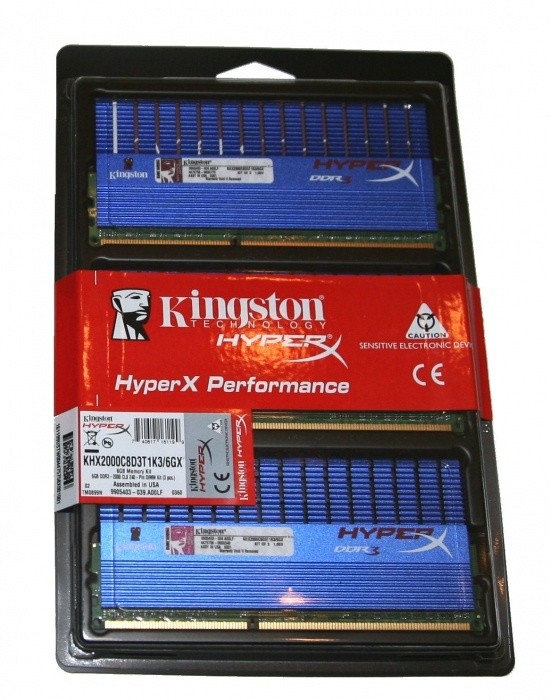 As far as the package goes, it's really quite simple and follows a similar layout to most other memory makers.
The three memory modules come packed nice and safely inside a black container with a plastic cover so you can see the modules. The red sticker labeled "HyperX Performance" seals the memory inside the container.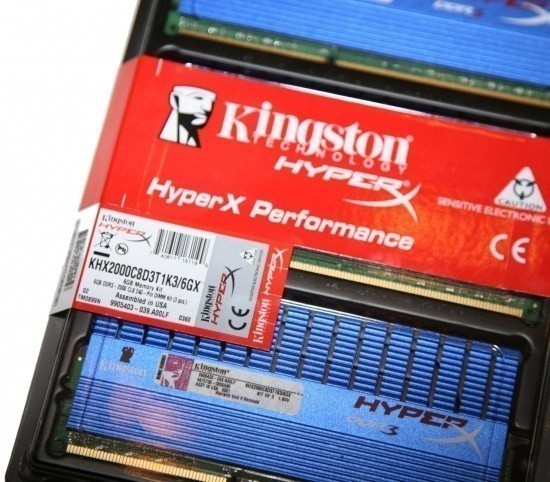 You can see below that red sticker is another sticker that mentions the part name, some specifications and so on.
The Modules
Now we can move onto the more exciting part - checking out the actual memory modules.
The Kingston HyperX DDR3-2000 CL8 KHX2000C8D3T1K3/6GX 6GB product comes in a kit of three. That means that there are a total of three 2GB memory modules. Why three modules, though? Well, for users running a high-end Intel X58 Express based motherboard with a Core i7 processor, this platform supports either dual-channel or triple-channel memory technology. So, of course your older DDR3 dual-channel kit will work, but if you want to up the performance a bit and also the speed of the memory, a memory kit such as this one is the go for you.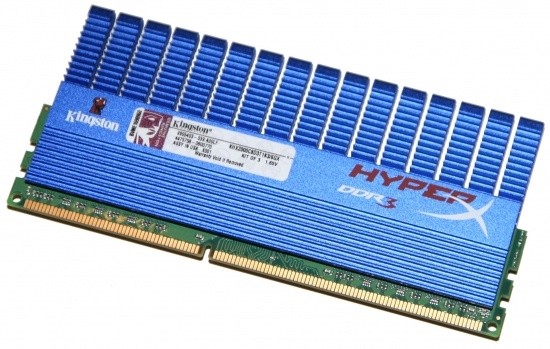 In the image above, we get a look at the front side of one of the three HyperX memory modules. From the left we see the standard Kingston company logo, the specification sticker telling us all of the details about the RAM (minus the exact memory timings mind you, which would have been nice to see included) and on the right side if the HyperX DDR3 logo.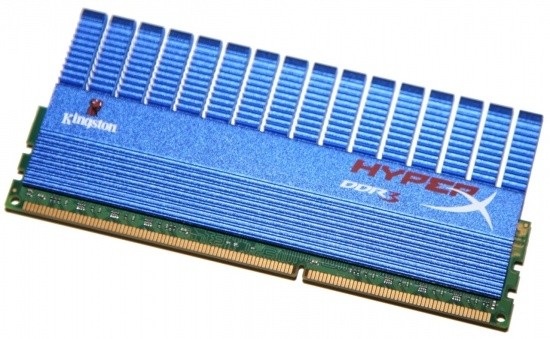 On the other side of the memory there isn't much different. It's the same as the front side minus the inclusion of the specs sticker. There are no special LEDs or anything crazy on these memory modules, but they do feature Kingston's tall HyperX heatsink that help keep the modules as cool as possible with its passive heat dissipation properties. Kingston were nice enough to send us over one of its HyperX memory cooling fans as well which we used during overclocking and testing to help keep the RAM that little bit cooler during more stressing times for the ICs.
As for the exact performance numbers, Kingston has rated these memory modules to run at DDR3-2000 (PC3-16000) with pretty impressive timings of 8-8-8-24 (1T) at the standard 1.65 volts power setting, which is the maximum Intel recommends for any X58 Express based motherboard. Keep in mind your system will need to be up to the task of running the modules at this speed, don't just expect to plug them in and run at this speed. To reach these high memory speeds, your system needs to be overclocked and voltages need to be increased over stock settings.
The task of overclocking these modules to 2000MHz DDR is made easier with the implementation of Intel XMP technology and we'll cover that on the next page in the overclocking section.
Overclocking Results
Overclocking
When it comes to testing performance RAM, overclocking is very important.
As standard, these modules are programmed to a JEDEC standard of DDR3-1333MHz with timings of 9-9-9 at 1.5V. Without any overclocking, the modules will run as standard at these speeds and settings. What is nice about this memory is that it comes with Intel XMP (Extreme Memory Profiles) support, as many do these days, and that makes overclocking quite simple for the average - advanced user.
This particular HyperX RAM comes with two XMP profiles. The first profile adjusts the system BIOS to run the memory at 1866MHz DDR, while the second one sets the system BIOS to run the memory at 2000MHz DDR, or 2002MHz DDR in this case to be exact.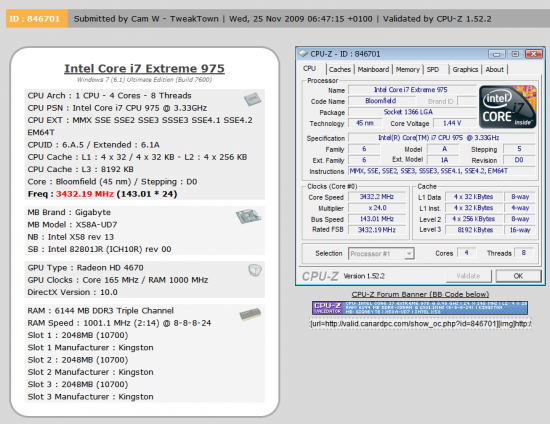 You can see the validation
here
.
Once you enable XMP and select profile two, it enables bus overclocking itself and adjusts the bus speed to 143MHz and the CPU clock multiplier stays the same, depending on what CPU you are using. With our Core i7 975 CPU and GIGABYTE X58A-UD7 motherboard, this rendered us a CPU clock speed of 3.432GHz (143 x 24). You will also need to adjust the memory voltage from 1.5 volts to 1.65 volts - in the latest GIGABYTE boards the option to select is 1.66 volts, as there is no exact 1.65 volt option. We also had to adjust the CPU voltage up to 1.4 volts and a range of others to their maximum safe level. You will likely have to do the same as well.
So, the HyperX memory that we were sent works at the rated speed claimed by Kingston and flawlessly once you set the right voltages. We spent a short amount of time trying to hit high memory speeds (2133 and 2100), but didn't have any luck. While extreme overclockers probably won't select this memory as they'll be aiming for DDR3-2500 and well above, for even an enthusiast high-end consumer, this memory should satisfy rather well running at a speedy DDR3-2002 with pretty good timings of 8-8-8-24 (1T).
Important Editor Note: Our maximum overclocking result is the best result we managed in our limited time of testing the memory. Due to time constraints we weren't able to tweak the motherboard to the absolute maximum and find the highest possible FSB, as this could take days to find properly. We do however spend at least a few hours overclocking every motherboard to try and find the highest possible overclock in that time frame. You may or may not be able to overclock higher if you spend more time tweaking, or as new BIOS updates are released. "Burn-in" time might also come into play if you believe in that.
Test System Setup and wPrime
Test System SetupProcessor(s):
Intel Core i7 975 @ various speeds
Motherboard(s):
GIGABYTE X58A-UD7 (Supplied by
GIGABYTE
)
Operating System:
Windows 7 Ultimate x64 with latest updates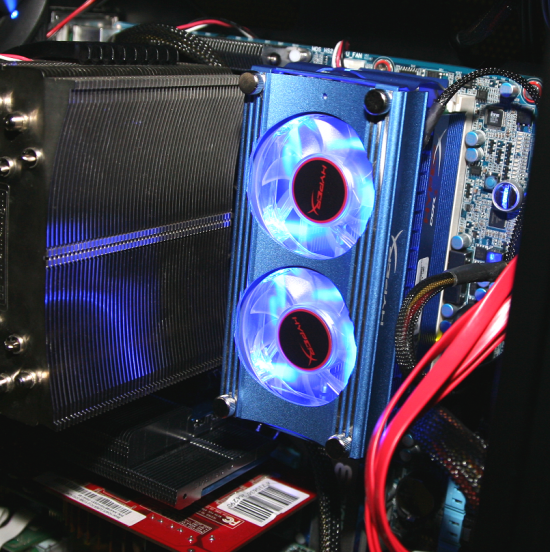 Above you get a look at the test system setup, well, the parts important for this particular review anyway.
Once we confirmed that the HyperX memory we are testing here today could actually do its rated speed of 2000MHz, we decided to also include DDR3-1333 and DDR3-1600 results for comparison to see the difference in performance with the ranging memory speeds.
For the 2000MHz setting, as we discussed on the previous page, we enabled XMP and used profile two. This rendered us with a memory clock speed of 2002MHz with a CPU clock speed of 3.432GHz (143 x 24).
For 1333MHz and 1600MHz DDR testing we disabled XMP and set the memory speed manually using ratios. We kept the CPU at the default clock speed of 3.33GHz (133 x 25) for both of these tests. The voltage for every test was set to 1.65 volts and the timings also for every test were set manually at 8-8-8-24 (1T). We would have loved to have the same clock speed for each memory speed, but unfortunately this was not possible. Keep in mind, when viewing the DDR3-2002 results that the CPU was clocked slightly higher by 102MHz.
Let's begin and see the numbers now!
wPrimeVersion and / or Patch Used:
2.00
Developer Homepage:
http://www.wprime.net/
Product Homepage:
http://www.wprime.net/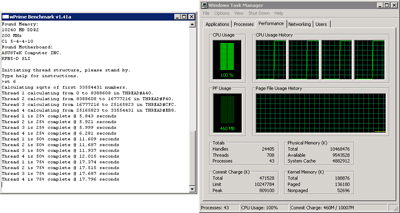 wPrime uses a recursive call of Newton's method for estimating functions, with f(x)=x2-k, where k is the number we're sqrting, until Sgn(f(x)/f'(x)) does not equal that of the previous iteration, starting with an estimation of k/2. It then uses an iterative calling of the estimation method a set amount of times to increase the accuracy of the results. It then confirms that n(k)2=k to ensure the calculation was correct. It repeats this for all numbers from 1 to the requested maximum.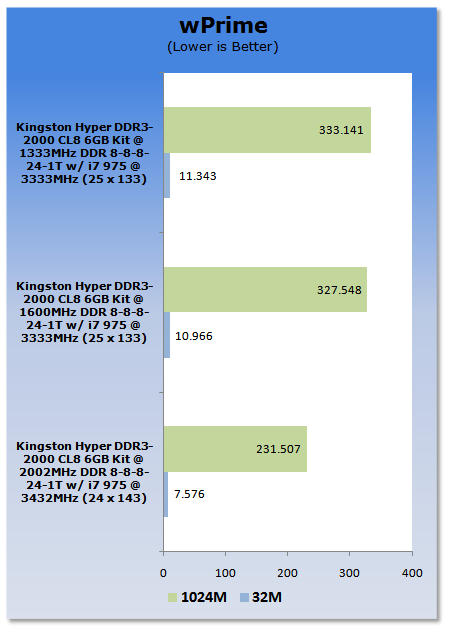 As you can see from our first test, with the HyperX memory running at 2002MHz, wPrime responds well and shows good results. Keeping in mind that the CPU is clocked slightly lower, there is a big improvement over DDR3-1333 and DDR3-1600.
Benchmarks - EVEREST
EVERESTVersion and / or Patch Used:
Ultimate Edition
Developer Homepage:
http://www.lavalys.com/
Product Homepage:
http://www.lavalys.com/products/overview.php?pid=3&ps=UE&lang=en
Buy It Here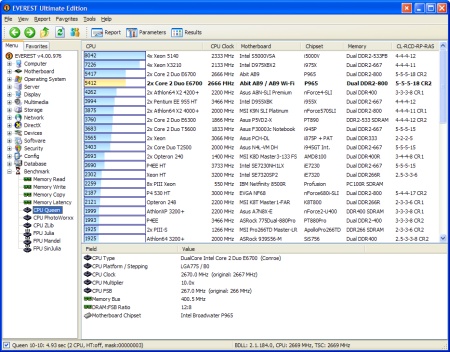 EVEREST Ultimate Edition is an industry leading system diagnostics and benchmarking solution for enthusiasts PC users, based on the award-winning EVEREST Technology. During system optimizations and tweaking it provides essential system and overclock information, advanced hardware monitoring and diagnostics capabilities to check the effects of the applied settings. CPU, FPU and memory benchmarks are available to measure the actual system performance and compare it to previous states or other systems. Furthermore, complete software, operating system and security information makes EVEREST Ultimate Edition a comprehensive system diagnostics tool that offers a total of 100 pages of information about your PC.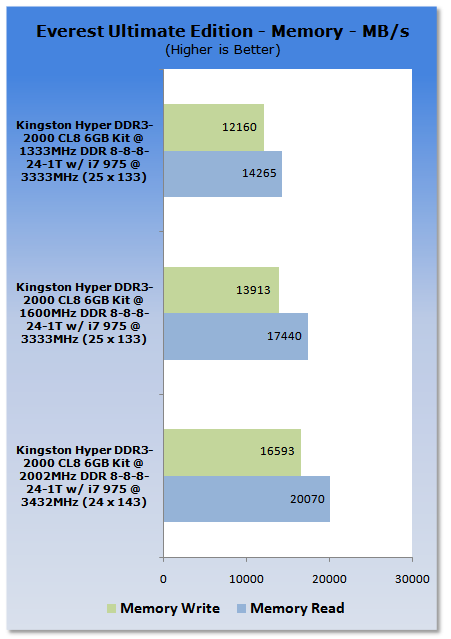 We use EVEREST here to show the memory bandwidth differences by using fast memory such as the HyperX DDR3-2000 kit we are looking at here today. From our results you can see a fairly good flow between each memory speed.
Benchmarks - ScienceMark
ScienceMark 2.0
ScienceMark 2.0 is a mathematical program designed to stress the memory subsystems of both desktop/workstation and server environments to determine the read/write latency as well as the overall memory bandwidth available between the CPU and the memory controller.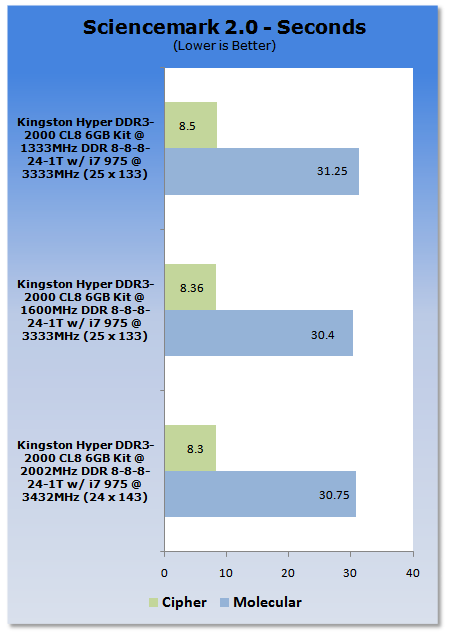 The results here are all very close with there only being a very marginal performance increase with the memory at 2002MHz in the Cipher test.
Final Thoughts
To be perfectly honest, I've been flat out with the management of TweakTown since the launch of Intel's new Core i7 and X58 platform sometime back. I hadn't had a chance to play around and do any sort of overclocking on the new platform until I received this HyperX memory kit from the folks over at Kingston.
At first, I wasn't sure what to make of the memory. I couldn't even get the memory to run at 1600MHz DDR. Things weren't looking good. Then I went back to the drawing board (pulled experience from past overclocking back in the day) and figured something must have been wrong. I began increasing appropriate voltages (CPU, PPL, QPI, memory and so on) until things started to work.
After increasing those voltages to the maximum recommended by the GIGABYTE X58A-UD7 motherboard (very nice board, by the way), I found the memory to work flawlessly. As mentioned, I used the XMP feature of the memory and set it to profile two (DDR3-2002) and it made some changes to the BIOS to enable this memory speed. I set the timings manually to 8-8-8-24 (1T) and the system booted and I was a happy man. Not only did it boot, but the system was completely stable and didn't show any signs of crashes during testing and running prime95. I'm using these settings typing this review right now, as a matter of fact.
There is faster memory out on the market now, but that will also cost you more than this Kingston HyperX DDR3-2000 6GB triple-channel kit. In my opinion, for the price of
around $280 USD at Newegg
, you definitely get what you pay for. It's the perfect memory kit for those looking at building an Intel X58 Express based system with a shiny new Core i7 processor and want the right memory for the job. If you want to overclock your Core i7 system and run faster memory from what you bought before, it's also a good option.