Vantec NexStar Vault NST-V290S2 2.5-inch HDD Enclosure
Data without protection is worthless. Portability without security is asking for trouble.
Published Thu, Nov 12 2009 10:33 PM CST
|
Updated Tue, Nov 3 2020 7:03 PM CST
Rating:

90%
Manufacturer: Vantec
Introduction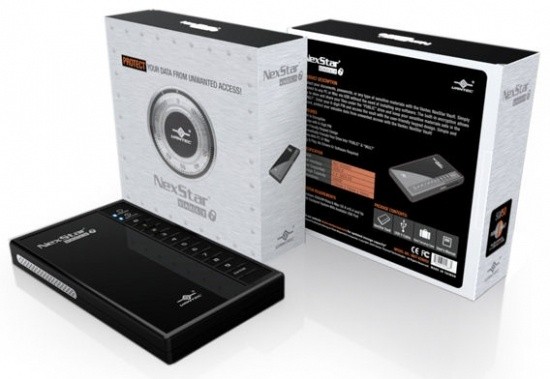 Portable storage products have come a long way. When the first USB portable drives were launched it was larger than the first Motorola cell phone. Just like cell phones, portable drives have shrank in size, but the features have grown to levels that we would have never thought of just a few years ago.
Just like your company Blackberry, the data you keep on your portable storage can do great harm in the hands of unauthorized persons. For the most part portable storage is unsecure risky business if you keep anything personal or company related. Other than music, what other data would you want to have accessible other than important data?
Vantec recently released their answer for secure portable storage, the NexStar Vault. This portable secure 2.5 inch drive enclosure makes accessing your data easy with its simple to use built in keyboard that allows the drive to unlock your secure data. The drive is divided into two partitions, the open Public side and the secure Vault. The entire system is fairly sneaky; if you didn't realize what the system was the drive would be plugged in and the public option would be shown with no mention of the private data.
Let's take a look at the full specifications of the Vantec NexStar Vault.
Specifications, Availability and Pricing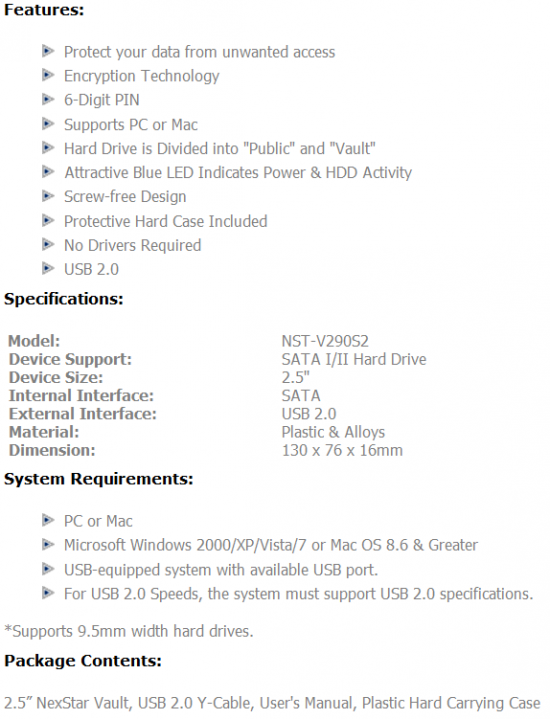 My favorite feature of the Vantec NexStar Vault is the fact that no drivers are required. Just plug the unit in and go to work with your personal data. At that point if you wish to access the encrypted Vault data just type in your six digits pass code into the built-in numeric keyboard right on the drive and the drive unlocks the data. Your Vault partition then becomes available and it is displayed like a new hard drive.
The NexStar Vault uses 2.5 inch, 7mm tall form factor hard drives just like what is found in notebooks. There are many options available to use with the unit, but most people will use a drive just sitting around the house. However, you can purchase any number of 2.5 inch drives for very low cost.
The only real issue with the NexStar Vault is also one of its strong points. The secure drive carrier uses USB 2.0 technology, but does not have an eSATA option. However, eSATA hasn't caught on as strongly as we would like to have seen, but USB is everywhere.
Speaking of prices,
Newegg lists the Vantec NexStar Vault for 44.99 USD
. You can also find low cost 500 GB drives on Newegg for less than 90 Dollars, making the total cost for a 500GB system with 250GB public and 250GB private storage less than 150 Dollars shipped to your door. The 45 Dollar cost of the NexStar Vault is in line with many of the other high quality portable drive solutions that don't have a private feature.
Let's have a look at the NexStar Vault itself now.
The Packaging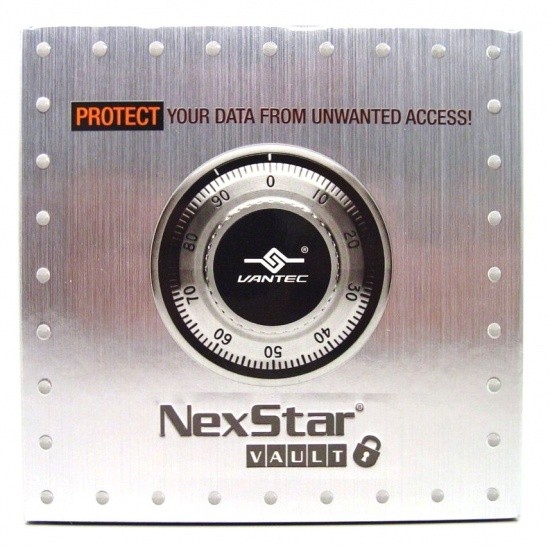 Vantec went with a very attractive package for the NexStar Vault, although not a lot of information was given on the front of the box.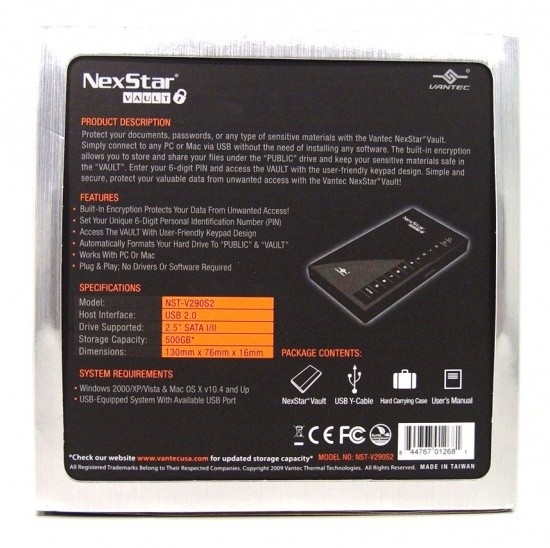 The back of the package has all of the information you would want to know about the NexStar Vault including specifications and features.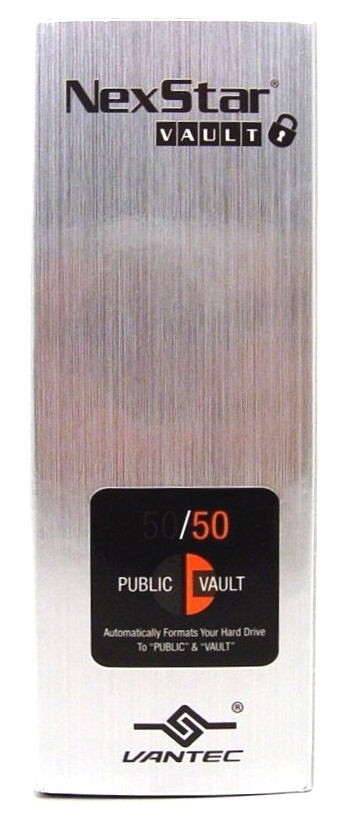 Both sides of the box are pretty basic with little information.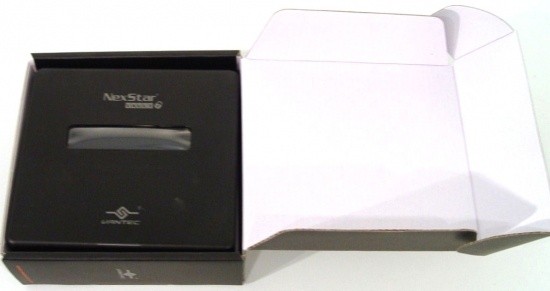 The inner package is put together well, so you will not need to worry about product damage when the Vault is shipped to you.
The Vantec NexStar Vault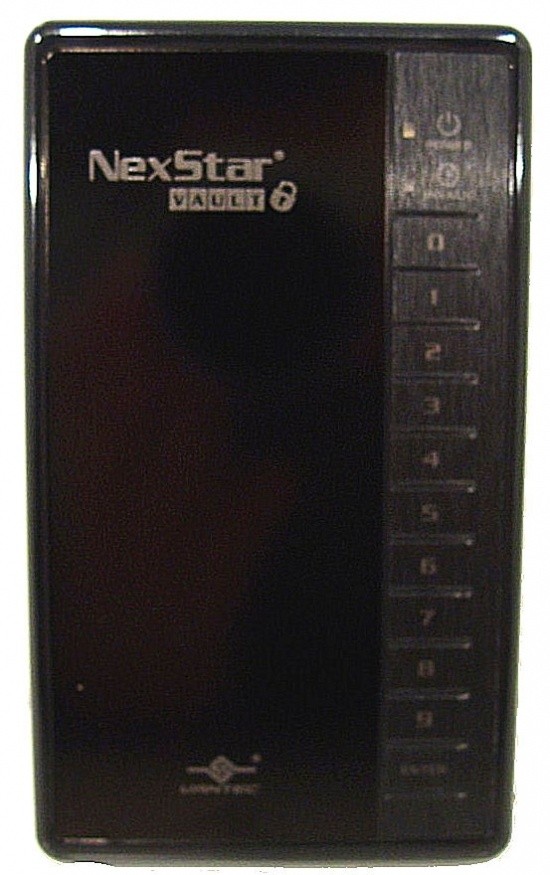 Here is our first look at the NexStar Vault. Along the right side you will find the 10 digit numeric keypad that allows access to the secure data partition. At the top two LEDs show power and transfer activity.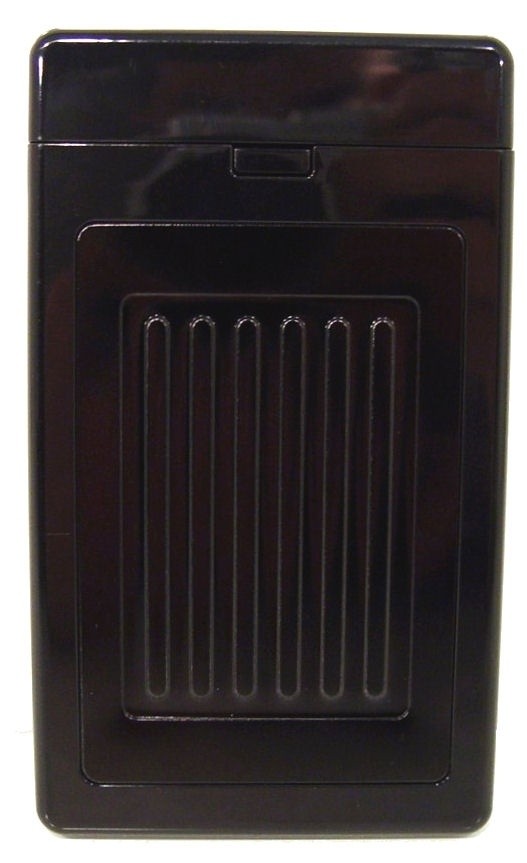 The back of the unit is straight forward; the door opens easily but is secure.

Both sides of the enclosure have vents that allow your drive to breathe and stay cool.

On the inside of the enclosure there is an aluminum strip that aids in thermal transfer to the rest of the enclosure.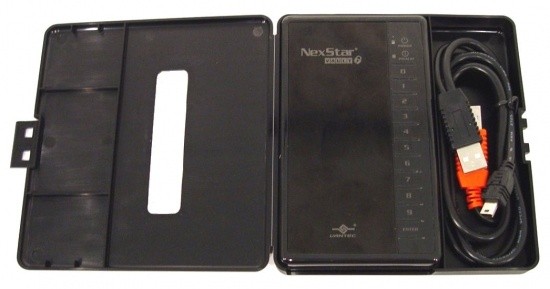 The system comes with a dual headed USB cable and a case making it easier to carry the system in a bag.
Test System Setup
Test System
Motherboard
: ASUS P6T7 WS SuperComputer (Supplied by
ASUS
)
Processors
: Intel 975 EE (Supplied by
AVADirect
)
Memory
: Corsair Dominator 1600 MHz Triple Channel Kit
Graphics Card
: Leadtek Quadro FX1700 (Supplied by
Leadtek
)
Enclosure
: Lian Li V2000
Cooling
: Noctua NH-U12P SE2 (Supplied by
Noctua
)
SAS Controller
: LSI MegaRAID SAS 9260-8i (Supplied by
LSI
)
Operating System
: Microsoft Windows 7 Ultimate X64
You can read more about TweakTown's Storage Product Testing Workstation and the procedures followed to test products
in this article
.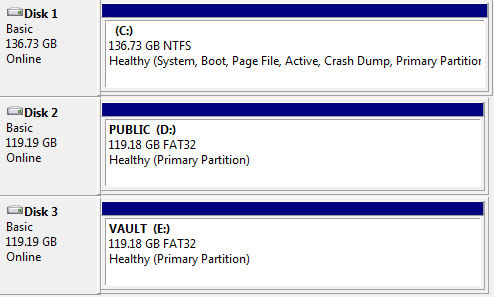 For testing we used the PhotoFast V5 solid state hard drive that was provided to us by DVNation.com, the leading supplier of solid state drives in the US. Here we see the Vantec NexStar Vault with the Private data opened. Until the extra area is opened via the hardware lock, the system does not see it. When opened the private area appears as another hard drive attached to the system.
Even if you remove the drive from the enclosure, the secure Private area is not accesssible.
Benchmarks - HD Tune Pro
HD Tune ProVersion and / or Patch Used:
3.00
Developer Homepage:
http://www.efdsoftware.com
Product Homepage:
http://www.hdtune.com
HD Tune is a Hard Disk utility which has the following functions:
- Benchmark: measures the performance
- Info: shows detailed information
- Health: checks the health status by using SMART
- Error Scan: scans the surface for errors
- Temperature display
HD Tune Pro gives us accurate read, write and access time results and for the last couple of years has been gaining popularity amongst reviewers. It is now considered a must have application for storage device testing.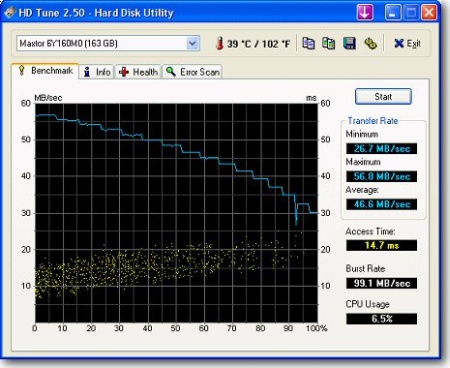 Read Tests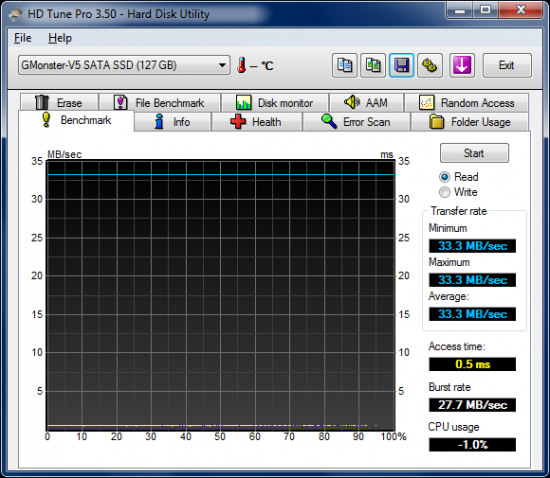 The NexStar Vault uses USB 2.0, so data transfers are limited to 35MB/s or less. Here we see the system transferring data at 33.5 MB/s and doing so with consistency. There is nothing more we can ask of a product that uses USB 2.0; it would have been nice to have an eSATA option, but the USB on the Vault is as good as it gets.
Write Tests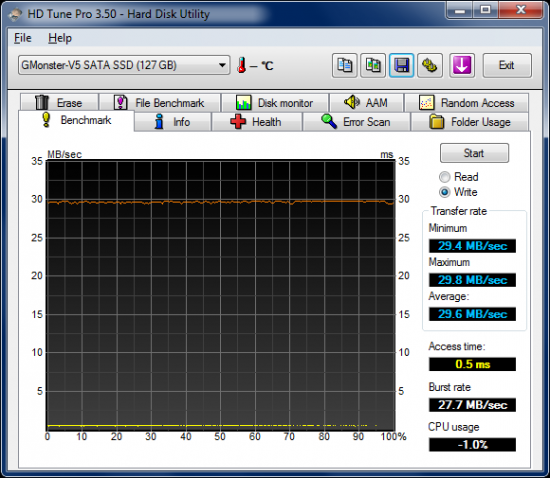 USB 2.0 has a lower write speed than read and here we see that in practice. It is impossible to get more out of USB 2.0.
Final Thoughts
The Vantec NexStar Vault gives users the ability to keep sensitive data secure at the hardware level. You would think that the cost of this feature would be more than what most consumers would be willing to pay, but we found the premium feature didn't add a lot to the total cost of ownership. The transfer speeds were limited by the USB 2.0 standard, but until there is widespread adaption of USB 3.0 it is hard to complain about hitting the ceiling of what all users are using at this time.
The NexStar Vault gives us data security when you need it most, while on the go. What really makes the Vault such a great system is that the data is held secure with a hardware lock and you do not need special software to access your data. When you are finished simply unplug the Vault from the computer and it does not leave any sign of your Vault behind.
When it comes to the cost there are other HDD enclosures on the market that are cheaper, but very few that also have a hardware lock as well. At less than 50 USD the Vantec NexStar Vault is quite reasonable.
The transfer rate over USB 2.0 is as fast as possible given the interface. We can't help but wonder what an eSATA version would be like since the NexStar Vault is able to saturate USB. With USB 3.0 still at least a year away from adaption, the Vault comes out at a strange time. Do you wait for a USB 3.0 solution or take advantage of what is available now? I will leave that up to you, but if you need security now Vantec has a solution today.
PRICING: You can find products similar to this one for sale below.

United States: Find other tech and computer products like this over at Amazon.com

United Kingdom: Find other tech and computer products like this over at Amazon.co.uk

Australia: Find other tech and computer products like this over at Amazon.com.au

Canada: Find other tech and computer products like this over at Amazon.ca

Deutschland: Finde andere Technik- und Computerprodukte wie dieses auf Amazon.de
We openly invite the companies who provide us with review samples / who are mentioned or discussed to express their opinion. If any company representative wishes to respond, we will publish the response here. Please contact us if you wish to respond.