GIGABYTE Radeon HD 5850 Video Card in CrossFire
With our second HD 5850 on hand we take the time to see what happens when we CrossFire the new well priced ATI option.
Published Wed, Oct 14 2009 7:02 AM CDT
|
Updated Tue, Nov 3 2020 7:03 PM CST
Introduction

When it came to testing our second HD 5850, we had a clear plan; CrossFire the two bad boys and see what kind of performance we can get. For many the second top model is always the one to get. At launch it's not as expensive as the top model while at the same time still manages to offer some very good performance.
As games advance, you find yourself with a bigger monitor or simply want to crank up the detail even more. Adding a second card of the same model is inexpensive and can quite often yield a very impressive performance increase.
Today with our GIGABYTE and Sapphire HD 5850s in hand we'll find out if CrossFired HD 5850s is something that you should be looking at, not only in the near future, but also today.
We've really got quite a line-up of cards to compare the HD 5850 CrossFire setup against, but the first thing we'll be doing is checking out what GIGABYTE has done with the package before having a closer look at the card itself. Then it's down to the important bit; performance before we wrap it all up in our final thoughts.
The Package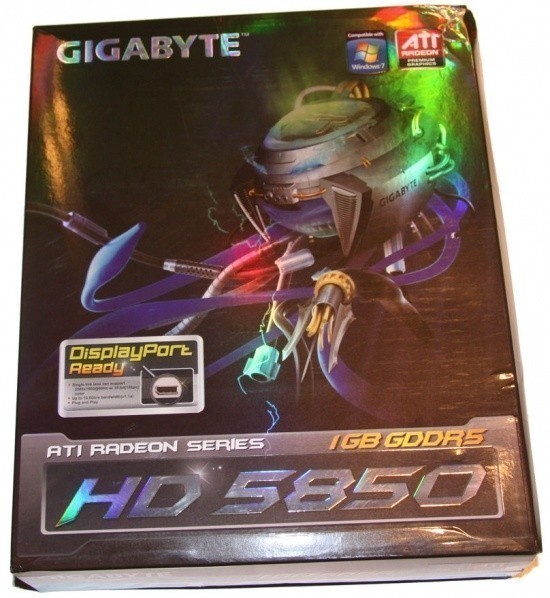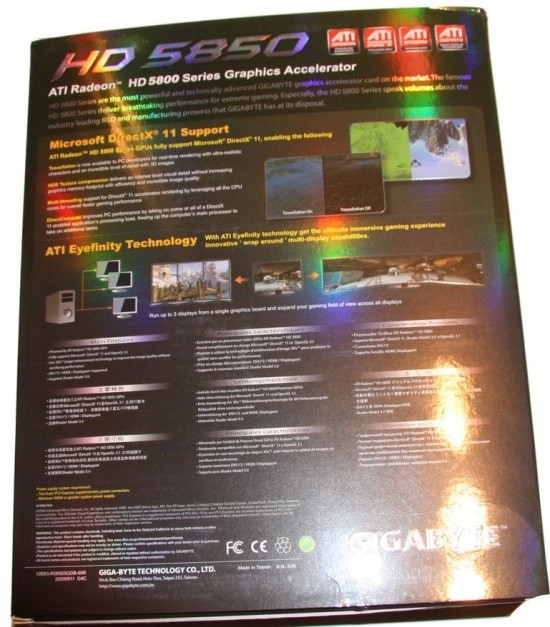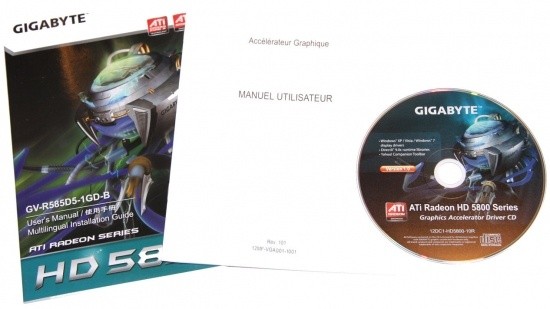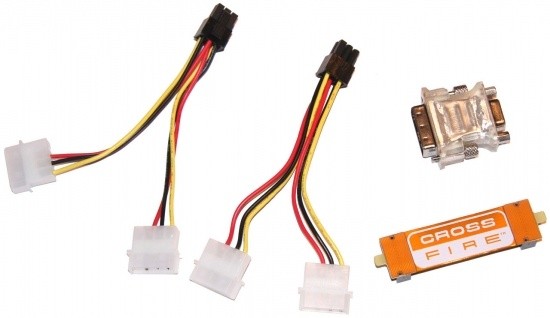 There isn't a whole lot going on with the package. We really only have the necessities to get the card up and running along with our standard connectors like the CrossFire and DVI to VGA one.
Video Card
It doesn't come as any surprise that the HD 5850 from GIGABYTE carries with it the same overall design as the other HD 5850 we've looked at, which really is the same design as the HD 5870. GIGABYTE has of course spiced the card up in their own way by adding some stickers.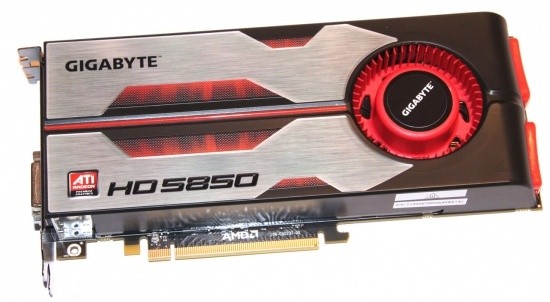 We can see one sticker is placed on the fan to let us know the brand while the rest of the cooler is stickered with a grey, black and red setup which again lets us know the brand along with the model. There isn't anything too fancy going on at the moment, but that's to be expected so close to launch.

One of the main differences in the overall design of the card is where the little vent area is at the back of the card. Instead of being empty we see the HD 5850 carries with it the power connectors; in this case we can see two 6-Pin PCI Express connectors.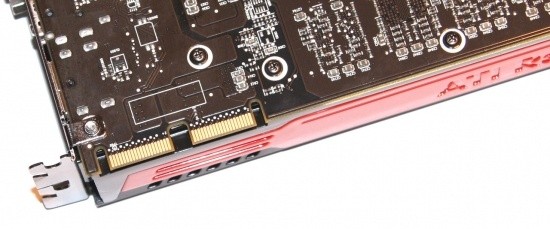 Having a look at the front we see our two standard CrossFire connectors. Fortunately we're going to be making use of them today which is always great news.

The I/O department carries with it the same setup we saw on our other HD 5850 and our other HD 5870s. We've got a vent and a Dual-Link DVI connector on the top half while another Dual-Link DVI connector along with a DisplayPort and HDMI connector nestles in the bottom half.
Specifications
Again, being a reference model there isn't any surprises when it comes to the clocks of the card with the default ones being seen. That means the core comes in at 725MHz while the 1GB of GDDR5 memory carries with it a 4000MHz QDR clock.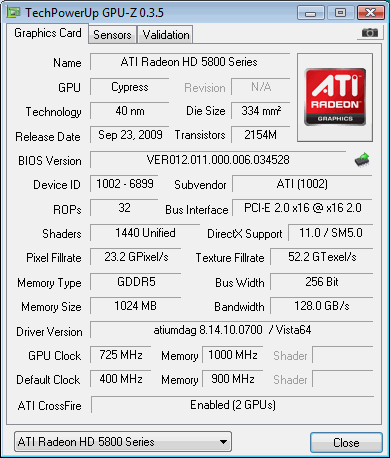 One of the main areas we want to pay attention to here is the ATI CrossFire section at the bottom and as you can see, our 2 GPUs are enabled.
Test System Setup and 3DMark Vantage
Test System SetupProcessor(s):
Intel Core i7 920 @ 3.8GHz (190MHz x 20)
Cooling:
Noctua NH-U12P (Supplied by
Noctua
)
Motherboard(s):
GIGABYTE EX58-UD5 (Supplied by
GIGABYTE
)
Memory:
3 X 2GB OCZ Technology PC-12800 DDR-3 8-8-8-24 (OCZ3G1600LV6GK)
Hard Disk(s):
Western Digital 300GB Velicorapter (Supplied by
Western Digital
)
Operating System:
Windows Vista SP1 64-bit
Drivers:
ATI Catalyst 9.8, ATI Catalyst Cypress Driver, ForceWare 190.62,
We've got a huge line-up for you today. We'll be comparing our GIGABYTE HD 5850 in Crossfire against a single HD 5850, the HD 5870 in both single and CrossFire form along with the top two NVIDIA cards, the dual GPU GTX 295 and their fastest single GPU card, the GTX 285.
Let's get started!
3DMark VantageVersion and / or Patch Used:
1.0.1
Developer Homepage:
http://www.futuremark.com
Product Homepage:
http://www.futuremark.com/products/3dmarkvantage/
Buy It Here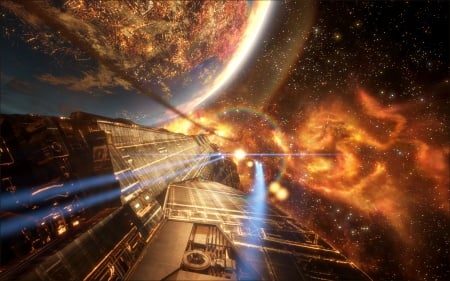 3DMark Vantage is the new industry standard PC gaming performance benchmark from Futuremark, newly designed for Windows Vista and DirectX10. It includes two new graphics tests, two new CPU tests, several new feature tests, and support for the latest hardware.
3DMark Vantage is based on a completely new rendering engine, developed specifically to take full advantage of DirectX10, the new graphics API from Microsoft.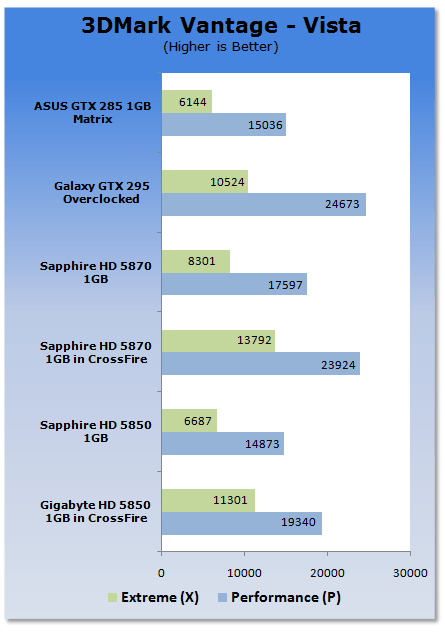 Under Vantage we see straight away a good boost in performance. The cards sit only behind the CrossFire HD 5870 setup in both areas. Against the GTX 295, while it does fall back in the P preset, the HD 5850 CF setup manages to score a win at the X preset.
Benchmarks - PT Boats: Knights of the Sea
PT Boats: Knights of the SeaVersion and / or Patch Used:
Benchmark Demo
Developer Homepage:
http://en.akella.com/
Product Homepage:
http://www.pt-boats.net/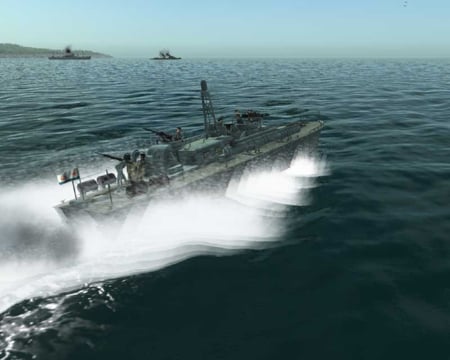 PT Boats: Knights of the Sea is a naval action simulator that places gamers in charge of a mosquito fleet of the Allied Forces, Russia or Germany during the height of World War II.
Using the latest Direct X 10 technology PT Boards - Knights of the Sea manages to apply a lot of stress to the components of today which in turn gives us quite an intensive benchmark.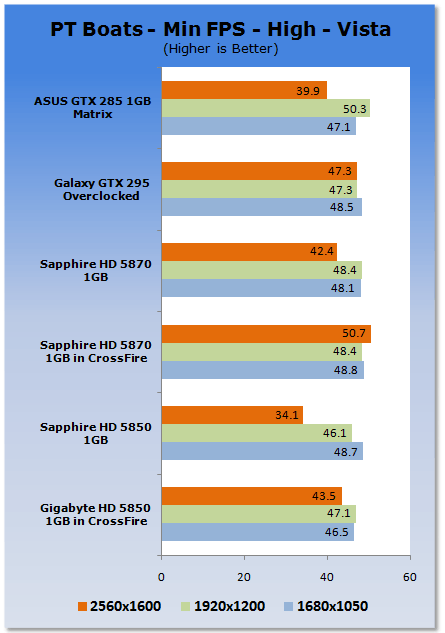 At resolutions up to 1920 x 1200 there isn't a huge difference between the cards. At 2560 x 1600 we see a bit of movement. There isn't a whole lot separating the higher end setups, though.
Benchmarks - CINEBENCH R10
CINEBENCH R10Version and / or Patch Used:
Release 10
Developer Homepage:
http://www.maxon.net/
Product Homepage:
http://www.maxon.net

CINEBENCH is a real-world test suite that assesses your computer's performace capabilities. MAXON CINEBENCH is based on MAXON's award-winning animation software, CINEMA 4D, which is used extensively by studios and production houses worldwide for 3D content creation. MAXON software has been used in blockbuster movies such as Spider-Man, Star Wars, The Chronicles of Narnia and many more.
MAXON CINEBENCH runs several tests on your computer to measure the performance of the main processor and the graphics card under real world circumstances. The benchmark application makes use of up to 16 CPUs or CPU cores and is available for Windows (32-bit and 64-Bit) and Macintosh (PPC and Intel-based).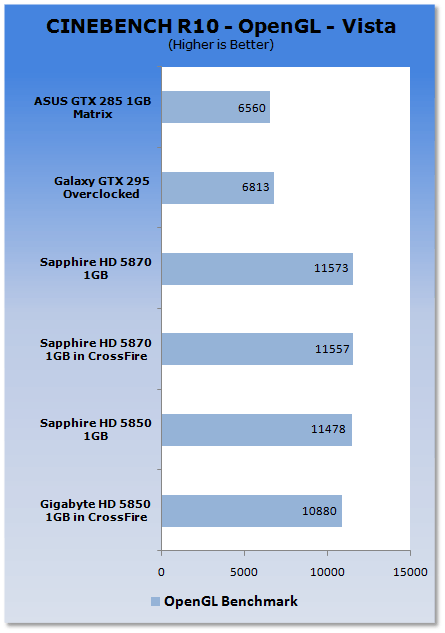 CrossFire doesn't do anything for performance; it falls a little behind here, but nothing major. The overall result is pretty typical.
Benchmarks - World in Conflict
World in ConflictVersion and / or Patch Used:
1.0.0.5
Timedemo or Level Used:
Built-in Test
Developer Homepage:
http://www.massive.se
Product Homepage:
http://www.worldinconflict.com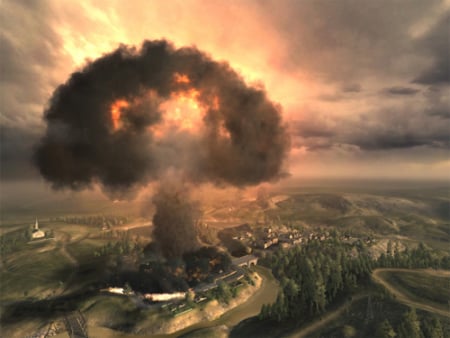 World in Conflict is a real-time strategy video game by Massive Entertainment and to be published by Sierra Entertainment for Windows (DX9 and DX10).
The game is set in 1989 where economic troubles cripple the Soviet Union and threaten to dissolve it. However, the title pursues a "what if" scenario where, in this case, the Soviet Union does not collapse and instead pursues a course of war to remain in power. It is an intensive new game is sure to put plenty of stress on even the latest graphics cards and we use the built-in benchmarking for our testing.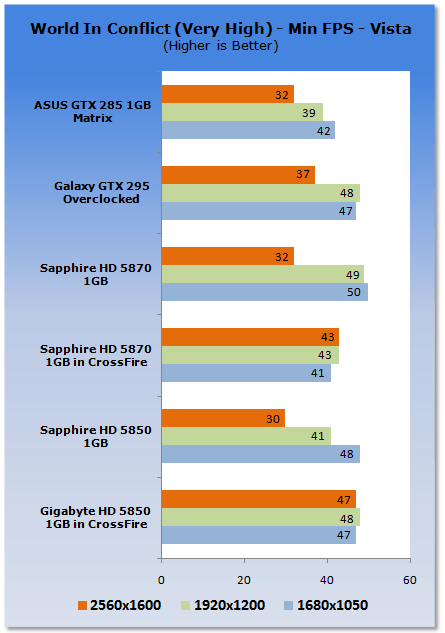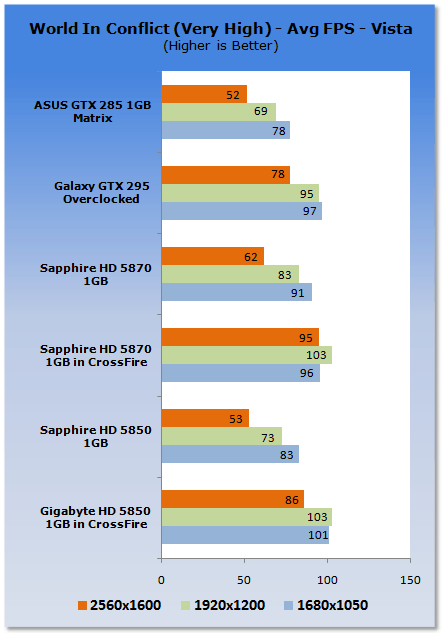 Across the board we see good gains again with the HD 5850 CrossFire setup. It manages to actually out perform the HD 5870 setup in the minimum department which is a bit of weird fluctuation. In the averages the HD 5870 CF setup does come out ahead again, as you would expect.
Benchmarks - Crysis Warhead
Crysis WarheadVersion and / or Patch Used:
Unpatched
Timedemo or Level Used:
Airfield
Developer Homepage:
http://www.crytek.com
Product Homepage:
http://crysiswarhead.ea.com/
Buy It Here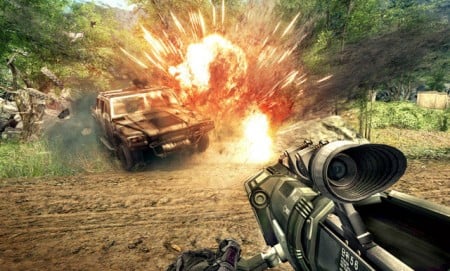 Crysis Warhead updates and refines the gameplay of the original game through a sidestory plot involving Psycho, one of previous protagonist Nomad's allies. The game is a parallel story that follows Sergeant Michael "Psycho" Sykes, a character from the original Crysis, as he faces his own trials and challenges on the other side of the island during the time period of the first game.
It also showcases a new, enhanced and optimized version of CryEngine 2 using full DX10 extensions and is the first game developed by Crytek's Budapest studio.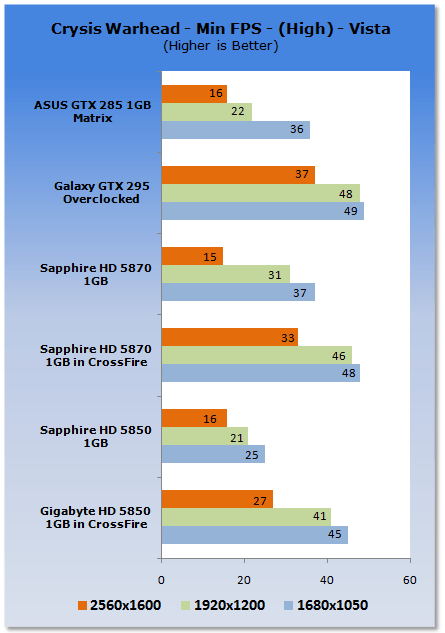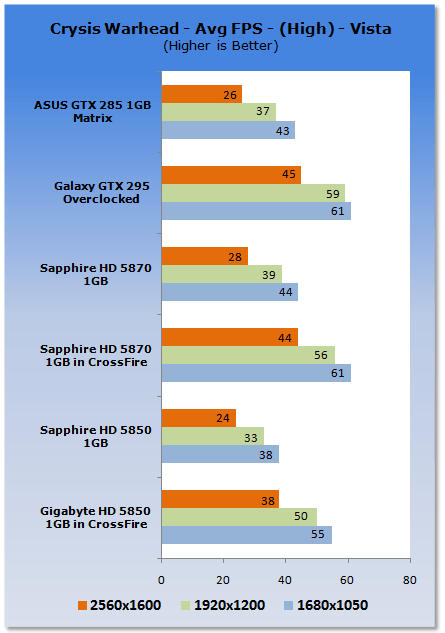 Compared to the single HD 5850 we see some very good performance gains. We weren't able to achieve a 30 FPS minimum with one card, but adding a second sees us achieve a 30 FPS minimum at both 1680 and 1920. At 2560 x 1600 we're only a few FPS away which a small detail drop would fix.
Benchmarks - Far Cry 2
Far Cry 2Version and / or Patch Used:
1.01
Timedemo or Level Used:
Ranch Long
Developer Homepage:
http://www.ubi.com/
Product Homepage:
http://www.farcry2.com/
Buy It Here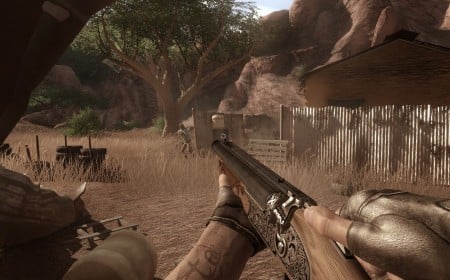 The Dunia Engine was built specifically for Far Cry 2 by the award-winning Ubisoft Montreal development team. It delivers the most realistic destructible environments, amazing special effects such as dynamic fire propagation and storm effects, real-time night-and-day cycle, dynamic music system, non-scripted enemy A.I. and so much more.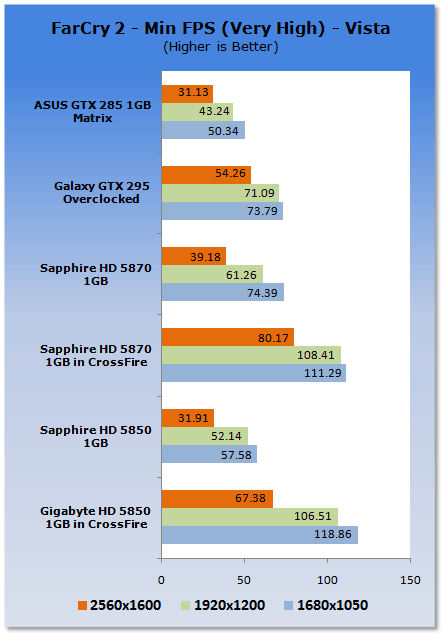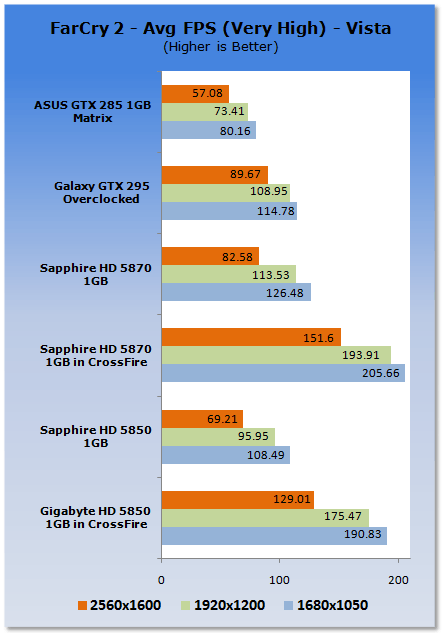 Here we see the HD 5850 CrossFire falls only second to the HD 5870 CrossFire setup. As for performance gains to the single setup, we see some massive gains with Far Cry 2 really making excellent use of CrossFire technology.
Benchmarks - S.T.A.L.K.E.R. - Clear Sky
S.T.A.L.K.E.R. - Clear SkyVersion and / or Patch Used:
1.5.07
Timedemo or Level Used:
Custom Timedemo
Developer Homepage:
http://www.gsc-game.com/
Product Homepage:
http://cs.stalker-game.com/en/
Buy It Here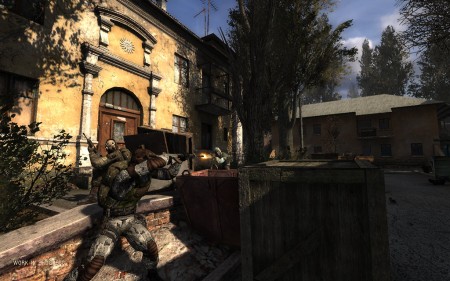 S.T.A.L.K.E.R.: Clear Sky, is the stand-alone prequel for S.T.A.L.K.E.R.: Shadow of Chernobyl, a first-person shooter computer game by Ukrainian developer GSC Game World.[3] The game consists of a roughly 50/50 mix of new areas and old, remodeled areas from the previous game. The X-ray graphics engine has been updated to version 1.5 and includes DirectX 10 support (later patch 1.5.06 included DirectX 10.1). Additionally, the AI received an overhaul to accommodate the new faction wars feature.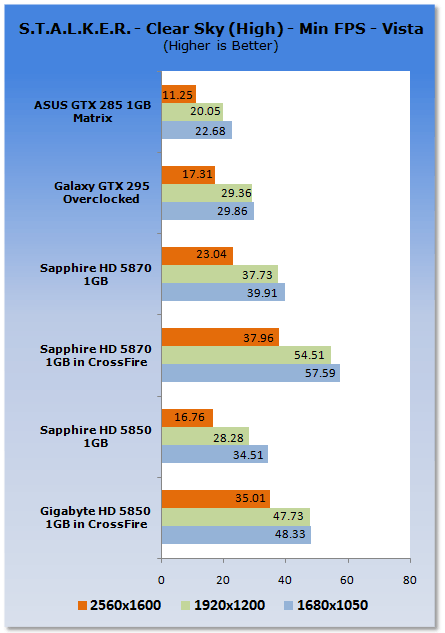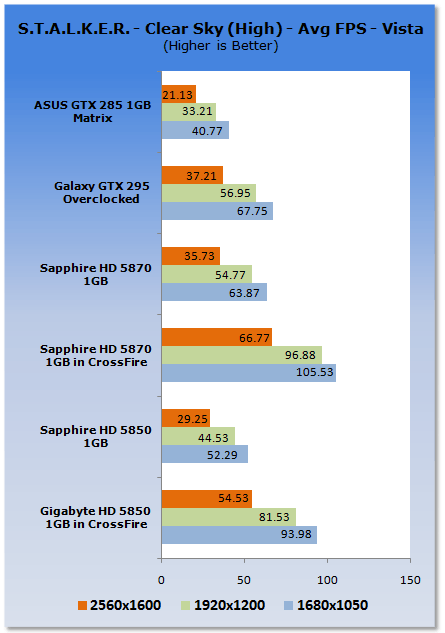 The only other setup apart from the HD 5870 CF one that's able to achieve a minimum of 30 FPS or over at all resolutions is the HD 5850 CF setup which is very impressive.
Benchmarks - Left 4 Dead
Left 4 DeadVersion and / or Patch Used:
Latest Steam Update
Timedemo or Level Used:
Custom Timedemo
Developer Homepage:
http://www.valvesoftware.com/
Product Homepage:
http://www.l4d.com/
Buy It Here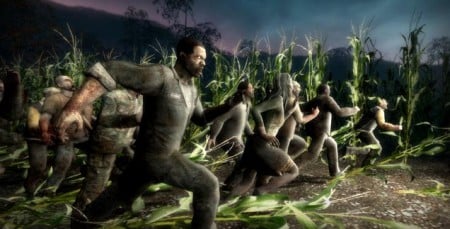 Left 4 Dead uses the latest version of Valve's Source engine, with improvements such as multi-core processor support and physics-based animation to more realistically portray hair and clothing, and to improve physics interaction with enemies when shot or shoved in different body parts. Animation was also improved to allow characters to lean realistically when moving in curved paths.
Rendering and artificial intelligence were scaled up to allow for greater number of enemies who can navigate the world in better ways, such as climbing, jumping or breaking obstacles. Lighting has been enhanced with new self-shadowing normal mapping and advanced shadow rendering that is important to convey information about the environment and player actions.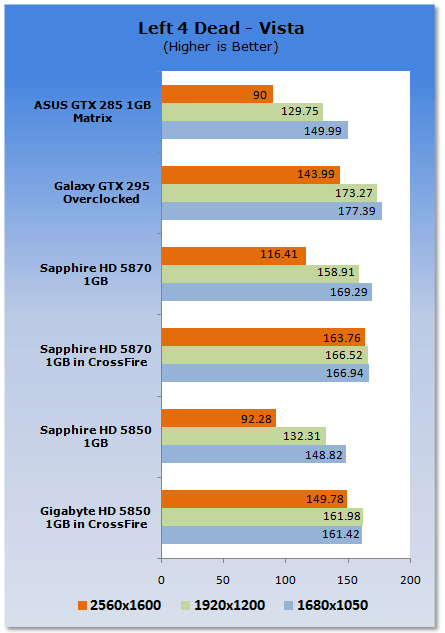 With L4D not being the most intensive game, we can see that we're hitting a wall with a lot of the higher end setups here. Again, though, at 2560 x 1600 the HD 5850 CF setup is only second to the HD 5870 CF one.
Benchmarks - High Quality AA and AF
High Quality AA and AF
Our high quality tests let us separate the men from the boys and the ladies from the girls. If the cards weren't struggling before they will start to now.
Far Cry 2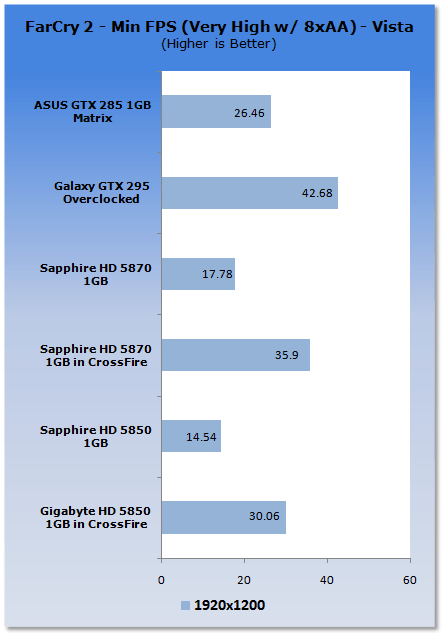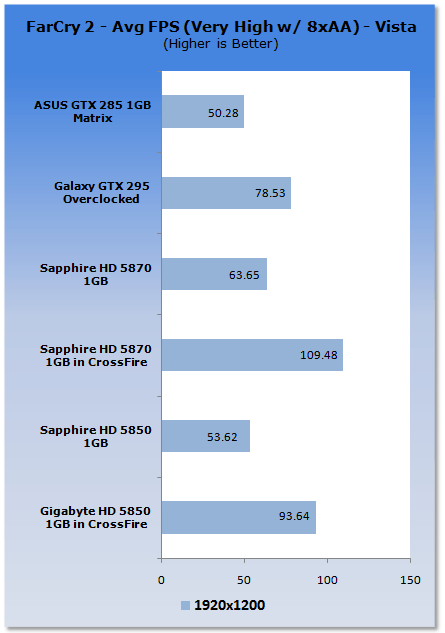 Adding the second card gives us a big enough boost to break that 30 FPS minimum, be it just.
World In Conflict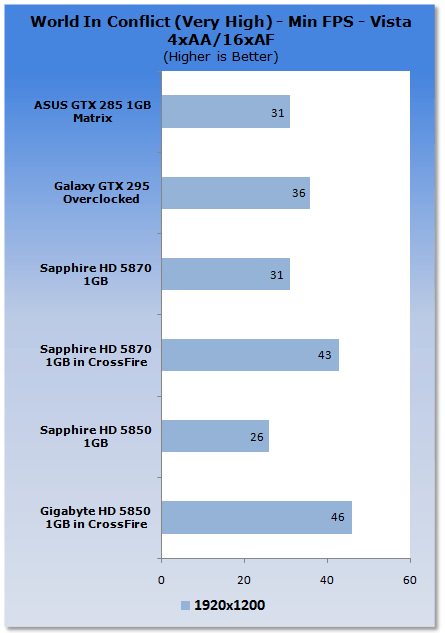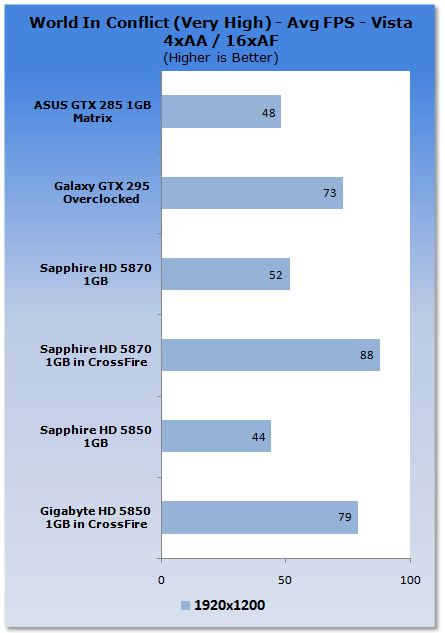 We again see adding a second card gets us over that 30 FPS minimum. Like our non AA tests, though, we see that in the minimum department the HD 5870 CF falls slightly behind.
Left 4 Dead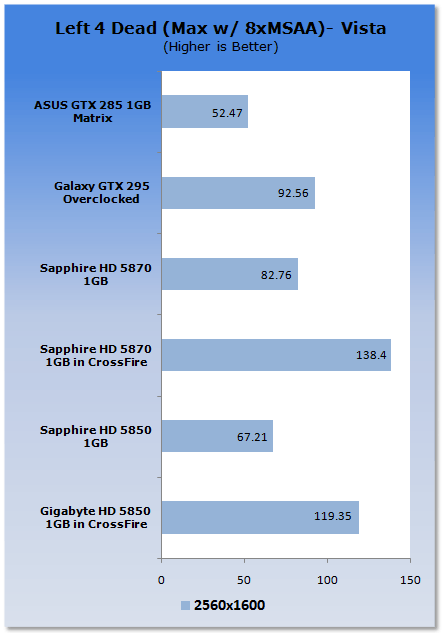 Again, another big boost that shows the HD 5850 CF setup coming in second only to the HD 5870 CF.
Temperature and Sound Tests
Temperature Tests
With the TES 1326 Infrared Thermometer literally in hand we found ourselves getting real-world temperatures from the products we test at load (3D clock speeds).
There are two places we pull temperature from - the back of the card directly behind the core and if the card is dual slot and has an exhaust point we also pull a temperate from there, as seen in the picture.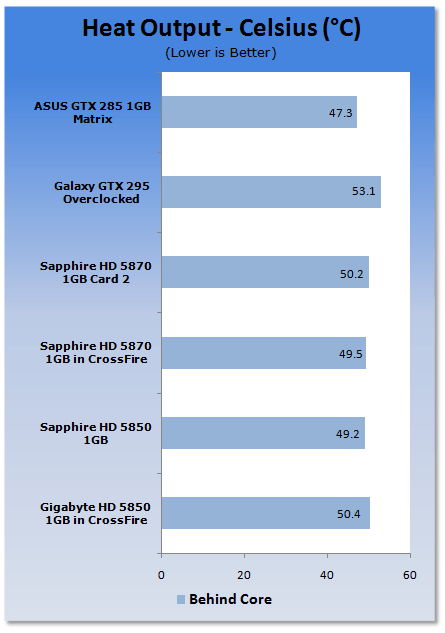 Nothing too unusual with the heat output of the second card slightly warmer, but nothing to be worried about.
Sound Tests
Pulling out the TES 1350A Sound Level Meter we find ourselves quickly yelling into the top of it to see how loud we can be.
After five minutes of that we get a bit more serious and place the device two CM away from the fan on the card to find the maximum noise level of the card when idle (2D mode) and in load (3D mode).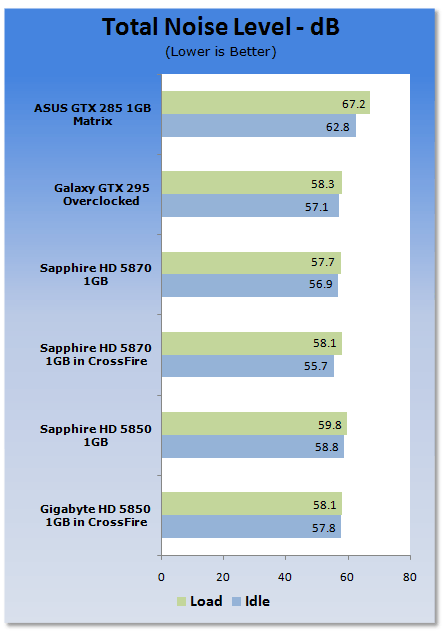 There's really no difference with noise levels.
Power Consumption Tests
Using our new PROVA Power Analyzer WM-01 or "
Power Thingy
" as it has become quickly known as to our readers, we are now able to find out what kind of power is being used by our test system and the associated graphics cards installed. Keep in mind; it tests the complete system (minus LCD monitor, which is plugged directly into AC wall socket).
There are a few important notes to remember though; while our maximum power is taken in 3DMark06 at the same exact point, we have seen in particular tests the power being drawn as much as 10% more. We test at the exact same stage every time; therefore tests should be very consistent and accurate.
The other thing to remember is that our test system is bare minimum - only a 7,200RPM SATA-II single hard drive is used without CD ROM or many cooling fans.
So while the system might draw 400 watts in our test system, placing it into your own PC with a number of other items, the draw is going to be higher.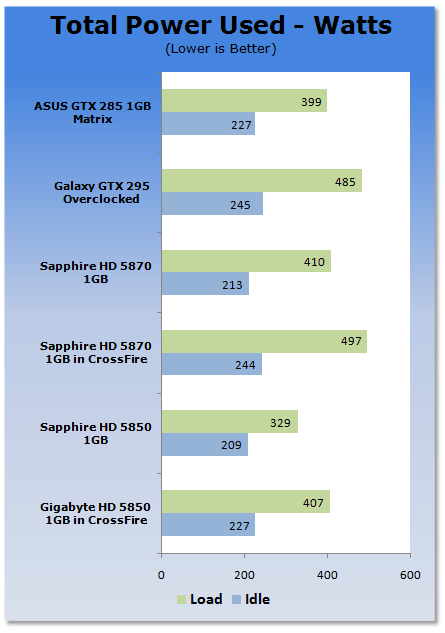 We've got an increase in power draw, but again it's nothing that's too worrying.
Final Thoughts
As we've done in the past, we didn't test the GIGABYTE HD 5850 in single form due to the simple fact that the card follows the same reference clocks and there's no new driver. We already know what the performance of the model is going to be like. The good thing about these higher end models is when we add two of them together we end up with something that becomes extremely interesting.
CrossFire HD 5850 is exactly like CrossFire HD 5870 in the sense it doesn't disappoint. We saw some really good performance straight out of the gate and we manage to go through strong and finish off in the same way.
This is quickly going to become a popular option for people who want to get into CrossFire but don't want to spend HD 5870 money. What's great about the setup we tested here today is that it's faster than a single HD 5870. Mind you, this didn't come as much of a surprise due to the fact that when you look at the specification differences between the two there isn't a whole lot.
The GIGABYTE package is a bit on the light side, but comes with everything we want. Pricing is good and performance is great. You can also see today that mixing and matching brands isn't a problem, so if you picked up one card which came with Dirt 2 and then at release of the game picked up a second card that didn't come with it, you're really not missing out on anything.
ATI continue to do good things with CrossFire and today isn't an exception. One HD 5850 no doubt performs well, but if you're looking for a bit of extra performance in the future without busting the bank account, it's worth noting that a second one is going to yield some very impressive performance gains for users of 1920 x 1200 and 2560 x 1600.
PRICING: You can find products similar to this one for sale below.

United States: Find other tech and computer products like this over at Amazon.com

United Kingdom: Find other tech and computer products like this over at Amazon.co.uk

Australia: Find other tech and computer products like this over at Amazon.com.au

Canada: Find other tech and computer products like this over at Amazon.ca

Deutschland: Finde andere Technik- und Computerprodukte wie dieses auf Amazon.de