Introduction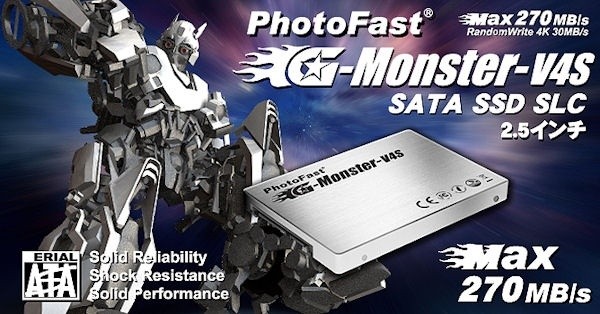 PhotoFast has been on the ball lately. Recently
we tested their V5 SSD
that uses dual MLC drives with a tiny RAID controller packaged in a single 2.5" enclosure and also
the PCIe Promise-Monster
that looks more like a video card than a hard drive. Both products produced some great benchmark results, but there are times when only Single Level Cell memory will do.
Now that we are starting to see Multi-Level Cell SSDs performing at Single Level Cell speeds, the decision to go with lower cost MLC can be very tempting for uninformed IT Professionals. The truth is, when you are looking for long term storage solutions where usage is heavy and small reads and writes are often used, SLC is still the best option. A couple of examples would be database servers or a smaller company's QuickBooks server.
As always, SLC comes at a cost that is higher than similar capacity MLC. In this case the G-Monster V4S you are looking at is 499.00 USD from DVNation here in the US. DVNation is the US distributer for PhotoFast and is thought as one of the most knowledgeable consultants for a company's storage needs. Let's move on and take a look at the PhotoFast G-Monster V4S' specifications.
Specifications, Availability and Pricing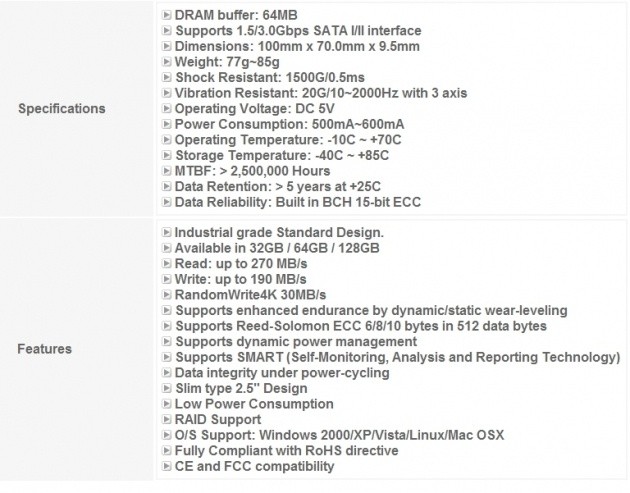 The PhotoFast V4S is a 2.5" SSD that uses the Indilinx Barefoot controller with 64MB cache. This is a pretty common theme these days, but the V4S has an interesting twist. The memory used is not the standard MLC that we have seen with countless other Indilinx controlled drives, but high end SLC memory that is reserved for the enterprise market.
SLC still writes faster than MLC since it doesn't need to clear the block before a write operation happens. At the same time, clearing the block adds wear to the memory so SLC drives have a longer lifespan than MLC.
At 499 USD the V4S is designed for professional use and there won't be too many people purchasing these for their notebooks, even though they would make great drives for personal use. DVNation carries the PhotoFast G-Monster V4S and has them in stock at this time. If you are looking for a significant quantity be sure to check out the distributer site, PhotoFastSSD.com.
When it comes to performance, the V4S is advertised to have 270MB/s read and 190MB/s write. At this time the V4S has the highest rated read speed on the market. It would seem that PhotoFast needs the next generation of SATA to arrive sooner rather than later since they are hitting a ceiling with the current limits of specifications.
The PhotoFast V4S SLC SSD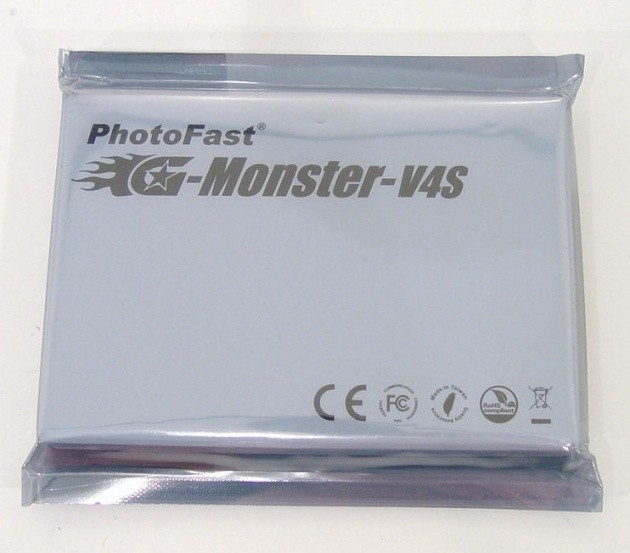 Our drive came in OEM packaging from DVNation.com. Here you see the drive in the anti-static bag that is form fitted to the drive.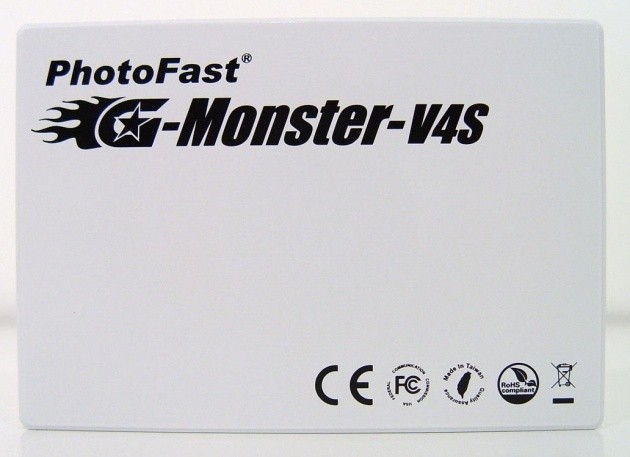 This is the first white SSD I have run across so far and the drive looks great. On the bottom left side of the drive you can see all of the logos and a quick warning not to dispose of the drive in the trash.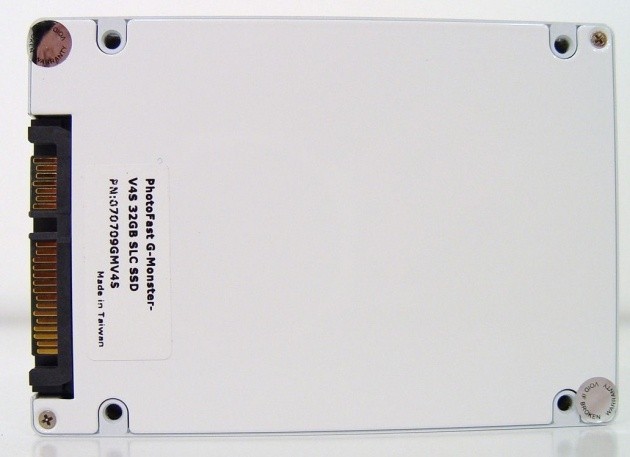 The label is on the back of the drive and it shows the part number as well as the power and data connector.

On each side we found both of the mounting points that are used to install the drive.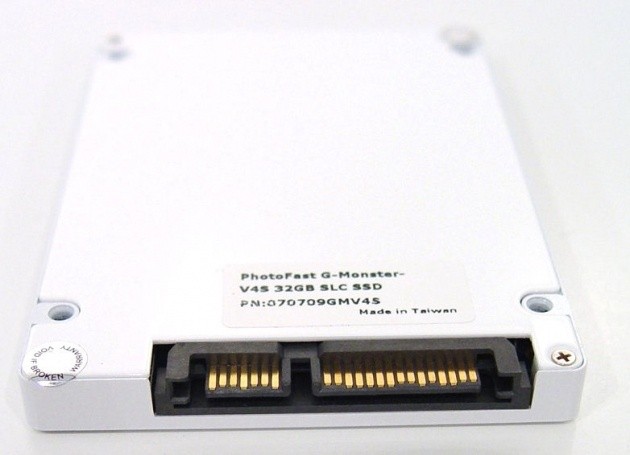 The power and data connectors are where they should be, so mounting the drive into a standard 2.5" enclosure will be quite easy.
Test System Setup and ATTO Baseline
Test System
Processors
: AMD Opteron 2356 (2.3GHz Quad-Core) x2
Motherboard
: Tyan S2915-E (Supplied by
Tyan
)
Memory
: Kingston KVR667D2S4P5/2G x4 (Supplied by
Kingston
)
Graphics Card
: XFX 8800 GTX (Supplied by
XFX USA
)
Enclosure
: Lian Li V2000
Cooling
: Noctua NH-U12DO (Supplied by
Noctua
)
SATA Controller
: Areca ARC-1231ML (Supplied by
Areca
)
SAS Controller
: Areca ARC-1680i (Supplied by
Areca
)
Operating System
: Microsoft Windows Vista Ultimate X64
Today we are comparing the PhotoFast G-Monster V4S SLC SSD to other 2.5 inch drives that we've reviewed in the past.
All of the drives tested were performed on the listed system under identical conditions to ensure true apples to apples performance results for comparison.
ATTO Baseline Performance
Version and / or Patch Used:
2.34
ATTO is used by many disk manufacturers to determine the read and write speeds that will be presented to customers.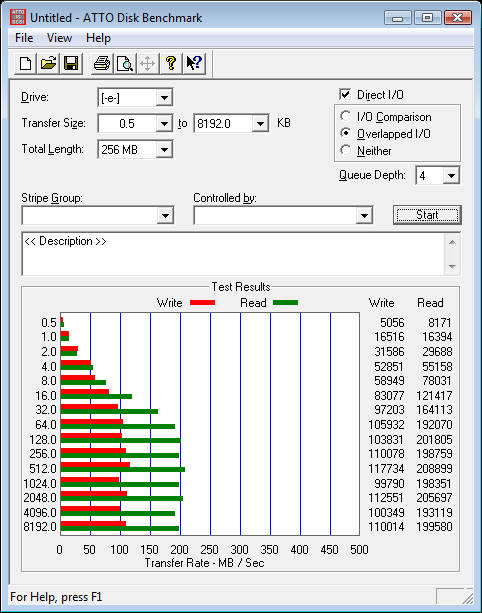 In ATTO we see the extreme read speed of the V4S, but the write speeds are quite low compared to the marketing material. Let's move on and see if this is an isolated case.
Benchmarks - HD Tune Pro
HD Tune ProVersion and / or Patch Used:
3.00
Developer Homepage:
http://www.efdsoftware.com
Product Homepage:
http://www.hdtune.com
HD Tune is a Hard Disk utility which has the following functions:
- Benchmark: measures the performance
- Info: shows detailed information
- Health: checks the health status by using SMART
- Error Scan: scans the surface for errors
- Temperature display
HD Tune Pro gives us accurate read, write and access time results and for the last couple of years has been gaining popularity amongst reviewers. It is now considered a must have application for storage device testing.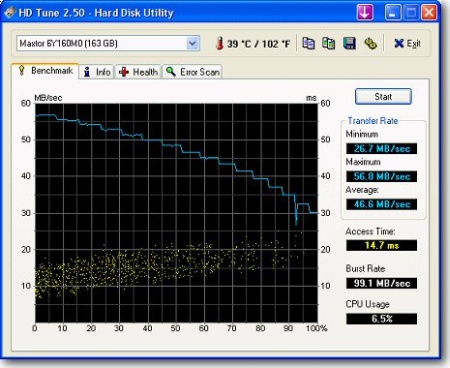 Read Tests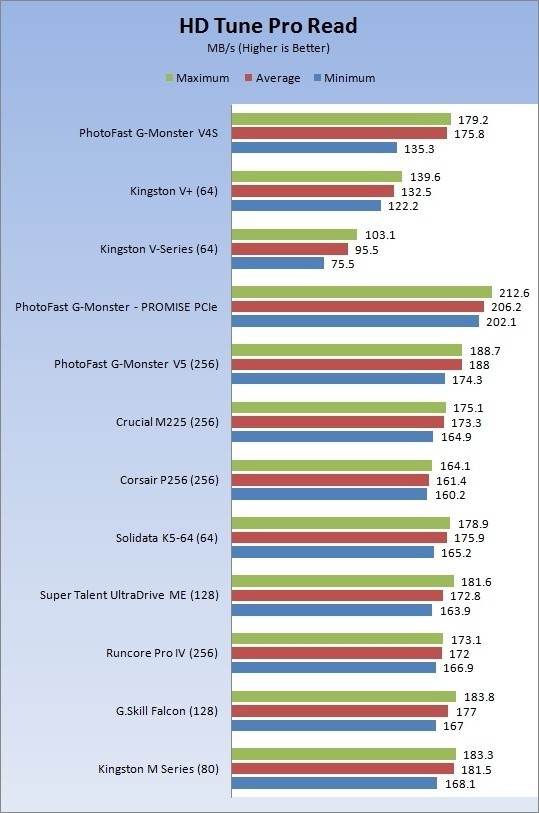 The read speed is a little faster than the standard MLC Indilinx based Crucial M225 drive. The direct competitor to the V4S is the Solidata K5, another Indilinx SLC drive.
Write Tests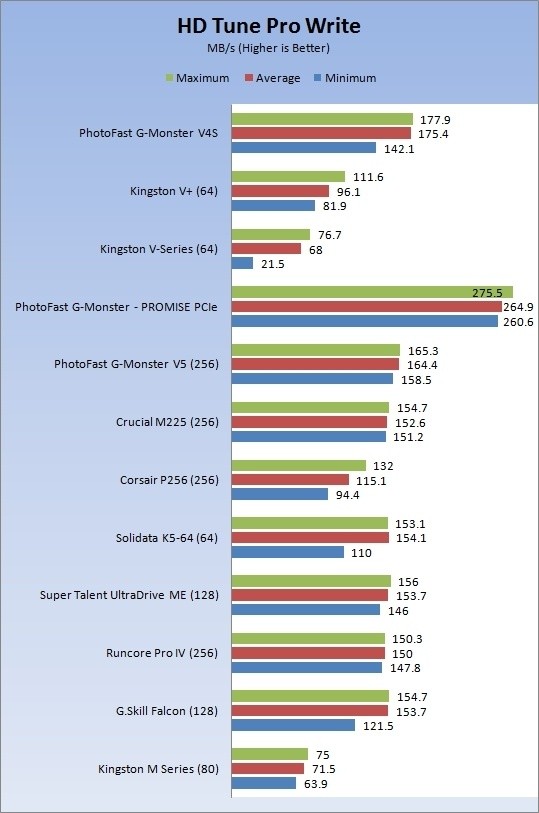 Here we see incredible write results, some of the highest ever recorded with a single drive.
Benchmarks - EVEREST Random Access Time
EVEREST Random Access TimeVersion and / or Patch Used:
4.60
Developer Homepage:
http://www.lavalys.com
Product Homepage:
http://www.lavalys.com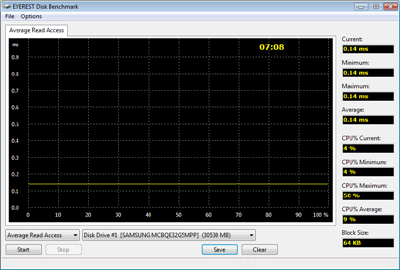 Everest Ultimate and Corporate Edition offer several different benchmarks for testing and optimizing your system or network. The Random Access test is one of very few if not only that will measure hard drives random access times in hundredths of milliseconds as oppose to tens of milliseconds.
Read Tests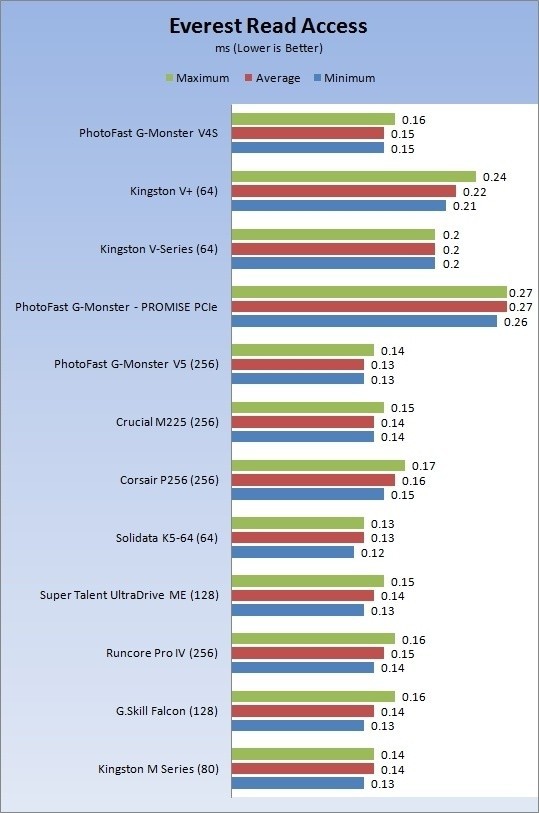 Read access time is spot on for a Barefoot controller.
Write Tests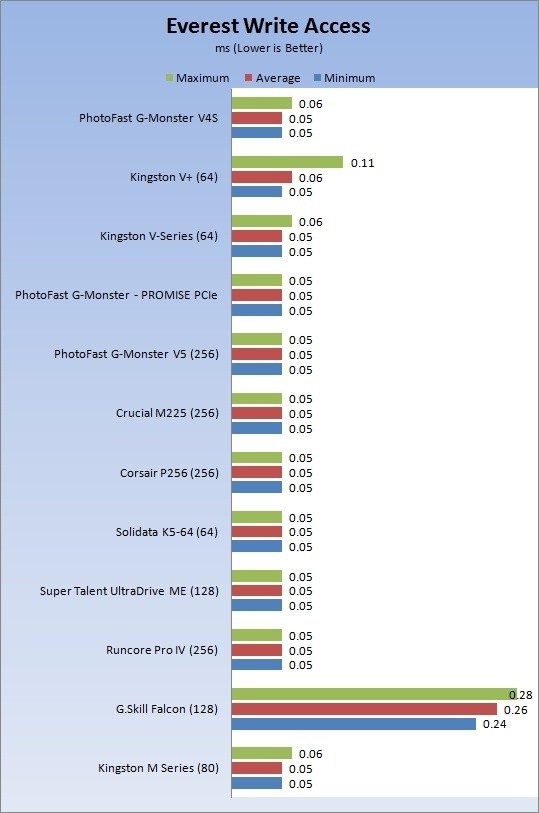 The same is true for the write access times.
Let's see how all of these synthetic benchmarks relate to real world applications.
Benchmarks - PCMark Vantage Hard Disk Tests
PCMark Vantage - Hard Disk TestsVersion and / or Patch Used:
1.0.0
Developer Homepage:
http://www.futuremark.com
Product Homepage:
http://www.futuremark.com/benchmarks/pcmark-vantage//
Buy It Here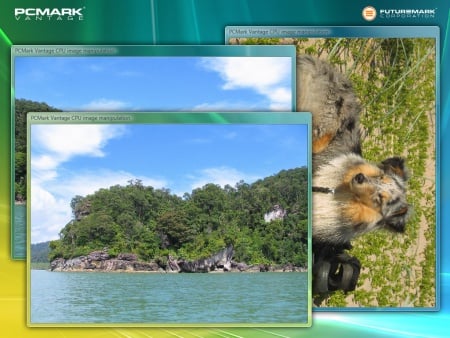 PCMark Vantage is the first objective hardware performance benchmark for PCs running 32 and 64 bit versions of Microsoft Windows Vista. PCMark Vantage is perfectly suited for benchmarking any type of Microsoft Windows Vista PC from multimedia home entertainment systems and laptops to dedicated workstations and high-end gaming rigs. Regardless of whether the benchmarker is an artist or an IT Professional, PCMark Vantage shows the user where their system soars or falls flat, and how to get the most performance possible out of their hardware. PCMark Vantage is easy enough for even the most casual enthusiast to use yet supports in-depth, professional industry grade testing.
FutureMark has developed a good set of hard disk tests for their PCMark Vantage Suite. These tests are based on real world applications that many of us use daily.

HDD1 - Windows Defender
HDD2 - Gaming
HDD3 - Windows Photo Gallery
HDD4 - Vista Startup
HDD5 - Windows Movie Maker
HDD6 - Windows Media Center
HDD7 - Windows Media Player
HDD8 - Application Loading
In the real world test we see results all over the place. The PhotoFast G-Monster V4S scores the highest performance we have observed to date for a 2.5" drive.
Benchmarks - Passmark
Passmark Advanced Multi-User TestsVersion and / or Patch Used:
6.1
Developer Homepage:
http://www.passmark.com
Test Homepage:
http://www.passmark.com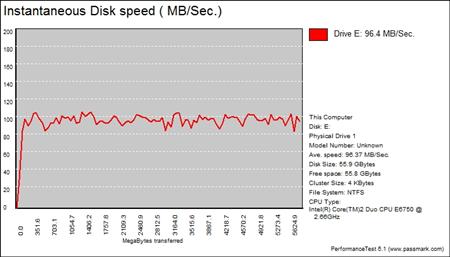 Many users complain that I/O Meter is too complicated of a benchmark to replicate results so my quest to find an alternative was started. Passmark has added several multi-user tests that measure a hard drives ability to operate in a multi-user environment.

The tests use different settings to mimic basic multi-user operations as they would play out on your server. Variances is read / write percentage as well as random / sequential reads are common in certain applications, Web Servers read nearly 100% of the time while Database Servers write a small amount of data.
The Workstation test is the only single user environment and will be similar to how you use your system at home.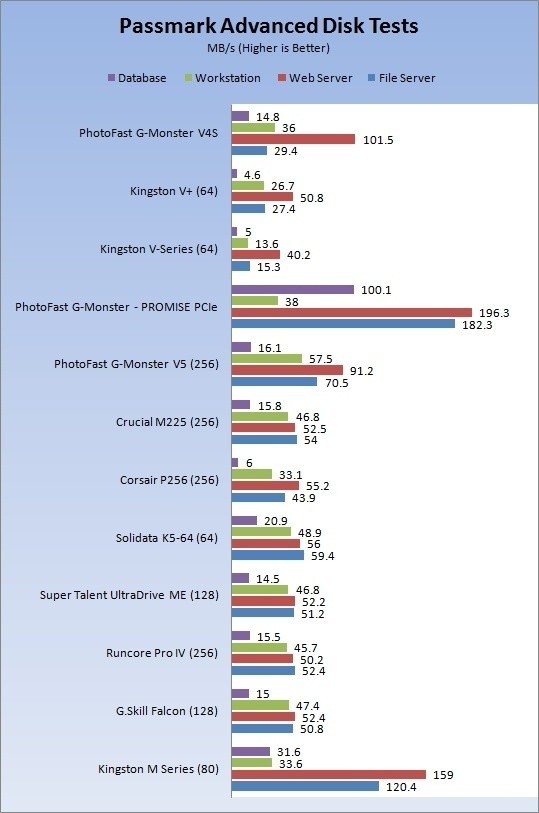 Another set of interesting benchmarks. The Intel controller has dominated these tests for quite some time now, but in the Workstation category the V4S takes the lead.
Final Thoughts
The G-Monster V4S is a chip off the ole PhotoFast block and is just as impressive as the V5 and Promise PCIe. When it really comes down to it, the V5 appears to be a little faster for consumer use, but the longevity of SLC makes the V4S better suited for enterprise uses.
At 499 USD for the 32GB G-Monster V4S, the drive has a couple of competitors that are very fast as well. Sitting on equal ground technology wise, the Solidata K5 costs about the same and is only slightly slower. Just as the X25-M does in the desktop market, the enterprise X25-E casts a long shadow. The X25-E costs around 80 USD less and its ten channel controller makes it very fast as well, but it does have an issue with TRIM that makes it less desirable at this time.
When it comes to availability, DVNation keeps the G-Monster V4S in stock in 32GB capacity. The V4S is also available in 64GB and 128GB capacities, all with the same 64MB of cache.