Exclusive Review of PhotoFast's G-Monster-PROMISE (1000MB/s) 128GB PCIe SSD
PhotoFast takes RAID to a whole new level and strikes at Fusion-io.
Published Sat, Aug 1 2009 12:15 AM CDT
|
Updated Tue, Nov 3 2020 7:03 PM CST
Introduction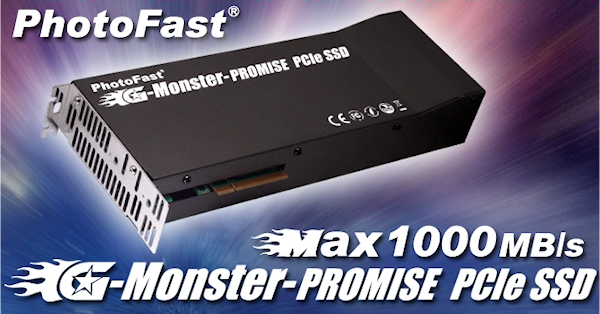 Yesterday we told you about the
PhotoFast G-Monster V5
and how the company was able to take a PhotoFast RAID controller and package it with two G-Monster V3 solid state drives all in a single 2.5 inch form factor hard drive. The 256GB drive was very impressive, but its 999 USD price was enough to keep us from jumping up and down with glee. Today we are going to look at another creation from PhotoFast; this time the company has paired four G-Monster V3 drives based on the Indilinx Barefoot controller and matched them with a Promise Technology ST EX8650 SATA/SAS RAID controller that uses a PCIe 8x connector and includes 256MB of DDR2 cache.
Let's be honest, the solid state wars have been very entertaining and it reminds me of the old ATI / NVIDIA days. If you were to compare the new PCIe based G-Monster to a graphics card it would be the mystical card that graced the cover of Maximum PC 10 years ago; the one that was made in Photoshop with a 3DFX, ATI and NVIDIA chipset on it. Not even the X2 series cards that we have today compare to the silliness of the PhotoFast G-Monster - PROMISE PCIe SSD. Honestly, this product is something that was thought up by an engineer in the test lab when his boss was away and he had a box of parts sitting around while playing with a soldering iron. The story might not be entirely accurate, but this is the only way I can envision this product being drawn out.
With a claimed read and write speed of 1000 MB/s, we even dropped a jaw while reading the specifications. PhotoFast released information about the product a couple of months ago and it took a little while for our sample to arrive, but Jason at DVNation always has the cool toys. When he said one was available for testing we jumped at the opportunity to get it in our test lab. Let's have a look.
Specifications, Availability and Pricing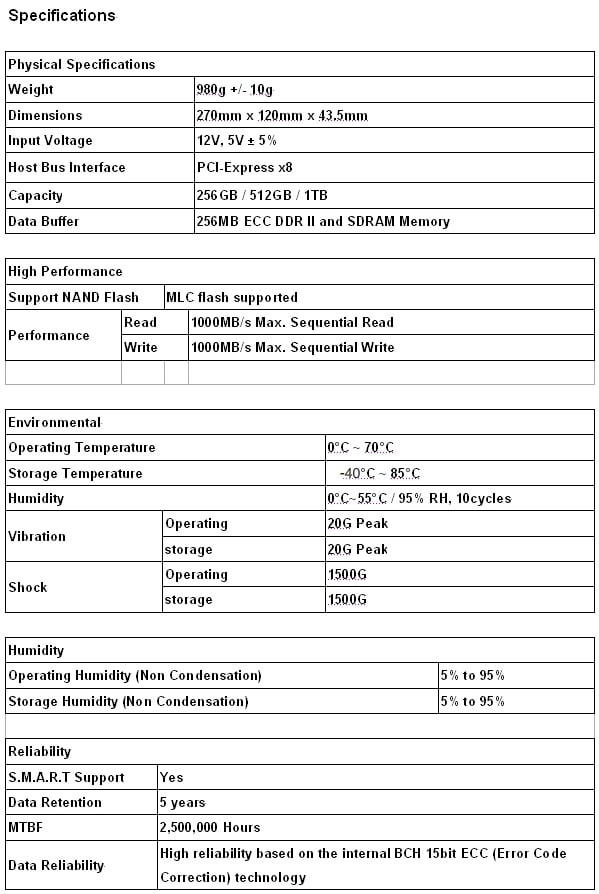 Today we are looking at the lowest cost PCIe drive available which also happens to have the lowest capacity. Filled with four 32GB G-Monster V3 solid state drives and a PROMISE SATA / SAS RAID controller that has 256MB cache built in, everything is wrapped in a sleek package that looks more like a recent NVIDIA graphics card than anything from a storage company.
The claimed specifications for all four capacity models is pretty much the same, a generic 1000 MB/s read and write speed are what PhotoFast has labeled the G-Monster PCIe line with. I would think that each array would perform a bit differently, but this is the information we are presented with. The G-Monster V3 series of drives have a claimed 230MB/s read speed and 160MB/s write speed and use Indilinx Barefoot controllers. These numbers give us serious doubt about the claimed 1000MB/s read and write speed of the PCIe drive, but PhotoFast could have given the drives a little boost since there has been several firmware updates for the Barefoot drives since they were released and the claimed numbers were generated.
Many months ago we
tested the Fusion-io ioDrive
and to this date we have still not be able to boot from the drive. The PhotoFast PCIe drive is bootable, so you can run your operating system off of this high speed product.
DVNation, our one stop shop from Texas carries the G-Monster - PROMISE PCIe SSD. They list the 128GB model that we are testing here today at 1399.00 USD. This is actually a pretty decent price once you figure out everything you are getting; four SSDs and a RAID controller. We will have to look at the performance numbers to see if the combination put together by PhotoFast gives us performance that is on par with the high cost. There is some value here, though; certainly you wouldn't be able to go out and buy four V3 class solid state drives and a RAID controller of this caliber for 1400 Dollars. PhotoFast also manufactures a 256, 512 and 1TB version of the PCIe SSD.
The Packaging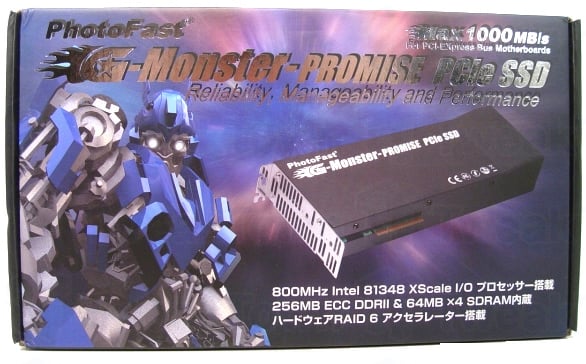 It appears that PhotoFast is even packaging the G-Monster - PROMISE PCIe SSD like a graphics card. Here we see the transformer like character that is on the box as well as some impressive numbers that relate to the PROMISE RAID controllers features.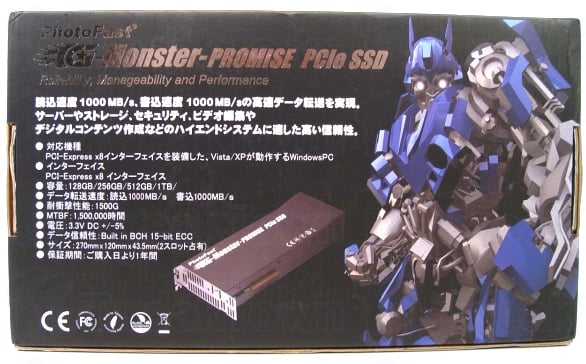 On the back we see more specifications in English and Chinese.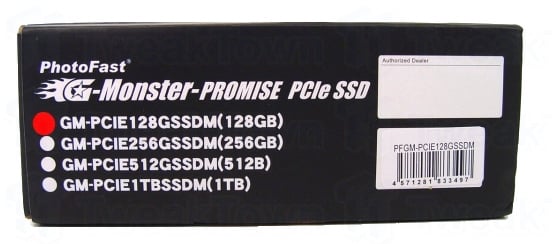 The packaging is the same for each version of the card and on the side a red dot is placed over the circle that correlates to the product in the package.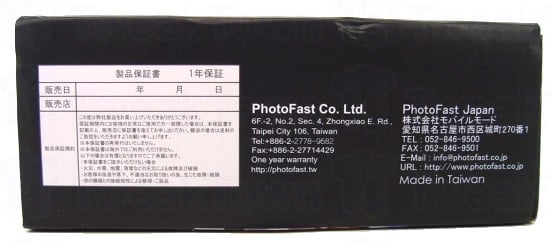 On the side we see contact information for PhotoFast in Taiwan and Japan. If you would like to contact the U.S. distributer, please visit
www.photofastssd.com
.
The PhotoFast G-Monster - PROMISE PCIe SSD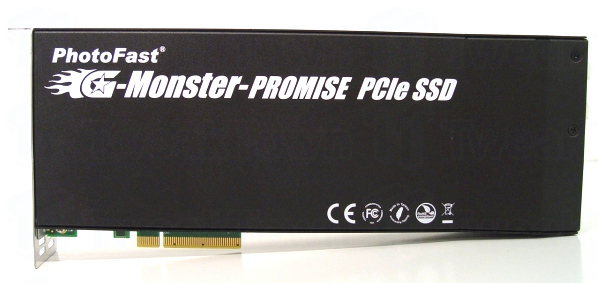 Here we get our first look at the PCIe SSD. The card keeps everything under the shield other than the PCIe connector.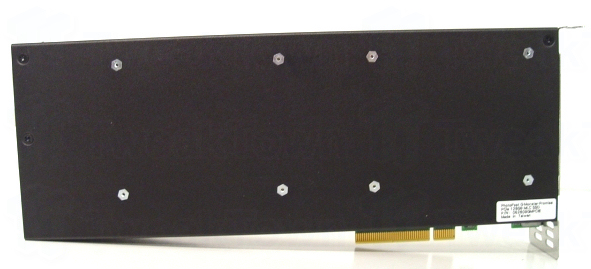 There is not much to see on the bottom of the card other than the label at the bottom right hand side that shows the model number and capacity information.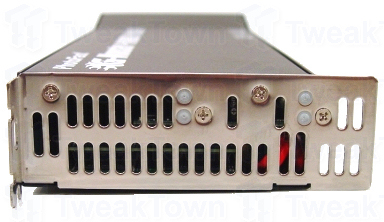 Air is pushed out of the case through the vents on this side.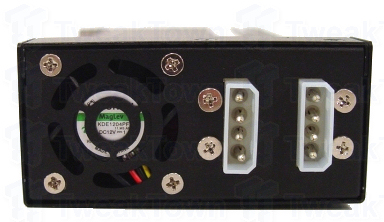 On the other side we found a fan and two 4-pin Molex connectors that provide additional power.
Test System Setup and ATTO Baseline
Test System
Processors
: AMD Opteron 2356 (2.3GHz Quad-Core) x2
Motherboard
: Tyan S2915-E (Supplied by
Tyan
)
Memory
: Kingston KVR667D2S4P5/2G x4 (Supplied by
Kingston
)
Graphics Card
: XFX 8800 GTX (Supplied by
XFX USA
)
Enclosure
: Lian Li V2000
Cooling
: Noctua NH-U12DO (Supplied by
Noctua
)
SATA Controller
: Areca ARC-1231ML (Supplied by
Areca
)
SAS Controller
: Areca ARC-1680i (Supplied by
Areca
)
Operating System
: Microsoft Windows Vista Ultimate X64
Today we are comparing the PhotoFast G-Monster - PROMISE PCIe SSD to other recent solid state drives that we have tested.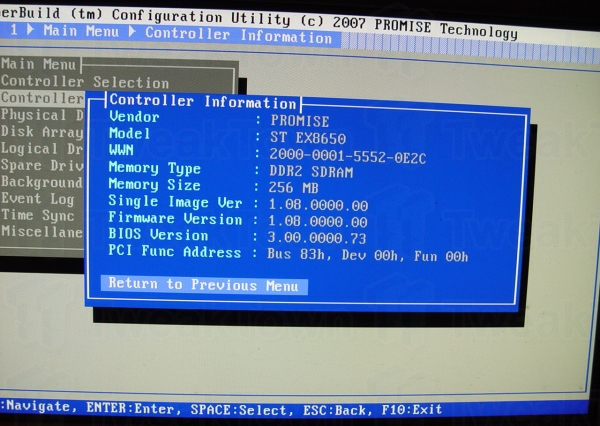 The G-Monster - PROMISE PCIe SSD uses a Promise EX6850 RAID controller. You can see the controllers information in the image above.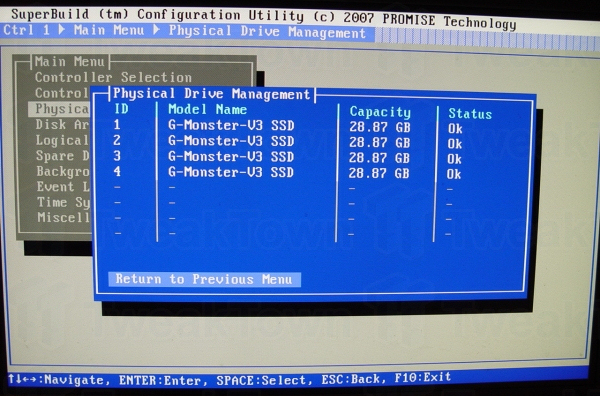 There are four 32GB solid state drives inside running in a RAID 0 array. I left all of the controller settings as they ship from the factory.
ATTO Baseline Performance
Version and / or Patch Used:
2.34
ATTO is used by many disk manufacturers to determine the read and write speeds that will be presented to customers.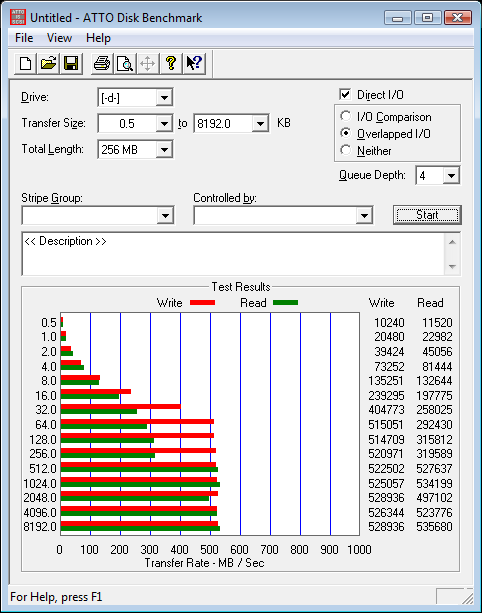 ATTO gives us all kinds of information this time around. The most obvious comes in the middle of the graph where we see the RAID controller's cache really helping out quite a bit with the write speeds. This is a reversal of what we would normally see. With most solid state drives the read speed is quite a bit faster than the write in this area.
ATTO is used by many companies to come up with a product's advertised speeds, but PhotoFast must have either used a different program or a model with larger drives, because we only achieved right around 530 MB/s for both read and write speeds. Let's move on so we can get to some real performance numbers.
Benchmarks - HD Tune Pro
HD Tune ProVersion and / or Patch Used:
3.00
Developer Homepage:
http://www.efdsoftware.com
Product Homepage:
http://www.hdtune.com
HD Tune is a Hard Disk utility which has the following functions:
Benchmark: measures the performance
Info: shows detailed information
Health: checks the health status by using SMART
Error Scan: scans the surface for errors
Temperature display
HD Tune Pro gives us accurate read, write and access time results and for the last couple of years has been gaining popularity amongst reviewers. It is now considered a must have application for storage device testing.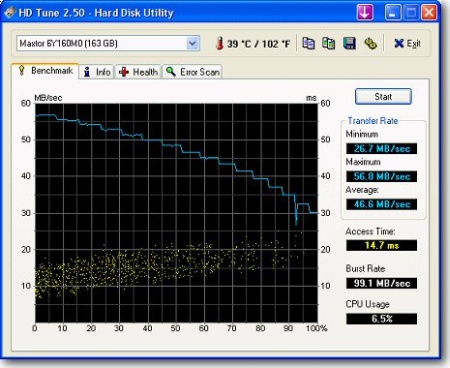 Read Tests
The G-Monster - PROMISE PCIe SSD is faster than the other drives we have tested recently in the STR test and it should be. The problem is that we are running four drives in RAID 0 and are seeing less than 2x the performance.
Write Tests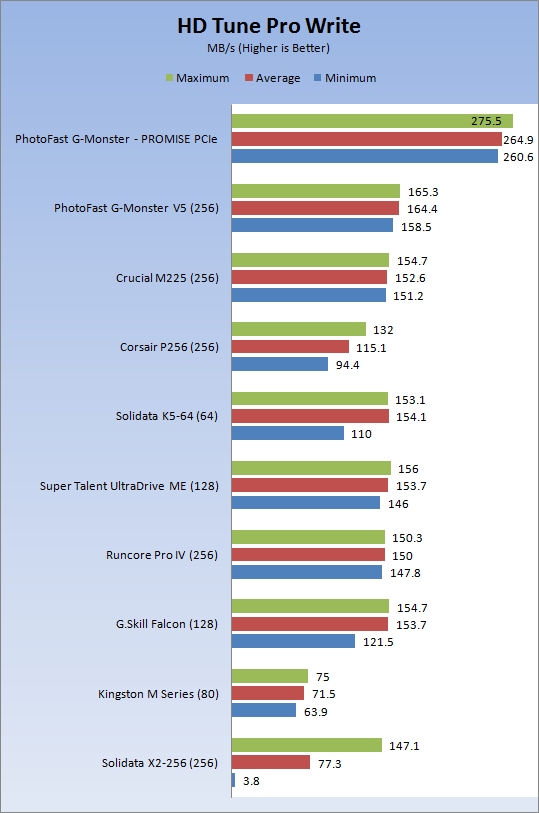 The write test is impressive as well on the surface, but just like the read test we were expecting to see a little more oomph from the array.
Benchmarks - EVEREST Random Access Time
EVEREST Random Access TimeVersion and / or Patch Used:
4.60
Developer Homepage:
http://www.lavalys.com
Product Homepage:
http://www.lavalys.com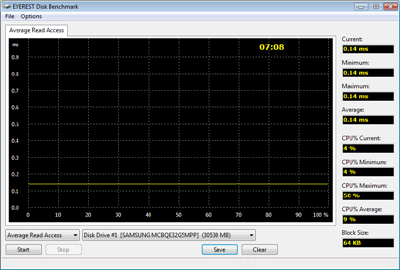 EVEREST Ultimate and Corporate Edition offer several different benchmarks for testing and optimizing your system or network. The Random Access test is one of very few if not only that will measure hard drives random access times in hundredths of milliseconds as oppose to tens of milliseconds.
Read Tests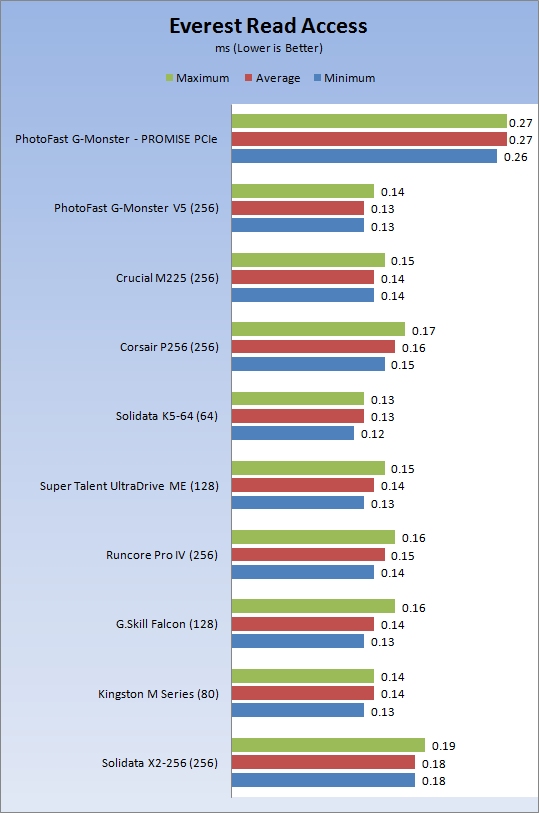 The read access time goes up quite a bit with the PROMISE RAID controller, something that we never see when testing SSDs on our Areca and Adaptec controllers with solid state drives.
Write Tests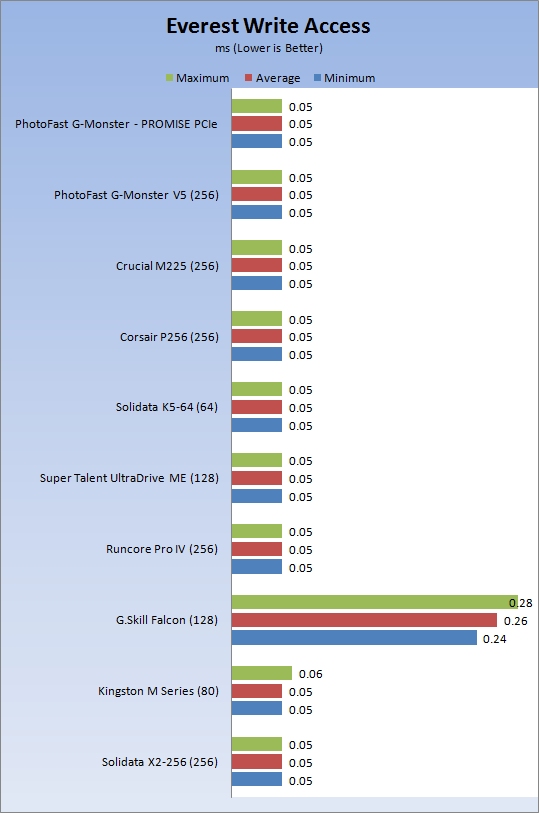 Write access of the PCIe SSD falls in line with the other drives and is identical to the other controllers we have tested with SSDs.
Let's see how all of these synthetic benchmarks relate to real world applications.
Benchmarks - PCMark Vantage Hard Disk Tests
PCMark Vantage - Hard Disk TestsVersion and / or Patch Used:
1.0.0
Developer Homepage:
http://www.futuremark.com
Product Homepage:
http://www.futuremark.com/benchmarks/pcmark-vantage/
Buy It Here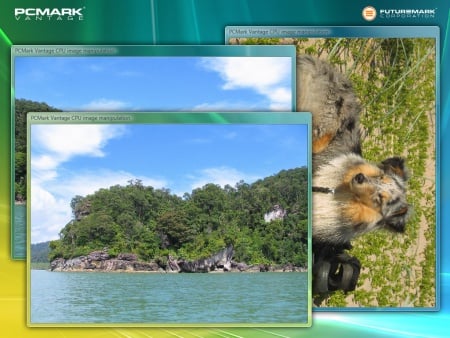 PCMark Vantage is the first objective hardware performance benchmark for PCs running 32 and 64 bit versions of Microsoft Windows Vista. PCMark Vantage is perfectly suited for benchmarking any type of Microsoft Windows Vista PC from multimedia home entertainment systems and laptops to dedicated workstations and high-end gaming rigs. Regardless of whether the benchmarker is an artist or an IT Professional, PCMark Vantage shows the user where their system soars or falls flat, and how to get the most performance possible out of their hardware. PCMark Vantage is easy enough for even the most casual enthusiast to use yet supports in-depth, professional industry grade testing.
FutureMark has developed a good set of hard disk tests for their PCMark Vantage Suite. These tests are based on real world applications that many of us use daily.

HDD1 - Windows Defender
HDD2 - Gaming
HDD3 - Windows Photo Gallery
HDD4 - Vista Startup
HDD5 - Windows Movie Maker
HDD6 - Windows Media Center
HDD7 - Windows Media Player
HDD8 - Application Loading
Our first real world condition Windows tests indicate that the PCIe SSD from PhotoFast shows great gains in some tests, but in others it shows average solid state drive performance. In many of the tests the PhotoFast G-Monster V5, a RAID 0 two drive version of the same V3 drives used in the PCIe version, is able to outperform the PCIe version in many of the tests. The V5 costs 999 USD for 256GB of capacity. We will get into this more in the conclusion.
Benchmarks - Passmark
Passmark Advanced Multi-User TestsVersion and / or Patch Used:
6.1
Developer Homepage:
http://www.passmark.com
Test Homepage:
http://www.passmark.com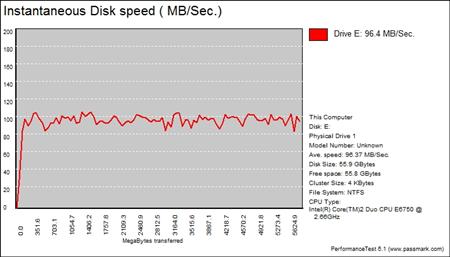 Many users complain that I/O Meter is too complicated of a benchmark to replicate results so my quest to find an alternative was started. Passmark has added several multi-user tests that measure a hard drives ability to operate in a multi-user environment.

The tests use different settings to mimic basic multi-user operations as they would play out on your server. Variances is read / write percentage as well as random / sequential reads are common in certain applications, Web Servers read nearly 100% of the time while Database Servers write a small amount of data.
The Workstation test is the only single user environment and will be similar to how you use your system at home.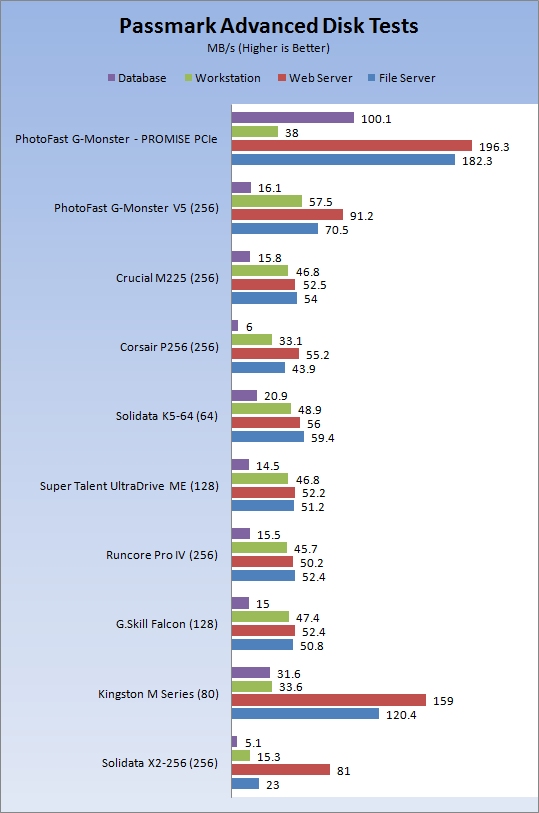 It is of no surprise that the PCIe SSD does well in the server tests since the PROMISE controller used in the card is designed for server use. I am surprised by the low performance of the workstation test which emulates power users in multitasking scenarios. The tests above show that the PCIe SSD is best suited for server intensive tasks.
Final Thoughts
The PhotoFast G-Monster - PROMISE PCIe SSD is a high-end product that everyone would love to have, but only a few will actually own. After some deep thoughts about it the card reminds me of my Ducati. It is fast, fun, expensive and when people see it they want one, too. The thing is, with toys like this, once you actually own one you understand why they are so expensive and start to realize that they are really a pain in the butt to have. The Indilinx controlled drives need to be maintained, firmware updates offer more speed but the best way to keep your G-Monster V3 running at its highest level of performance is to clean the drives of deleted files. For Indilinx drives that means you have to remove them from RAID and run Wiper on single JBOD drives. The PROMISE controller will allow you to run the drives in JBOD for a quick cleaning, but you lose all of your data that was in the array.
If you are using the PCIe SSD as a boot drive it really comes out to be a big hassle if you are not used to reformatting your system every three or so months. Power users are pretty much a costume to reformatting a few times a year. We are just starting to test Windows 7 and will have to let you know at a later date if the TRIM command works in RAID arrays. Aside from the technical limitations, the cost is another deterrent. The 1400 USD for the 128GB drive that we looked at today pretty much speaks for itself.
After testing both the G-Monster V5 and G-Monster - PROMISE PCIe SSD I think desktop users would benefit more from the V5. The V5 has higher performance in many of the tests and costs 300 USD less with twice the capacity. If you are worried about being "green" the V5 has you covered there as well, since it is only two V3 drives instead of four and it doesn't need to power a full size RAID controller.
The PCIe SSD really shows that PhotoFast is able to think outside the box and build unconventional products. The G-Monster - PROMISE PCIe SSD and the G-Monster V5 both show innovative thinking and we can't wait to see what the company comes up with next. You can count on us to keep you up to date on all of the latest PhotoFast news.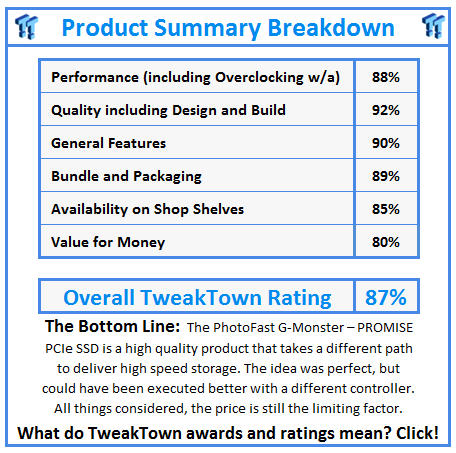 PRICING: You can find products similar to this one for sale below.

United States: Find other tech and computer products like this over at Amazon.com

United Kingdom: Find other tech and computer products like this over at Amazon.co.uk

Australia: Find other tech and computer products like this over at Amazon.com.au

Canada: Find other tech and computer products like this over at Amazon.ca

Deutschland: Finde andere Technik- und Computerprodukte wie dieses auf Amazon.de
We openly invite the companies who provide us with review samples / who are mentioned or discussed to express their opinion. If any company representative wishes to respond, we will publish the response here. Please contact us if you wish to respond.