AMD Phenom II X4 965 3.4GHz AM3 Processor
AMD ramps things up with the 3.4GHz clocked Phenom II 965 processor; flagship of the AMD desktop fleet.
Published Thu, Aug 20 2009 1:38 AM CDT
|
Updated Tue, Nov 3 2020 7:03 PM CST
Rating:

93%
Manufacturer: AMD
Introduction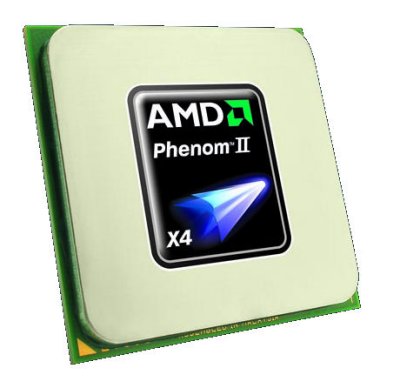 AMD's Phenom II has been one of least hyped up processors from AMD, mostly because it hasn't been the success that AMD really wanted it to be. K10 was supposed to be AMD's answer to Core 2 and while it does give the Core 2 line a run for its money, especially given the price range, the major competitor has AMD already aced with Core i7 and it's not looking good for AMD in the price range now with Core i7 LGA1156 and Core i5 LGA1156 processors set to take on K10 in the mainstream. AMD has a bit to pull now.
While it's not the runaway success, K10 really is a great value product. It's a quad core processor with an on-die memory controller that not only supports DDR2, but also DDR3. It's a perfect bridge processor for AM2+ users who want to keep their current boards and memory, but get a new processor. Phenom II gives you the option of a dual channel DD2 memory controller now with the ability to go to a dual channel DDR3 memory controller by simply putting the processor into an AM3 board with DDR3 memory support, something Intel hasn't bothered to do. It's DDR3 all the way with them.
Just recently
we had a look
at the Black Edition 955 Phenom II processor with unlocked multipliers. Today we have been sent AMD's latest addition to its speed bin. Clocking in at 3.4GHz, this processor is the fastest clocked model to come from AMD, even when including the Athlon X2 line. Let's see how well it does.
Closer Look At The Phenom II 965
The new Phenom on the block
We have already looked at the differences between Phenom II and the older K8 architecture, so there is no real reason to go over all of that again. There aren't any major changes to the CPU apart from clock speeds. The default clock of the 965 processor is 3.4GHz with the same cache as the 955 we've already tested. The integrated Northbridge of the 965 runs at the 2GHz level rather than 1.8GHz which the cheaper models are clocked at. This doesn't make for a huge difference, but any increase in speed is a good one.
AMD packages the latest processor in the same 940 pin AM3 socket which makes it fully backwards compatible with the AM2+ motherboards. Something we would like to see AMD finally do is go pinless like Intel; it's generally a fair bit cheaper to replace a board than a CPU if a pin gets bent.
Overclocking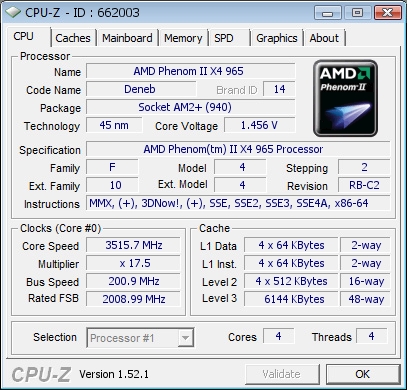 http://valid.canardpc.com/show_oc.php?id=662003
Using multipliers, we managed to get 3.5GHz out of the CPU without much trouble. However, due to time constraints we didn't get a lot of time to push harder. This we are going to cover very soon in a dedicated article where we test both the 955 and 965 overclocking potential.
Important Editor Note: Our maximum overclocking result is the best result we managed in our limited time of testing the motherboard. Due to time constraints we weren't able to tweak the motherboard to the absolute maximum and find the highest possible FSB, as this could take days to find properly. We do however spend at least a few hours overclocking every motherboard to try and find the highest possible overclock in that time frame. You may or may not be able to overclock higher if you spend more time tweaking, or as new BIOS updates are released. "Burn-in" time might also come into play if you believe in that.
Test System Setup and EVEREST
Test System
Motherboard
: GIGABYTE GA-MA785G-UD2H (Supplied by
GIGABYTE
)
Hard Disk
: 500GB Western Digital SE16 (Supplied by
Western Digital
)
Graphics Card
: GIGABYTE 9800GX2 (Supplied by
GIGABYTE
)
Cooling
: AMD Stock Cooling
Operating System
: Microsoft Windows 7 64-bit RTM
Drivers
: Intel INF 9.0.0.1008, ForceWare 190.38
Today we simply have the Phenom II 955 up against the new Phenom 965 in which we put them through our usual array of CPU testing software.
EVEREST Ultimate EditionVersion and / or Patch Used:
2006
Developer Homepage:
http://www.lavalys.com
Product Homepage:
http://www.lavalys.com
Buy It Here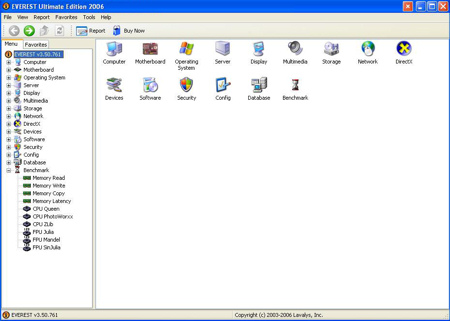 EVEREST Ultimate Edition is an industry leading system diagnostics and benchmarking solution for enthusiasts PC users, based on the award-winning EVEREST Technology. During system optimizations and tweaking it provides essential system and overclock information, advanced hardware monitoring and diagnostics capabilities to check the effects of the applied settings. CPU, FPU and memory benchmarks are available to measure the actual system performance and compare it to previous states or other systems.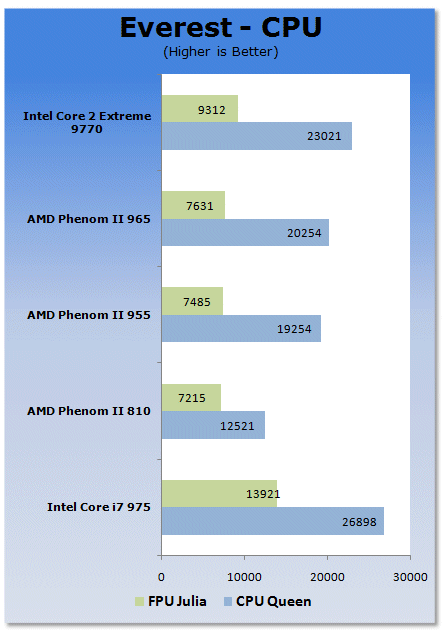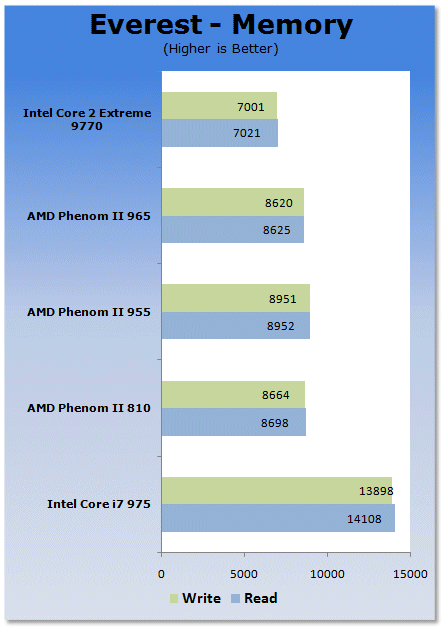 First off is EVEREST. In the CPU performance, compared to the 955 there isn't a huge amount of difference between the two processors.
Benchmarks - Sisoft Sandra
SiSoft SandraVersion and / or Patch Used:
2009
Developer Homepage:
http://www.sisoftware.co.uk
Product Homepage:
http://sisoftware.jaggedonline.com/index.php?location=home&a=TTA&lang=en
Buy It Here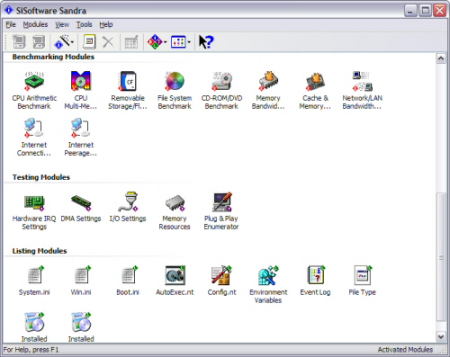 SiSoft Sandra (
S
ystem
AN
alyser,
D
iagnostic and
R
eporting
A
ssistant) is a synthetic Windows benchmark that features different tests used to evaluate different PC subsystems.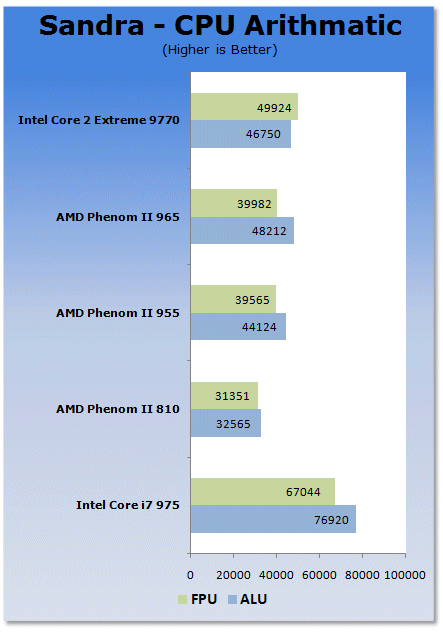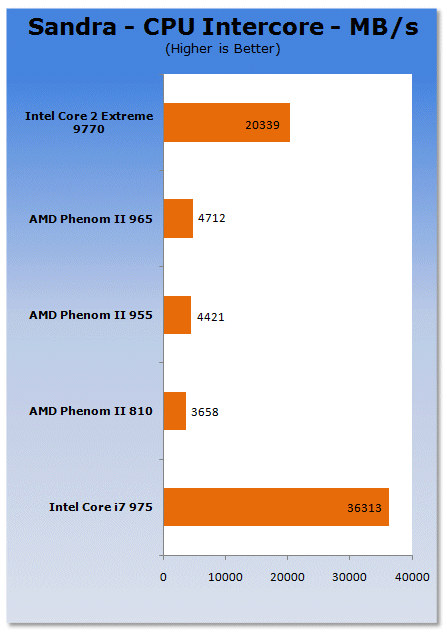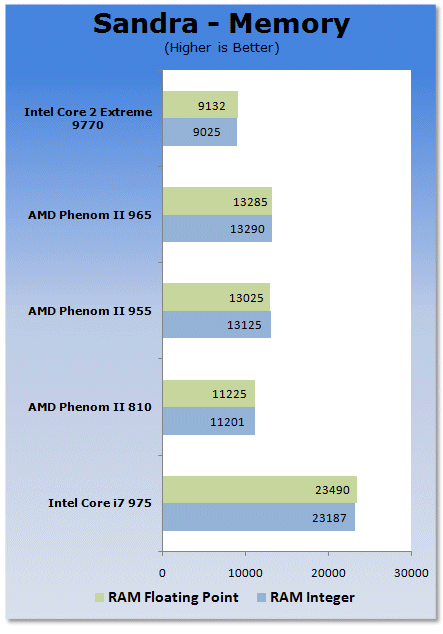 Sandra's CPU tests show similar trends to EVEREST. The inter-core communication is very surprising. AMD's processors are quite slow at core to core communication, despite their HT link that connects them internally.
Benchmarks - Super Pi
Super PIVersion and / or Patch Used:
.5 Mod
Developer Homepage:
http://pw1.netcom.com/~hjsmith/Pi/Super_Pi.html
Product Homepage:
http://pw1.netcom.com/~hjsmith/Pi/Super_Pi.html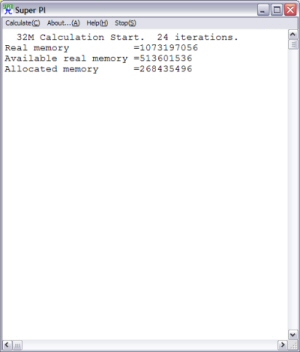 Developed by some folks from the University of Tokyo (yes, Japan), Super PI is a small utility that does just as the name implies. It figures PI to a set number of decimal places. Since PI is an infinite number to the right of the decimal point, the utility measures the time it takes to figure a set number of places. It runs the calculations a set number of times and gives a time for the completion of the task. This is a simple and effective way to measure the raw number crunching power of the processor being used to compile the results.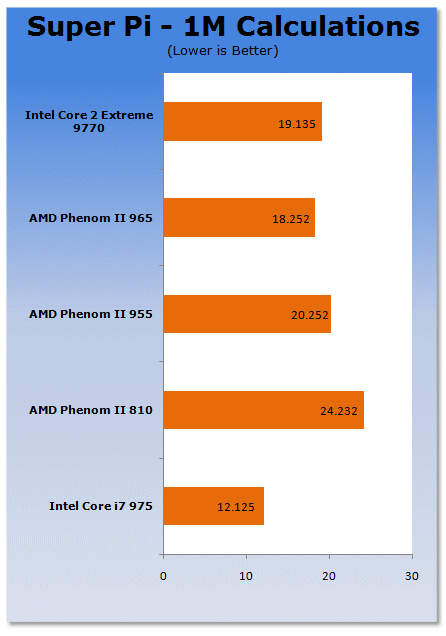 Into our first real world number crunch and Super Pi shows that the Phenom II 965 knocks a few seconds off.
Benchmarks - PCMark Vantage
PCMark VantageVersion and / or Patch Used:
110
Developer Homepage:
http://www.futuremark.com
Product Homepage:
http://www.futuremark.com/benchmarks/pcmark-vantage//
Buy It Here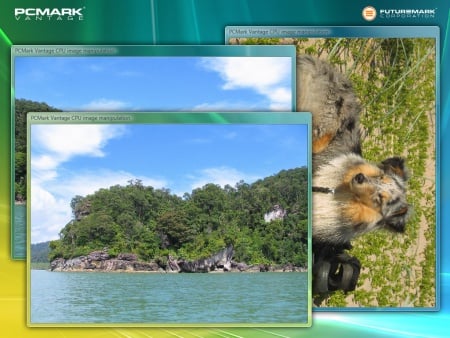 PCMark Vantage is the first objective hardware performance benchmark for PCs running 32 and 64 bit versions of Microsoft Windows Vista. PCMark Vantage is perfectly suited for benchmarking any type of Microsoft Windows Vista PC from multimedia home entertainment systems and laptops to dedicated workstations and high-end gaming rigs. Regardless of whether the benchmarker is an artist or an IT Professional, PCMark Vantage shows the user where their system soars or falls flat, and how to get the most performance possible out of their hardware. PCMark Vantage is easy enough for even the most casual enthusiast to use yet supports in-depth, professional industry grade testing.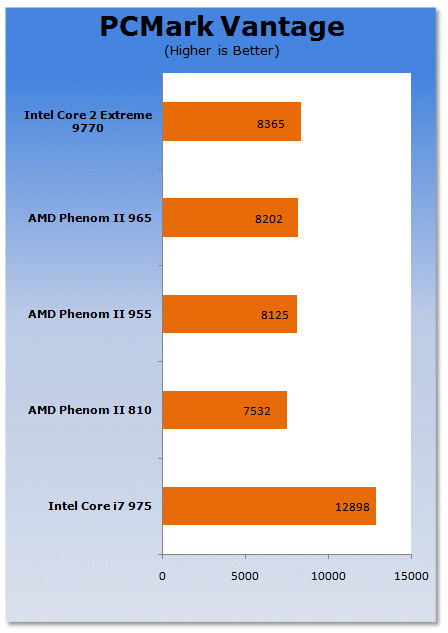 PCMark Vantage gives the Phenom II 965 the win over its AMD brothers, but still lags behind any of the Intel offerings.
Benchmarks - SYSmark 2007 Preview
SYSmark 2007Version and / or Patch Used:
1.04
Developer Homepage:
http://www.bapco.com/
Product Homepage:
http://www.bapco.com/products/sysmark2007preview/>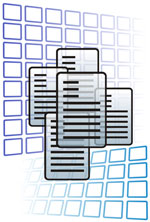 SYSmark 2007 Preview is the latest version of the premier performance metric that measures and compares PC performance based on real world applications.
SYSmark 2007 Preview extends the SYSmark family, which has been widely accepted by IT Managers, PC OEMs, press and analysts worldwide to support Windows Vista.
SYSmark 2007 Preview allows users to directly compare platforms based on Windows Vista to those based on Windows XP Professional and Home.
The new release also incorporates numerous new features and enhancements such as an improved GUI allowing streamlined start-up and run along with a heads-up-display (HUD) and automated error reporting.
SYSmark 2007 Preview is an application-based benchmark that reflects usage patterns of business users in the areas of Video creation, E-learning, 3D Modeling and Office Productivity. This new release includes a robust and refreshed set of applications.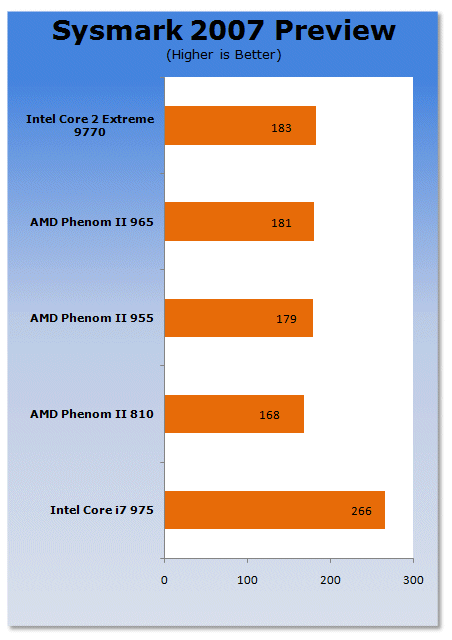 Real world application tests also show Phenom II 965 managing to just ease ahead of the 955.
Benchmarks - Adobe Premiere Elements 4
Adobe Premiere Elements 4.0Version and / or Patch Used:
4.0
Developer Homepage:
http://www.adobe.com
Product Homepage:
http://www.adobe.com/products/premiereel/
Buy It Here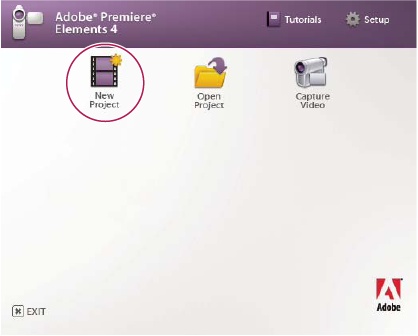 Our test with Adobe Premiere Elements 4.0 is performed with a raw two hour AVI file. It is then compressed into DivX format using the latest version codec. We measure the time it takes to encode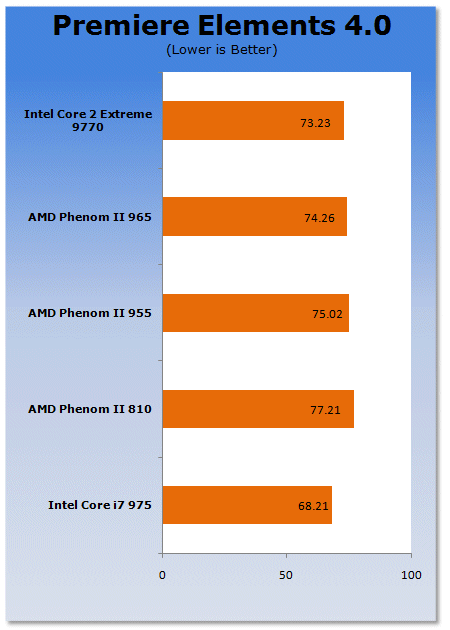 Premiere Elements encoding takes slightly less time on the 965 compared to the 955.
Benchmarks - 3DMark Vantage
3DMark VantageVersion and / or Patch Used:
101
Developer Homepage:
http://www.futuremark.com
Product Homepage:
http://www.futuremark.com/products/3dmarkvantage/
Buy It Here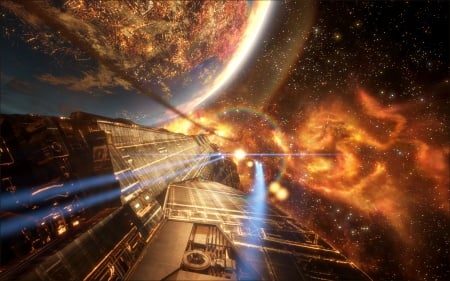 3DMark Vantage is the new industry standard PC gaming performance benchmark from Futuremark, newly designed for Windows Vista and DirectX10. It includes two new graphics tests, two new CPU tests, several new feature tests, and support for the latest hardware.
3DMark Vantage is based on a completely new rendering engine, developed specifically to take full advantage of DirectX10, the new graphics API from Microsoft.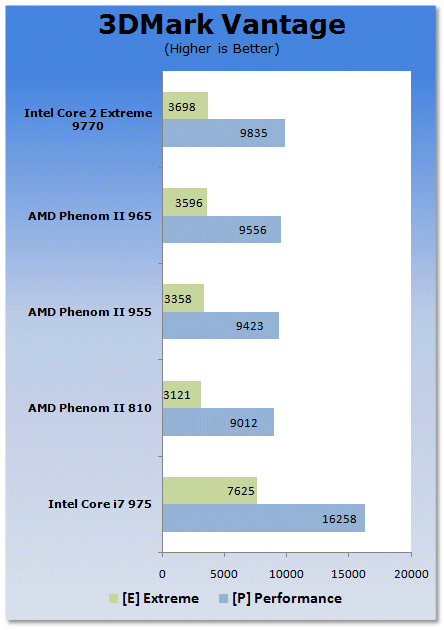 Synthetic gaming tests with 3DMark Vantage give AMD's Phenom II 965 the win over its older brothers.
Benchmarks - Crysis
CrysisVersion and / or Patch Used:
1.1
Timedemo or Level Used:
Custom Timedemo
Developer Homepage:
http://www.crytek.com/
Product Homepage:
http://www.ea.com/crysis/
Buy It Here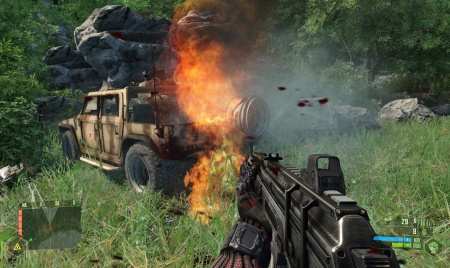 From the makers of Far Cry, Crysis offers FPS fans the best-looking, most highly-evolving gameplay, requiring the player to use adaptive tactics and total customization of weapons and armor to survive in dynamic, hostile environments including Zero-G.
Real time editing, bump mapping, dynamic lights, network system, integrated physics system, shaders, shadows and a dynamic music system are just some of the state of-the-art features the CryENGINE 2 offers. The CryENGINE 2 comes complete with all of its internal tools and also includes the CryENGINE 2 Sandbox world editing system.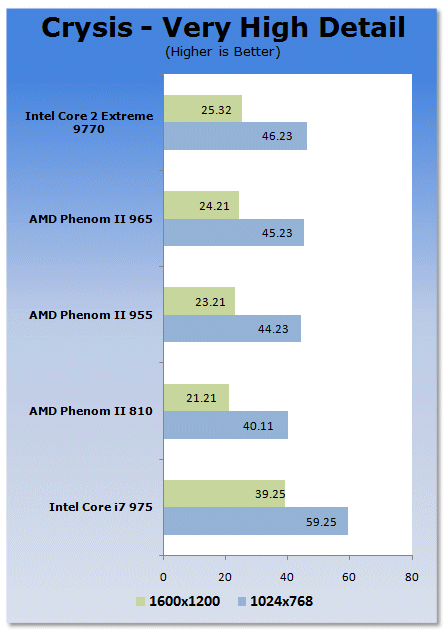 There isn't a huge amount of difference in real world gaming between the two processors here.
Final Thoughts
AMD's strategy to keep their processors alive by undercutting the competition in the price market and making it up on volume is still working well for them. So far AMD Phenom II has already been accepted as the alternative to a high priced quad core for Intel. I mean, who can afford over $400 AUD for a processor alone? Not me, and AMD's design really keeps things competitive. For 249 USD from Newegg you can have the fastest AMD processor currently available. Clocked at 3.4GHz and supporting your current DDR2 platforms, why wouldn't anyone want one as the perfect bridge product?
It has taken AMD some time to finally get their act into the 45nm range, holding onto its 65nm longer than it should. AMD crippled itself at the beginning of the Phenom Line with clock speeds below 3GHz really hurting things on the marketing front, especially with Core 2 breaking 3GHz easily. AMD really needed its 45nm processor and its already showing the advantages.
The 965 shows that AMD is still able to get good speed bins out of its 45nm technology and hopefully soon we will see some more speed out of it which will make AMD even more attractive to end users.
Coming in at 249 USD
for a 3.4GHz clocked quad core CPU retail packed with heatsink and fan, it's certainly got our thumbs up.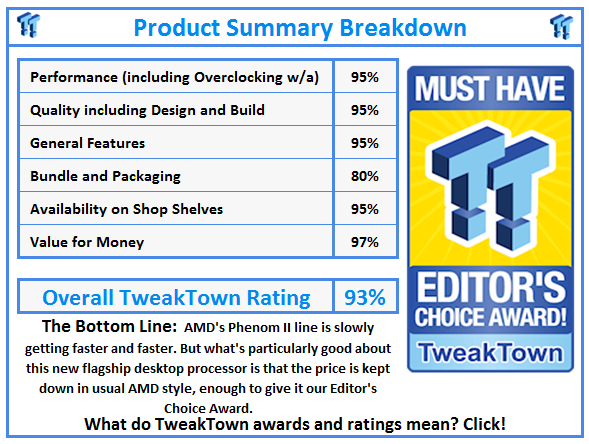 PRICING: You can find products similar to this one for sale below.

United States: Find other tech and computer products like this over at Amazon.com

United Kingdom: Find other tech and computer products like this over at Amazon.co.uk

Australia: Find other tech and computer products like this over at Amazon.com.au

Canada: Find other tech and computer products like this over at Amazon.ca

Deutschland: Finde andere Technik- und Computerprodukte wie dieses auf Amazon.de
We openly invite the companies who provide us with review samples / who are mentioned or discussed to express their opinion. If any company representative wishes to respond, we will publish the response here. Please contact us if you wish to respond.