Ghostbusters HD Movie Review
"Ray, when someone asks you if you're a god, you say 'YES'"

Published Sat, Aug 1 2009 7:04 AM CDT
|
Updated Tue, Nov 3 2020 7:03 PM CST
25 years on, there is still an immense amount of goodwill for the franchise which has spawned merchandising; two animated TV series, a number one song and a range of computer games, all off the back of one great film and in spite of a terrible sequel, which is best forgotten.
Peter Venkman (Bill Murray), Ray Stantz (Dan Akroyd) and Egon Spengler (Harold Ramis) are the Ghostbusters; University slackers turned paranormal hunters. From community skepticism, they quickly evolve into a thriving, successful business. But when a bunch of nasty ghouls are let loose in New York City, which threaten to bring Armageddon, the team will need more than a little luck to save the world from their wrath.
Ghostbusters
is a bonafide classic of the sci-fi comedy genre and is just as fresh and exciting as it was in 1984. Made for just 30 million dollars and grossing ten times that much (in addition to video sales and merchandising), it's also proven to be an evergreen success for Sony Pictures.
VideoGhostbusters
is presented in the widescreen aspect ratio of 2.40:1, encoded with AVC-MPEG 4 compression.
I have really mixed feelings about this transfer. On one hand, it's the best the film has ever looked on home video. On the other, it looks somewhat old and neglected. Let's start with the good: There is a lot of detail in the image. Colour balance is quite good and mostly corrects issues from the previous DVD release. The contrast issues which dogged the previous DVD have also been mostly corrected.
Onto the bad: grain haters beware, there is a lot baked into this transfer. Thankfully, Sony has resisted the urge to reduce it by way of DNR. Unfortunately, I suspect that given a little more care and perhaps sent to Lowry Digital for restoration, the film could look a lot better than it does now.
Don't get me wrong, this is hands down the best the film has ever looked and fans should not delay to pick it up, but at the same time I suspect down the track there will be a better release with a bit more in the way of restoration work.
Audio
The main audio track is encoded in Dolby TrueHD, at 24 bits.
For a movie originally recorded in stereo,
Ghostbusters
makes a respectable showing. There's certainly a bit of shrillness and tinniness to the audio that, short of replacing sound effects and re-recording audio, cannot be rectified. Still, there is a pretty good surround presence and bass is suitably low when necessary. The theme song by Ray Parker Jr, in addition to the score by Elmer Bernstein scrubs up nicely and is mixed into the surrounds pretty well.
Overall, a pretty pleasing effort, only hamstrung by 1980's technology.
Extras
Despite nearly a decade since the previous DVD version was released, Sony has failed to produce much more in the way of extra features for the film, but has included the majority of DVD features. Let's jump in.
The best new feature is the
Slimer Mode: Picture in Picture
track. These have come a long way, it wasn't even possible on Blu-ray players before profile 2.0 was launched a year and a half ago, but we take it for granted now. But I digress, this is a pretty neat feature which mixes new interview footage with behind the scenes snippets and trivia information. It's just a shame that more of the new interview footage couldn't have been utilised for different features as well.
The
Audio commentary
by Director Ivan Reitman and Writer/ Actor Harold Ramis has aged quite a bit. It's still reasonable in terms of imformation imparted, but a lot has happened to the
Ghostbusters
franchise in the ten years since this was recorded, including the game series and gearing up for the second sequel, which the commentary obviously does not touch on. If there was another more recent commentary in addition to this, all would be forgiven. Unfortunately there is not.
New to the Blu-ray are two
featurettes
;
Ecto-1: Resurrecting the Classic Car
, which looks at the restoration work which was performed on the classic Cadillac, which was allowed to basically rust. The second featurette is more of a extended trailer than anything;
Making of Ghostbusters: The Video Game
, which features some talking heads talking up the game. In addition to these, we have the archive of original DVD featurettes:
On The Scene With The Ghostbusters
is a vintage promotional featurette from 1984 with the briefest amount of behind the scenes material,
Cast and Crew
is a bunch of interview footage of the subjects from 1999, notably missing Bill Murray,
SFX Team
is another 1999 featurette which reunites some of the special effects team talking about how they achieved the effects well and truly before the advent of CGI.
Multi Angle featurettes
are a total of three segments which presents some very scratchy work in progress sequences, and finally
Storyboard Comparisons
compares the original hand drawn storyboards to the finished product. I've always hated these, but that's just me. This even comes with a warning that the footage is 'of lower resolution'. Classy.
The
Scene Cemetery
is an amalgamated featurette of deleted scenes. Unfortunately it's all presented in crappy looking standard definition. None of the scenes would have added much to the film, but their inclusion here is interesting nonetheless.
Finally, we have the
Cinechat feature
which encourages users with web enabled Blu-ray players to chat during the film. I suspect this feature has a limited life. After going through the laborious setup process I found that you can't just talk to any random fan; to chat you must have 'friends', of which I do not.
Unfortunately missing is the original theatrical trailer. Sony!
Overall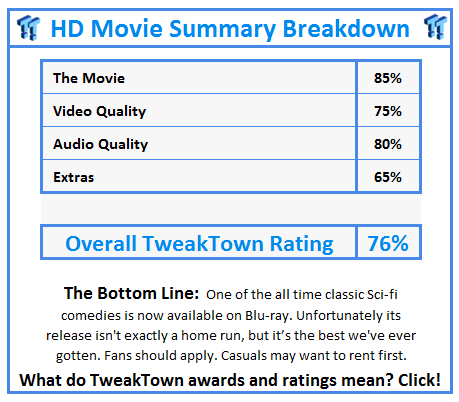 Review Equipment Used:
Display
: Sony KDL52X3100 LCD (1080p resolution/ 24p playback)
Player
: Sony BDP-S550 Blu-ray, PlayStation 3 (24p playback)
Sound
: Sony STR-DA5400ES Receiver (7.1 configuration), Sony SSX70ED front speakers (x2), Sony SSCNX70ED center speaker, Sony SSFCR7000 surround speakers (x4), Sony SAW3800 Subwoofer (Front), Sony SAWM500 Subwoofer (Rear)
PRICING: You can find products similar to this one for sale below.

United States: Find other tech and computer products like this over at Amazon.com

United Kingdom: Find other tech and computer products like this over at Amazon.co.uk

Australia: Find other tech and computer products like this over at Amazon.com.au

Canada: Find other tech and computer products like this over at Amazon.ca

Deutschland: Finde andere Technik- und Computerprodukte wie dieses auf Amazon.de
We openly invite the companies who provide us with review samples / who are mentioned or discussed to express their opinion. If any company representative wishes to respond, we will publish the response here. Please contact us if you wish to respond.