Star Trek: The Undiscovered Country HD Movie Review
"If I were human I believe my response would be "go to hell."... If I were human"

Published
4 minute read time
After the critical and commercial backlash of
Star Trek: The Final Frontier
it took another three years to get the feature film ship back on track. During this time
Star Trek: The Next Generation
went from strength to strength and kept the franchise alive in hearts and minds of Trek followers everywhere. William Shatner was not invited back to direct what would become
Star Trek: The Undiscovered Country
; instead producers turned to Director Nicholas Meyer, whom previously directed fan favourite
The Wrath of Khan
.
When the Klingon moon Praxis is destroyed, which will have serious repercussions for the survival of the Klingons, the Empire decides it can no longer afford to continue interstellar war and intends to broker a deal with the Federation for peace. Whilst both camps remain suspicious of each other's motives, the Enterprise is dispatched to collect a Klingon vessel with the Klingon Chancellor Gorkon (David Warner) to attend negotiations on Earth, despite the resentment that Kirk (William Shatner) harbours, owing to the murder of his son. En route, it appears that the Enterprise attacks the Klingons, resulting in the death of the Chancellor. Kirk and Dr McCoy (DeForest Kelly) become the prime suspects, not only putting the entente at risk, but outright war.
After the disaster that was
The Final Frontier
, this film, which was generally considered and ended up being the final film for the original crew, acts as a fabulous send off. For the second time, Nicholas Meyer ended up saving the future of
Star Trek
feature films.
Video
It's with heavy heart that I report that another backwards step has been taken with the transfer. I'm very confused by it, too. This is the first time that the original aspect ratio of 2.35:1 has been available on home video (the previous DVD was presented somewhere around 2.20:1), so it would
seem
that this is a new transfer. However, based on the look of it, I am not so sure.
It displays all the hallmarks of an older transfer; jaggly and blocky image with a slight hazy look. To try and compensate, similar to
The Voyage Home
transfer, Paramount have applied a liberal amount of digital noise reduction, which creates an entirely unnaturally smooth look to objects and decimates fine grain structure and has also applied some sharpening to give it a little more definition, but this also does more harm than good.
Again, there are things to applaud; it's great that we finally get the original aspect ratio. Yes, it's also the best we have seen the film in the home environment. But compared to the stellar work of the other transfers, it's nowhere near as good. It's a shame that due to whatever issue, money or time, or both, the same care could not be extended to all. Undoubtedly this will be released again one day and let's hope that Lowry digital can work their magic on all of them.
Audio
The main audio track is encoded in Dolby TrueHD 7.1, at 24 bits.
Of all these new remixes I've failed to really fault any of them. Yes, some are hamstrung by some of the original recording methods, but overall, the audio remixers have done a bang up job.
There were no problems with audio sync or dialogue. Sometimes the mix sounded a little 'thin', especially in general ambience, but when the action kicks into gear, so does the audio. The surround mix gets stronger and stronger as the series progresses - no doubt due to the quality of the master making life easier. Bass is heavy when requested and underscores some of the more intense sequences well.
The score by Cliff Eidelman is quite good; not quite as brilliant as something that Jerry Goldsmith or James Horner would provide, but nonetheless quite suitable.
Overall, a very good audio mix - probably the best in the set.
Extras
The first of the two
Audio commentaries
are provided by Director Nicholas Meyer and Screenwriter Denny Martin Flinn. Meyer is ever consistent and I enjoy listening to his comments. Meyer makes frequent mention of the parallels of this film to the end of the cold war. The second commentary is a new track, featuring Larry Nemecek and Ira Steven Behr. As another fan track, there is less technical speak and more tongue in cheek comments.
The Library Computer
feature returns again. Presented in the same method as for
The Motion Picture
, it's a cool BD-Java infused extra which overlays text information whilst watching the film. However, what makes it different to previous in-film text features is that users can select the information they want to view by pressing the enter button when the subject prompt jumps on the screen.
New to the Blu-ray release are the following
Featurettes
:
Tom Morga: Alien Stuntman
, whose legacy of jumping into the air as the Enterprise bridge is exploding is second to none,
To Be or Not to Be: Klingons and Shakespeare
takes a fascinating look at a production of Hamlet, translated into, and performed in Klingon (hard enough in English) and
Starfleet Academy: Praxis
rounds out the infomercial series. I won't miss them.
Refugees from the previous DVD collection are the following featurettes:
Stories from Star Trek VI
, a nearly hour long documentary which takes a very in-depth look at most elements of production,
Conversations with Nicholas Meyer
, is a brief discussion with the ever eloquent director,
Klingons: Conjuring the Legend
, takes a look at the frequent hostility that the race has provided throughout.
Star Trek
lore,
Federation Operatives
is concerned with the actors which have appeared in multiple roles throughout the franchise,
Penny's Toy Box
is an interesting behind the scenes look at the curator of the
Star Trek
prop archives on the Paramount lot,
Together Again
is a brief discussion on how actors Shatner and Plummer have crossed paths professionally (both are trained Shakespearean actors),
The Perils of Peacemaking
looks at how
Star Trek
has mirrored real world politics (i.e. the Federation = the United States, the Klingons = Russia),
DeForest Kelley: A Tribute
is a tastefully made and poignant tribute to the actor who passed away in 1999 and finally we have the
1991 Convention Presentation by Nicholas Meyer
, a small segment hosted by the director whom introduces some behind the scenes footage of what was then an unreleased film, at a Trek convention. They must have been frothing at the mouth.
Original Interviews
rounds up some archival interview segments from the promotional tour, although everyone's looking a little old, it's nice to see after every film Shatner appearing just a little less aloof.
Lastly, we have two original
Theatrical Trailers
, presented in HD.
Housed on the seventh disc of the Blu-ray set is
The Captains Summit
, a 70 minute long round table interview, moderated by
Star Trek
actor and fan Whoopi Goldberg and featuring William Shatner, Leonard Nimoy, Jonathan Frankes and Patrick Stewart. A very casual affair, the subjects talk frankly about their
Star Trek
experience and their lives. It's an absolute joy to watch and their recollections are frequently hilarious. It serves as a great book end to the boxset.
Overall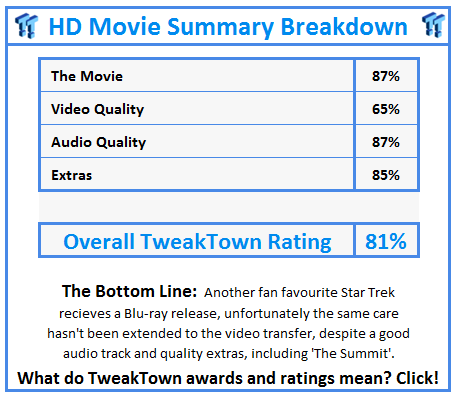 Review Equipment Used:
Display
: Sony KDL52X3100 LCD (1080p resolution/ 24p playback)
Player
: Sony BDP-S550 Blu-ray, PlayStation 3 (24p playback)
Sound
: Sony STR-DA5400ES Receiver (7.1 configuration), Sony SSX70ED front speakers (x2), Sony SSCNX70ED center speaker, Sony SSFCR7000 surround speakers (x4), Sony SAW3800 Subwoofer (Front), Sony SAWM500 Subwoofer (Rear)
PRICING: You can find products similar to this one for sale below.

United States: Find other tech and computer products like this over at Amazon.com

United Kingdom: Find other tech and computer products like this over at Amazon.co.uk

Australia: Find other tech and computer products like this over at Amazon.com.au

Canada: Find other tech and computer products like this over at Amazon.ca

Deutschland: Finde andere Technik- und Computerprodukte wie dieses auf Amazon.de
We openly invite the companies who provide us with review samples / who are mentioned or discussed to express their opinion. If any company representative wishes to respond, we will publish the response here. Please contact us if you wish to respond.