TRENDNet TV-IP422W Wireless IP Camera Server with 2-way Audio
Do you want a way to check up on your systems while out of the house? TRENDNets TV-IP422W Wireless IP Camera Server with 2-way audio may do the trick.
Published Fri, May 15 2009 7:15 AM CDT
|
Updated Tue, Nov 3 2020 7:03 PM CST
Introduction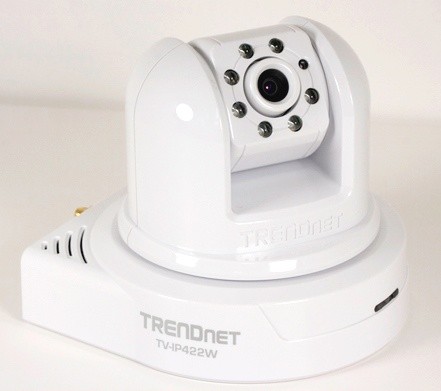 Just as networking has moved from the office to the home, so has video surveillance. It is no longer an item for a corporate office or only part of an overpriced security setup. Today you can pick up small full functional IP based cameras for a relatively low price.
TRENDNet has a nice range of them; some are hardwired, some wireless, some even have Power over Ethernet capabilities. Today we are taking a look at one of the more high-end flavours, the TV-IP422W. This is a fully functional camera and server complete with IR lights for night viewing, a full range of motion (330 degrees horizontal movement and 105 vertical), 2-way audio, image capture motion detection, event based recording and much more.
You can pick up the TV-IP422W at
Newegg for 259.99
U.S. Dollars; which is a fair price for the features it offers.
Now we dive in and see if the TV-IP422W will fit into your home security plans.
The Package
As with other products from TRENDNet, the TV-IP422W comes in an attractive box with a decent image of the device on the front. You also get a nice list of highlighted features that would certainly draw your interest if you saw this on the shelf.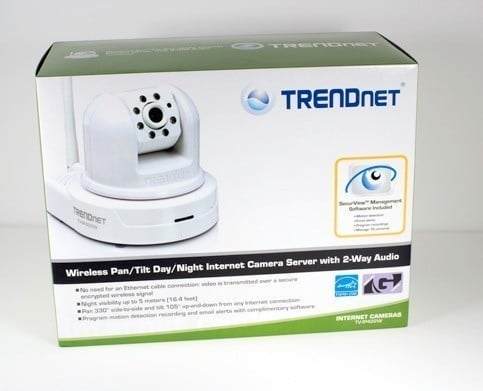 The back of the box has the usual diagram to show you how the TV-IP422W fits into your network.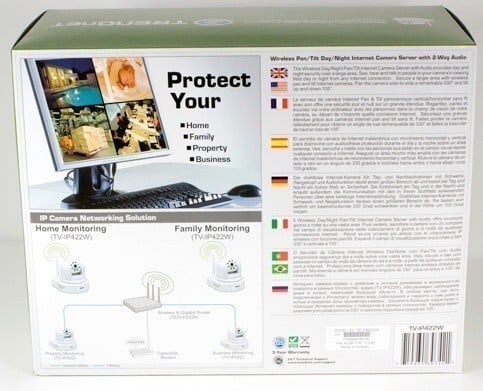 Inside we have all of the goodies. TRENDNet provides a mounting bracket with screws, a quick start guide that is very well done, a CD-ROM with a complete manual and applications for setup and monitoring, a CAT-5 Ethernet cable and a GPIO terminal block for the GPIO connection and of course a power cord.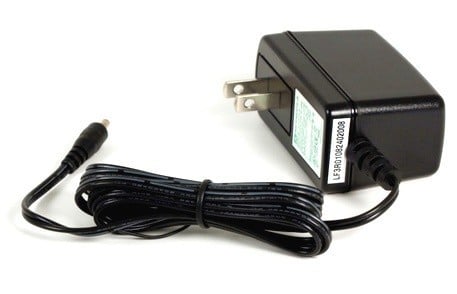 The Camera
The actual TV-IP422W was smaller than I expected and much lighter. I was a little surprised that it is only available in white. To me white would stand out and be visible against most backgrounds. Of course this visibility can act as a deterrent. What I found during testing is that the color does not make the TV-IP422W stand out at all. It actually helps it to blend in, even at night.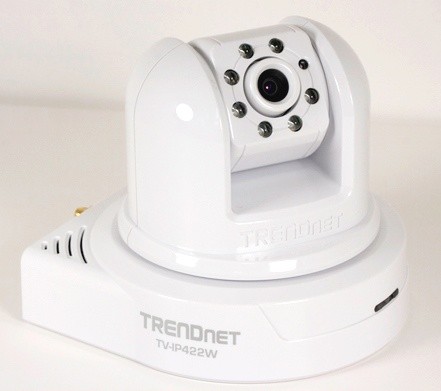 Getting back to the actual construction and features of the TV-IP422W, I found it to be a pretty solid little device. The camera has an adjustable viewing angle; you are able to rotate it 330 degrees (165 left and right) horizontally and 110 degrees (95 up and 15 down) vertically. This gives you an excellent range and can save you some money in the long run as you will need fewer devices to cover the same area. You can also assign up to eight custom angles that allow you to shift the view point with a single click.
Taking a look at the front lens of the camera, you can see what looks like several small lights surrounding the lens. These are infrared LEDs that allow for greater range viewing in low light situations. There is also a sensor (the smaller opening) that allows the camera to detect the light level and turn these on and off accordingly. There is also an operation and power light on the front that can be turned off through the web configuration software. Right next to these lights is a tiny opening for a microphone. This allows you to record audio as well as video. Before enabling this function you will want to check the local laws covering audio recording and privacy. It is illegal to record audio without prior consent in some states and counties.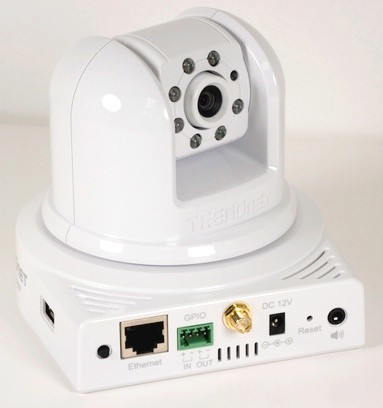 The back of the TV-IP422W is where all of your connectivity ports are. Here you have a 10/100 Ethernet port, a GPIO (general purpose input/output) port, speaker port, Wireless Antenna port and of course power.
With the GPIO port you can connect the TV-IP422W to other devices in an alarm system and set triggers (such as motion) that will send a signal to the connected device.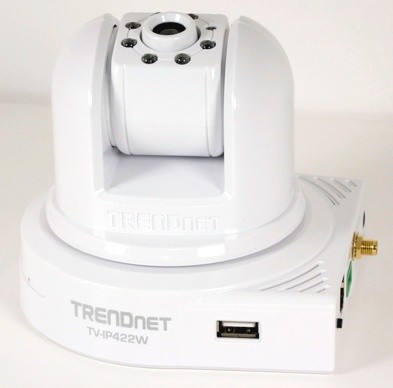 One more port to cover is the small USB port on the side; this actually serves two purposes. It can be used for direct connection of a USB drive and to use a USB Key for Windows Wireless setup. The direct USB connection can make the TV-IP422W a complete unit eliminating the need for a dedicated storage and control PC.
One down side to the TV-IP422W is that you will need to manually focus it on a fixed point. I would recommend you choose a point that gives you the greatest clarity for your viewing range. It does well for long range (in terms of clarity) in bright light, but night focus is a little off. However, that is to be expected and is not uncommon with low light cameras.
Setup and Installation
To get your TV-IP422W setup on your network you have two options. The first is to connect it with a standard Cat5 cable and run the IPSetup utility on the included CD-ROM. This will find the camera and allow you to set an IP address that works on your network.
The other option is to use the Windows Wireless setup to create a USB key for easy wireless configuration.
I recommend using a wired setup due to is ease and stability.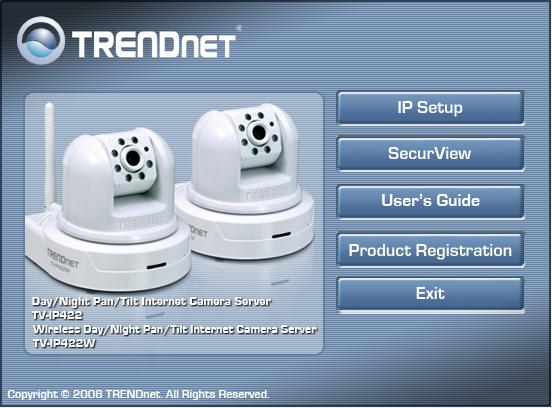 After you have run the IPSetup utility and assigned an IP address you will need to open your favourite browser and log in to the Web Configuration for the TV-IP422W to finish the setup.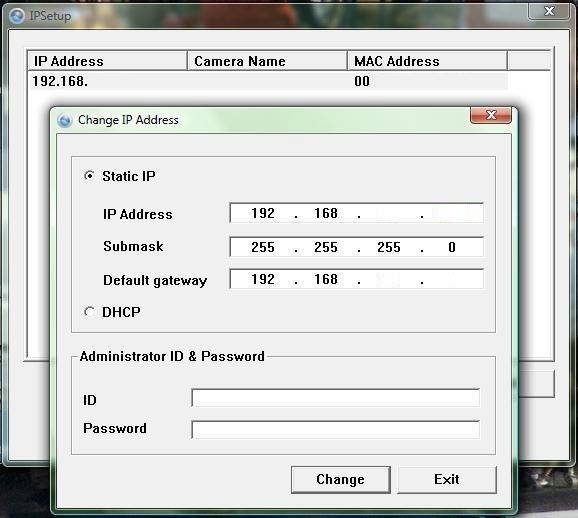 The Web Configuration utility opens up on the view screen as you can see there is a lot going on here, but we will cover all of that a little later; right now we need to get the TV-IP422W configured. In the view screen click Setup and you will be taken to the Basic Setup page.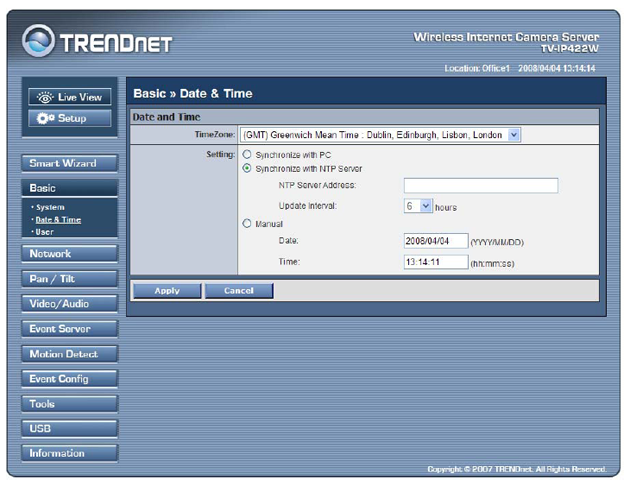 On the Basic Setup page you have options for System Settings, Date and Time as well as User setup. The first thing you want to setup is the name of the TV-IP422W. As an option you can also list the location of the camera. The LED light controls are also on this page and allow you to turn them off during operation; this reduces the chance of someone noticing the TV-IP422W and might even make them think it is not running.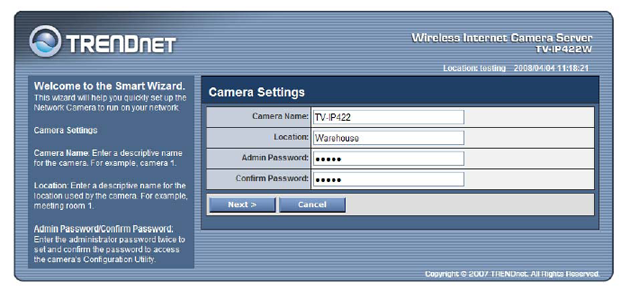 Just above the basic setup link is a button labelled Smart Wizard. Clicking this will take you through the whole setup process with the exception of setting the date and time. The Setup Wizard even prompts you to change the Admin password.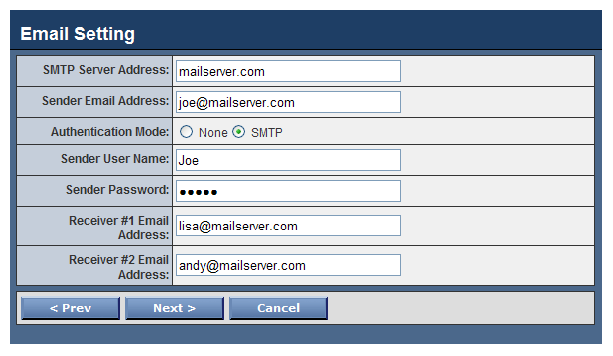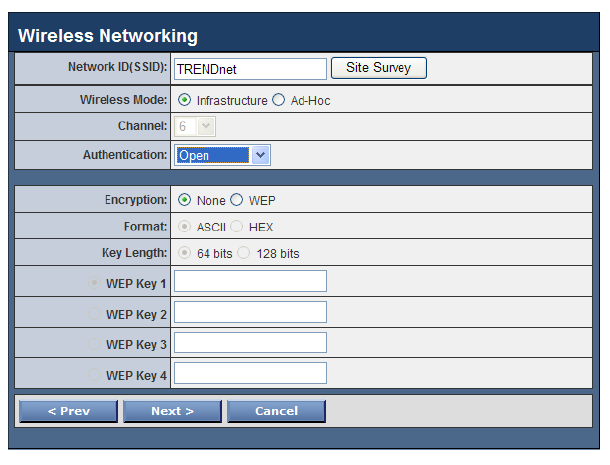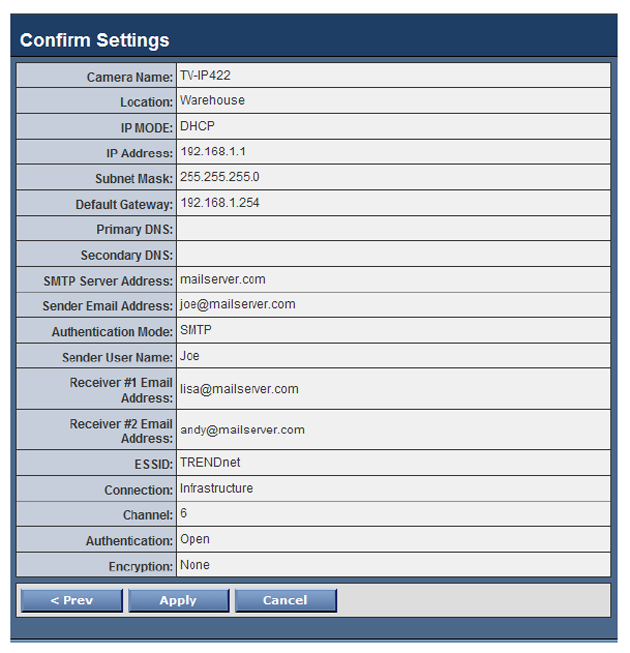 After going through the Setup Wizard you can return to the Web Configuration page and setup advanced options.
Web Configuration
Since we were already in the Web Configuration page, we will simply continue and show you just how configurable the TV-IP422W really is.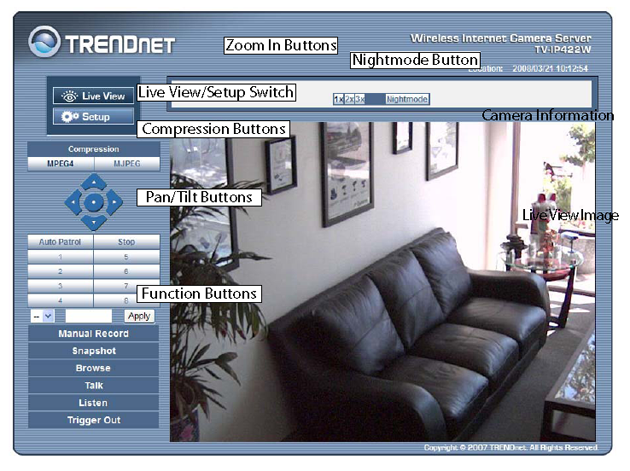 The first place we need to top is the Date & Time setup. Here you will change the settings to match your local time zone and either set the TV-IP422W to sync up with your computer, use a Network Time Server or manually enter the date and time.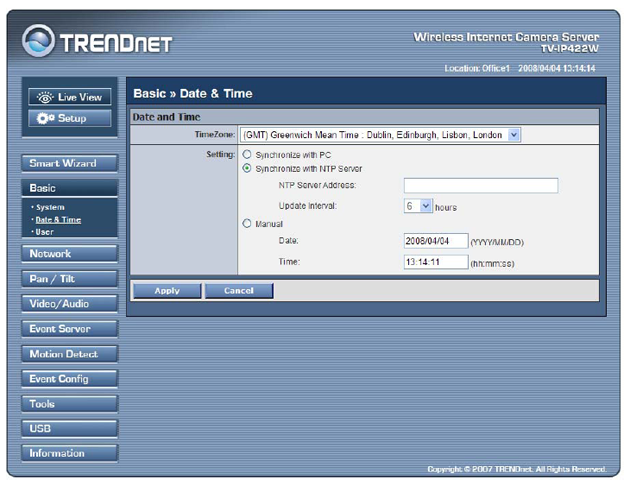 Next we move to the User setup; here you can create additional users and set their level of access. You have three choices for users;
Administrator - this level has full control over all setup and configuration of the camera.
General User - this level allows for the user to control the functions of the camera available in the live view page, such as pan and tilt, snapshot and listening to the audio.
Guest - a guest user is only able to view the live view; they have no ability to control the camera at all.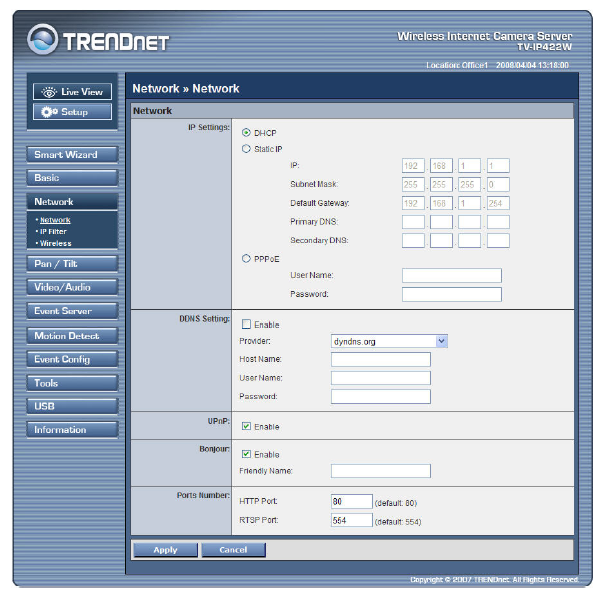 From the basic settings we move to the Networking link. Here you can set the IP address, gateway, DNS, etc. for the TV-IP422W. You also have options for Dynamic DNS, Universal Plug and Play and Bonjour. As an extra bonus you can change the ports that the camera uses for real time streaming and the main web configuration utility.
You also have the option to filter which IP addresses you want to be able to view or connect to the TV-IP422W as well as setup all of your wireless networking options.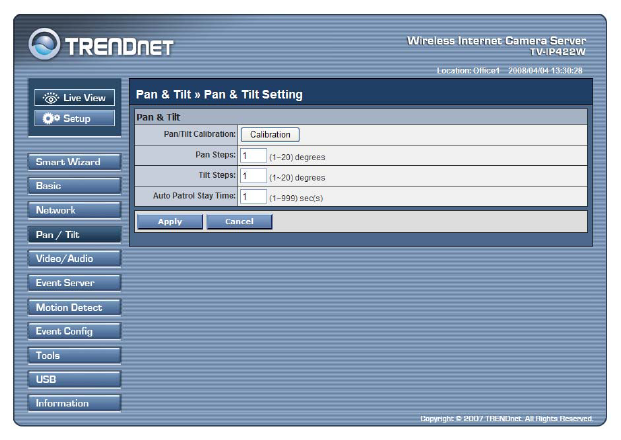 The Pan/Tilt section allows you to control how much the TV-IP422W moves when you use the control buttons in the viewer. You can set the length of the move from 1 to 20 degrees. You can also set the length of time the camera will remain in any one place during Auto Patrolling.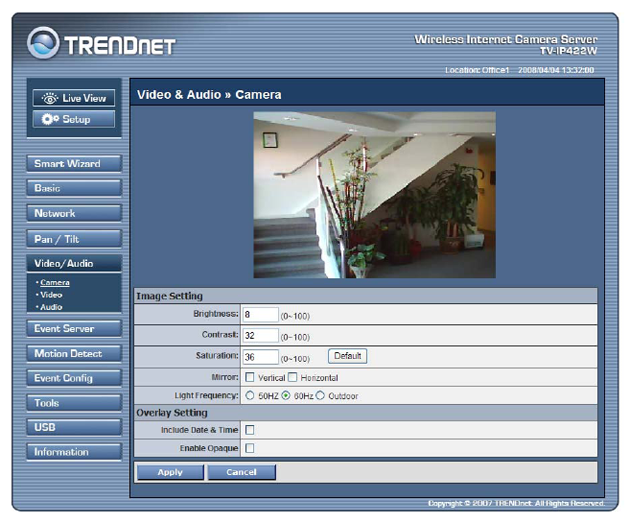 Advanced options for the TV-IP422W's camera can be found under Video/Audio. Here you have options to adjust brightness, contrast, saturation and mirroring the camera due to mounting. You can adjust the camera to the frequency of light to eliminate flicker. There are options for 50 and 60Hz as well as outdoor.
You can also stamp the live view (recordings and snapshots) with a date time stamp.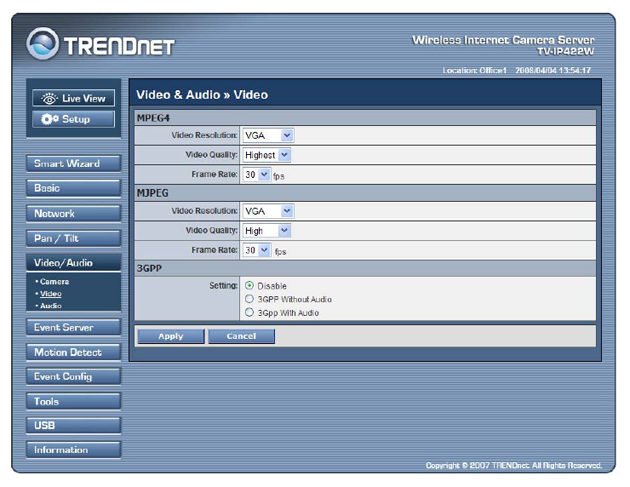 Next up is the video quality settings. You have two encoding options, MPEG4 and MJPEG. MPEG4 is going to have a higher compression ratio and take up less bandwidth and system resources while MJPEG is a little bit better quality but more resource intensive. You can select the resolution type, video quality and frame rate settings to match your needs and wants.
The 3GPP setting is for RealTime streaming out to connected devices including to compatible smart phones (which does not include the iPhone); you can chose to stream just video or both video and audio.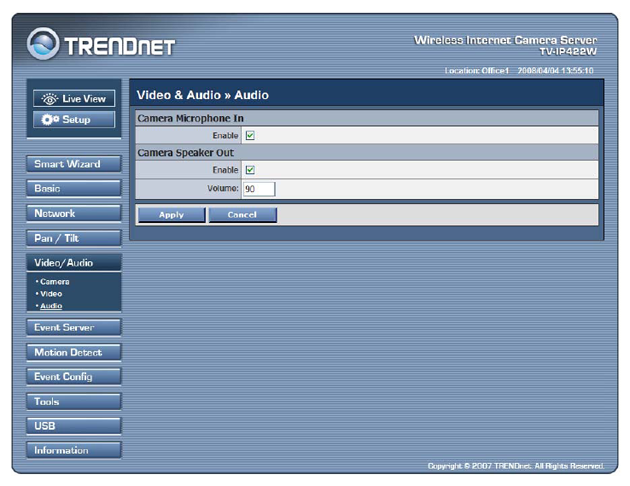 On the Audio page you can enable and disable audio recording and speaker out. You also have a volume adjustment.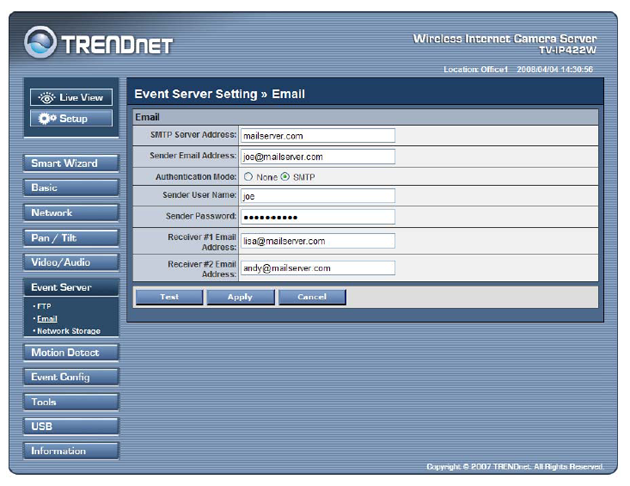 Web Configuration - Continued
The next section is a very important one, the event server configuration. Here you can setup what the TV-IP422W should o when a preset event happens (such as motion detected). Your options are FTP, E-Mail and Network Storage. They are pretty self explanatory, but important to configure properly.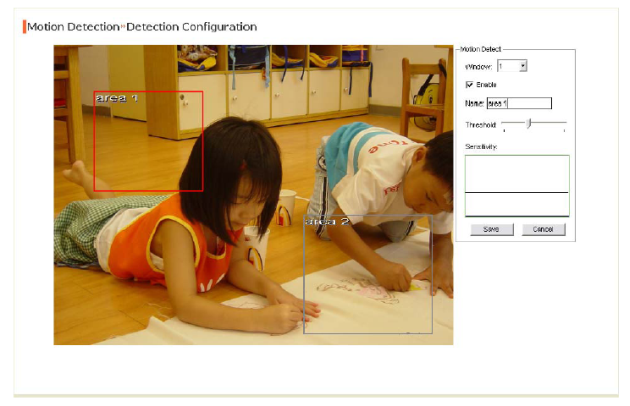 As I mentioned above, the TV-IP422W has the ability to detect motion. There are two areas that the system will look for rapid changes. The areas can be moved around and resized to suit your needs. You can also set the sensitivity of each section.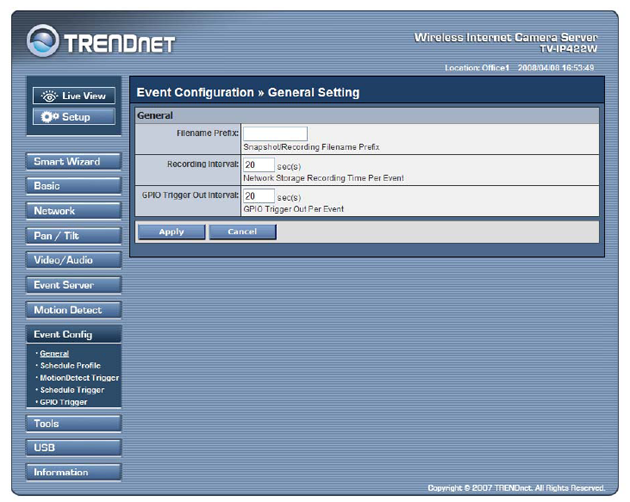 Now that we have setup our motion detection field and told the TV-IP422W what responses we want, we can setup the rest of the event configuration. On the General page you setup very basic options such as the prefix you want the files named, the length of time you want the camera to record etc.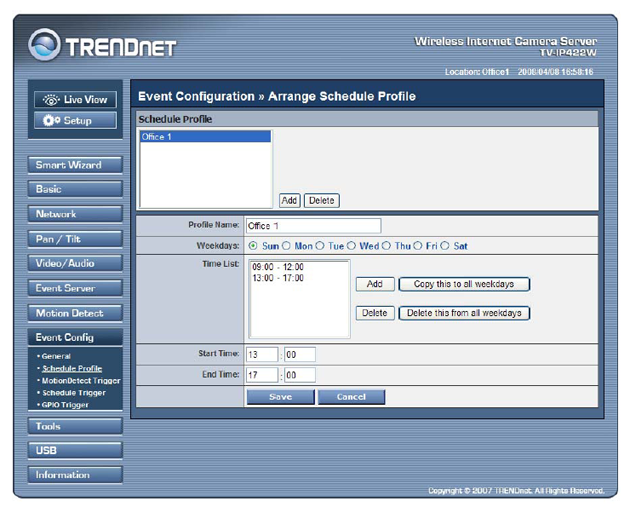 Next to setup are the schedules. Although you do not have to setup a schedule, it is nice to have different ones for different times. For example, if you are home every evening during the week you might setup one to only operate from 7:30am to 6:00pm and then start again after 10:30pm and run until 5:00am. The scheduling system is very flexible and allows you a great deal of control over when your TV-IP422W will alert you / record events.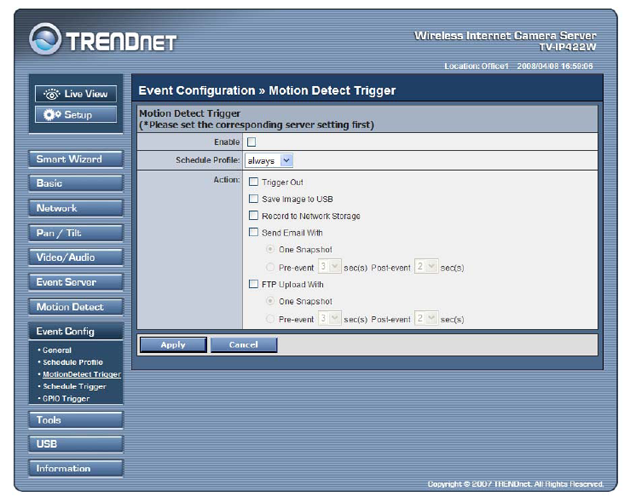 On the Motion Detect Trigger you can setup what the system should do in the event it detects motion in the predefined areas. This is a great feature and again TRENDNet gives us a good deal of control and flexibility. There are your usual options; trigger (such as an alarm), save to a connected USB device, record to storage, E-Mail and FTP upload.
You will notice that on the FTP and E-Mail settings you can tell the system to send you images before AND after the event. This means you can see what happened even before the system knew there was a problem, giving you a clearer picture of what is going on.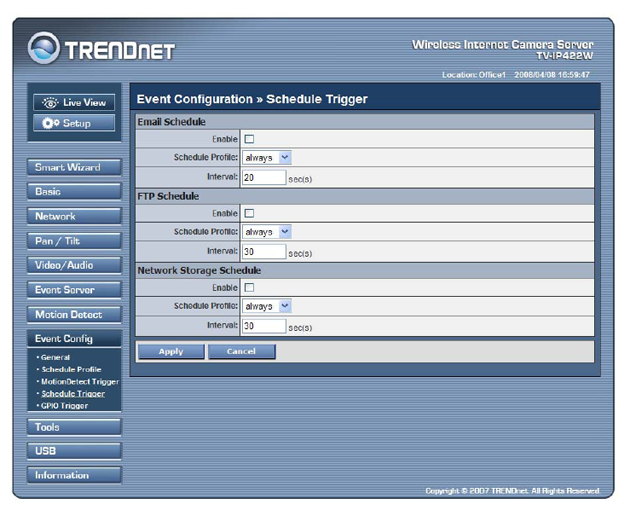 The schedule trigger page is a little misleading; it is not a trigger, it is a complete setting. In other words, if you check enable for e-mail and you set the interval to 20 seconds, the TV-IP422W will send you an e-mail every 20 seconds. Be careful with these settings.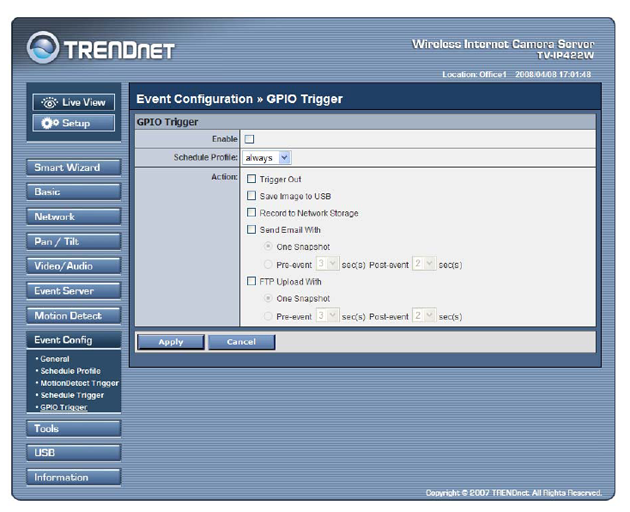 The GPIO Trigger options are the same as those for Motion Detection.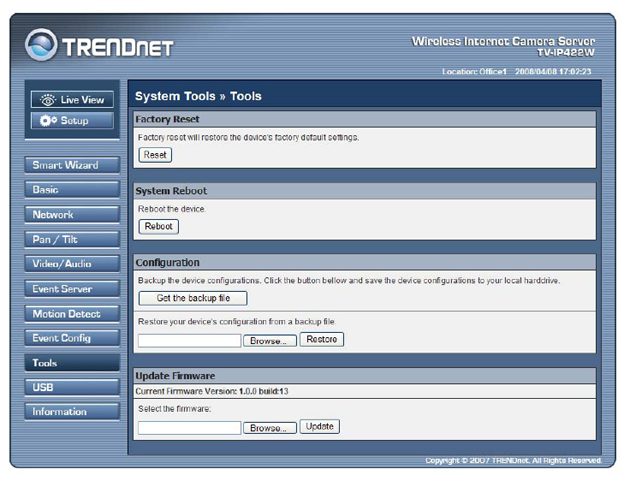 The tools page gives you options for rebooting, resetting, backing up your configuration and updating the Firmware.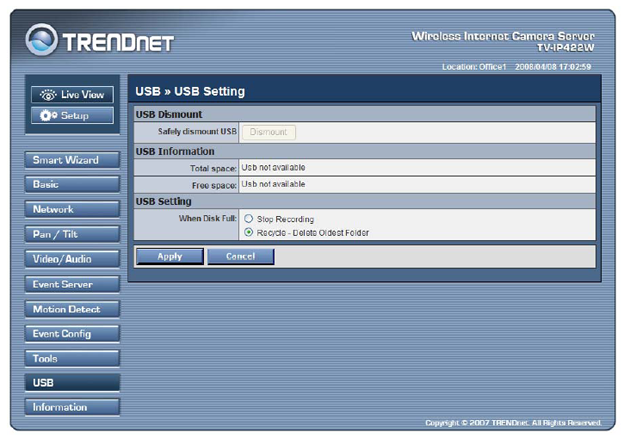 The USB settings allow you to dismount any directly connected devices as well as to determine what the TV-IP422W should do once the disk is full.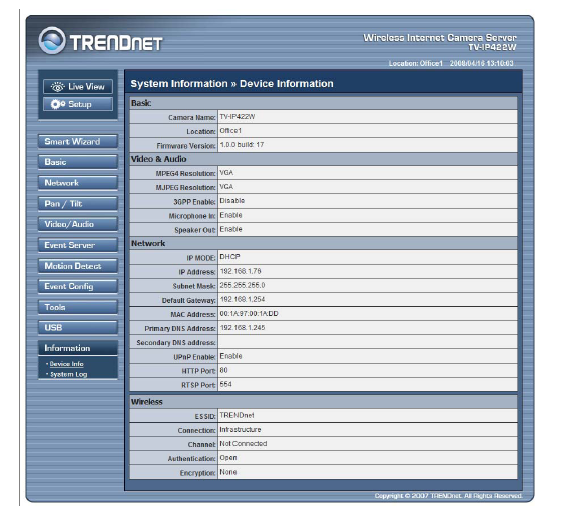 The information page does just what it says.
Secure View Software
Secure View is the bundled control software that ships with the TV-IP422W. This software gives you most of the functions of the Web Configuration software but adds the ability to monitor more than one camera.
To get started you need to add your camera(s); just click on the Settings button and you are in setup mode to exit click the setup button again.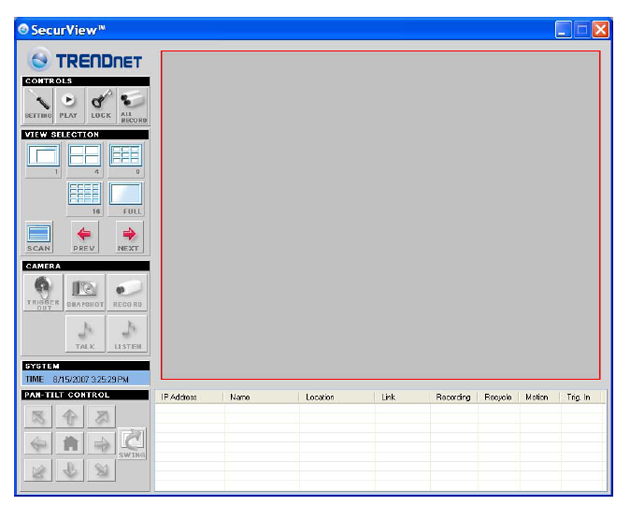 Adding a camera is pretty simple, just click "add camera" and click search. The application should find all of the cameras in your setup; if not you can also type in the IP Address of the camera to add. After you have identified the camera you will need to tell Secure View what user name and password to use. The login information you use should be the Admin Login for the best functionality.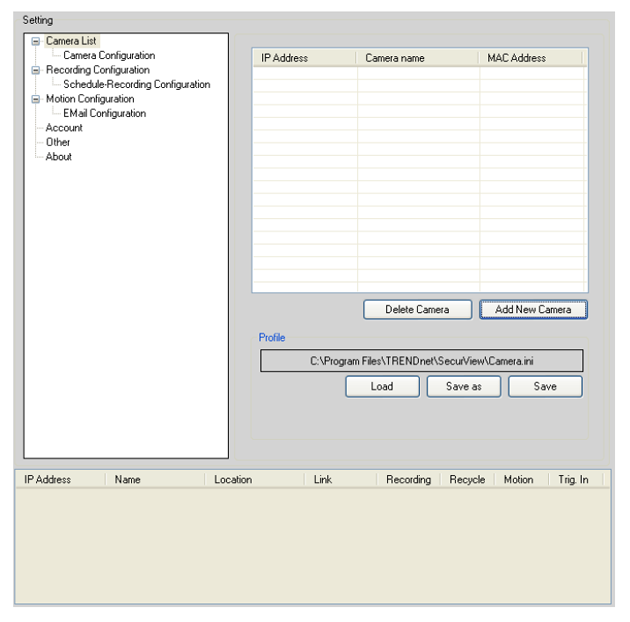 As you can see, you have options for scheduled recording and motion detection based recording. These are similar to the functions in the Web Configuration but run from the Secure View Application and require their own separation configuration in the Secure View Application. You can also setup the path you want to record video and snapshots to. This is useful, but keep in mind that setting the path to a networked drive id is not as efficient as doing it directly from the camera to the local system.
You will need to enable motion and scheduled recording on the TV-IP422W to use these.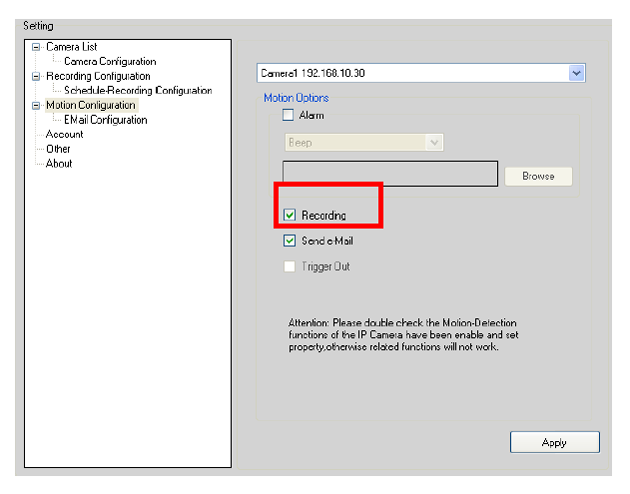 The benefit to you as a user for Secure View lies in having more than one camera to monitor. It is great for controlling multiple IP camera servers from a single interface without having to login to multiple systems; you can do it all from one spot.
Its benefits with a single camera are not great as many of the functions of the TV-IP422W are not available to you when using Secure View.
Testing
Testing the TV-IP422W was interesting; there were no real benchmarks that I could use.
Instead I centred on function and usability of the camera.
To do this I connected the TV-IP422W to my network and setup some schedules as well as motion detection. I ran the camera for a few days and checked the video quality for both day and night recording as from the three viewing options - Live View, Secure View and RTSP (Real Time Streaming Protocol)
-Web Viewing
The first test was simply to connect to the TV-IP422W and check out the viewer to see how easy it was to use.
The Live View screen is very straight forward once you are logged in; you can see all the controls laid out for you and the image the camera sees.
At the top of the screen you have options for zooming in as well as the selector for night mode which will enable the whole array of IR LEDs that TRENDNet put in.
The Zoom modes are nice but you lose quality almost to the point where objects are not recognizable.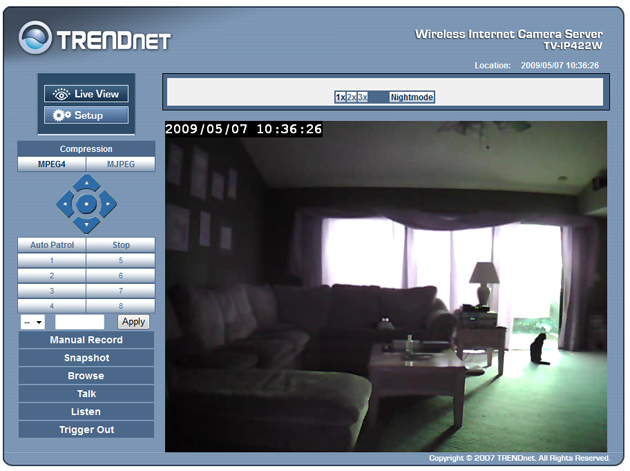 Along the left side you have your compression options laid out for you. Just underneath the compression options are the directional buttons. You can move the camera by clicking on one of these. One click will move the camera in that direction the distance you preset in the Pan/Tilt section of the Web Config. You can also click inside the live view screen and immediately move the camera to that spot.
Below these buttons are the function buttons; here you can start or stop the auto patrol feature as well as move the camera to one of eight preconfigured spots.
Again offering more functionality, TRENDNet threw in some nice features. You can start a manual recording (it will record to the system you are viewing from), take a snapshot, turn on the microphone and listen in, talk through any connected speakers and set off your trigger out.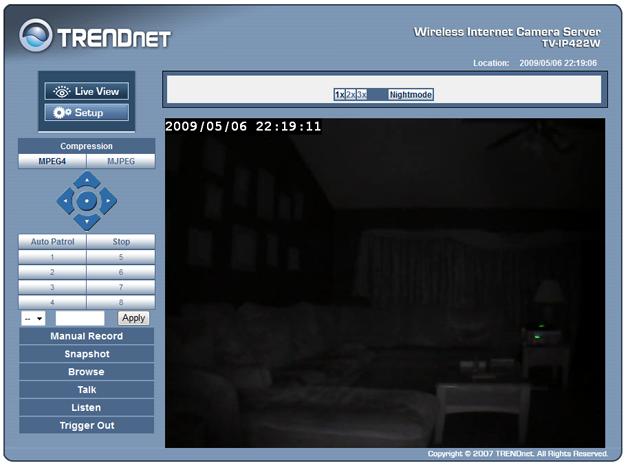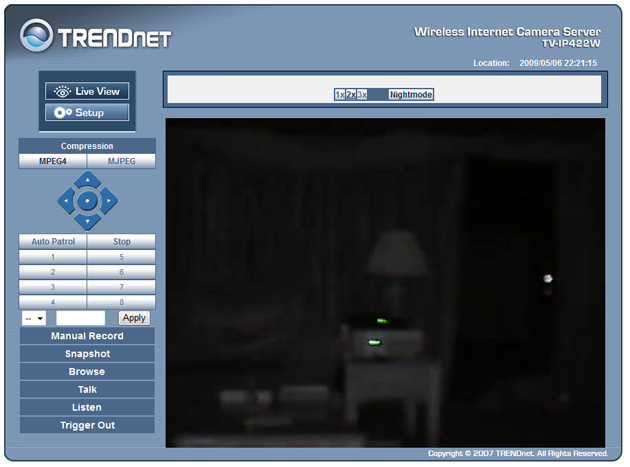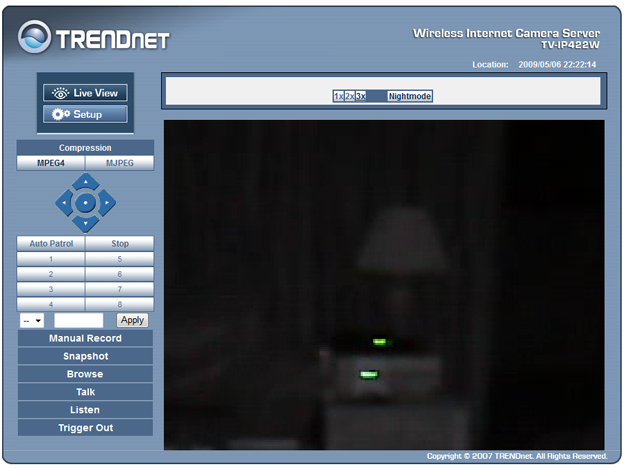 As you can see from the images above, you do lose quaintly when zooming and also at night. Daylight or interior well lit quality is very good, so you could expect to capture very clear images during the day, while images shot at night will be a little fuzzy yet still will give you enough to pick out details.
- Secure View
Using Secure view is nice if you have multiple cameras that you want to monitor at once. You can select individual cameras and control them through the interface. Video quality is the same as the live view web page. You also lose the ability to directly move the camera by clicking on the display, auto patrol, and you cannot change compression from the Secure View application.
You do have a few more movement controls and you can lock the camera, as well as tell all cameras in a set to begin recording. Again, most of these tools really apply to multiple cameras which, if you are setting up a good home security system, you will probably have.
- Real-Time Streaming
Real time streaming capability of the TV-IP422W is very nice; you will have to open a path through your firewall to use it properly, but that is not too terribly complicated. Just forward port 554 to the IP address of the camera you want to view. If using the standard port does not work I would recommend switching to a port above 1024 for the RTSP server, making sure to change the port forwarding in your firewall.
Above I mentioned using this to stream video to a smart phone; well I have some bad news for iPhone owners. The iPhone does not support RTSP at all; if you try Mobile Safari will tell you sorry and leave you annoyed with Apple for forgetting this (just like copy and paste). I even tried using VLC4iPhone and MPlayer (you will need to jailbreak your phone to use these); however, only VLC4iPhone even picked up the stream and then it was usually limited to a single frame. One more thing to know about this viewer is that it does not work properly with Windows Media Player; even using the QT Alternative Plug in. You need Real-Player or QuickTime Player to watch this.
Windows Mobile, Android and Palm support this protocol, so you guys are in luck.
For the most part the RTSP is view only; it is good to check things on the go (unless you have an iPhone) or to look in when you get that warning e-mail. It really is a nice extra feature that only adds to the value of the TV-IP422W.
There are two methods for streaming; one is for larger screens and follows the format of rtsp://(IP Address:Port)/Mpeg4, while the other is for smaller screens like a smart phone and is rtsp://(IP Address:Port)/3gp.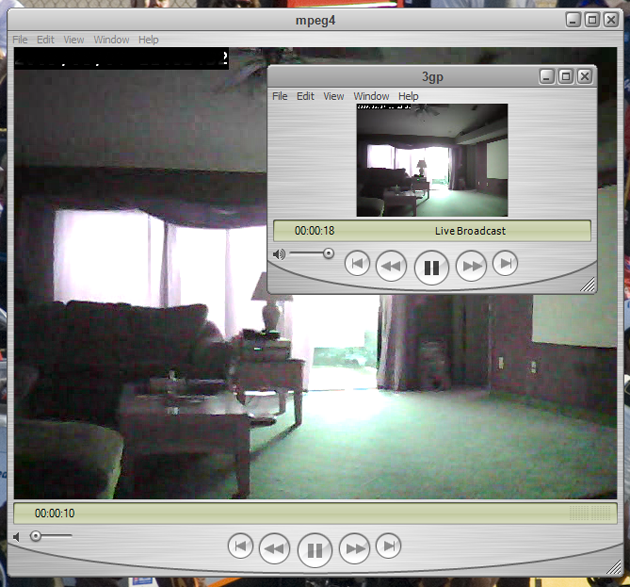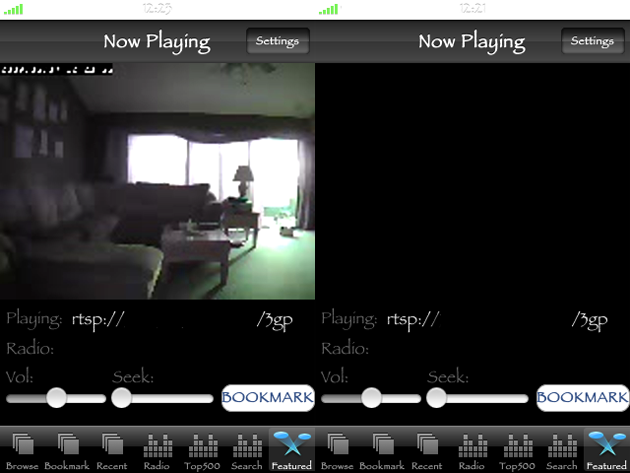 The quality is somewhat lacking, but here is what you will see from the RTSP connection:
The iPhone screen shots show the two results I received; one was a solid blank screen and the other was a still image.
Final Thoughts
The TV-IP422W is very impressive. The functionality TRENDNet put into this makes it a great device for home security. It is very easy to setup, simple to maintain and with its advanced notification and automated event recording it is almost hassle free. I was a little disappointed with the focusing method; I felt an infinite focus or something a little easier to control would have been a better option. As it stands, when you focus your hands end up blocking the view, so getting things exact for the distance you want to see detail for can be complicated.
The multiple viewing possibilities of the TV-IP422W give you a good range of options for how you want to view your content. You can run the TV-IP422W as a completely standalone unit (with a large enough USB key you do not even need network storage) or you can setup a dedicated system and monitor your setup through Secure View. RTSP capabilities round out the package and give you access to your camera from almost anywhere.
The price is a little high, but more than worth it for what you are getting realistically. When you consider the functions and capabilities packed into the TV-IP422W, you really do get your money's worth. I can envision the TV-IP422W as an entry monitor for your home. The two-way audio can let you communicate with anyone on the other side of the door while you are able to view them in safety. But the TV-IP422W does not stop there; it would also be at home for monitoring the inside of your house while you are away or in an office to monitor secured or sensitive areas (like a server room). It really does have a host of functions and uses.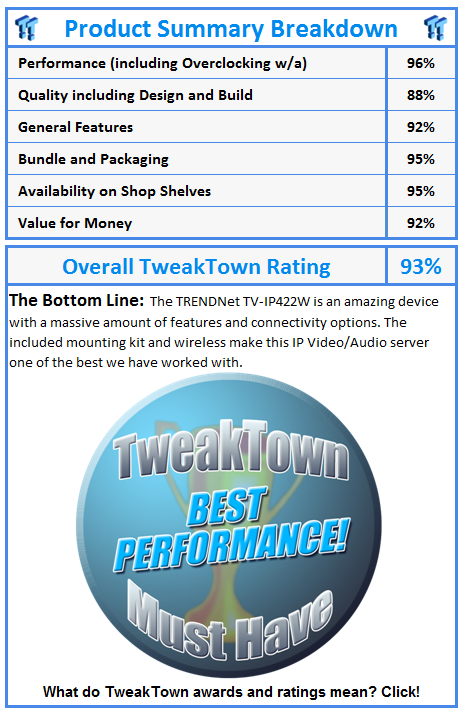 PRICING: You can find products similar to this one for sale below.

United States: Find other tech and computer products like this over at Amazon.com

United Kingdom: Find other tech and computer products like this over at Amazon.co.uk

Australia: Find other tech and computer products like this over at Amazon.com.au

Canada: Find other tech and computer products like this over at Amazon.ca

Deutschland: Finde andere Technik- und Computerprodukte wie dieses auf Amazon.de
We openly invite the companies who provide us with review samples / who are mentioned or discussed to express their opinion. If any company representative wishes to respond, we will publish the response here. Please contact us if you wish to respond.