Introduction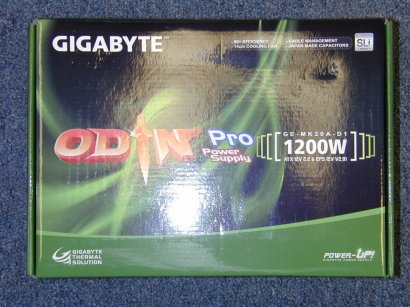 When you hear the company name of "GIGABYTE", odds are good that you are not thinking power supplies. These folks have been a premiere manufacturer of motherboards for quite some time. They have also recently begun to delve into the techno segment with a line of laptop systems, video cards, cooling components and even cell phones and other communication devices. But power supplies?
GIGABYTE has a few models of this type of components ranging from 550 watts to this 1200 watt beast. But lets be honest, there are a huge number of companies putting out high-end power supplies. Can GIGABYTE bring anything new to the table?
To answer this question we are going to take a look at the feature set of the ODIN Pro 1200 and then put it to the test. We will see if these folks have a winner on their hands or whether they should stick to the other components that they are already good at making.
In The Box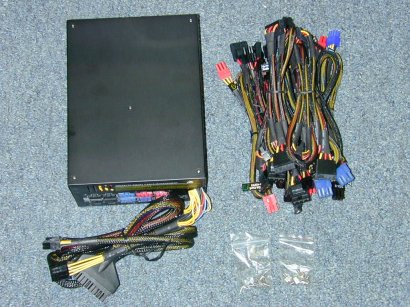 When we break away the plastic wrapper and open the box we see that at first glance there is nothing out of the ordinary. This particular model features a modular design so you only need to install the cabling harnesses necessary for your personal rig. This is always a nice addition to a package since it helps you in your fight for good airflow. If you don't need to tie off the extra cables somewhere, they cannot get in the path of your fans blowing air. It also comes with both installation screws and a set of thumb screws. This is something that we generally don't see, but many of us have a back side of the enclosure full of thumb screws (tool free is all the rage after all), so this concept will make your installation fit right in.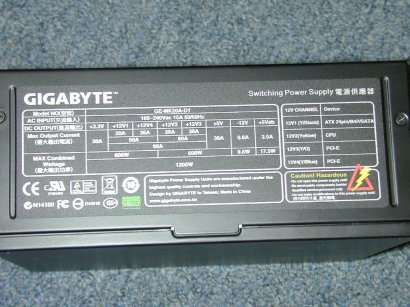 While I usually don't make a great show of the data plate that is present on the side of every power supply, this one shows us something that is truly uncommon. If you rake a good look at the portion of the specifications located directly under the 12v rail portion of the plate you will see something amazing, this monster is rated at a 99A power draw from the four rails combined. Of the units I have tested to date, this is by far the largest capacity I have seen. Many of the units don't have a rating of 99A for the entire PSU!
At any rate, there are four 12v rails, two rated at 20A and two rated at 36A. Both the 3.3v and 5v rails are rated at 30A so there is a lot of flexibility for your choice of high-end components. Also of note is that the ODIN Pro 1200 is rated at a
continuous flow
of 1200 watts of power. This is not a peak rating but what the unit is designed to handle on a full time basis.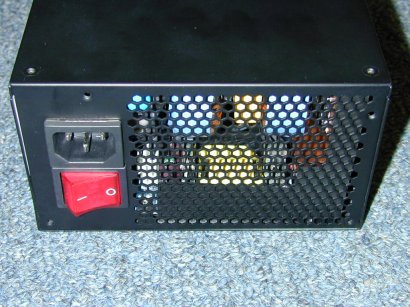 Like most power supplies being manufactured lately, this model has a very minimal layout on the exterior panel. Most power supplies have an internal switch for the 120v versus 240v power grids and this product is no exception. Most of the space if given over to a mesh material that allows for ample airflow to move through this powerful unit.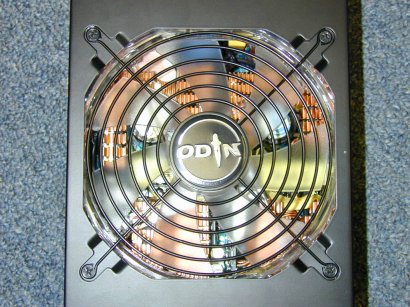 To accommodate that airflow, GIGABYTE has utilized a large 140mm fan to keep air moving at a fast rate. It is thermally controlled so it only spins fast in the event of a high temperature in the housing. During my tests I never heard it get loud enough to hear over the other fans, so you won't have to worry too much about it being too loud. While it isn't totally silent, its volume level was lower than a whispered conversation.
From this angle you can also see that some extra thought was given to cooling. By looking straight down the fan mouth you can see a lot of heatsinks covering the major heat-producing components inside the unit. Since the fan blows directly over these sinks, the cooling potential is huge. This is also another reason why odds are good you won't be hearing the fan spin up too much.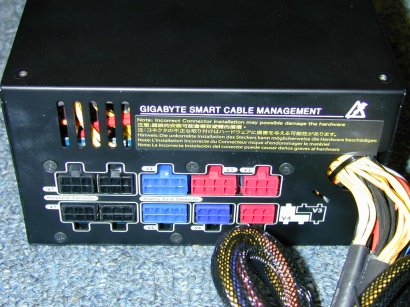 As I mentioned before, the ODIN Pro 1200 is a modular power supply. A quick glance is all it takes to realize that they wanted the user to be able to control and manage the way the PSU produces that power. Color coded ports along with matching cabling harnesses help make sure you don't load down a single rail too easily. Again, a little thought in the way the product works shows that GIGABYTE actually cares about the enthusiast that will likely be using this unit.
One item of concern, however, is the wiring harness that comes out of the housing. These are the wires that will be handling the primary and auxiliary connectors. I have been used to seeing a plastic grommet of some sort surrounding the hole where these wires exit the unit, but there doesn't appear to be one on this product. While not a huge issue, if you are the type of person who is always changing out components, this could cause a problem in the future in the event the wires begin to wear and you get a metal wire contact against the unprotected edge of the housing. Just food for thought.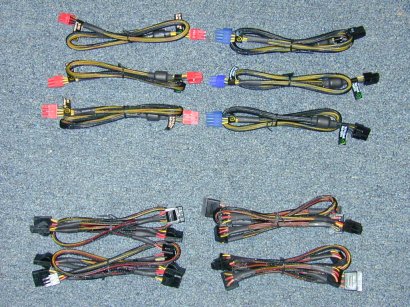 With 1200 watts of available power, it sure would be nice to have a lot of power connectors to handle the needs of an enthusiast rig. Fear not, GIGABYTE delivers. The modular cabling above gives a huge number of possibilities for the budding hardcore system builder in all of us. You get eight Molex, ten SATA, two FDD, three PCI-E and three PCI-E8 connectors. This is in addition to a 24-pin primary and both an 8-pin and 4+4 pin auxiliary couplers.
This also brings up a small point to those who are still using an older motherboard. Make sure your board is compatible with a 24-pin primary coupler since this PSU does not natively support a 20-pin connection. Odds are good that this will not be an issue, but I want to make sure everyone is aware of this before shelling out a lot of cash for something with this much power.
Testing
When it comes to testing a power supply, there are two courses to travel. One takes you down a path using a device to stress out the PSU and provide data regarding the power levels across all three rails. The second, and the one I make use of, utilizes an actual test system to give a more real-world account of what the power supply is capable of. While both methods have their merits, I prefer to use an actual computer to more closely resemble the manner of use that you, the potential customer, will put the product through.
That said, let's take a quick look at the test system. At the request of readers, I have beefed up the system to put a more realistic strain on the power supply.
GIGABYTE 965P-DS4 motherboard (Supplied by
GIGABYTE
)
Intel Core 2 Duo E6600 processor
2x 1024MB Corsair XMS2-8500-C5 memory (Supplied by
Corsair
)
GeCube X1900XTX graphics (Supplied by
GeCube
)
Sapphire X1900XT graphics (Supplied by
Sapphire
)
Western Digital 250GB SATA hard drive
2x Western Digital 160GB SATA hard drives
Western Digital 80GB hard drive
Sony 52x CD-ROM optical drive
Samsung 16x DVD-R optical drive
1x 200mm fan
2x 120mm fans
4x 80mm fans
While this isn't a Quad-GPU setup, we are certainly in the realm of having a system that is going to put a significant power drain on any power supply. Testing will consist of checking the power levels across all three rails at idle and again while the system is under stress. This should give us a good look at the capabilities of the power supply being tested.
Results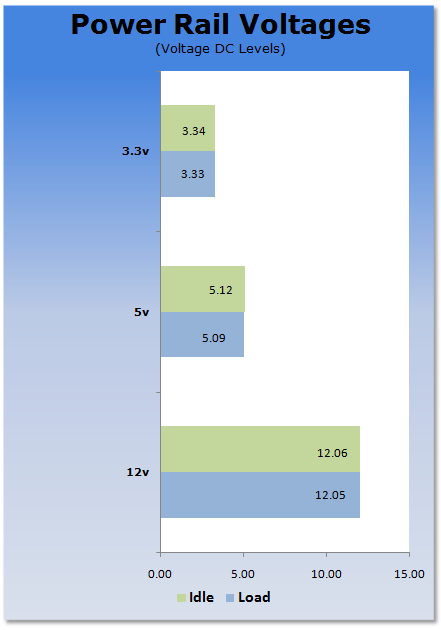 After testing it looks like I can't even make a dent in the abilities of this massive power supply. While a small reduction in voltage was noted under load, this is common and expected. No matter what I did I was not able to stress this unit to the point where it even thought about causing instability in the test system. I feel it is very safe to say that the ODIN Pro 1200 is more than capable of handling whatever you can throw at it.
Final Thoughts
Once all is said and done, the GIGABYTE ODIN Pro 1200 has the making to be an exceptional power supply. It has more power than nearly any of its competitors and with a 99A rating on the 12v rail subsystem, peltier cooling or anything else you have in mind should be a piece of cake. It comes with a modular design and has enough cabling to handle just about anything right out of the box without having to resort to splitters or daisy-chaining.
Performance testing showed it to be more than capable of handling an enthusiast platform with power to spare. While a small reduction in voltage was noted during load tests, this is not unexpected. The PSU has huge potential and is ready to handle the challenges you throw at it.
Cooling has also been a factor that looks to have been considered a great deal. While 140mm fans are becoming a regular feature, full heatsinks on the internal components is not. This attention to detail shows that the folks at GIGABYTE are serious about their power, and they want to make certain that your unit will continue to provide quality power for as long as you need it.
I was a little disappointed in the wiring harness coming from the housing, however, since it may lead to trouble in the future. Something as simple as a plastic grommet would fix this issue, but it does not come on this model of power supply. Odds are good that you will never have a problem with it, but the chance is still present so it bears mentioning.
Pricing is spotty at this point in time since it is just now beginning to show itself in the US marketplace. I have found Philippine sources that are selling this unit for about US$375 and American online retailers are just starting to show up with prices ranging upward from about US$325. This price point is solidly in the mix for comparable products, but I'll be surprised if you can find another with as hefty a 12v rail as this one has.
As far as features are concerned, the ODIN Pro 1200 lists 80%+ Efficiency, Active PFC, Japanese manufactured capacitors, Support for SLI-Quad and over-voltage protection. All in all we have a very solid contender for your upgrading dollars.