Introduction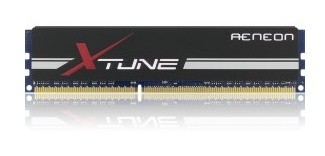 Today's memory market is a pretty well set one, we haven't seen too many new players come into the field like we did back when SDRAM and DDR SDRAM were hitting the shelves. While these companies weren't aiming for high clock modules to compete with the likes of OCZ or Corsair, mainstream PCs were getting cheaper memory thanks to the amount of competition out there. Today there are only a few major players though, and even less when it comes to top speed memory designed for the enthusiast sector.
Aeneon memory is a division of Qimonda, a German memory manufacturer which is also a division of Infineon Technologies. While Infineon has been around for quite some time, Aeneon hasn't made any major jumps into the DRAM market, so it's about time we see a new player come in.
Xtune is Aeneon's new line of overclocking modules that cover both DDR2 and DDR3 memory modules ranging in a few speed varieties; in the DDR2 memory line there are 800MHz, 1066MHz and 1142MHz modules, and in the DDR3 line we have 1333MHz and 1600MHz modules designed for Intel's P35 and X38/X48 chipsets that support DDR3.
Today we have ourselves Aeneon's second fastest DDR3 modules on offer, 1333MHz modules designed to be part of the new Xtune overclocking range. How do they stack up? Let's get onto it and see.
The Memory Modules
The Modules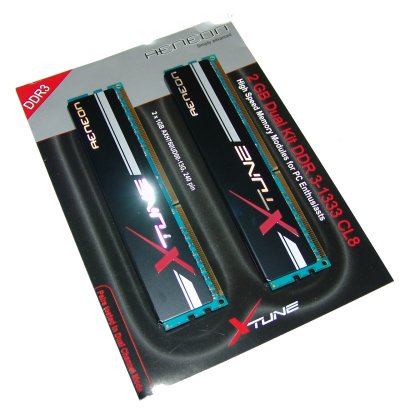 First off we take a look at the package that the modules come in. This is a sealed blister pack that you have to cut open in order to get access to the modules. This also makes it impossible to return to the store if your modules are damaged or do not work in your system. The front has a few bits of info on the modules and their speed rating.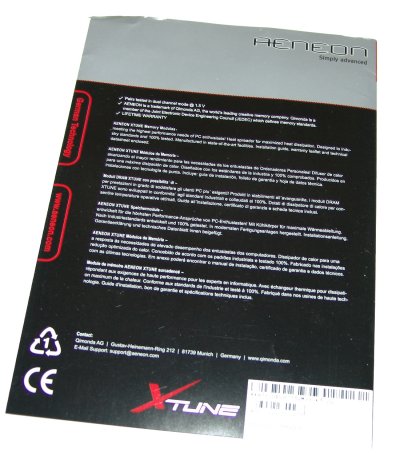 On the back of the packaging there is some marketing info in four different languages; very little info on the modules really exist apart from the sticker on the modules themselves.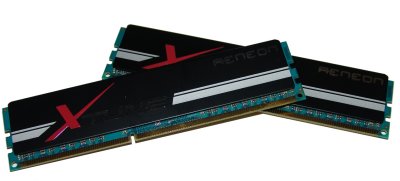 Removing the modules from the packaging, we see that Aeneon uses a bright blue PCB that supports 16 memory chips, eight on each side with a SPD module to set the memory timings. The modules are cooled by a black alloy heatsink with a large red X on each side.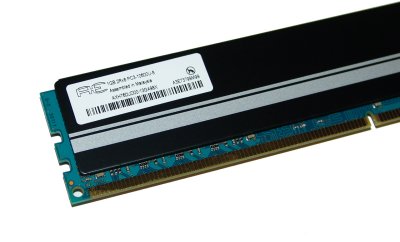 Lastly on the list we have a look at the identification sticker on the modules. Aeneon has rated these modules for 1333MHz with a timing rating of 8-8-8-24, which is about normal for 1333MHz modules. The SPD doesn't support Intel's XMP setup, but this doesn't stop them from running on X38/X48 chipsets, it just doesn't have a profile for extreme overclocking and tweaking.
Overclocking The Modules
Overclocking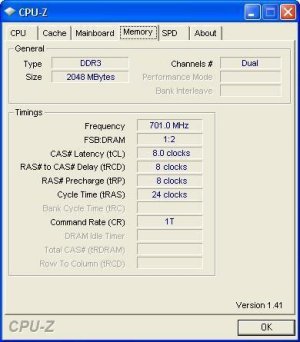 Moving into overclocking, and well..... we were a bit disappointed in the amount of speed the Xtune memory managed to throw out. In fact, we were lucky to get it to 1400MHz or 700MHz in real time. Considering it runs stock at 667MHz for 1333MHz, it was a real disappointment for us to see this. However, we do have to consider this is their first attempt, and hopefully things will get better for them. Lowering timings and raising voltages didn't help at all with this RAM.
Important Editor Note: Our maximum overclocking result is the best result we managed in our limited time of testing the motherboard. Due to time constraints we weren't able to tweak the motherboard to the absolute maximum and find the highest possible FSB, as this could take days to find properly. We do however spend at least a few hours overclocking every motherboard to try and find the highest possible overclock in that time frame. You may or may not be able to overclock higher if you spend more time tweaking, or as new BIOS updates are released. "Burn-in" time might also come into play if you believe in that.
Test System Setup and Everest
Test System
Processor
: Intel Core 2 Quad QX6700 @ 3GHz (9x333MHz)
Motherboard
: GIGABYTE P35T-DQ6 (Supplied by
GIGABYTE
)
Hard Disk
: 500GB Seagate 7200.9 (Supplied by
Seagate Australia
)
Graphics Card
: MSI GeForce 8800GTS 640MB (Supplied by
MSI
)
Cooling
: GIGABYTE Neon775 (Supplied by
GIGABYTE
)
Operating System
: Microsoft Windows XP SP2
Drivers
: Intel INF 8.3.1.1009, Forceware 163.21
Our test system consists of the P35T-DQ6 motherboard which is proven to be our best DDR3 memory overclocking platform we have. It manages to reach FSB speeds hitting 580MHz, so we know it is able to be pushed if needed. It also has some good memory dividers so we are able to overclock memory while keeping FSB and CPU speeds as stable as possible. Today we pit the Xtune against OCZ's XMP1600 modules which have proven to be clockable to 1700+MHz on this board. We used 1600MHz speeds with these modules as it's the highest official speed available when using XMP so far.
EVEREST Ultimate EditionVersion and / or Patch Used:
2006
Developer Homepage:
http://www.lavalys.com
Product Homepage:
http://www.lavalys.com
Buy It Here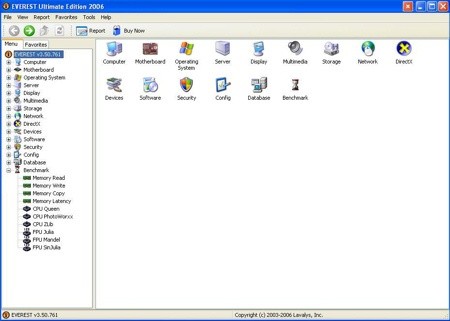 EVEREST Ultimate Edition is an industry leading system diagnostics and benchmarking solution for enthusiasts PC users, based on the award-winning EVEREST Technology. During system optimizations and tweaking it provides essential system and overclock information, advanced hardware monitoring and diagnostics capabilities to check the effects of the applied settings. CPU, FPU and memory benchmarks are available to measure the actual system performance and compare it to previous states or other systems.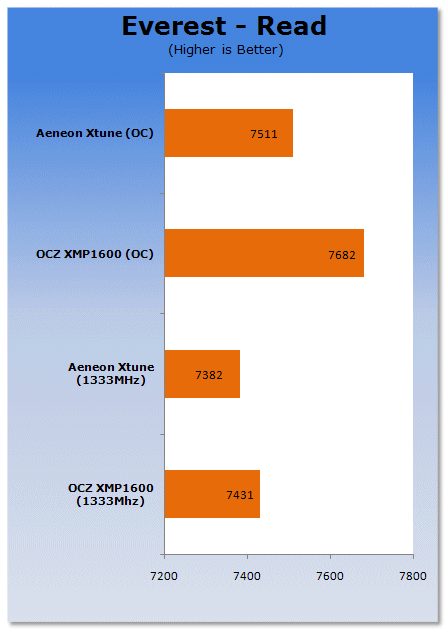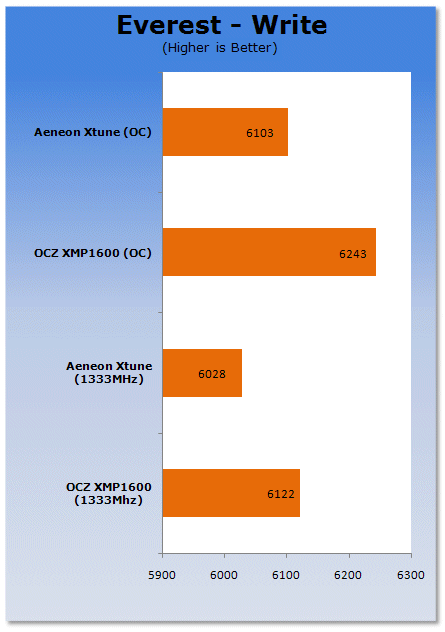 OCZ's XMP range has a lower latency at both overclocked and stock speeds; this gives OCZ a slight leg up in our raw bandwidth test.
Benchmarks - PCMark05
PCMarkVersion and / or Patch Used:
1.2.0
Developer Homepage:
http://www.futuremark.com
Product Homepage:
http://www.futuremark.com/products/pcmark04/
Buy It Here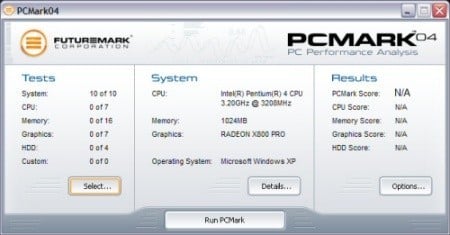 PCMark is a multipurpose benchmark, suited for benchmarking all kinds of PCs, from laptops to workstations, as well as across multiple Windows operating systems. This easy-to-use benchmark makes professional strength benchmarking software available even to novice users. PCMark consists of a series of tests that represent common tasks in home and office programs. PCMark also covers many additional areas outside the scope of other MadOnion.com benchmarks.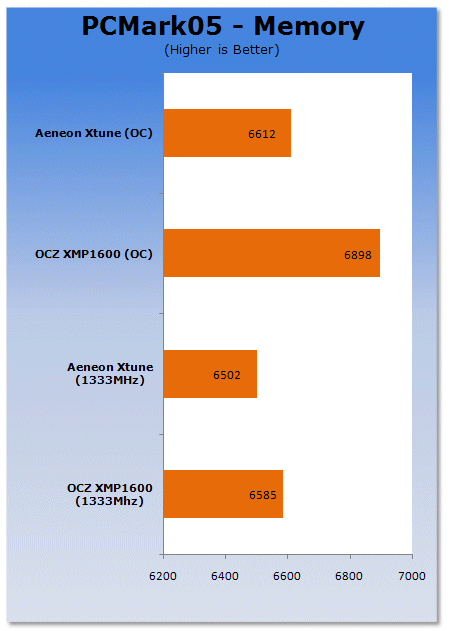 In PCMark05 we see that OCZ again holds both stock clocked and overclocked leads.
Benchmarks - Adobe Premiere Elements 3.0
Adobe Premiere Elements 3.0Version and / or Patch Used:
3.0
Developer Homepage:
http://www.adobe.com
Product Homepage:
http://www.adobe.com/products/premiereel/
Buy It Here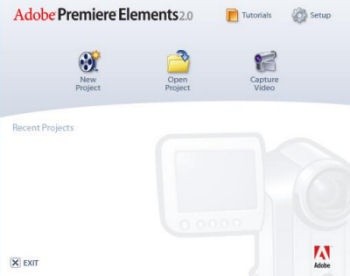 Our test with Adobe Premiere Elements 3.0 is performed with a raw two hour AVI file. It is then compressed into DivX format using the latest version codec. We measure the time it takes to encode and then record CPU usage.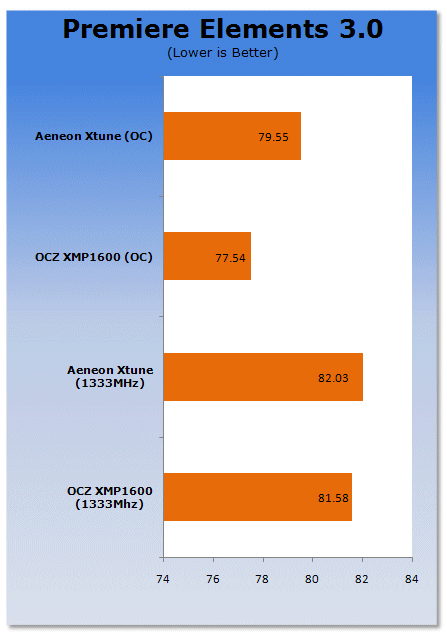 Premiere Elements' love for CPU speed and higher bandwidth is well known to us, so it was no surprise that OCZ managed to beat out Xtune here.
Benchmarks - Sciencemark 2.0
ScienceMark 2.0
ScienceMark 2.0 is a mathematical program designed to stress the memory subsystems of both desktop/workstation and server environments to determine the read/write latency as well as the overall memory bandwidth available between the CPU and the memory controller.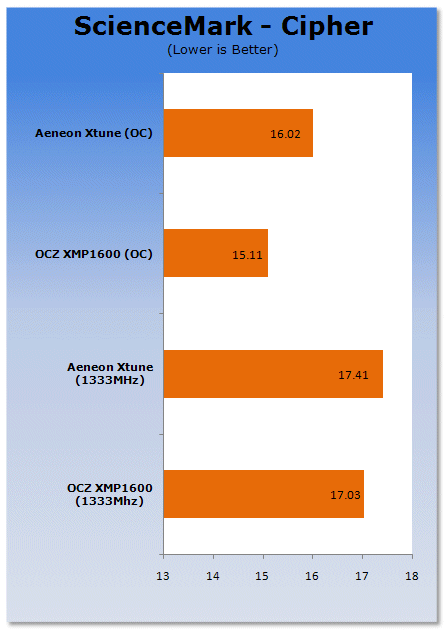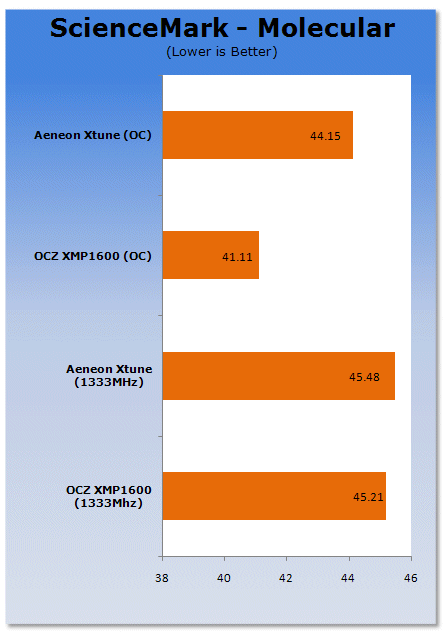 In both Cipher and Molecular tests the lower latencies of OCZ and higher bandwidth in overclocking gives it a good lead here.
Benchmarks - Prey
PreyVersion and / or Patch Used:
1.2
Timedemo or Level Used:
Hardware OC Demo
Developer Homepage:
http://www.humanhead.com
Product Homepage:
http://www.prey.com
Buy It Here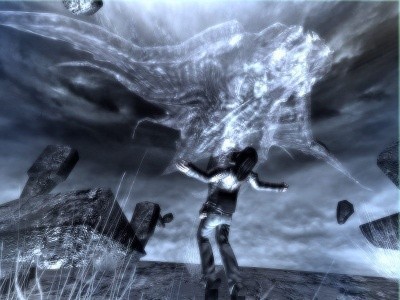 Prey is one of the newest games to be added to our benchmark line-up. It is based off the Doom 3 engine and offers stunning graphics passing what we've seen in Quake 4 and does put quite a lot of strain on our test systems.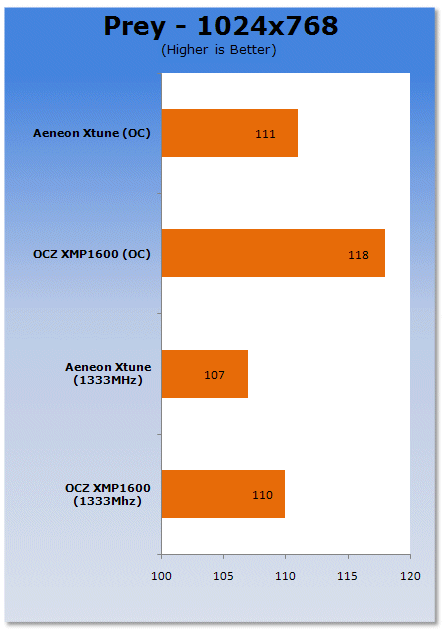 In our first real world gaming test we see only in overclocking do we have anything worth writing home about.
Benchmarks - Battlefield 2142
Battlefield 2142Version and / or Patch Used:
1.25
Timedemo or Level Used:
Custom Timedemo
Developer Homepage:
http://www.dice.se/
Product Homepage:
http://www.battlefield.ea.com/battlefield/bf2142/
Buy It Here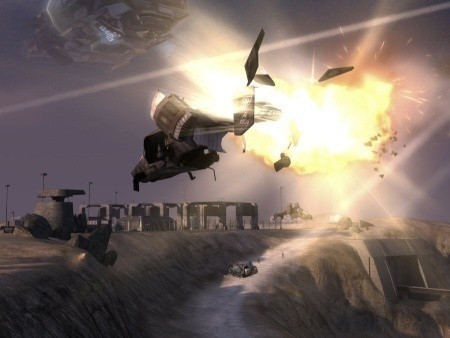 In Battlefield 2142, players choose to fight for one of two military superpowers - the European Union or the newly formed Pan Asian Coalition -in an epic battle for survival.
Armed with a devastating arsenal of hi-tech weaponry, including assault rifles, cloaking devices and sentry guns, players will also take control of the most lethal vehicles known to man. Massive Battle Walkers wage fierce combat on the ground, while futuristic aircraft rule the skies. When taking on this futuristic armor players will need to use their wits and an arsenal of new hi-tech countermeasures like EMP grenades and smart mines to level the playing field.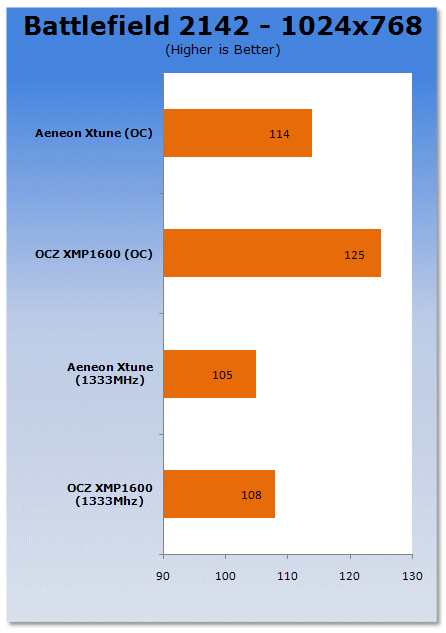 Our last test puts a bit more stress on the system over Prey, and we can see that at stock speeds there isn't much difference between the two setups, however when the clock speeds go up on the RAM, we get OCZ ahead quite well.
Final Thoughts
Aeneon's first attempt into the high end DDR3 market hasn't gone as well as we would've liked to have seen; while it did do the 1333MHz that the memory is rated for, its overclocking leaves a lot to be desired as it simply has a huge bottleneck, that being it will not pass 1400MHz no matter what we set the memory timings or voltages to.
While the modules would be good as basic DDR3 setup, Xtune is not the basic line of modules. Aeneon wants to push this as top line stuff, but unfortunately it just doesn't stack up compared to companies like OCZ, Corsair and the likes out there. If you're really serious about your memory, you're going to need to shop around elsewhere.
Overall, a basic memory module here, but not the overclocking king it strives to be. Much better value can be had.