TweakTown's Rating: 98%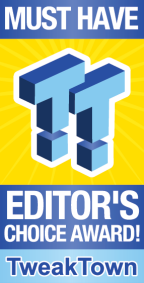 The Bottom Line
The highest performing 1TB SSD we've ever tested.
Pros
+

Price point

+

Gaming

+

User experience
Cons
Should you buy it?
Avoid
Consider
Shortlist
Buy
Introduction & Drive Details
Our review today is all about GIGABYTE's enthusiast brand, AORUS. In addition to the focus of this review, which is naturally the 11.7GB/s capable 1TB AORUS SSD mentioned in the title, we have updated our Intel test bench to 14th Gen CPU and motherboard to GIGABYTE's flagship offering, the Z790 Xtreme X.
Now, typically, when we update the CPU, this evokes an obligatory retest of the 50 comparison SSDs that currently populate our charts. However, this time, and after extensive verification, we have determined that there is no point in retesting the SSDs currently comprising our test pool, simply because our new 14th Gen Intel test bench exactly matches the performance of our now retired 13th Gen Intel test bench.
You may have heard it said that the 14900K is just a 13900KS in disguise. We find that to be true except for maybe the 14th Gen CPUs integrated memory controller or IMC potentially being a bit better than on most 13th Gen CPUs. But again, this doesn't matter for our purposes, as DRAM performance doesn't affect SSD performance whatsoever.
So, this brings us directly to the debut of our new 14th Gen Intel test platform based on the new AORUS Z790 Xtreme X - Z790 refresh board.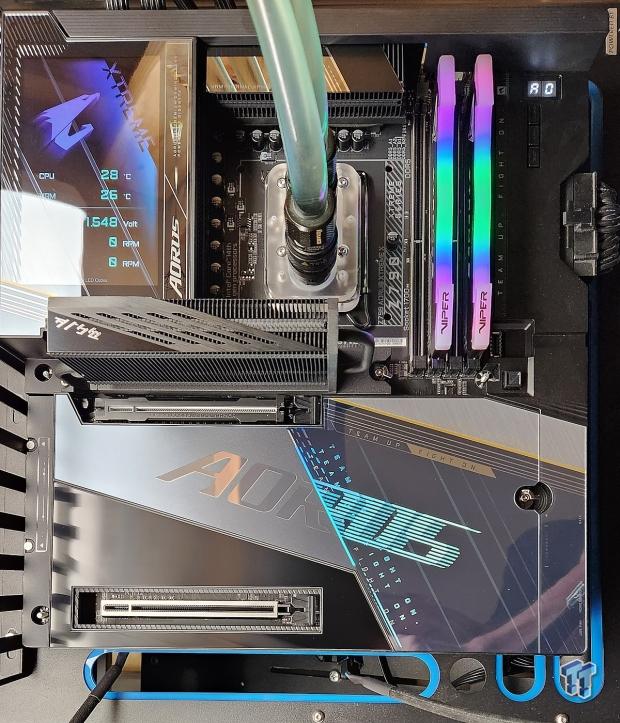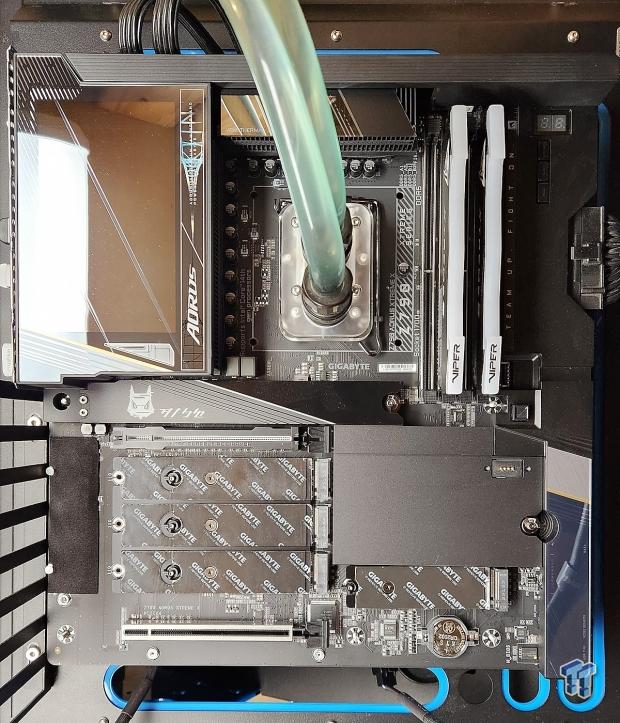 This motherboard is truly exquisite, the best of the best, a luxury item, to be sure. With accommodations for up to five M.2 SSDs, this is a storage enthusiast's dream. You get a PCIe Gen5 slot, along with four PCIe Gen4 slots. Included with the board and as pictured above, you get an integrated designed for Gen5 M.2 cooling tower that offers 50x the heat dissipation surface of conventional heatsinks. It's truly effective, as we didn't see temps get out of the 50c range during our testing. Additionally, it's blissfully silent.
So why this motherboard? It can do up to DDR 8266MT, that's why. A 4-DIMM motherboard doing DDR 8000MT is currently among the rarest sightings ever across the PC enthusiast landscape. Easy to do with 2-DIMM motherboards such as the AORUS Z790 Tachyon that was the backbone of our retiring 13th Gen Intel Platform. What's that you say? 8000MT from a 4-DIMMer? I don't believe it.
We didn't believe it either, so we wanted to put our Xtreme X to the test to see if it could be done and do so under the most demanding conditions, involving well over 6 GHz CPU speeds and over 50x ring.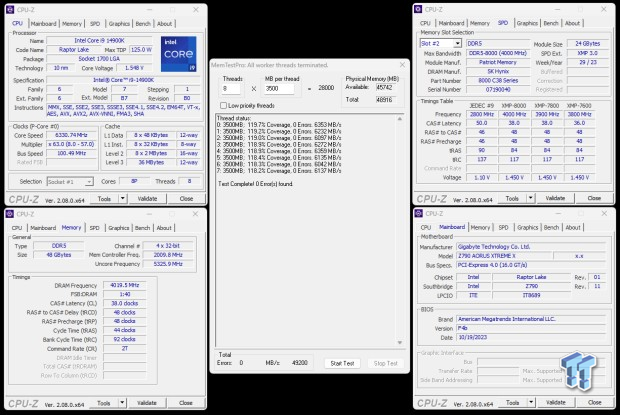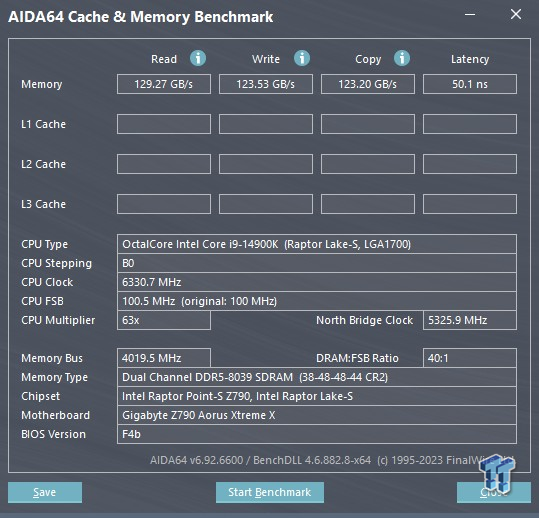 Well, what do you know about that? We can get 8000MT stable even under our excessively demanding overclocks. Amazing!
Now, of course, we will need to caveat these results by saying that there are many factors at play here, including IMC quality, DRAM type, and tuning competence. As for our CPU, it's an average bin (86 Biscuit), a retail unit purchased from BestBuy. The DRAM is somewhat special in that it's XMP 8000 24Gbit M-Die Patriot Viper Xtreme 5. Tuning competence isn't necessarily a factor because it ran fine at XMP. However, to attain the performance shown on our AIDA screenshot, you will need some tuning skills.
The point is this motherboard is indeed capable of doing the seemingly impossible for a 4-DIMM board, which is a big reason we find it to be exceptional enough to replace our Z790 Tachyon. There are many other unique and awesome features to this motherboard, which will be detailed by Tyler's coming in-depth review of the AORUS Z790 Xtreme X, so stay tuned for that.
Now, let's focus on GIGABYTE's new flagship SSD, the AORUS Gen5 12000. We are especially excited to see what this drive can do because it is the only 1TB of its class we've ever tested. So, it represents a lower-cost path to the world's best flash-based storage performance. Gotta love that.
Powering our 1TB test subject is of course the only consumer PCIe Gen5 controller currently available, Phison's E26. Phison's PCIe Gen5 controller has, since it first appeared on the scene, been redefining consumer SSD performance. As it stands currently, if you want storage performance at the highest level, a Phison controller is going to be involved.
The proliferation of E26-controlled SSDs has come in stages to this point. First came the 10,000 MB/s class SSDs, next and where we are currently at today, 12,000 MB/s class SSDs, and sometime in the future, final stage 14,000 MB/s class E26-based SSDs will come to market.
GIGABYTE's AORUS Gen5 12000 1TB is the third retail 12,000 MB/s class SSD we've gotten in for testing. However, unlike the first two, this is 1TB, roughly $90 cheaper than 2TB models. The 1TB models are rated for less sequential throughput and a bit lower random performance than their 2TB counterparts. How will this translate to real-world performance or user experience? Let's find out.
Drive Details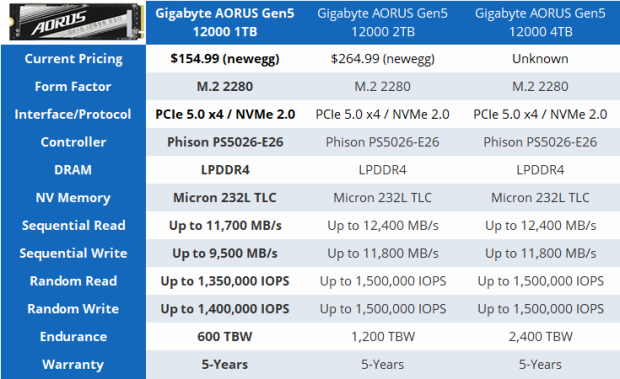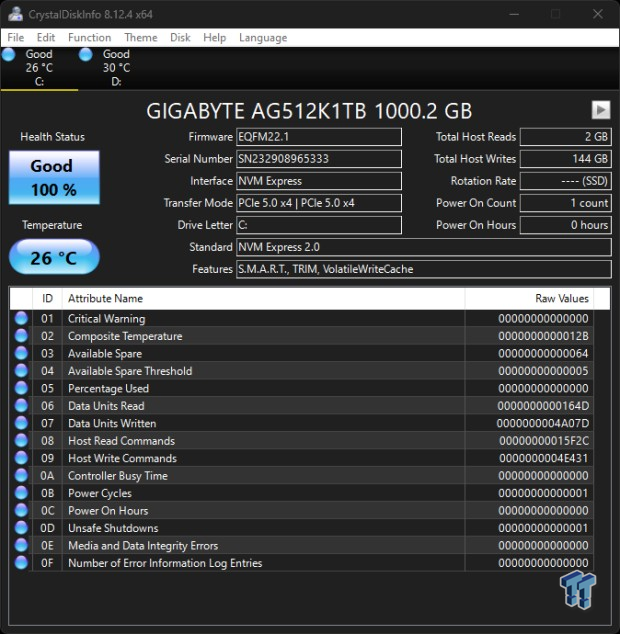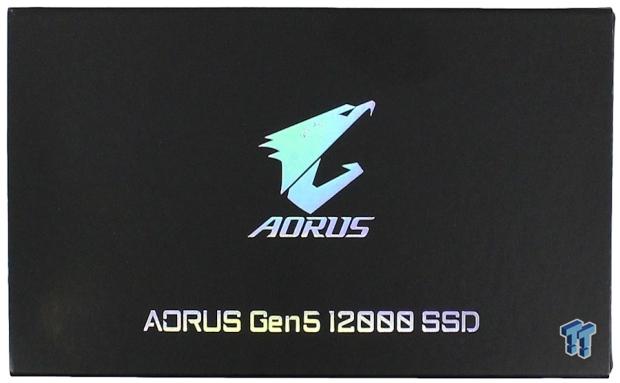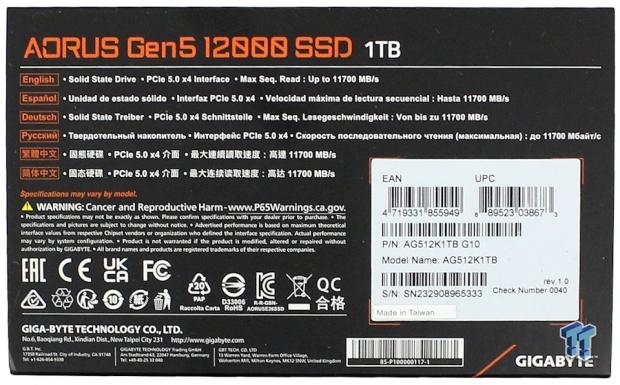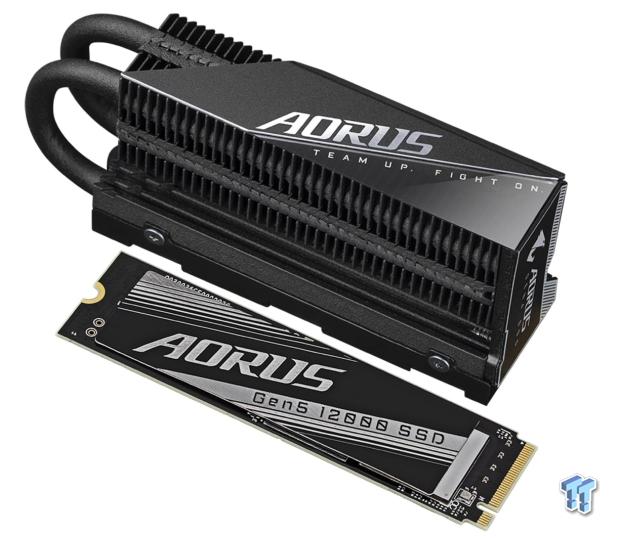 AORUS Gen5 SSDs come with a highly effective passive heatsink that has proven itself to be capable of keeping Gen5 SSDs running throttle-free and doing so in silence.
Jon's Test System Specifications
Intel Test System
AMD Test System
Because we at TweakTown like to be first at everything whenever we can, we will present our storage performance results for the test subject on both 14th Gen Intel and 7000 Series AMD platforms going forward for the foreseeable future. Because Intel still delivers the best real-world storage performance, (Look Here), our running chart will continue to be Intel-based until AMD can deliver better real-world storage performance than its rival.
Synthetic Benchmarks: CDM, Anvil, ATTO
CrystalDiskMark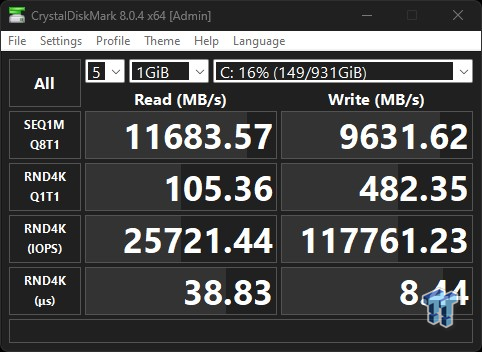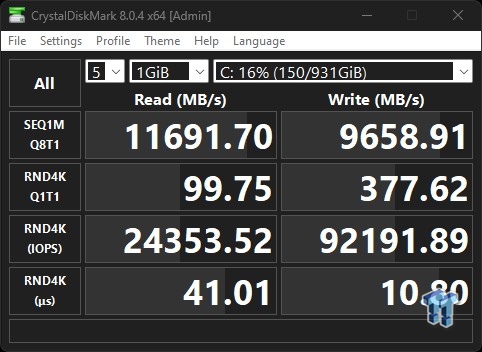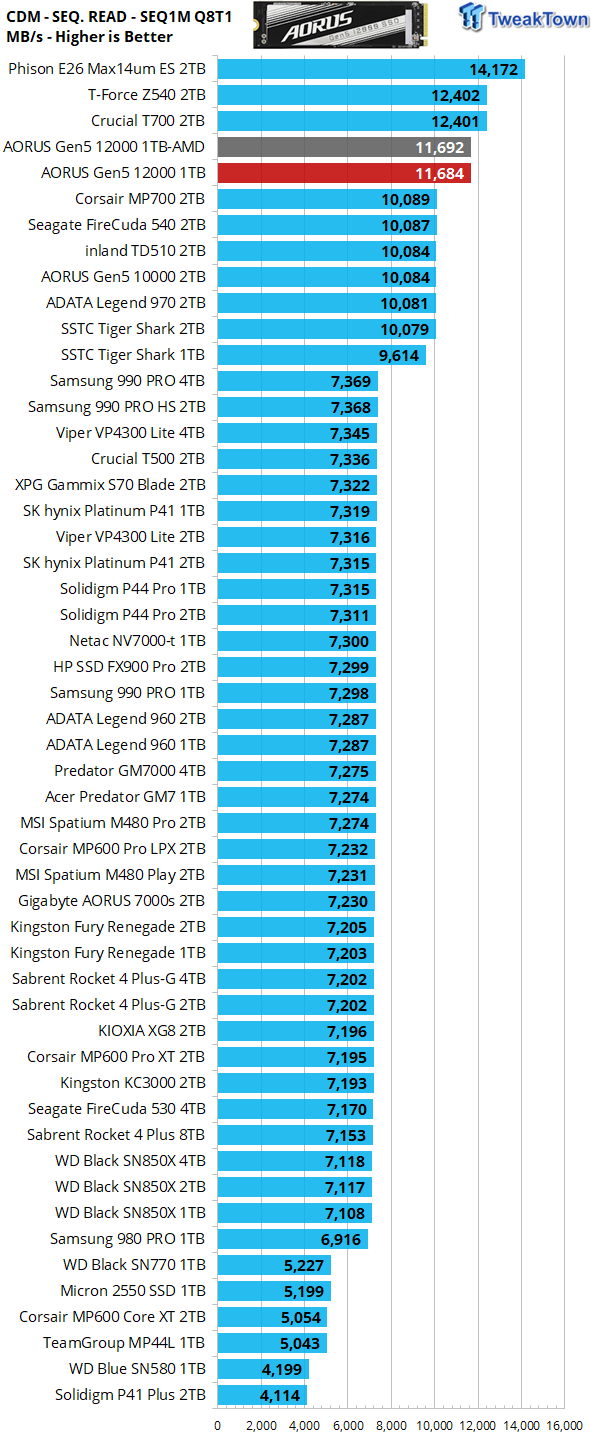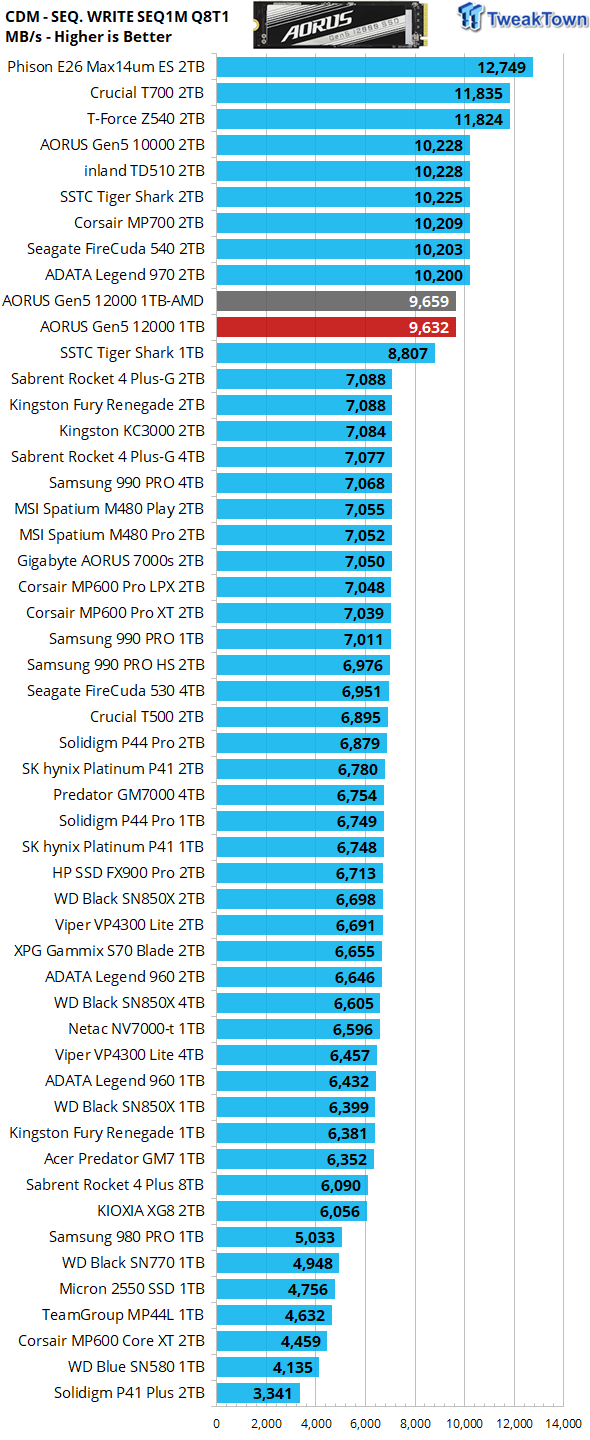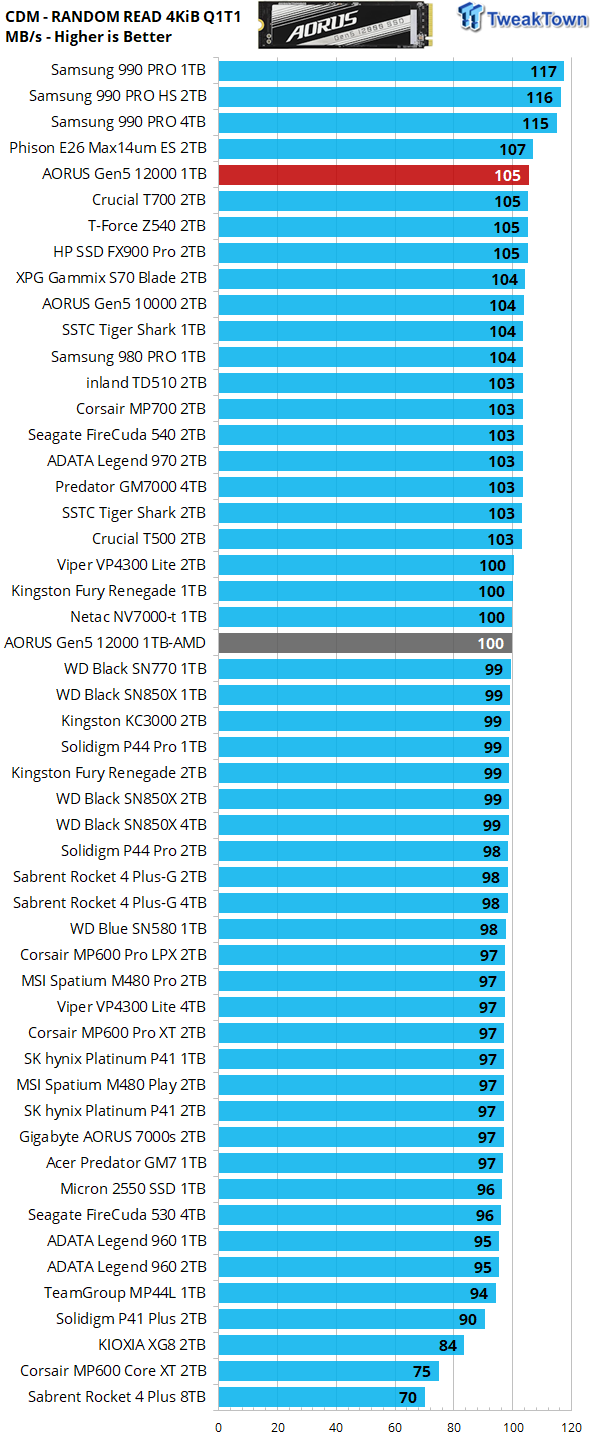 We employ CDM as our standard measurement for both sequential throughput and Q1T1 random read. GIGABYTE specs its 1TB AORUS Gen5 12000 SSD as capable of up to 11,700 MB/s sequential read throughput and up to 9,500 MB/s sequential write throughput. This is, as expected, spot on for read and somewhat conservative for write. A stout 105 MB/s at 4K Q1T1 random read is equivalent to its 2TB brethren, indicating that real-world performance should be very close to that of the higher spec'd 2TB model.
Anvil's Storage Utilities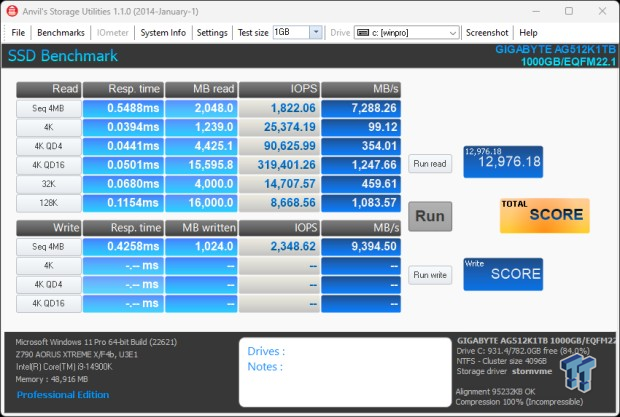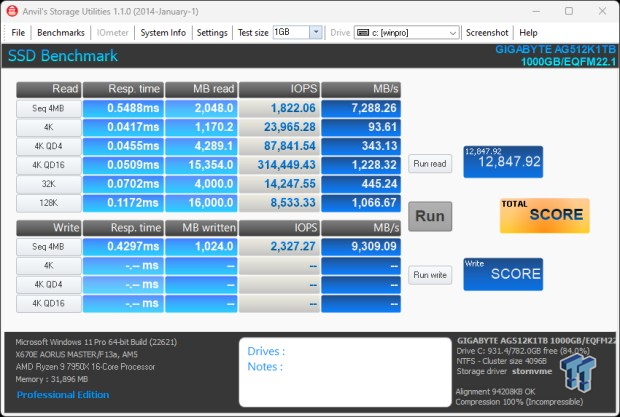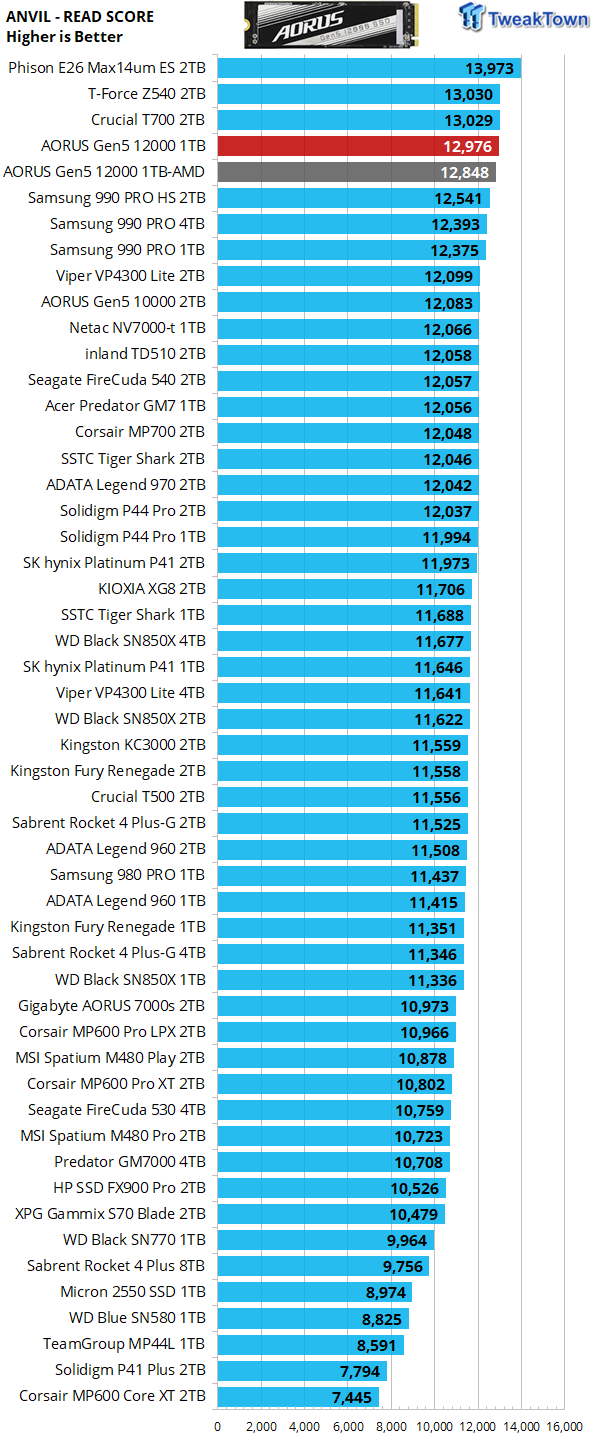 Results here indicate that our 1TB test subject is indeed more powerful than any 2TB 10,000 MB/s class SSD and almost as performant as the 2TB 12,000 MB/s class Z540 and T700 SSDs found just above it on our chart. Impressive.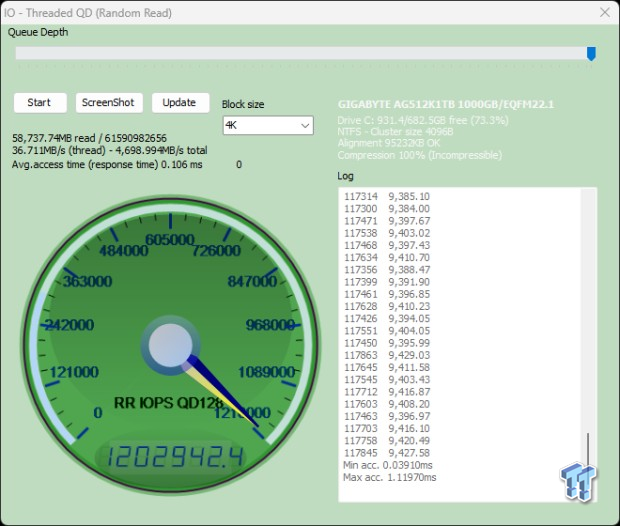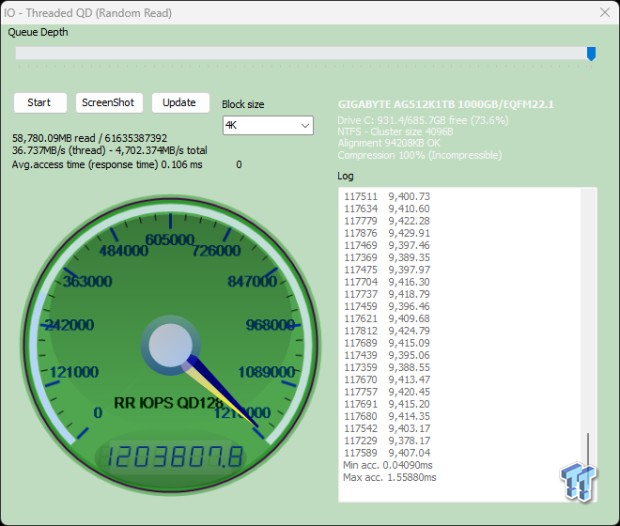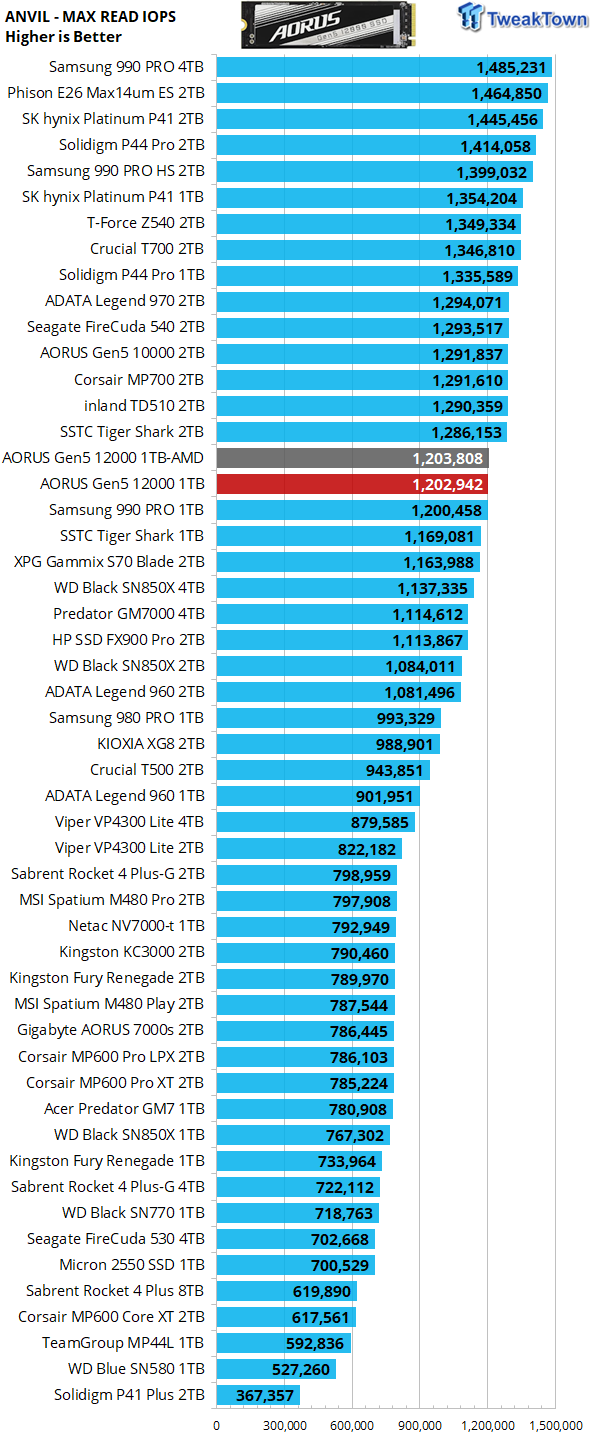 We employ Anvil's random read test as our standard for measuring max random read IOPS. This test is very accurate as it at its core is Iometer skinned over. We test at QD128. We come up a bit short of the drive's quoted up to specs being 1.35 million RR IOPS. That said, 1.20 million IOPS here is more than satisfactory considering our far more demanding user state.
ATTO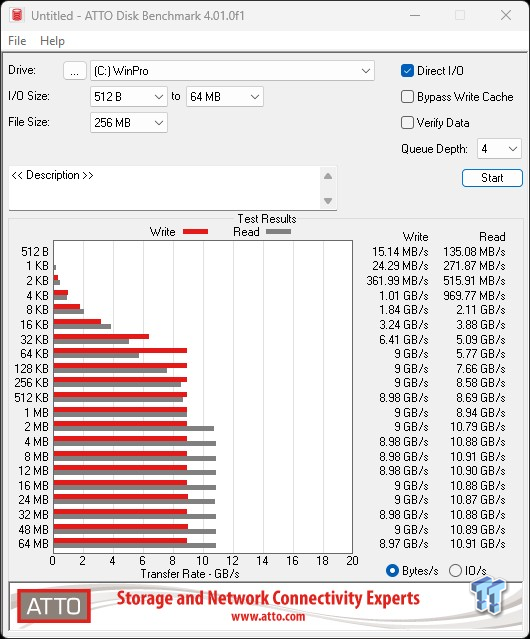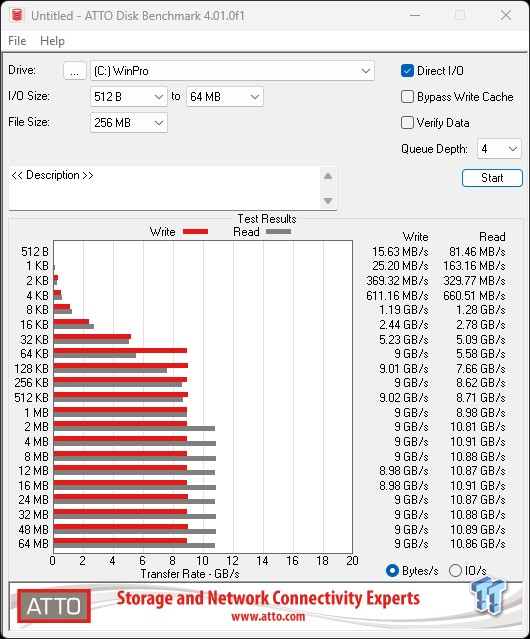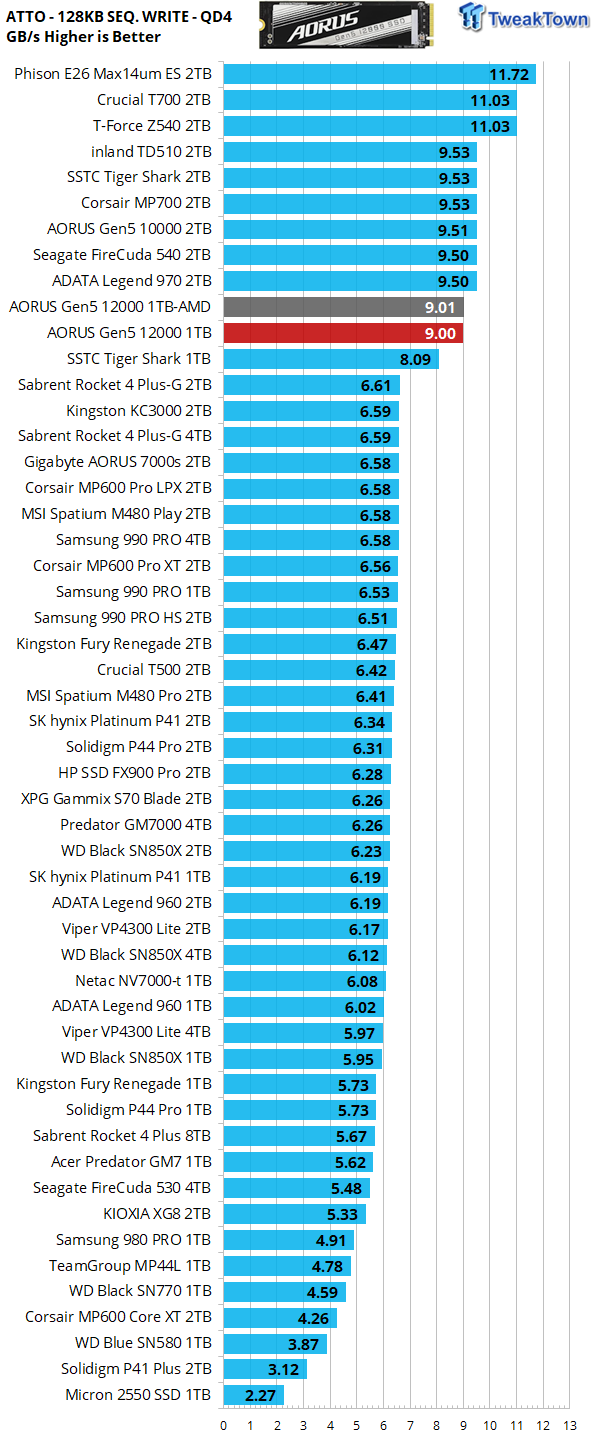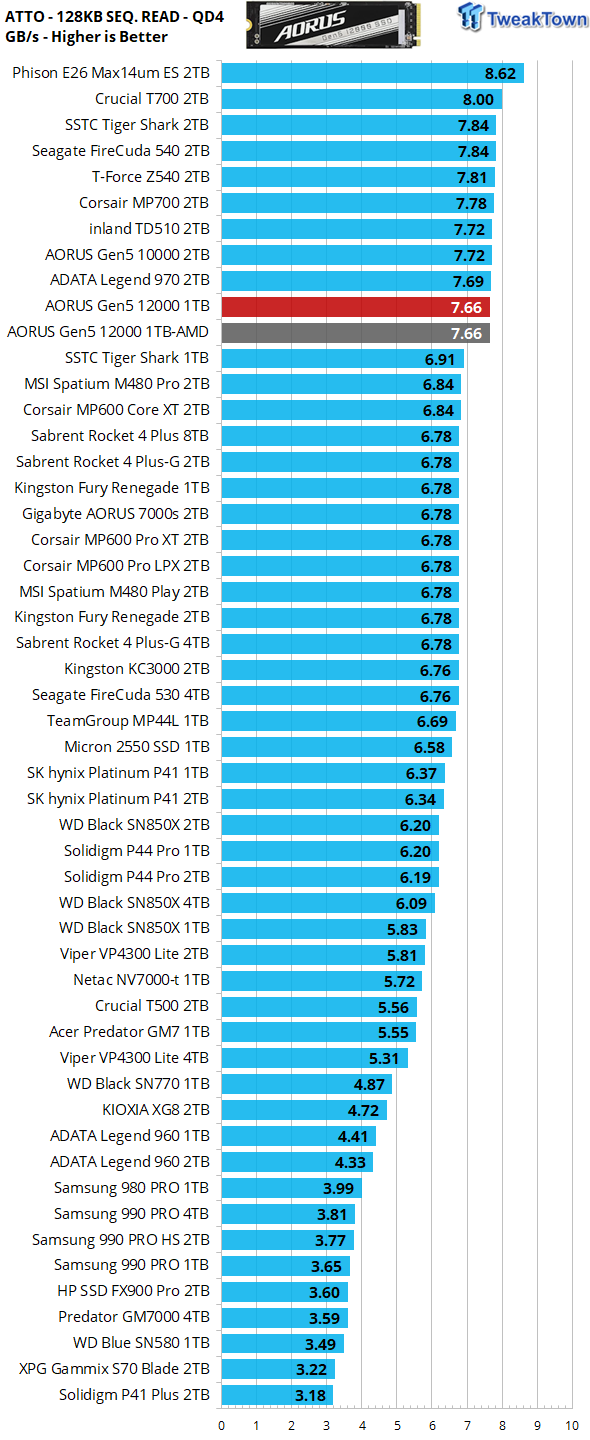 ATTO gives us a clear picture of what transfer sizes a particular SSD favors in terms of QD4 sequential throughput. Our test subject favors sequential transfers of 2MB or larger when serving data to the host (reading) and 64K or larger when programming (writing) data.
Real-World Testing: Transfers, 3DMark SSD Gaming Test, PCM10 Storage
Transfer Rates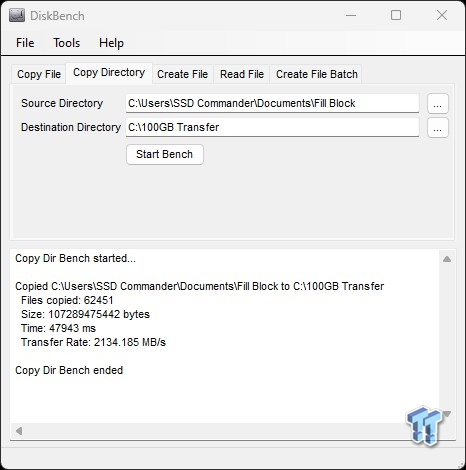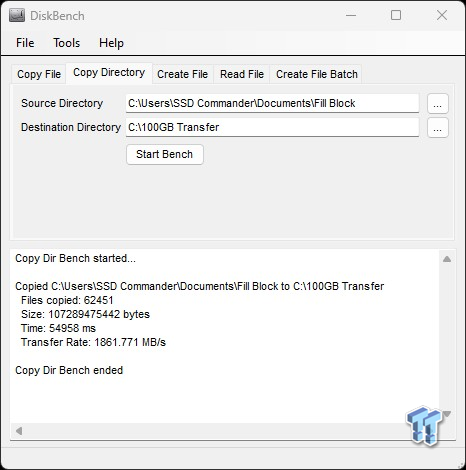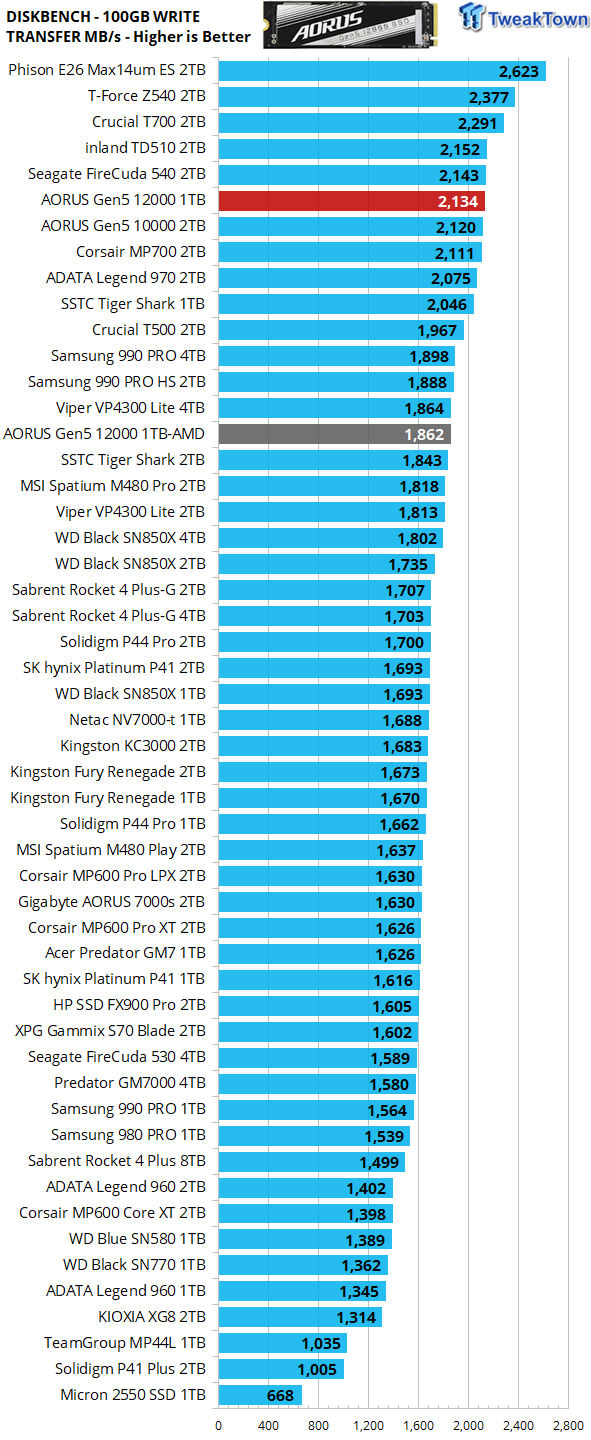 Our 100GB data transfer test is not your ordinary 100GB of data, ours is a crushing mix composed of more than 62K files. Write performance, random or sequential, is an infrequent operation, and as such, we do not consider it to be an important performance metric in the consumer space. An example being how many times is a game installed vs. how many times it's played. New lab record for a 1TB flash-based SSD.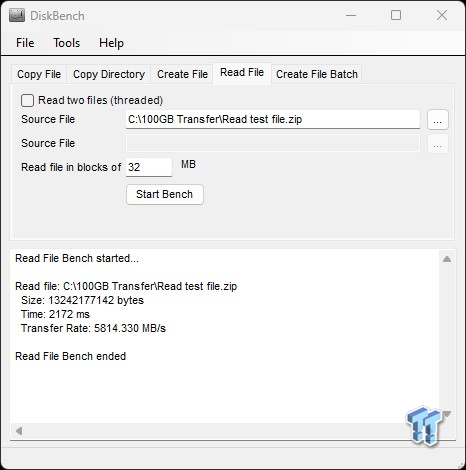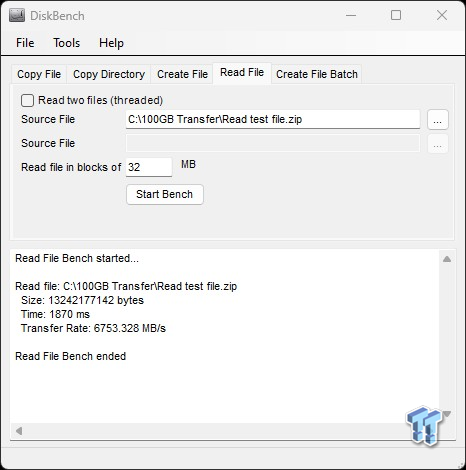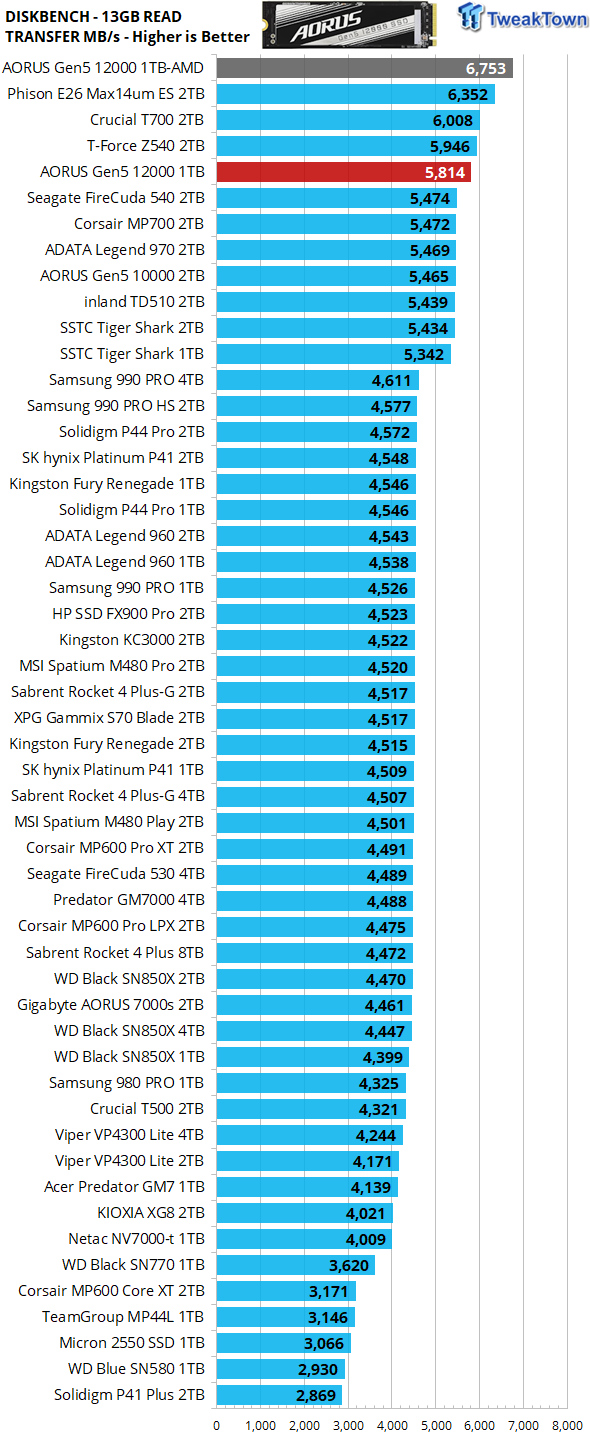 Unlike programming (writing) data, serving data to the host (reading) data is always an important performance metric, and here again, our test subject does it at the highest level. Fourth best for a retail SSD running on an Intel-based platform. Another lab record for a 1TB flash-based SSD. Impressive.
3DMark SSD Gaming Test
UL's newest 3DMark SSD Gaming Test is the most comprehensive SSD gaming test ever devised. We consider it superior to testing against games themselves because, as a trace, it is much more consistent than variations that will occur between runs on the actual game itself. This test is the same as running the actual game, just without the inconsistencies inherent to application testing. In short, we believe that this is the world's best way to test an SSD's gaming prowess and accurately compare it against competing SSDs. The 3DMark SSD Gaming Test measures and scores the following:
Loading Battlefield V from launch to the main menu.

Loading Call of Duty Black Ops 4 from launch to the main menu.

Loading Overwatch from launch to the main menu.

Recording a 1080p gameplay video at 60 FPS with OBS (Open Broadcaster Software) while playing Overwatch.

Installing The Outer Worlds from the Epic Games Launcher.

Saving game progress in The Outer Worlds.

Copying the Steam folder for Counter-Strike Global Offensive from an external SSD to the system drive.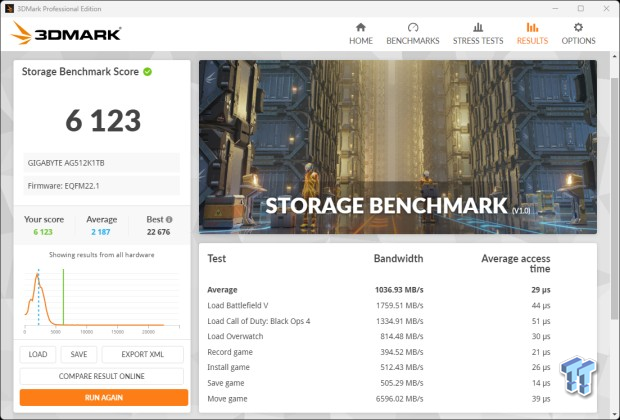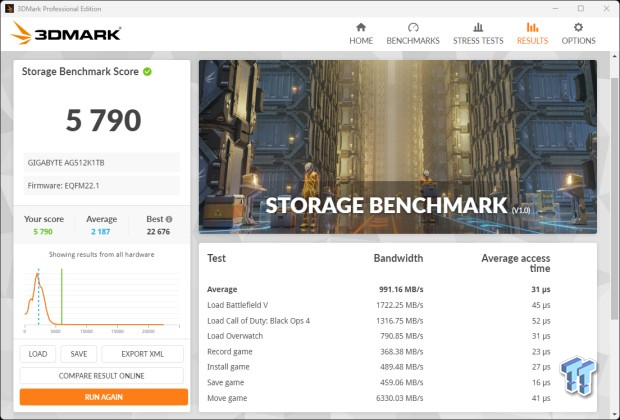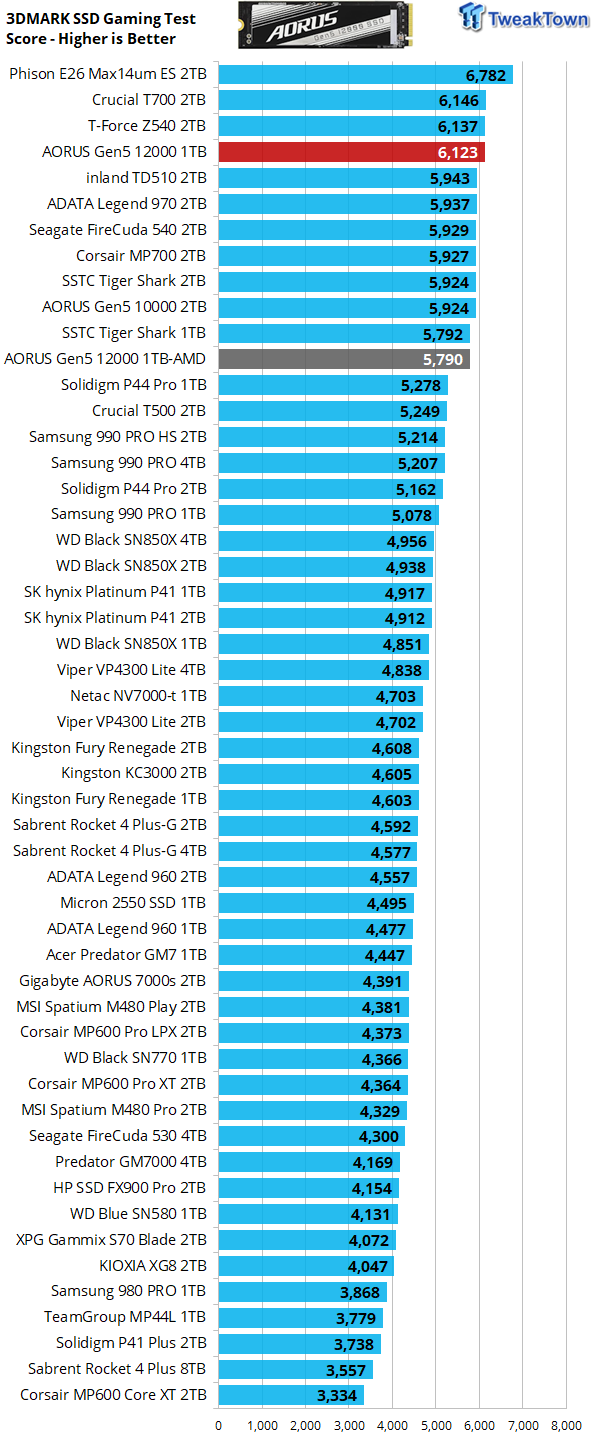 Gaming is a performance metric that matters to the majority of DIY consumers, especially to the enthusiast crowd that TweakTown caters to. Again, we are rewarded with another lab record for a 1TB flash-based SSD, and this time it's where we want to see it most, gaming. Do you want what is currently the world's highest-performing flash-based gaming SSD? This is it. Additionally, and worthy of mention here, the AORUS Gen5 12000 SSD has Phison's exclusive I/O+ DirectStorage enhancing technology baked right in, making it a somewhat future-proof choice for gaming duties.
PCM10 Storage Tests
PCMark 10 Storage Test is the most advanced and most accurate real-world consumer storage test ever made. There are four different tests you can choose from; we run two of them.
The Full System Drive Benchmark and the Quick System Drive Benchmark. The Full System Drive Benchmark writes 204 GB of data over the duration of the test. The Quick System Drive Benchmark writes 23 GB of data over the duration of the test. These tests directly correlate with mainstream user experience.
PCMark 10 Full System Drive Benchmark
This particular test writes 204GB data and covers a broad range of common consumer tasks, including booting Windows 10, file transfers, Adobe and Office applications, and startup times for games, including Battlefield V, COD Black Ops 4, and Overwatch. Unlike synthetic numbers, this is comprehensive real-world data, which is why we use it to rank SSDs in terms of user experience.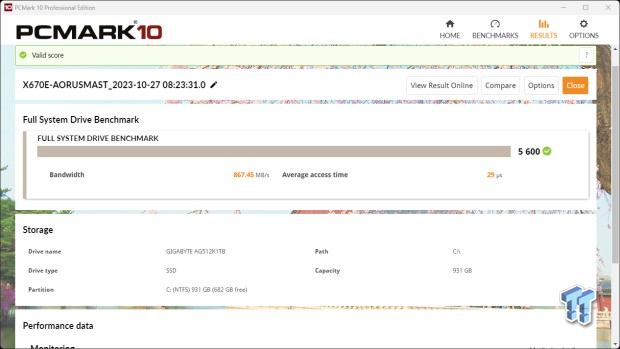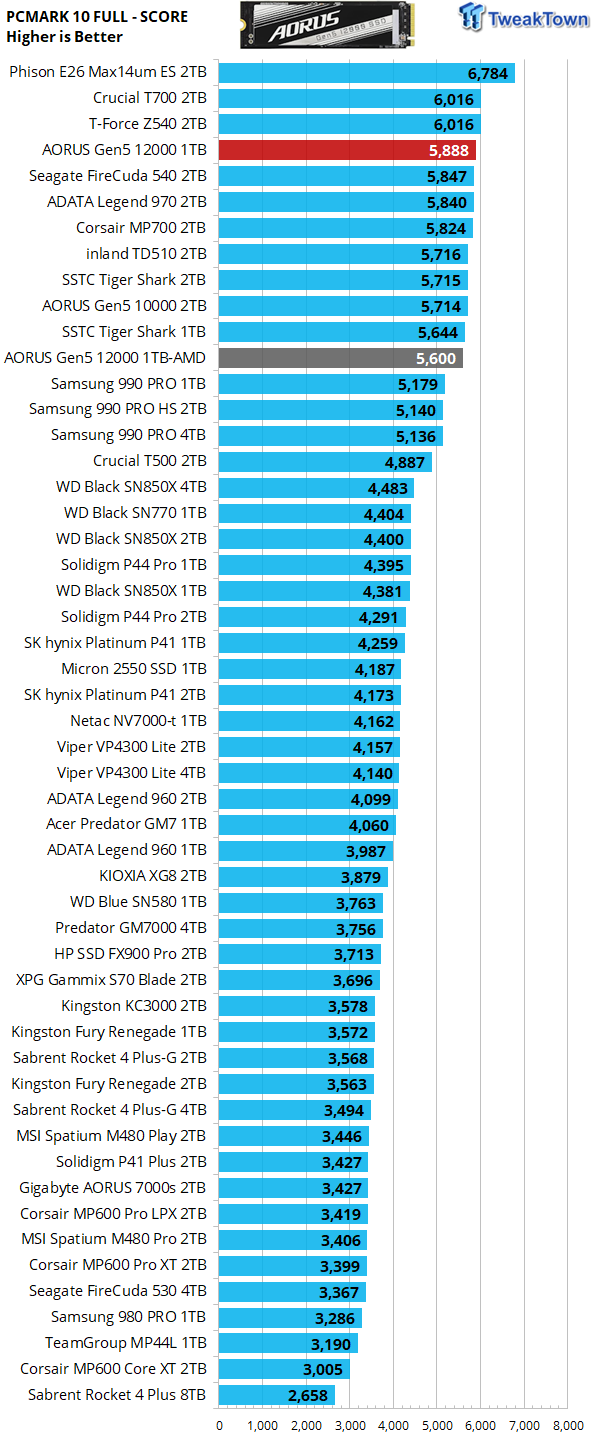 The most performance where it matters most. This is yet another lab record for a 1TB flash-based SSD. This is performance that matters, performance you can feel, not some synthetic trope. Outstanding.
PCMark 10 Quick System Drive Benchmark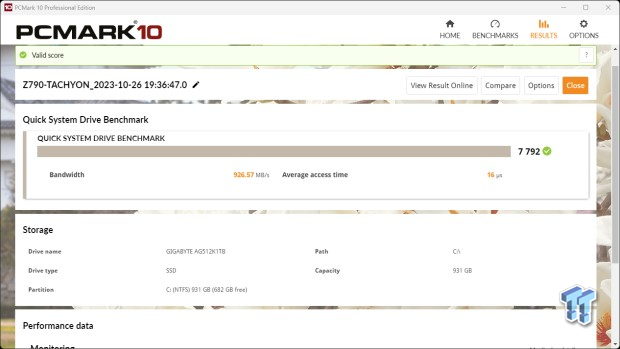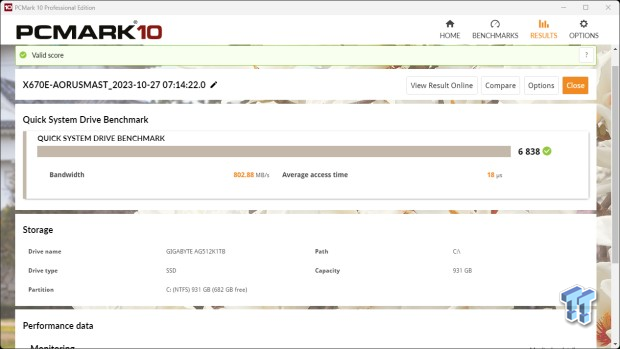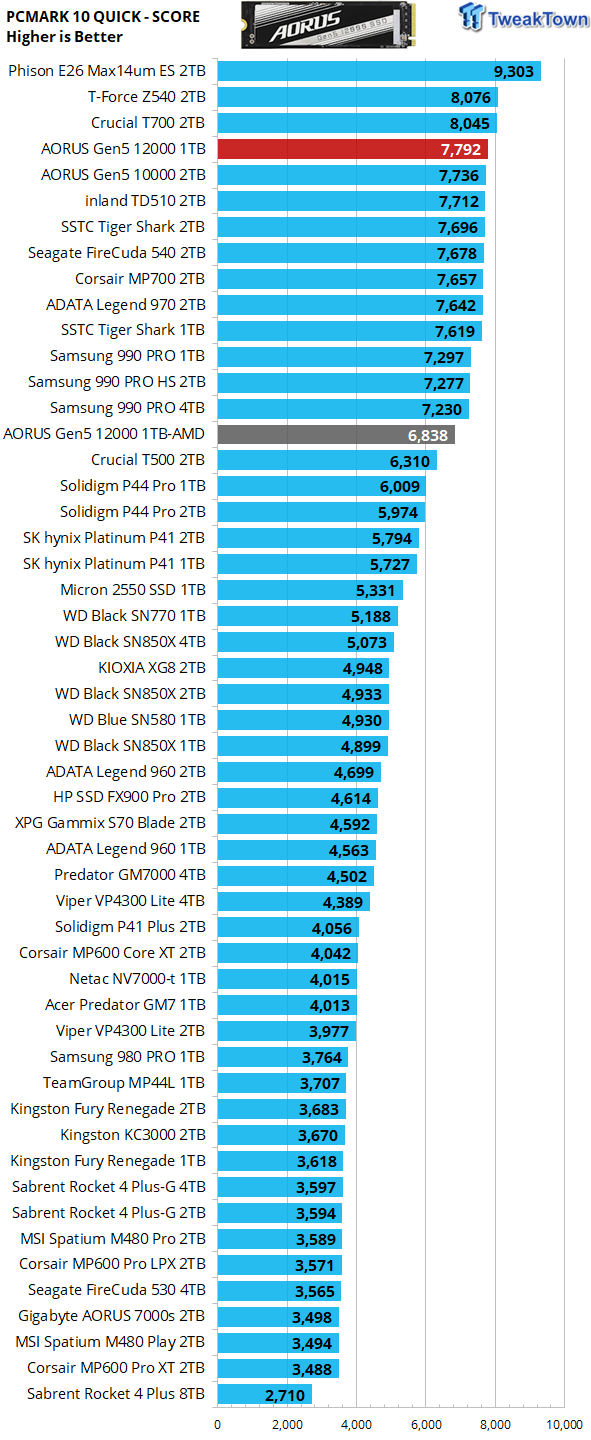 As a final parting shot, our 1TB speedster delivers another lab record for a 1TB flash-based SSD. A score of 7,792 is the third highest ever attained for any retail flash-based SSD.
Final Thoughts
GIGABYTE's AORUS brand is cranking out hardware that is delivering performance at the highest levels. We love it. The newest member of the AORUS family, the Gen5 12000 SSD, is, as we witnessed today, the highest-performing retail 1TB flash-based SSD on the planet.
We love it at 1TB for a couple of reasons. First and foremost, consumers can get in on PCIe Gen5 goodness for 40% less cost than the 2TB model offers. And equally as important in our view, the 1TB model is, for all intents and purposes, just as performant as the 2TB models, so you are sacrificing nothing on the performance front.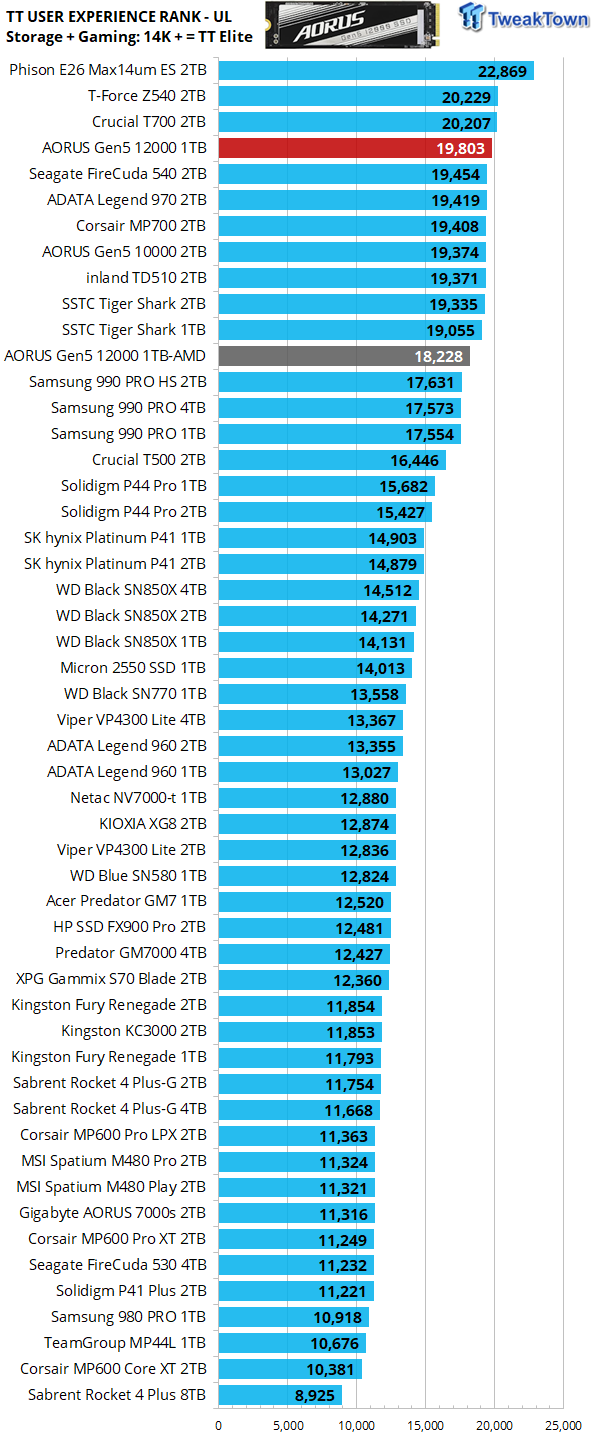 We rank SSDs in terms of overall user experience (performance where it matters most) as expressed by PCMark 10 storage and 3DMark gaming storage tests. We consider a user experience score of 14K or more to verify an SSD as a TweakTown Elite performer. And there you have it, the world's best-performing 1TB SSD. Elite performance, performance that matters, performance you can feel.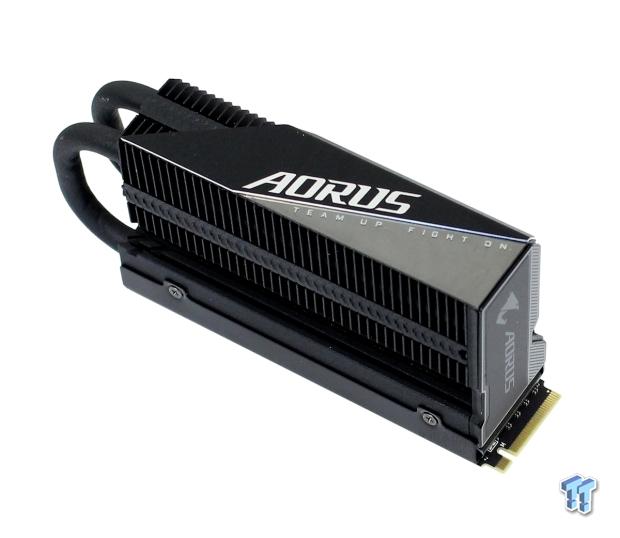 It's incredibly powerful, runs nice and cool with an included passive cooler, and is the most affordable pathway to 12,000 MB/s class storage performance. GIGABYTE's AORUS Gen5 12000 1TB SSD has earned our highest award. Editor's Choice.