TweakTown's Rating: 78%
The Bottom Line
Even with a low cost, there is not enough performance in the XPG Lancer Blade RGB to impress. They come with all of the bells and whistles, but in our minds should have never tried to design RAM for both camps in a single set of DDR5.
Pros
+

Lower-profile

+

RGB

+

XPG Prime

+

AMD EXPO support
Cons
-

Default lighting

-

Speed availability

-

XMP performance

-

XPG Prime
Should you buy it?
Avoid
Consider
Shortlist
Buy
Introduction, Specifications, and Pricing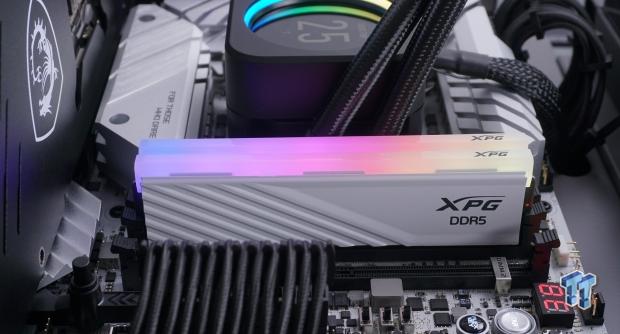 While XPG has kept us busy over the years, this is the first RAM set we can recall being designed for both camps. While it widens the potential audience and customer base, we find one thing to ring true when we test such kits. When you release something tuned to work with systems that are fundamentally different as Intel and AMD systems these days, these products do not seem to perform well across the board. While they may have an advantage in one camp or the other, what we find to come from this is that the other camp will suffer greatly from the results produced from testing.
From what we have seen so far from XPG, we cannot say they are bad for Intel, as scores from the previous kit in our charts are admirable for the class they represent. This is not to say we have never had an issue with XPG in the past, as our initial set of DDR5 was from them, and due to some problems, we never even got to add them to the chart. Since then, however, XPG had sent us the Lancer MERA Edition, and the results from that kit did reach expectations and, if we recall, did very well with a recommendation for them.
Today, we have yet another submission from the Lancer series, but this time, we are looking at what is known as the Lancer Blade RGB DDR5. As said, being designed with both camps in mind, speed is much slower than we saw in the MERA Edition, but with the speed and timings we got, we have a feeling that they may be able to stand up against some of their competition. However, time will tell, as previous experiences have us wondering if they can keep up, but we will soon find out how well our white Lancer Blade RGB sticks handle their business.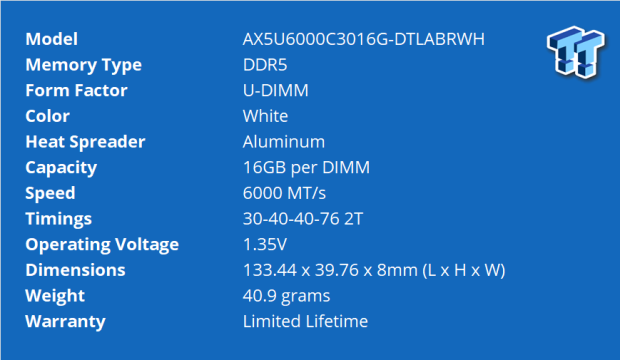 The chart above is comprised of information from the product page as well as measurements we have taken. All current listings we can find are for the black RGB versions of these sticks, but we have been sent the white version with the model number AX5U6000C3016G-DTLABBRWH, whereas the black versions end in BK. This is DDR5, and we already mentioned that the aluminum heat spreaders on these sticks are white. Each stick offers 16GB of density, with a speed of 6000 MHz. This set of Lancer Blade RGB stands out amongst most others because this is the first CAS 30 set of anything we have seen thus far.
Power is kept minimal at 1.35V needed to fire up the XMP profile, and their literature explains that these are low-profile in design. The length of these sticks is measured to the ends of the PCB as they are exposed in this design and is 133.44mm end to end. The width is thick at 8mm, but the height of 39.76mm is not what we would call low-profile. Shorter than some, sure, but quite a few millimeters away from a naked stick. The overall weight of the sticks is measured at 40.9 grams, and lastly, they come backed with a limited lifetime warranty.
Knowing what you are getting from XPG at this point is covered, but two things are still unaccounted for. While the black version seems to be widely available, at this time, we are having a rough go locating the white version we have in hand. In that search, we did find the Lancer Blade RGB in its black suit, with a currently reduced price of $99.99 from $114.99 at Amazon. If you tend to shop at Newegg, plan to spend quite a bit more. There, we find the same set of DDR5 listed currently at $158.99; honestly, we cannot see anyone paying such a price for what we have today. Nonetheless, we will carry on and see if XPG can stand up to the other 6000MHz solutions, none of which are tuned as tightly as the Lancer Blade RGB.
Packaging and XPG Lancer Blade RGB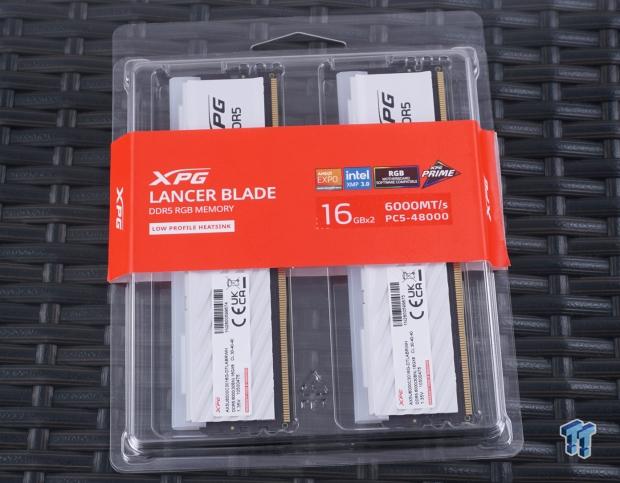 XPG kept the packaging as simple as possible with the Lancer Blade RGB. Our set of sticks comes in clear plastic with a wide red sticker delivering all the information. On it, we see the name along with EXPO and XMP icons along with the RGB and motherboard compatibility, and the last icon is for XPGs software. The speed and density are clear to see, but oddly, our RAM was opened before we got it.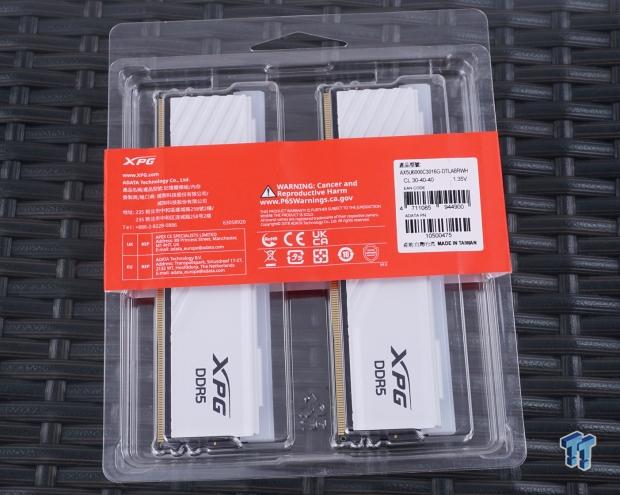 Around the back, we see more of the RAM inside, but the sticker is where you should be looking. We see the company information at the left, the California warnings, and a product sticker to the right containing the model, timings, and XMP/EXPO voltage required.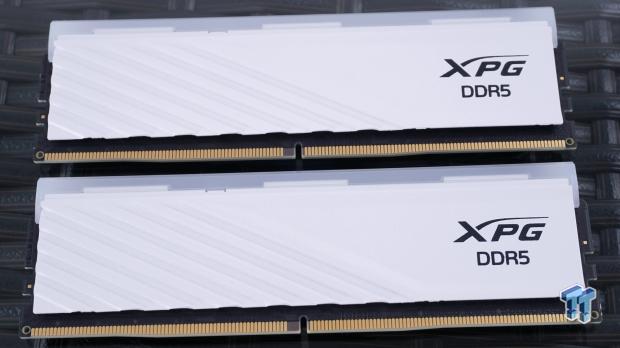 We can make out the design once they are out of the packaging, and the XPG DDR5 to the right, painted black, is in stark contrast to the white heat spreaders. Across the spreader, on the left, are eight angled portions recessed compared to the right, where the name is painted, to add style and flare to the appearance.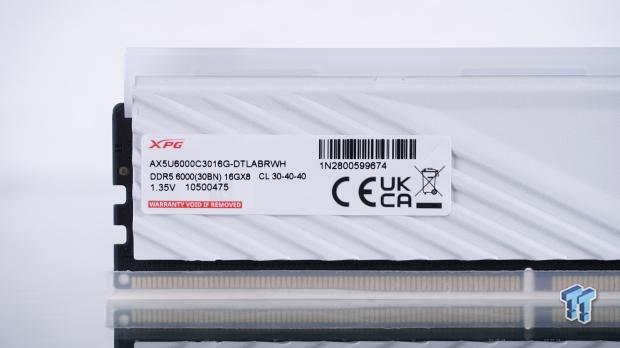 On the reverse, the heat spreader is identical to what we saw previously, but XPG places the product sticker here. We see the model, type, speed, density, timings, voltage required, and serial number.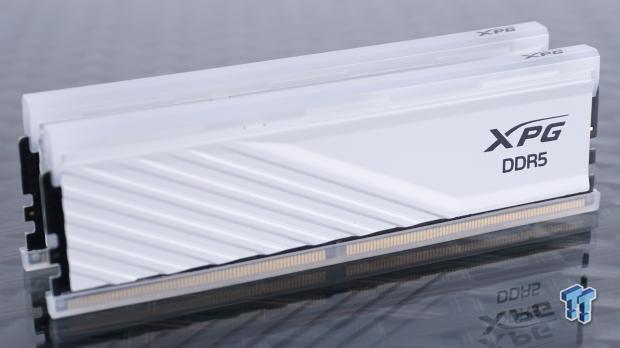 As many will see, once installed into the DIMM slots, we notice that shadow play makes the grooves appear much deeper this time, and the shiny black XPG to the right is slightly reflective, delivering a gray appearance at certain angles.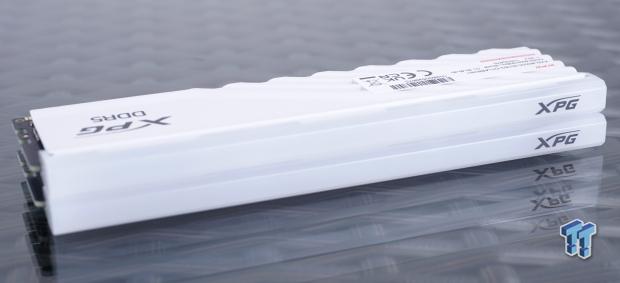 The diffusers on top are essentially flat across the length of the sticks but are beveled on either side so as not to be so boring. The right end of the diffusers offers the XPG name, just as we saw it on the spreaders.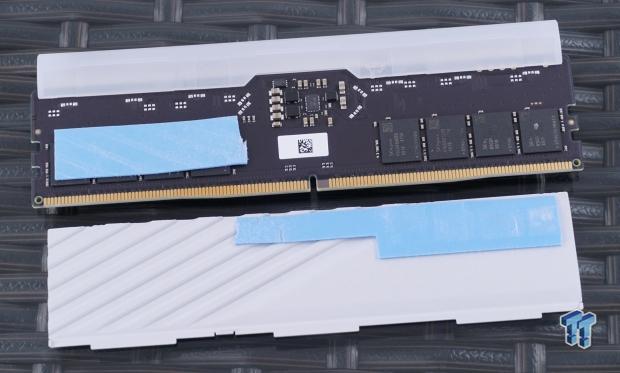 As you can see, once pulled apart, XPG uses a thick blue thermal pad covering all of the ICs. Be careful if you attempt this, as it is easy to tear the thermal pad. We also see just how thick the diffuser is, and if these were truly low-profile as described, the diffuser could have been much slimmer.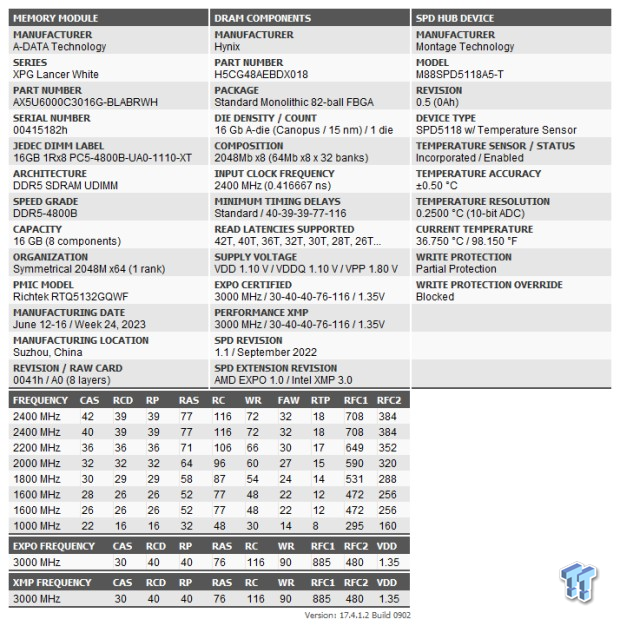 Using Thaiphoon Burner will eliminate the need to remove the heat spreaders in most instances, and it shows that XPG populated the PCB with H5CG48AEBDX018, A-die, SK Hynix ICs. We are also told that the PMIC is by richtek, but the model on-die is 0P=A0.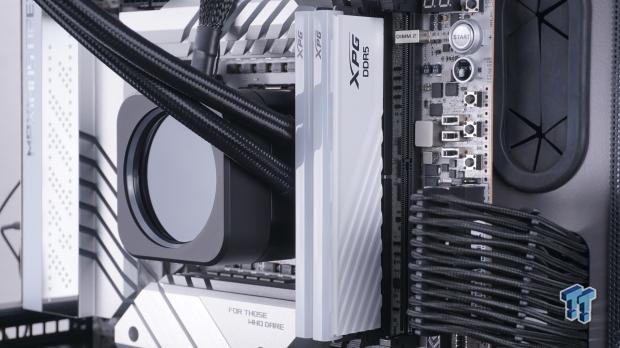 Non-RGB kits are also available, so this image with our not-powered set will be similar to what you see with those. We love the play of these white sticks with the rest of the theme, as the black ones would have stuck out like a sore thumb.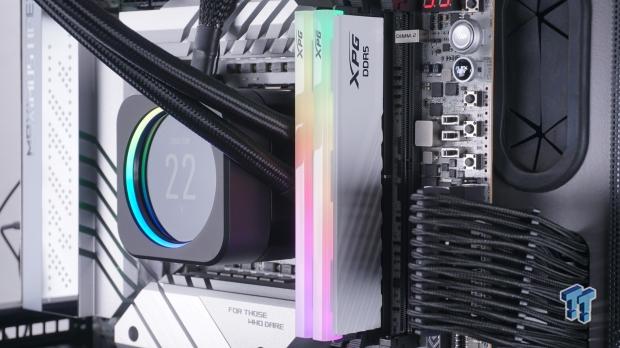 As we power up the system, the light show begins. We see many colors produced across the diffuser, but even without making it to Windows, the lighting is already out of phase. We believe you will need software to make them appear typical to what we get with others out of the box.
Test System Details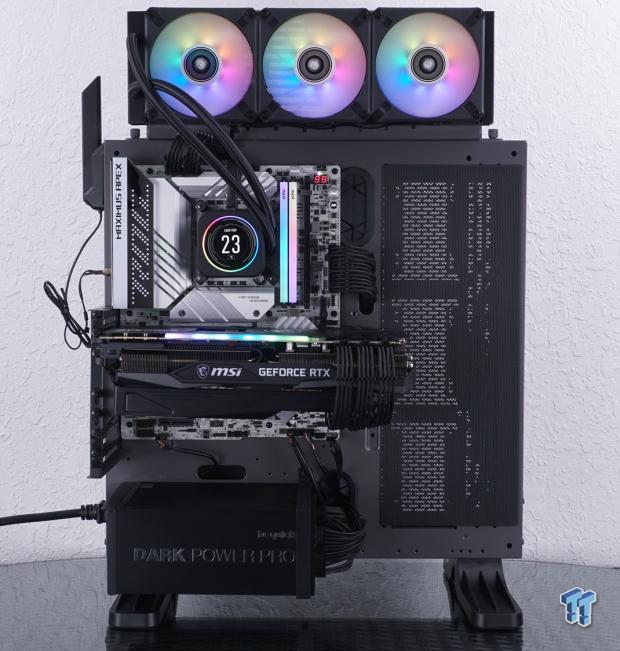 To obtain the Intel CPU-Z screenshots, you will see directly following this image; this is the system we used to do it, as well as in getting the results seen in the following pages. Thanks to Intel, be quiet!, ASUS, MSI, Corsair, and Sabrent for supporting us with this venture. Detailed specifications of the system can be found below.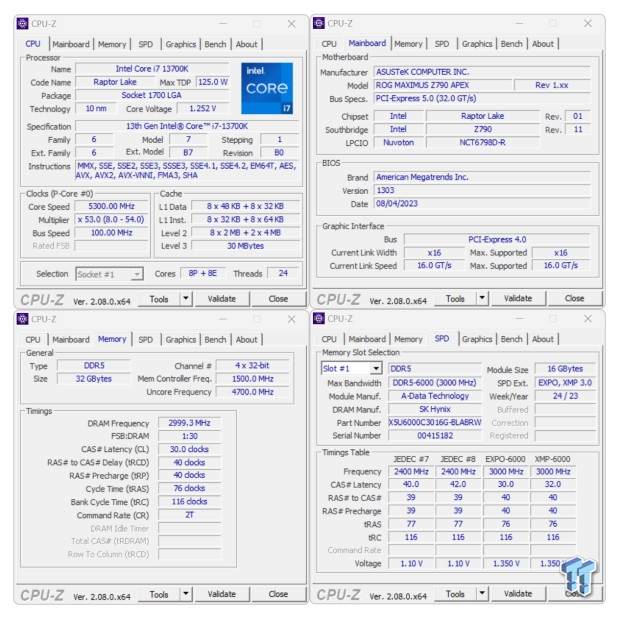 After taking steps to prepare for a new set of DDR5 and applying the XMP setting, we get back into Windows and find what CPU-Z is showing. We are at 6000 MHz speed, and the timings are set to 30-40-40-76 2T. The VDIMM is 1.35V, our SA is 0.865V, and the MC is 1.119V.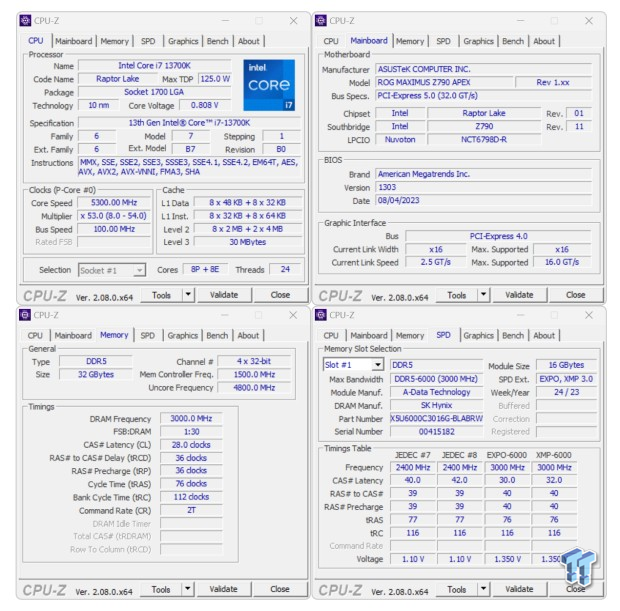 We attempted to lower the timings by adding only a tenth of a volt around the parameters from The XMP settings. We are surprised that we can run this kit of 6000 MHz RAM at 28-36-36-76 2T with complete stability.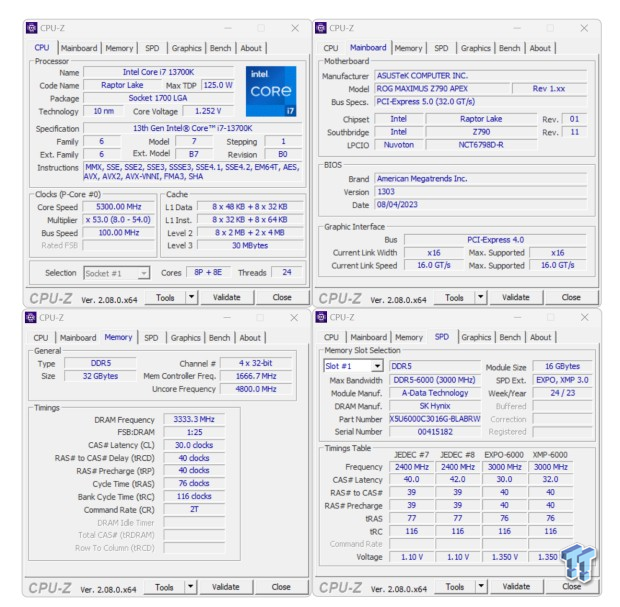 We also attempt to reach the maximum stable speed with the XMP timing set still in place. We found that the XPG Lancer Blade RGB could take on 667MHz more speed at CAS 30, which we feel is an impressive feat from this memory.
Chad's Intel DDR5 Dual-Channel Test System Specifications
Intel Performance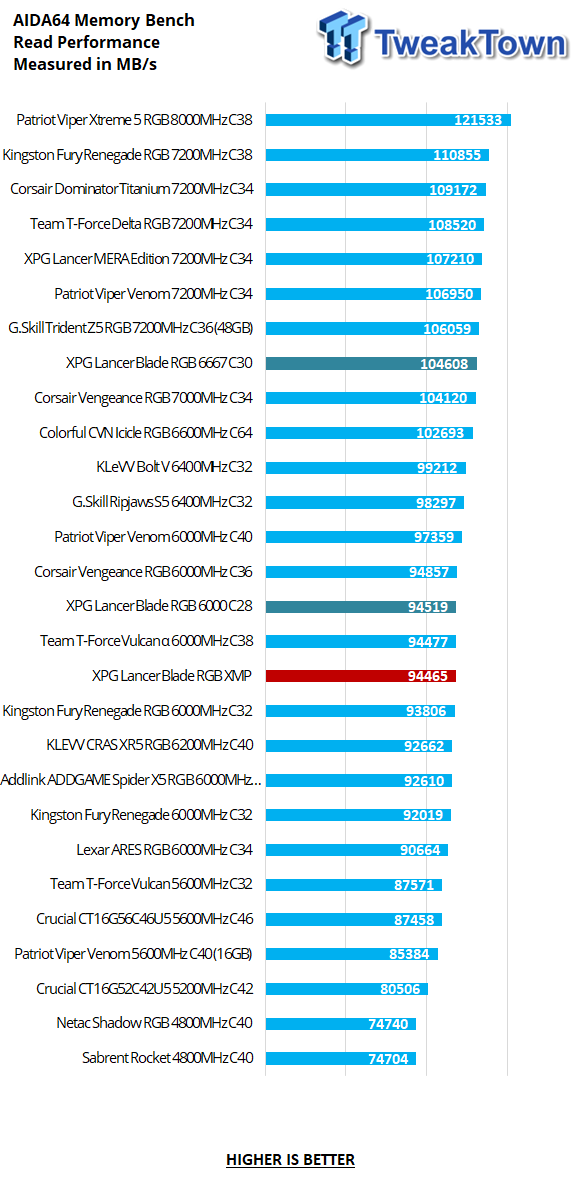 AIDA 64 read performance comes out average for the Lancer Blade RGB, landing in the middle of the 6000 MHz kits in the chart at 94.465 MB/s. Sadly, a reduction in timings is only worth 54 MB/s in our testing, but with added speed, we gained 10.143 MB/s over XMP.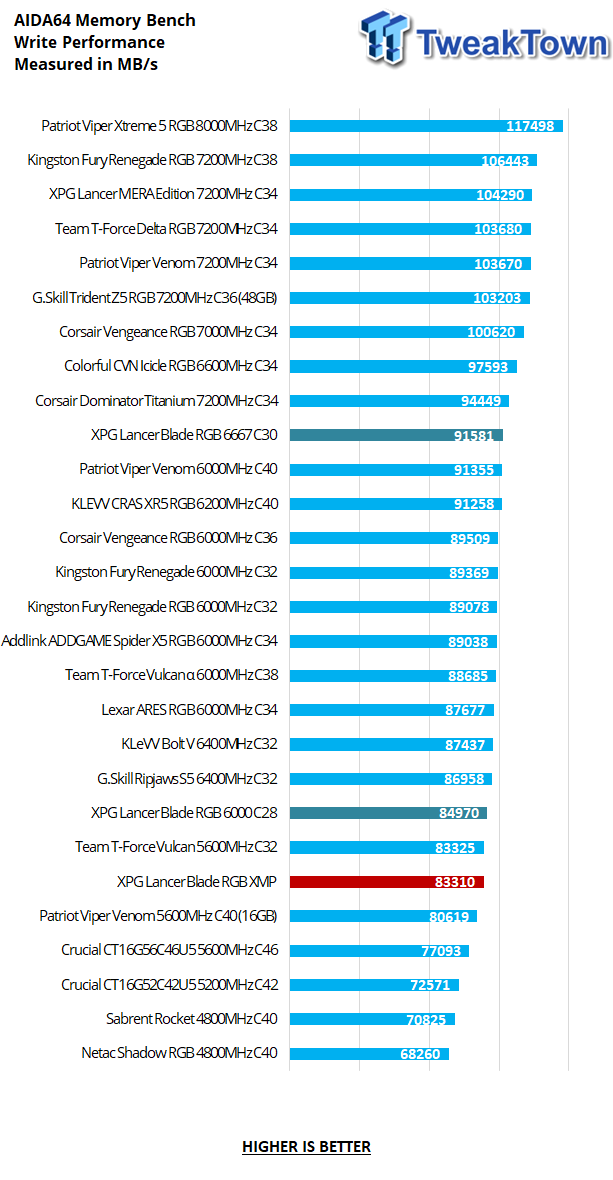 Our write performance results are not as good. The XPG Lancer Blade RGB is well below the average at 83,310 MB/s. Lowering the timings gets us 1660 MB/s more, while more speed delivered 8271 MB/s more.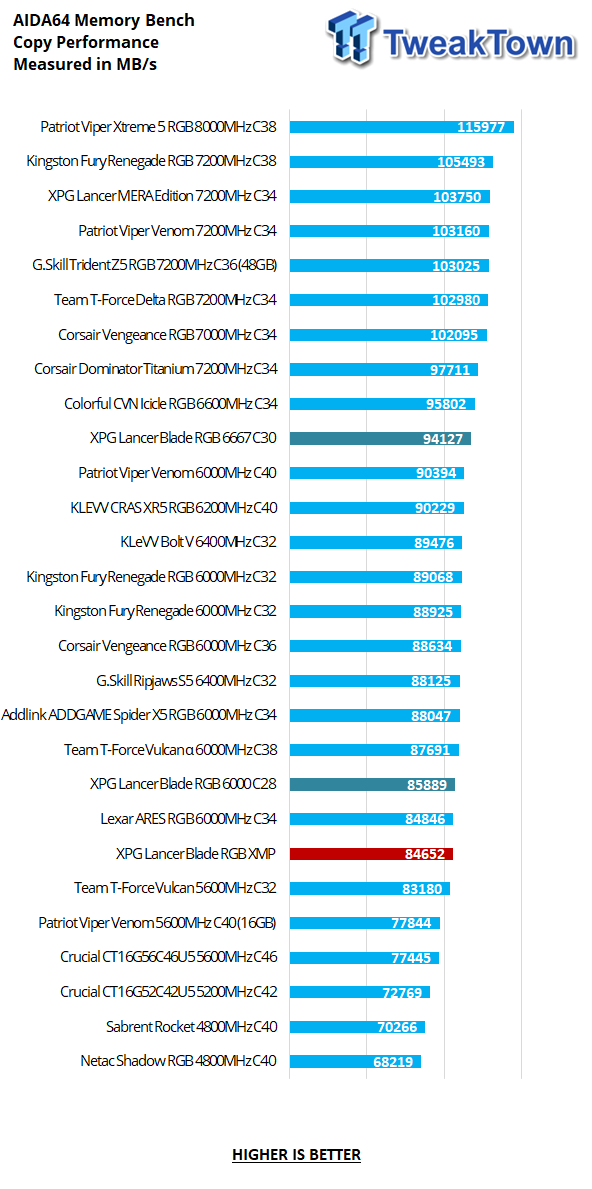 We find more of the same with the copy performance. Below-average results at 84,652 MB/s start things off with XMP. We got another 1237 MB/s with a timing reduction and boosted the XMP score by another 9475 MB/s, raising the speed to 6667 MHz.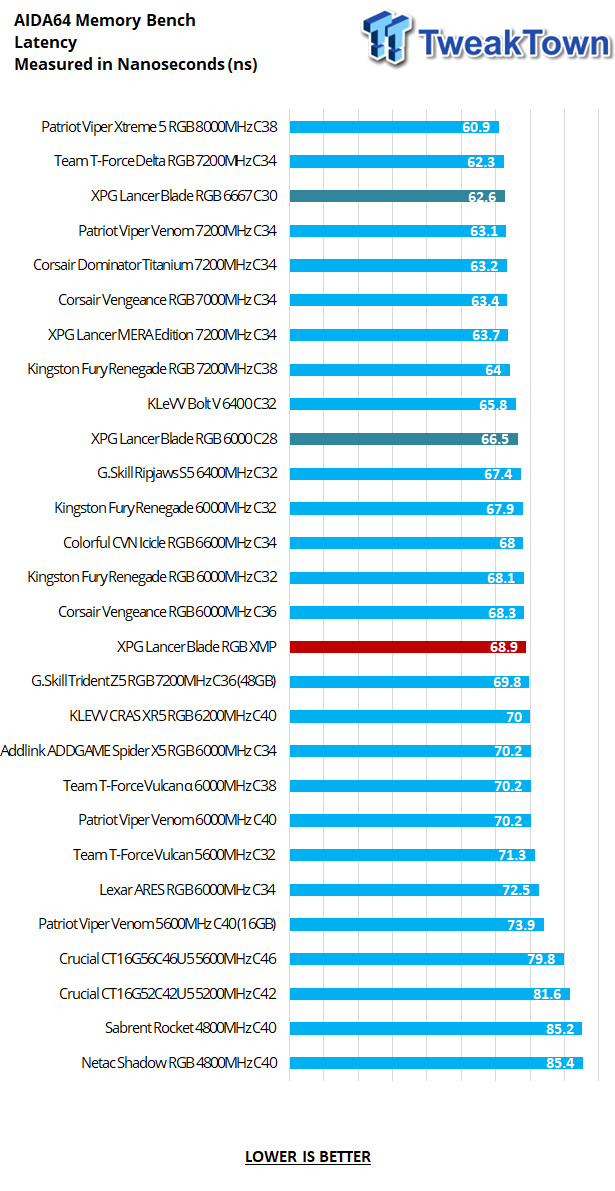 Oddly, while the write and cope performance suffers, the latency is pretty decent. At under 70ns, they are faster than average, and with some tinkering, we move in leaps toward the top of the chart.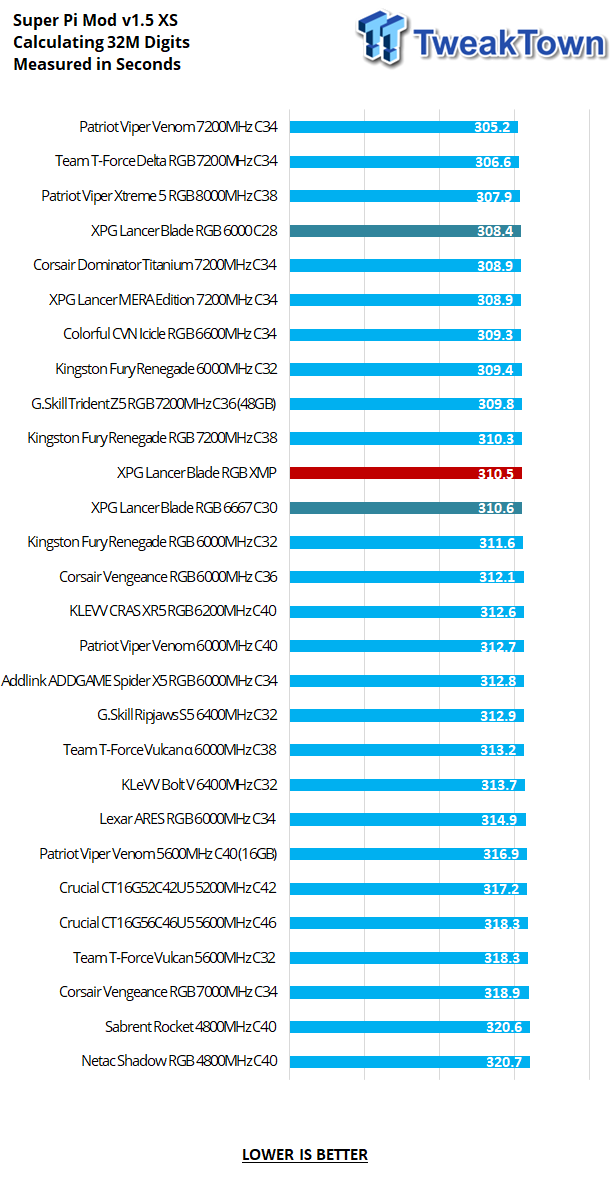 Looking at Super Pi times, the Lancer Blade RGB does rather well, with only the Fury Renegade doing better at the same speed. Reducing the timings took us nearly to the top of the chart, but Super Pi did not care for the additional speed.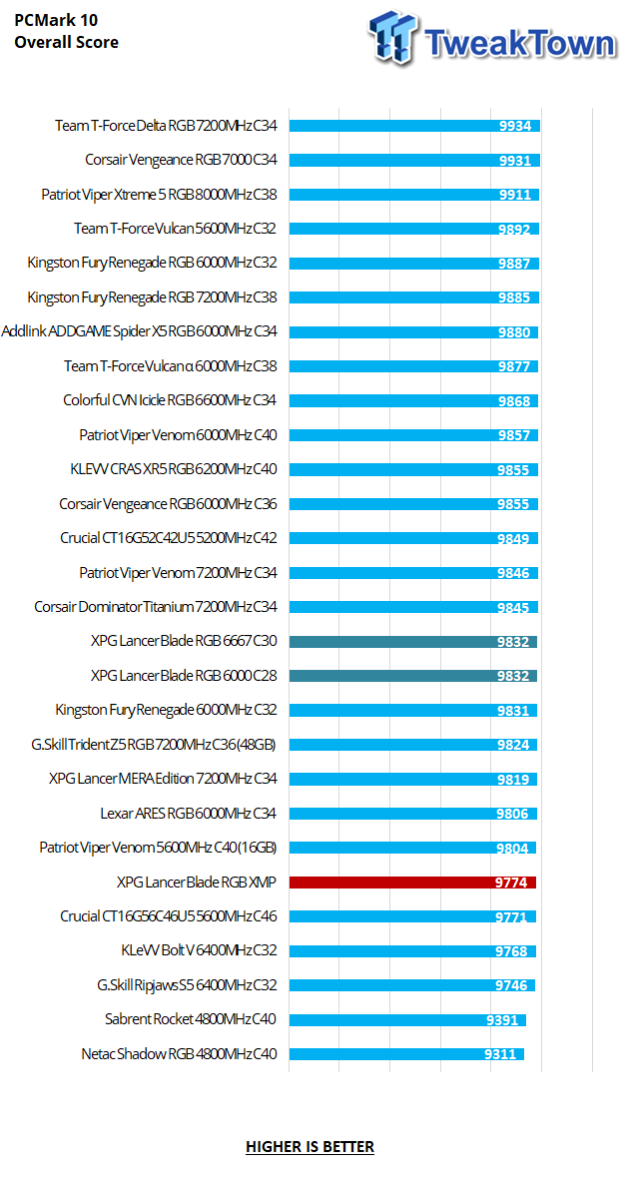 PCMark 10 likes to shake things up, and this is another instance where we find the Lancer Blade RGB underperforming. Granted, some faster kits scored less, but every 6000 MHz kit in the chart did better. When overclocking comes in, both methods received the same score, better than XMP, but when you look at TEAM and Patriot, you can see what XPG is up against.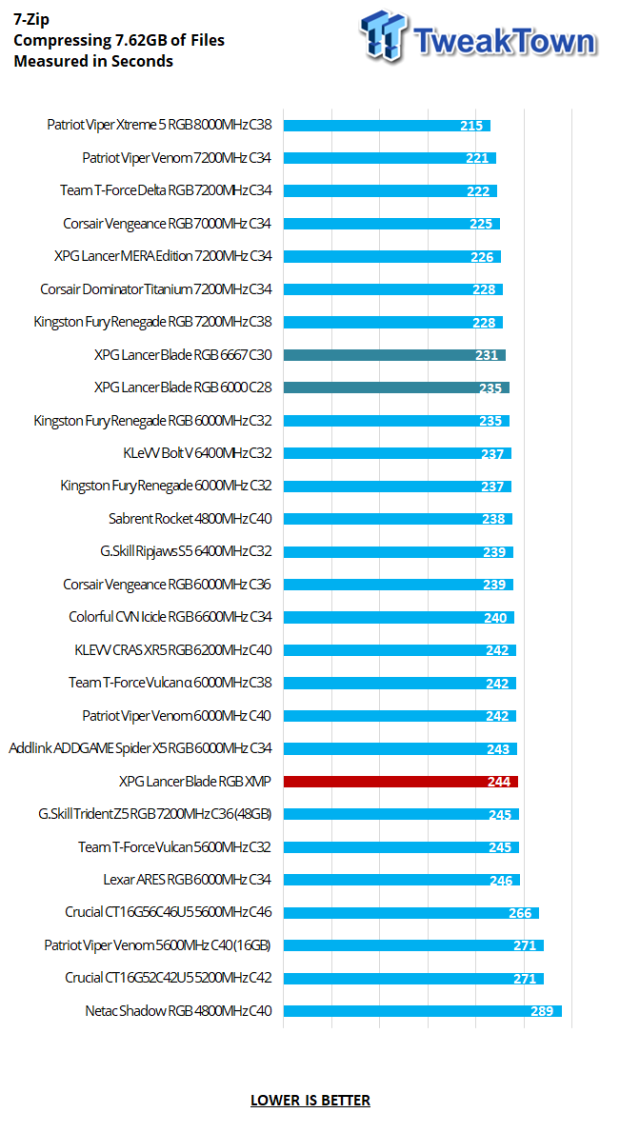 If you plan on doing a lot of file compression, you May want to look elsewhere, and only the Lexar ARES RGB was surpassed by these XPG sticks. We dropped the time to complete by overclocking, but that is where other 6000 MHz kits score with their XMP profiles.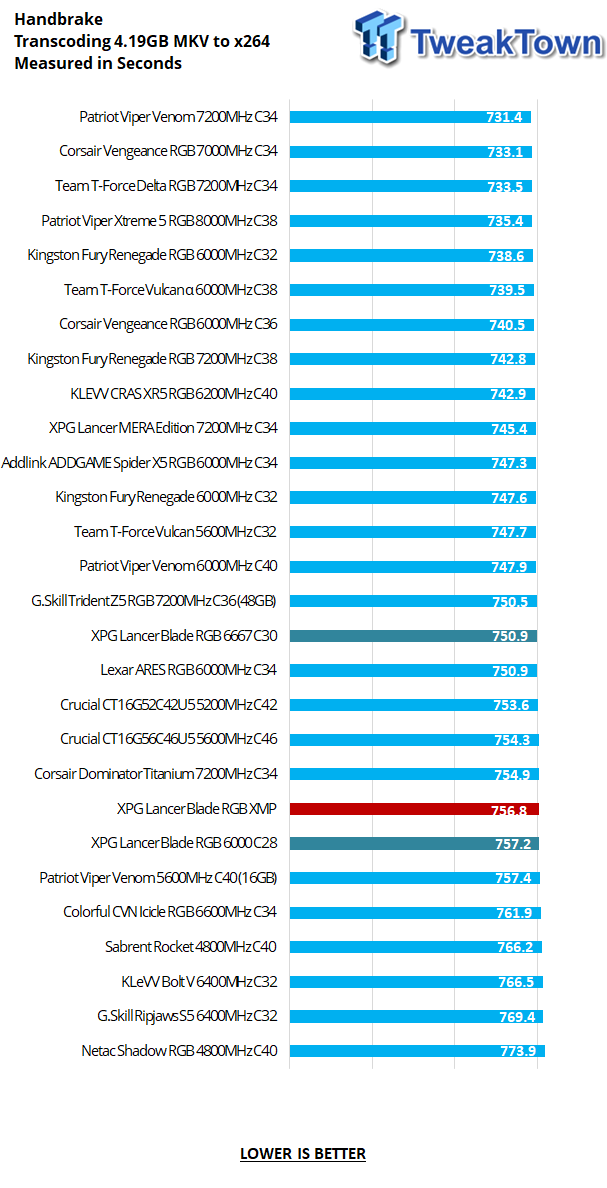 While better than a few others, there is not another set of 6000MHz RAM as slow as the Lancer Blader RGB is at completing our transcoding test. Reducing the timings made it take a bit longer than XMP did, and at best, we gained close to five seconds back but still behind the likes of TEAM, Patriot, and Kingston.
Final Thoughts
As a concept, we love what the XPG Lancer Blade RGB is all about. A speedy kit that is capped to allow both camps to have plug-and-play overclocking with stability guaranteed. The Lancer Blade RGB is the tightest timed kit of 6000 MHz RAM we have seen, and in many minds, one would assume them to be faster than, say, the Patriot Viper Venom at 6000 MHz CAS 40. Sadly, this is not our reality. Due to the combination of XMP and EXPO support, the tertiary timings are killing the performance of our Intel-based system.
There were rare instances where these XPG sticks did rather well running the XMP profile, but often, it took an overclock on our part for them to even compete with their direct competition. Granted, none of its direct competitors have AMD EXPO support. Still, the results speak for themselves, as it is painfully obvious why other manufacturers make a line for either camp and do not intermingle the two.
They are good-looking and come with a less outrageous design yet have enough style not to get boring. We even like the PMIC and IC choices XPG made, and we had a lot of fun tinkering with the Lancer Blade RGB. However, when it comes to appearance, we feel the RGB illumination as the default mode is no good. Most kits will go out of sync over time without software control, but the XPG Lancer Blade RGB is out of phase before the system even makes it to Windows. Essentially, you will have to run some software to address this nonsense. Whether it is your motherboard RGB sync software or XPG Prime, you will want to go with one or the other, stat.
You also need to consider the cost and to be blunt, it may be the only saving grace right now. While you can get your pocket picked at some retailers, the Amazon listing at $99.99 softens this blow slightly. That is bottom-of-the-barrel pricing for a 32GB set of DDR5, so we can appreciate where XPG stands on this. Are you willing to throw away performance with the chance that you may swap camps soon? Granted, we have not seen how these perform in an AMD system, but with what we have already seen, we doubt the results get much better.
We can see instances where cost and theming may sway you towards such a kit, and some may be waiting to see what the new chips have in store but need a solution now. For those of you, you may consider such a product. For the rest of you wanting the best-performing set of 6000 MHz RAM with an Intel system, you will want to keep looking.