TweakTown's Rating: 90%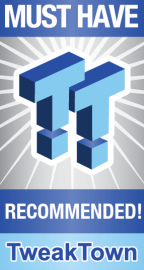 The Bottom Line
Corsair has re-entered the SFF computer case market with the 2000D Airflow, which offers great ventilation with several fan locations.
Pros
+

Supports a 360mm radiator internally

+

Mesh all around

+

Tons of fan mounting options

+

Small footprint

+

Three-slot GPU support
Cons
-

mITX cases almost always have poor cable management

-

No fans are included

-

I/O cables need to be small or have right-angled adapters
Should you buy it?
Avoid
Consider
Shortlist
Buy
Introduction, Specifications, and Pricing
Corsair has finally released a new mITX case, which Corsair seems to have shied away from until now. Meet the 2000D Airflow. The 2000D Airflow carries the same qualities as the other D Airflow variants that came before it, but with a much smaller footprint. The 2000D Airflow is priced at $139.99 and is available in black or white. So let's dig right in.
Packaging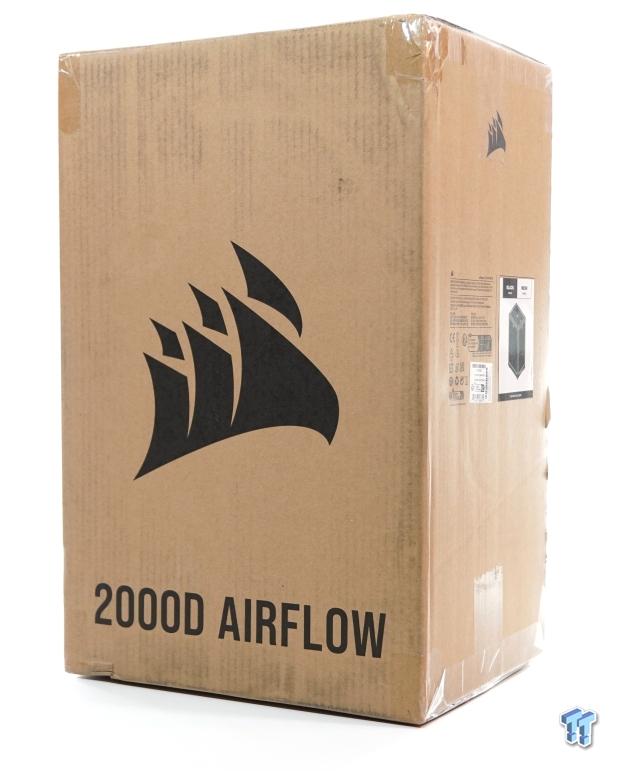 Kicking things off with the packaging, Corsair keeps this one like the other cases they offer - in a plain cardboard box with a colored image of what's inside. No specifications are provided externally other than a picture of the 2000D Airflow.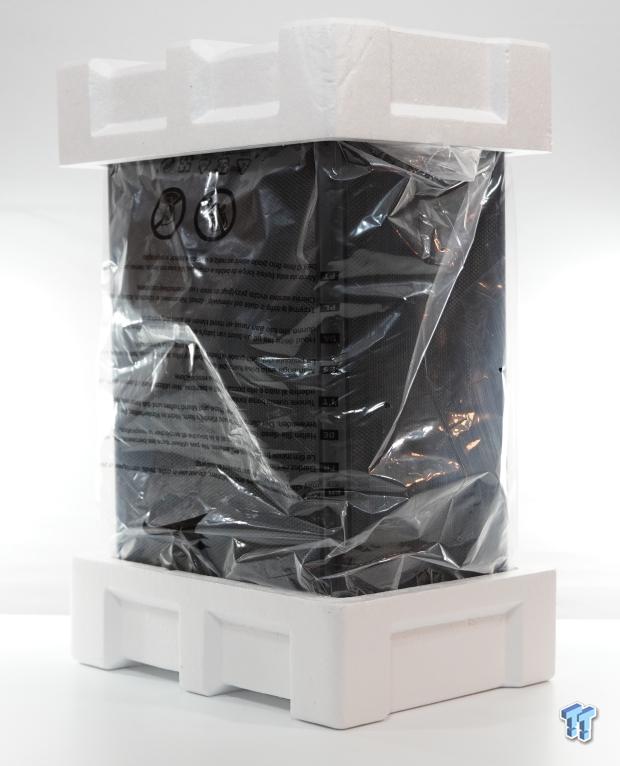 The packaging that Corsair has opted to use is hard foam on both the top and bottom. A clear plastic bag is covering the 2000D Airflow.
Outside the Corsair 2000D Airflow mITX Case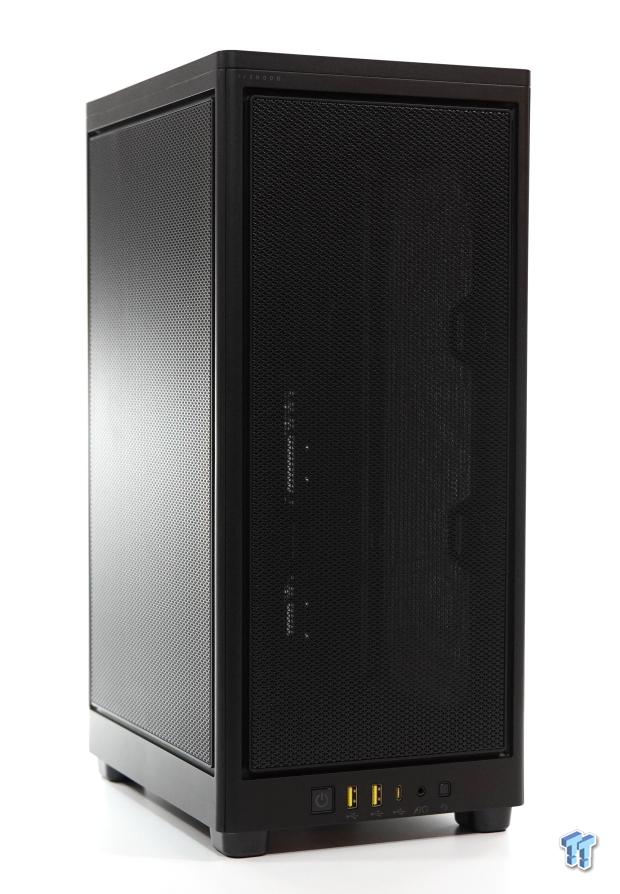 Fresh out of the packaging, the 2000D Airflow stands tall, with mesh panels on every side. The dimensions of the 2000D Airflow are 200 x 271 x 458mm.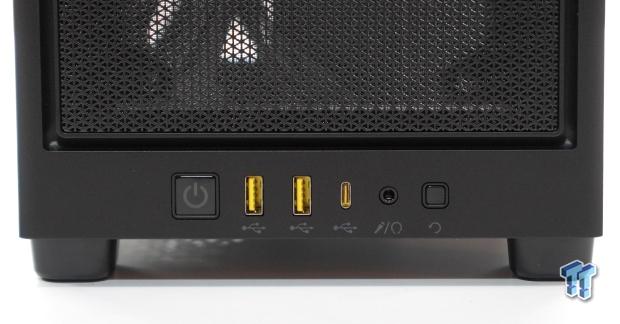 The front I/O section of the 2000D Airflow features adequate connectivity. Starting from left to right is a decently sized square power button, two USB 3.0 Type-A ports, a USB 3.2 Gen 2 Type-C port, a headphone/microphone 3.5mm combo jack, and a smaller square reset button.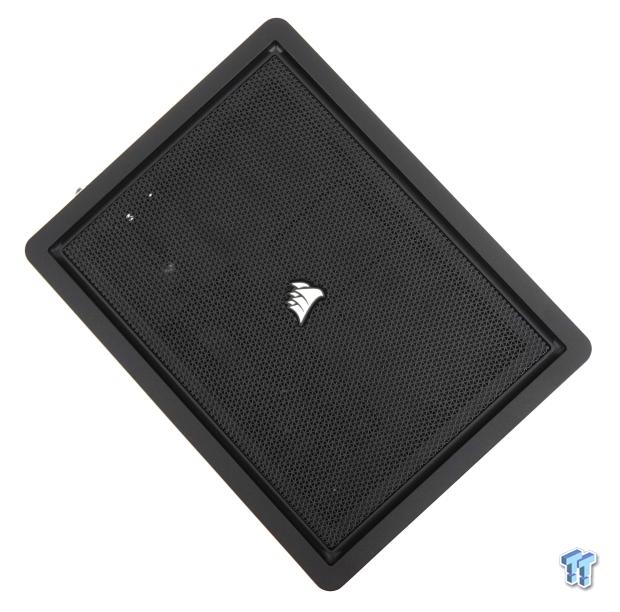 The top panel, held with four magnets, has the Corsair sails logo in the center of a sea of mesh. See what I did there?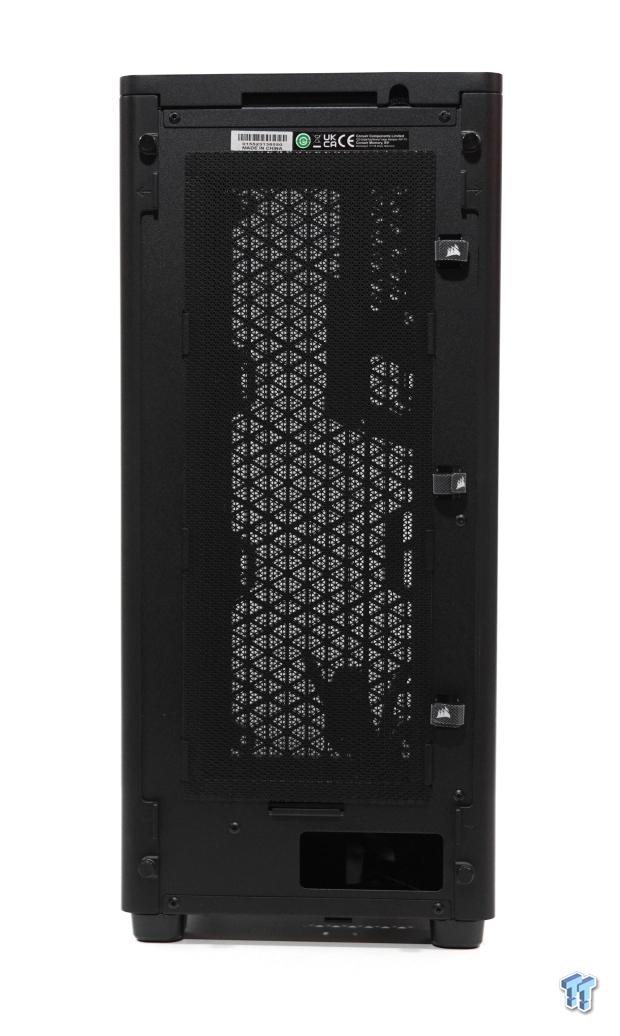 The rear of the 2000D Airflow is a full-length dust filter, specifically for air intake for the GPU. On the side are velcro tie-downs for the PSU power cable to run down the side.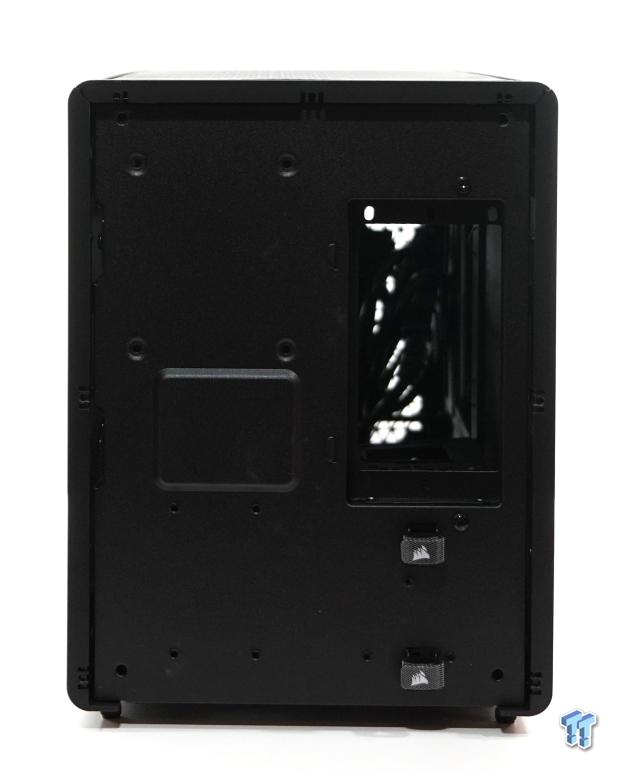 With the top section removed, the top side shows where the PSU is mounted vertically. Notice how the PSU power cable is also routed with velcro cable ties.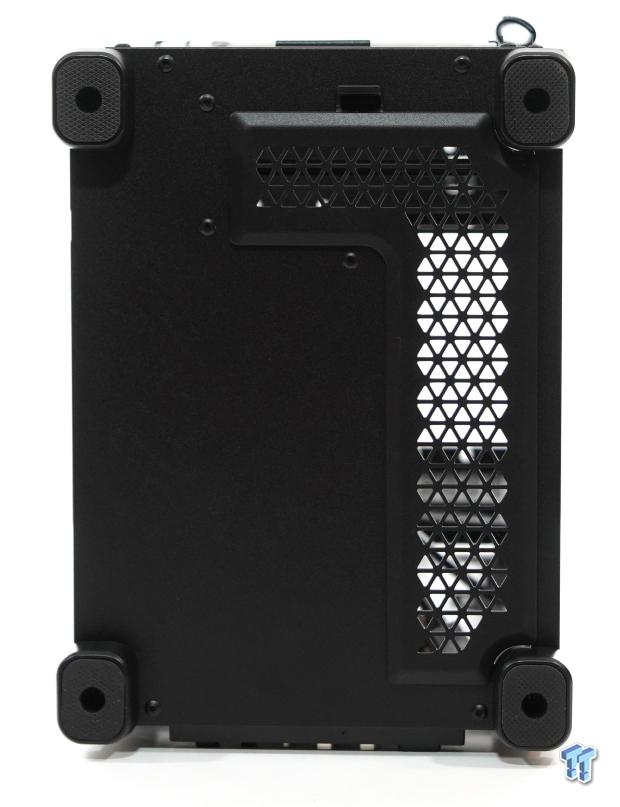 The bottom of the 2000D Airflow has four rubber-dampened feet, which raise the 2000D Airflow by about 16mm on a flat surface. Also, the motherboard and GPU I/O sections are covered by a protective panel that comes off by lifting a single latch.
Inside the Corsair 2000D Airflow mITX Case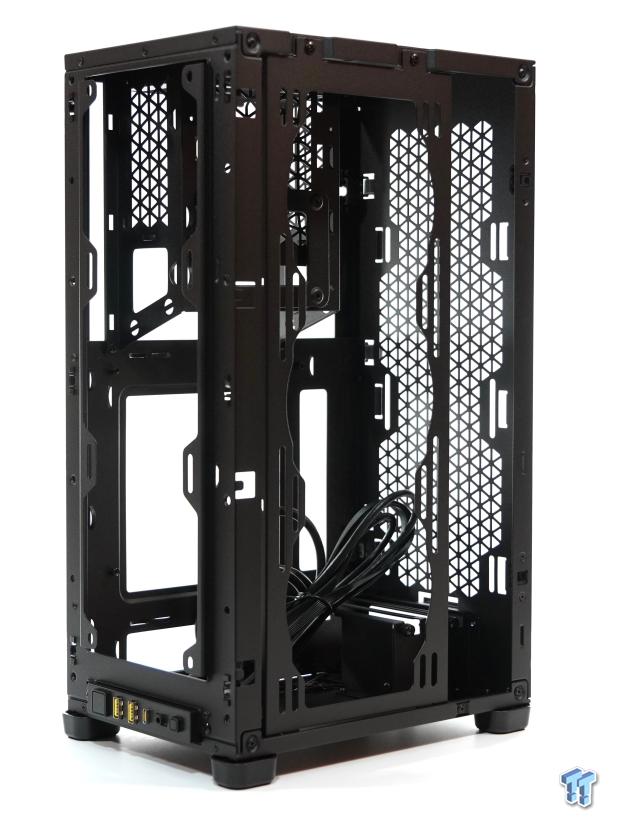 Stripping the 2000D Airflow down by removing the two side panels, which are held in with two captive thumbscrews each. Next, removing the top panel is magnetic, and the front pops off with some force. In the rear, a magnetic dust filter will slide upwards. Now the bare bones that are exposed, we can see what makes the 2000D Airflow tick. Fan support is something Corsair did not skimp on with the 2000D Airflow, with mounting options up to eight 120mm fans at once.
Unfortunately, only two 140mm fans can be installed on the radiator bracket, which supports a 280mm or 360mm radiator. The radiator bracket is held in place with two Phillips screws located on the top lip. No fans are included in this version of the 2000D Airflow; however, the 2000D RGB Airflow has three slim 15mm AR120 aRGB fans, each with fan grilles, as well as a Corsair Lighting Node aRGB controller and a six PWM fan hub for $169.99.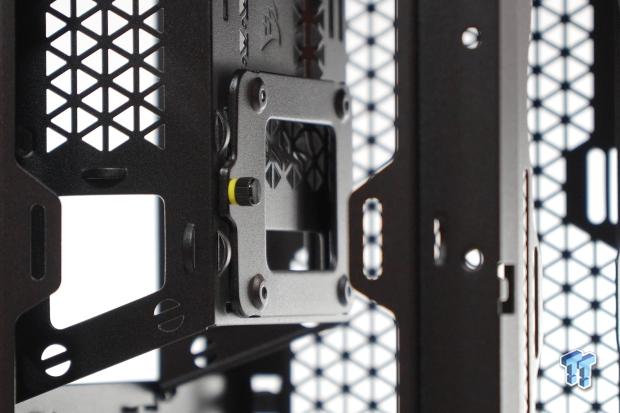 At first glance, Corsair seems not focused on tons of 2.5" HDD or SSD support with the 2000D Airflow. However, up to three 2.5" HDD or SSDs can be installed, two on the PSU tray with only a single mount provided. The third location is hidden but can be found in the roof via four screw holes.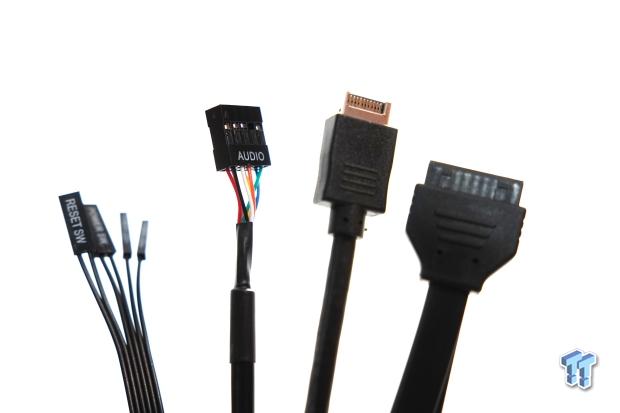 The cabling that Corsair has chosen to include on the 2000D Airflow is flat black for the most part, except for the HD Audio header, but why?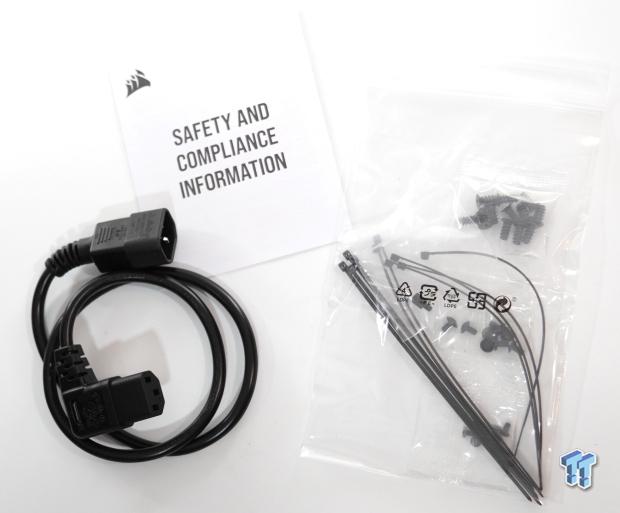 Included with the 2000D Airflow are a right-angle PSU extension, several zip ties, various installation screws, and a safety and compliance information pamphlet.
Test System, Installation, and Finished Product
Final Thoughts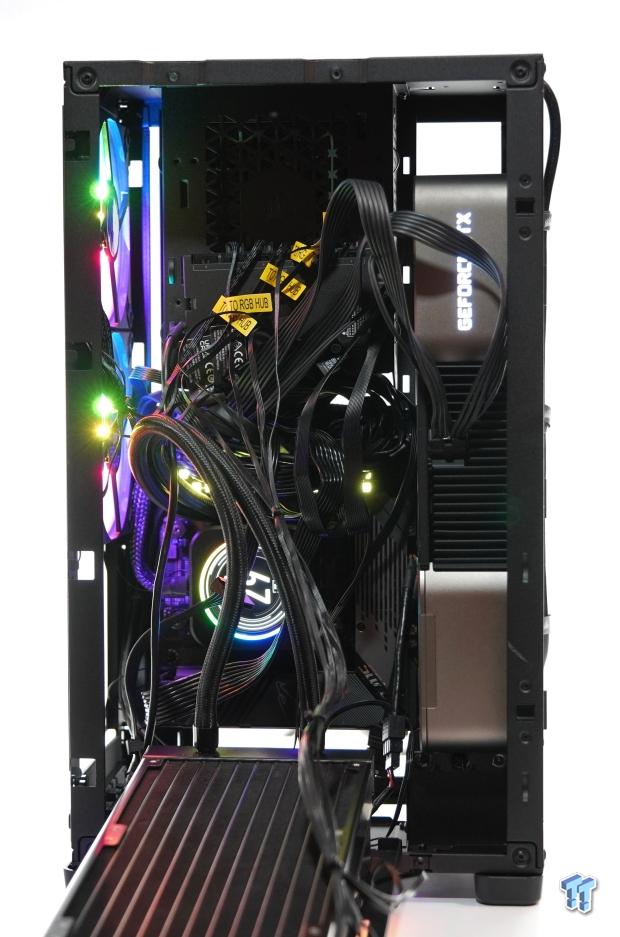 Now let's talk about the build process, which was quite frustrating, for lack of better words. I do have to admit something here. I did decide to use a 360mm AIO, specifically the Corsair H150i Elite LCD, not to mention using the two slim AF120 aRGB fans that Corsair sent over for this build. In hindsight, going without RGB would have been a much easier install. Perhaps Corsair's newest iCUE Link system, announced at Computex 2023, would have been a better choice in an already cramped mITX environment.
The only other thing that had me confused was the I/O cable clearance. If Corsair had made the feet five more millimeters, the cables wouldn't feel so crowded; some may have to invest in some right-angle adapters to clean things up a bit. With those gripes aside, the 2000D Airflow is well thought through and has the typical high quality you would expect from Corsair.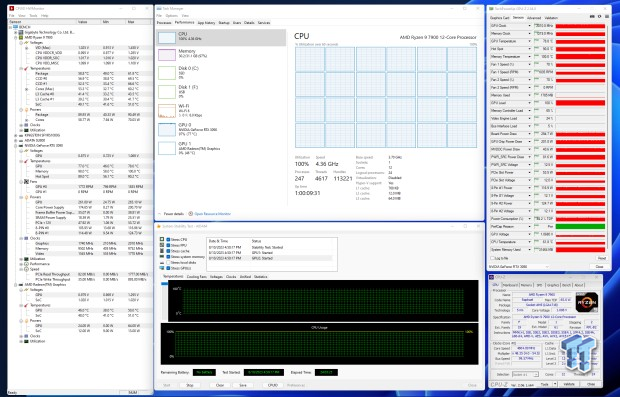 For testing, the 2000D Airflow was in a 22C ambient temperature environment while running Aida 64 Engineer's System Stability Test for just over 24 hours. Installing the mITX testing hardware, consisting of a Ryzen 9 7900 12 core, 24 threaded CPU on a B650 AORUS Ulta mITX motherboard, idled at around 50C and loaded to only 62C, which is to be expected having a 360mm AIO cooling the 65 watt CPU. The GPU, the ole tried and true NVIDIA RTX 3090 FE, idled at 39C, but once things started to heat up at full load, the RTX 3090 FE got a little toasty at 78C, which is not bad.
This tower approach to the SFF market has been made but could have been better. Corsair has managed to fit triple-slotted GPUs alongside a liquid-cooled CPU via a 360mm AIO all at once; if you ask me, that's a feat. Remember, Corsair has been absent from the SFF game for a while now, with the 250D Obsidian and the Graphite 380T released almost ten years ago.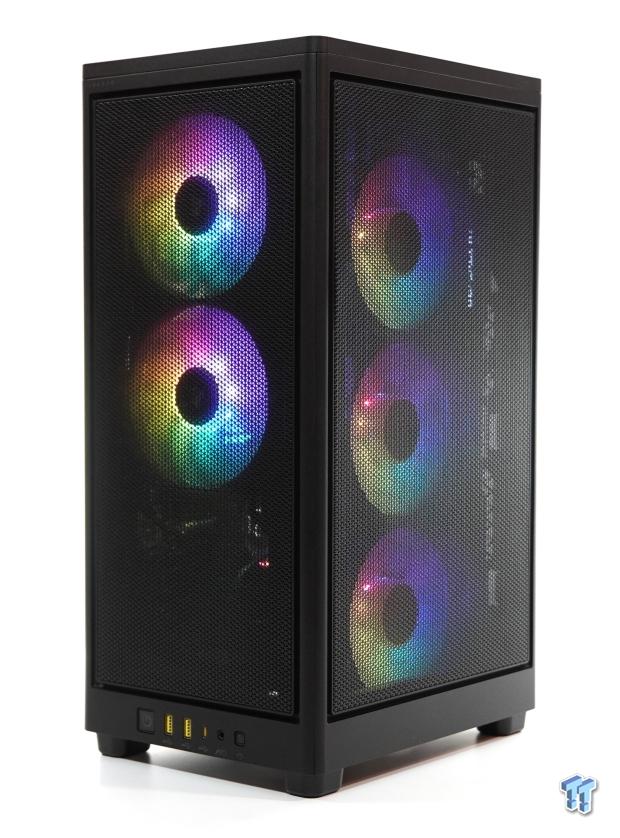 Currently priced at $119.99 at a few vendors, Best Buy and Amazon, the MSRP is set at $139.99, making the 2000D Airflow a compelling option if you are shopping for a mITX chassis. If RGB is more your thing, the 2000D RGB Airflow might be the way to go for an additional $50 for three fans and the aRGB/fan controllers to go with it. Competitors like Hyte's Revolt 3 and SSUPD's Meshlicious are comparable in price and performance, so keep that in mind when purchasing.
So when you get down to it, the 2000D Airflow from Corsair is a pretty stylish mITX case that offers great cooling potential, provided that the right hardware is installed. 360mm radiator support is something to note; it is quite rare for a mITX case to support such a large radiator, while most other mITX cases only support up to 280mm. Secondly, the build quality is top-notch, which we have come to expect from a brand like Corsair.