TweakTown's Rating: 79%
The Bottom Line
The AS 6 is one of the better Mini PCs as far as performance and connectivity goes, but it's current market price is too high!
Pros
+

Performance

+

USB4

+

2.5Gbe LAN

+

Wi-Fi 6e
Cons
Should you buy it?
Avoid
Consider
Shortlist
Buy
Introduction, Specifications, and Pricing
Off the heels of our GEEKOM AS 5 review, we turn to yet another Mini PC from the up-and-coming vendor. Like the AS 5, the AS 6 is a "powered by ASUS" offering with a nearly identical form factor and port layout. That said, the internal hardware has been upgraded massively to include the AMD Ryzen 9 6900HX CPU and a few more upgrades.
With that, we will dive straight into the hardware. The AS 6, as mentioned above, features the Ryzen 9 6900HX at the heart. This CPU is an eight-core / sixteen-thread part with a base clock of 3.3GHz and boost up to 4.9GHz. Memory support includes DDR5 SO-DIMM up to 4800MHz. Integrated graphics, too, took a huge upgrade, with the AS 6 including the Radeon 680M.
This CPU upgrade lends itself further with a PCIe Gen4 uptick across the board, and this allows us to have two m.2 slots at x4 Gen4 speeds along with the typical SATA port for a single 2.5" drive.
Connectivity includes a single USB4 on the front panel alongside USB 3.2 Gen 1. On the rear I/O, we have one more USB4, three USB 3.2 Gen 1, and 2.5Gbe LAN.
Pricing
The GEEKOM AS 6, as configured, carries an MSRP of $1009.99, though the current market price is much lower. The warranty stands at one year. GEEKOM is offering TweakTown readers a price of $709 for this unit when using code AS640A at check out.
Overview and BIOS
Overview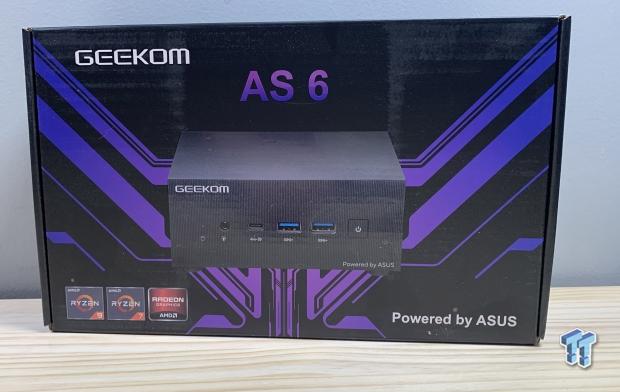 The AS 6 was delivered full retail, offering a purple colorway on the box.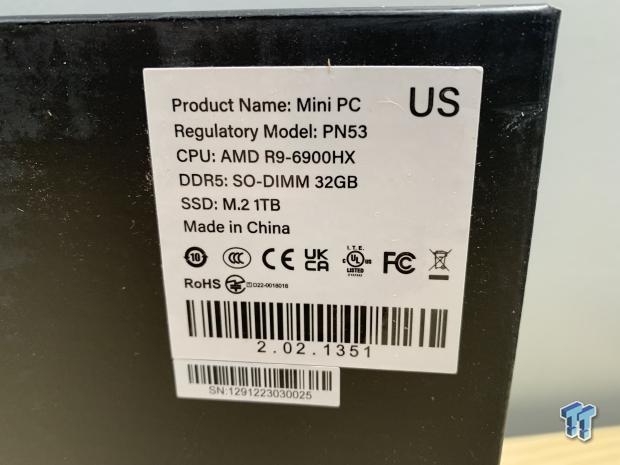 On the side of the box, we did find a small build sheet for this unit.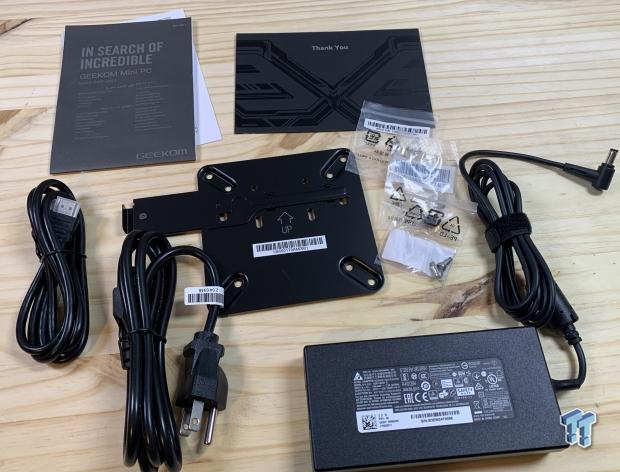 Included with the AS 6, we have a similar kit to the AS 5. VESA mounting plate, power adapter, and reading materials.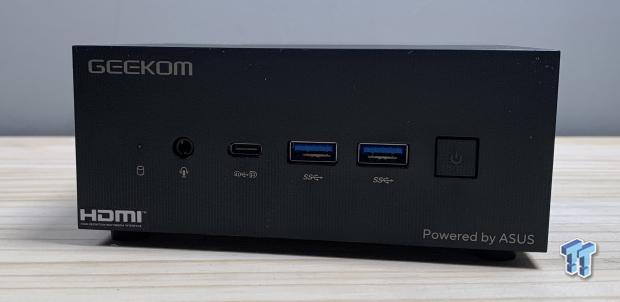 The front of the AS 6 offered branding for both GEEKOM and ASUS. Connectivity includes a 3.5mm jack followed by USB-C backed by USB4 that does support DP. We also have two USB 3.2 Gen 1 and the power button far right.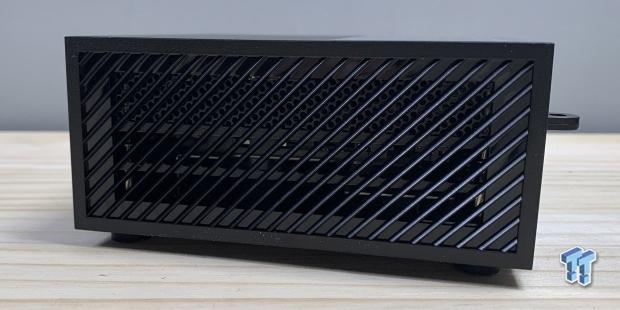 As mentioned, the AS 6 shares chassis design with the AS 5, which includes full venting on the side of the chassis.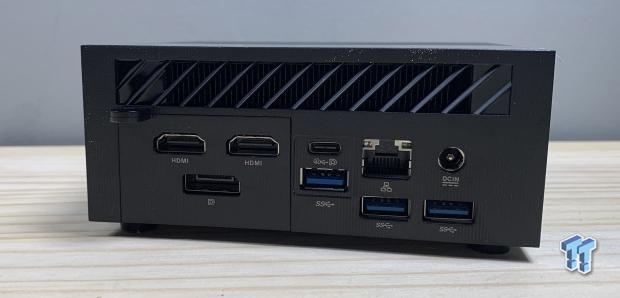 The rear I/O is quite busy, with full venting at the top. Moving to the side, we have dual HDMI and DP connections, while further to the right, we have yet another USB4 and three USB 3.2.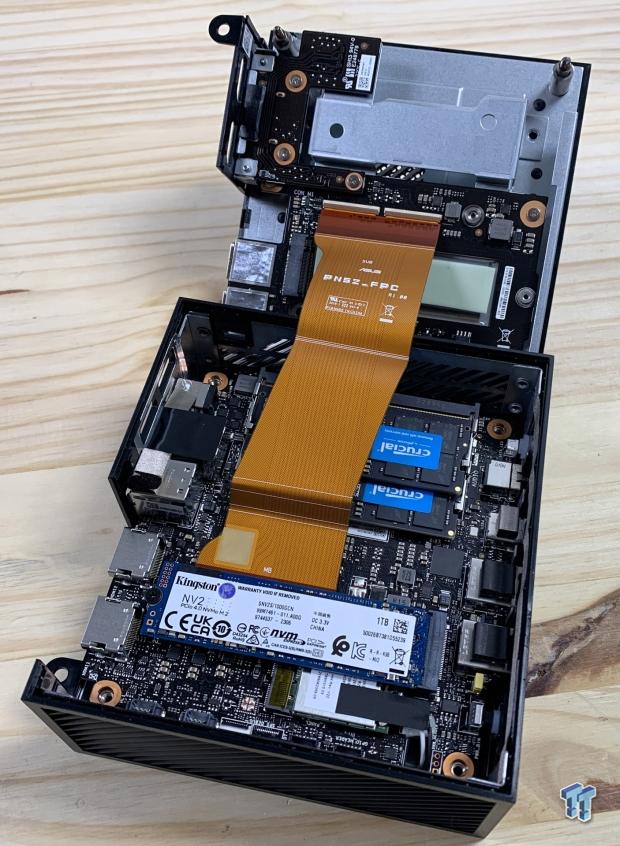 Internally, the design has one of the m.2 slots on the lid, the main slot included on the motherboard next to two SO-DIMM slots.
BIOS/UEFI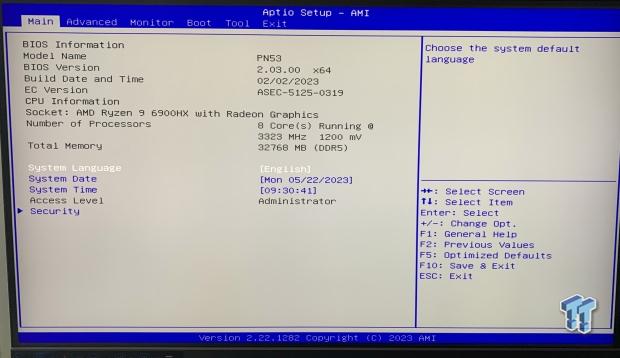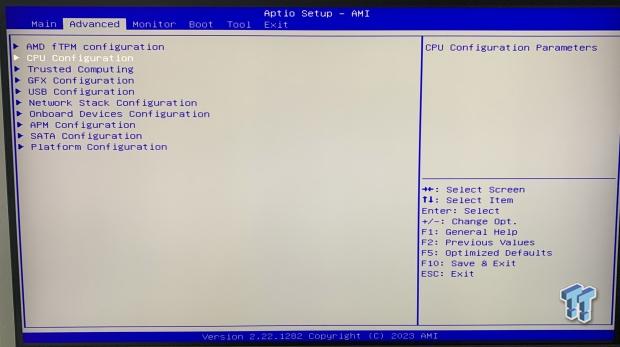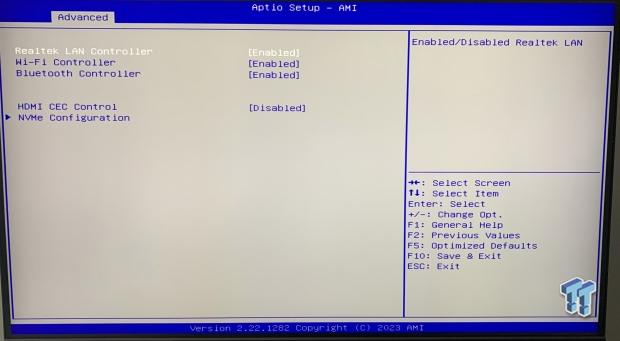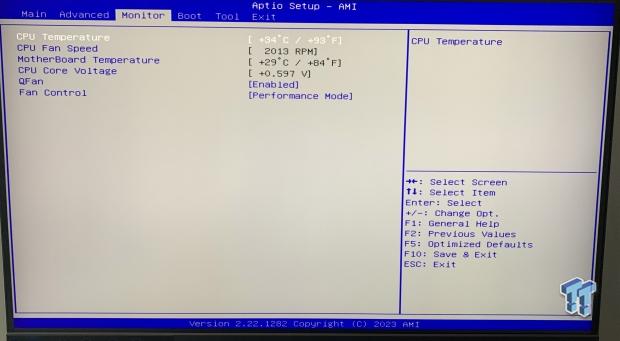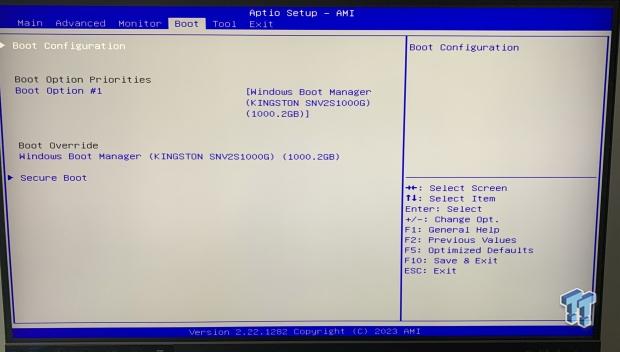 The BIOS on this machine uses the older, basic EFI system. This includes hardware information on the first page and the advanced section for setting up NVMe, HDMI CEC control, and LAN controllers. The monitoring section handles current fan speeds and temperatures. There are a few preset speeds for the fans, and ASUS has also put Qfan control in here.
Last, we have the boot menu, which is pretty straightforward; it handles your bootable devices with an override if you need to boot a USB device, while the Tools menu is where we update the BIOS.
System/CPU Benchmarks
Cinebench
Cinebench is a long-standing render benchmark that has been heavily relied upon by both Intel and AMD to showcase their newest platforms during unveils. The benchmark has two tests, a single-core workload that will utilize one thread or 1T. There is also a multi-threaded test that uses all threads or nT of a tested CPU.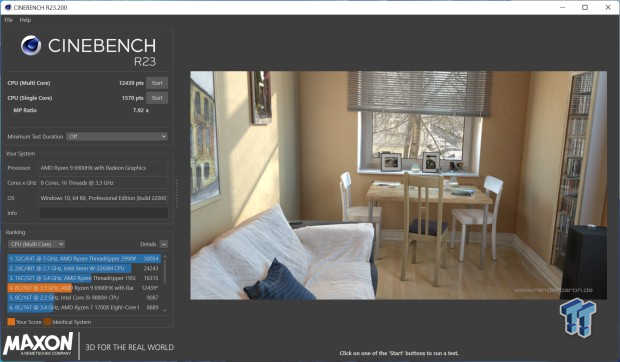 Once again, we fired up R23, and AS 6 picked up 1570 points in the single thread and 12439 in multi-thread.
BAPCo CrossMark
CrossMark™ is an easy-to-run native cross-platform benchmark that measures the overall system performance and system responsiveness using models of real-world applications. CrossMark™ supports devices running Windows, iOS, and macOS platforms.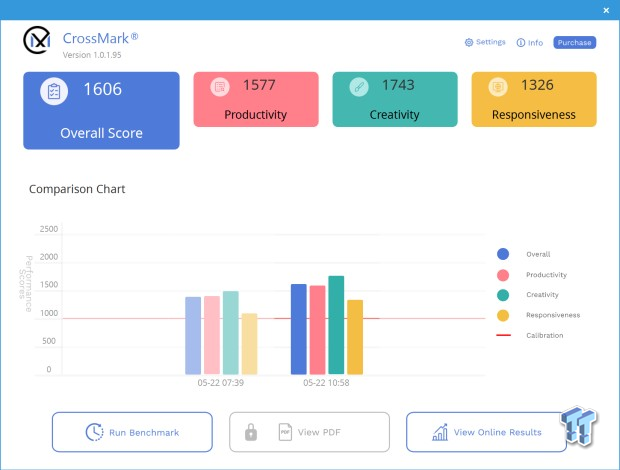 Crossmark gave us a huge boost in the score, the AS 6 pushing 1606, nearly 300 points higher than the AS 5.
AIDA64 Memory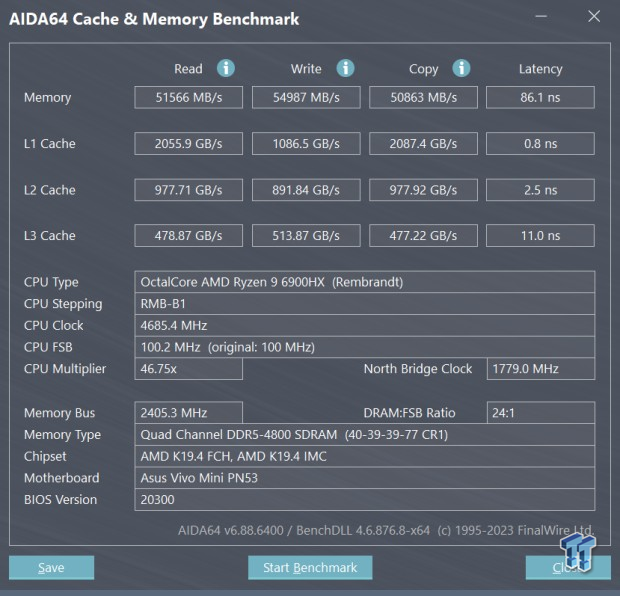 Memory bandwidth landed at 51K read, 54K write, and 50K copy. Latency was a tad higher on this model, landing at 86.1ns.
Geekbench 6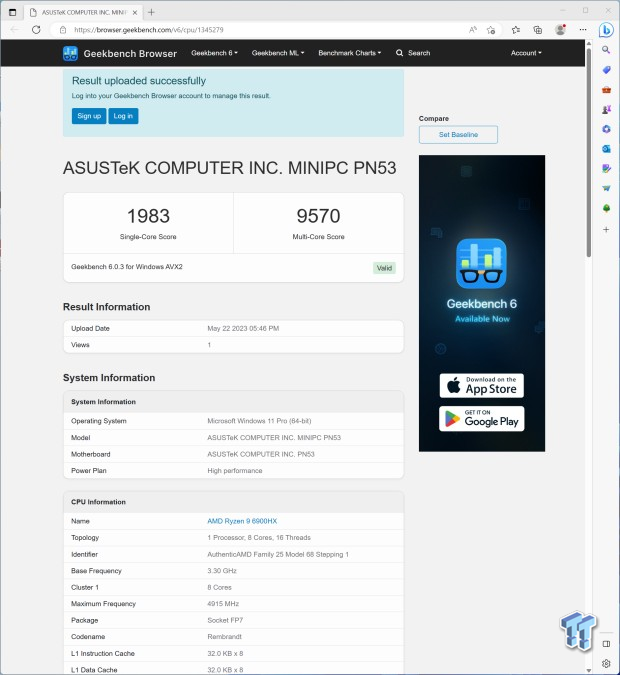 Geekbench offered us a single thread score of 1983, nearly identical to the AS 5. Multi-thread, however, picked up almost 2000 points to score 9570.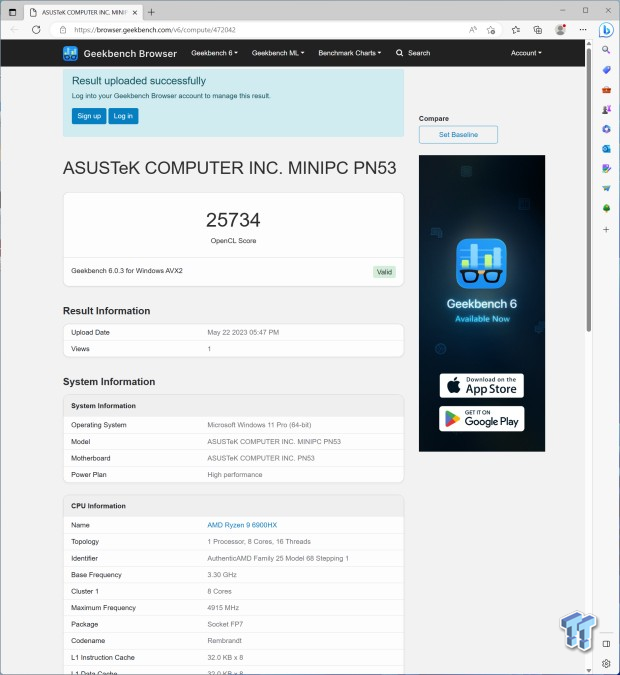 OpenCL gained 7000 points, scoring 25734.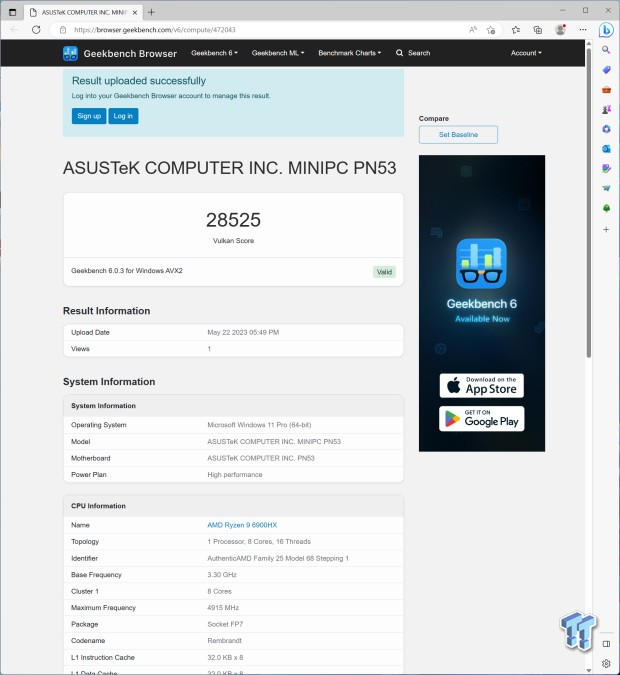 Vulkan API landed at 28525, 11K higher than the AS 5.
UL Benchmarks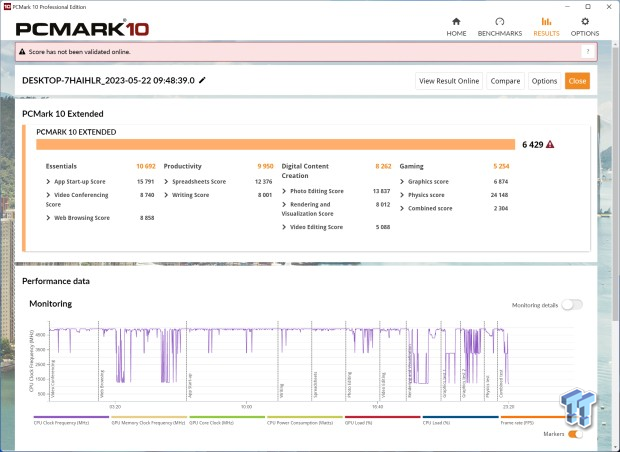 PCMark Extended yet again gained significantly, the AS 6 grabbing 6429 overall.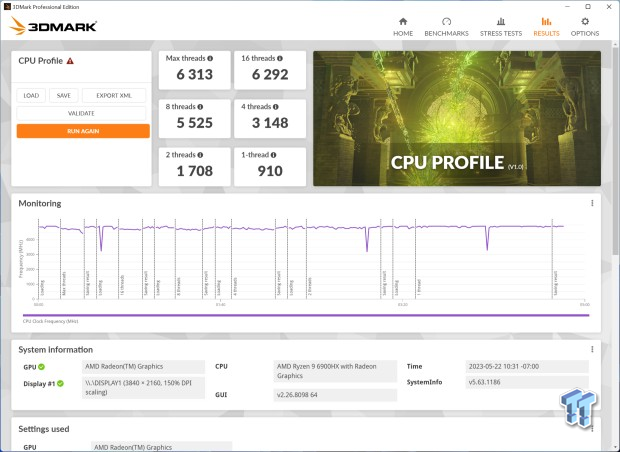 CPU Profile kicked off our 3DMark benchmarks, the AS 6 picked up 910 single thread, nearly the same as AS 5. Though, at sixteen threads, we gained about 1000 points.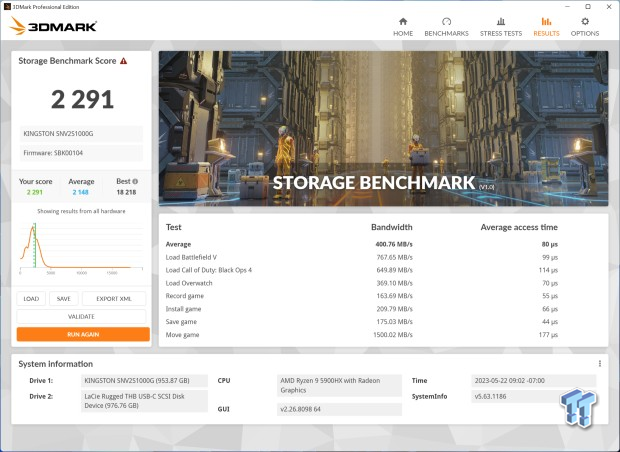 3DMark Storage gave us an overall score of 2291.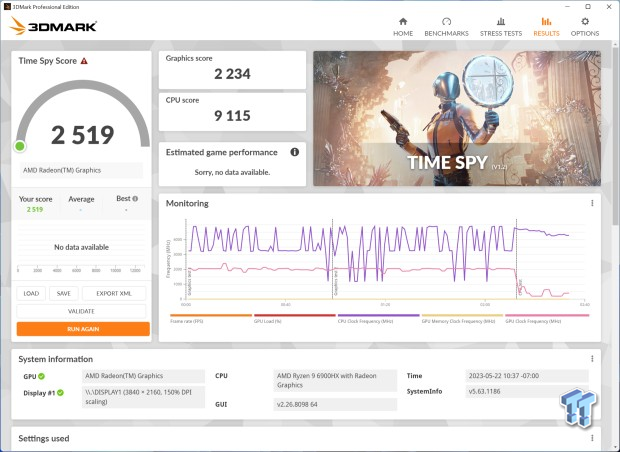 Time Spy also proved a bit better, with the AS 6 picking up 2519 overall.
Final Thoughts
The GEEKOM AS 6 is a higher-performing solution than the AS 5, with our benchmarks routinely gaining upwards of 1000 points. In our testing, R23 picked up quite a bit in nT workloads, while single thread was nearly identical to the AS 5. Moving into application benchmarks like CrossMark and PCMark, the AS 6 proved itself better than the AS5 in CPU Profile and Time Spy CPU.
The Radeon 680M graphics solution on this machine is much better than the Vega 8 deployed on the AS 5. So much better that we were able to hit triple-A titles like Cyberpunk, God of War, or Call of Duty with no issues, albeit at 1080p. Looking at our Time Spy workload, we did pick up a score of 2519, the GPU grabbing 2234, compared to 1413 on the Vega 8 in the AS 5.
Connectivity is nearly perfect on this machine. GEEKOM is offering USB4 on both the front and back alongside multiple USB 3.2, and for networking, we land WiFi6e and 2.5Gbe.
With that, we need to talk about pricing. At the MSRP of $1009.99, the GEEKOM AS 6 is one of the most expensive 4x4 Mini PCs we have tested. It even creeps into the NUC 13 Enthusiast price range, and it's nearly $400 more expensive than the ASRock 4x4BOX that offers up the latest Ryzen 7000 series with the same Radeon 680M graphics.