TweakTown's Rating: 92%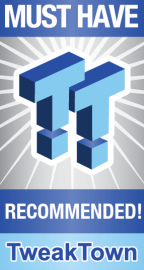 The Bottom Line
If competitive gaming is your thing then ASUS's ROG Swift 360Hz PG27AQN is a revelation, delivering a stunning 1440p image with an incredibly fast 360Hz refresh rate and a number of other notable features. That is, as long as you've got the hardware to match its performance.
Pros
+

Excellent color accuracy and calibration

+

360 Hz is a game-changer for competitive gaming

+

Native G-SYNC support and Reflex Analyzer tool

+

A bright and vibrant image that's great for more than just esports

+

Build quality is excellent
Cons
-

Edge-lit and standard IPS contrast levels

-

HDR can suffer due to the lack of more local dimming zones

-

No HDMI 2.1 limits console support
Should you buy it?
Avoid
Consider
Shortlist
Buy
Introduction & Specification Details and Close-up
In addition to its relatively long product name, which is becoming the norm for gaming monitors, the ASUS ROG Swift 360Hz PG27AQN Gaming Monitor has a lot going for it. As a high-end display for competitive gaming and esports, you have a 27-inch fast IPS panel with an inbuilt G-SYNC module and an integrated NVIDIA Reflex Latency Analyzer. On top of that, you've got the impressive 360Hz refresh rate, support for the DisplayHDR 600 standard, and a wide 98% DCI-P3 color gamut. And it's 1440p to boot.
For pure gaming performance, this thing is stacked, especially if you take advantage of its impressive features.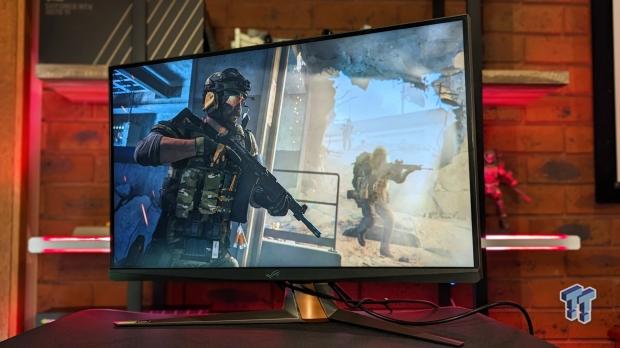 Also, it's impressive that we're now at a point where 360Hz gaming monitors beyond smaller 1080p displays have arrived at the sweet spot size of 27 inches. Something that wasn't even possible not that long ago. High refresh-rate monitors that push the Hz factor beyond 144Hz are designed for competitive games like CS:GO, Overwatch 2, Apex Legends, Valorant, Rainbow Six Siege, Call of Duty, and so on-your first-person shooters with a multiplayer component.
Whether playing casually or trying to move up the ranks during any given season, the ROG Swift 360Hz PG27AQN delivers impressive results.
Here's the thing, though, as a display's refresh rate can be viewed as a stand-on for frames-per-second if you're not playing competitive titles, odds are you won't get anywhere near this limit unless you're rocking a high-end enthusiast GPU. And even then, turn down a few settings.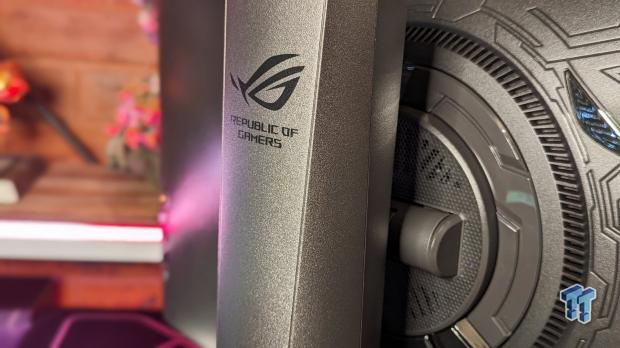 Most modern PC games aren't designed to run at anything close to 360 fps at 1440p with all the detail settings cranked, so some of the ROG Swift 360Hz PG27AQN's more advanced and notable features might not suit your day-to-day gaming.
Still, the fast IPS panel's impressive HDR (for an edge-lit display) and wide-color gamut are great for immersive cinematic gaming. And the color accuracy, in particular, is good enough for photo editing and other graphic design tasks.
Specifications and Close-Up
Product Type: Display
Panel Type/Size: Fast IPS, 27-inches
Resolution/Aspect Ratio: 2560x1440 (16:9)
Curvature: Flat
Brightness: 400 (Typ.), 600 (HDR Peak)
Contrast Ratio: 1000:1
Refresh Rate: 360 Hz
Response Time: 1ms GtG
VRR: G-SYNC
HDR: VESA DisplayHDR 600, HDR10
Color Space: 98% DCI-P3, 135% sRGB
I/O Ports: DisplayPort 1.4 x 1, HDMI (v2.0) x 3, Earphone jack, 2x USB 3.2 Gen 1 Type-A
Viewing Angle: 178-degrees
Dimensions (with stand): 614 x (408-508) x 255 mm
Weight: 8.4 kg (with stand)
What's in the Box: ASUS ROG Swift 360Hz PG27AQN, Color pre-calibration report, DisplayPort cable, HDMI cable, Power adapter, Power cord, Quick start guide, ROG sticker, USB 3.2 cable, Warranty Card, Welcome Card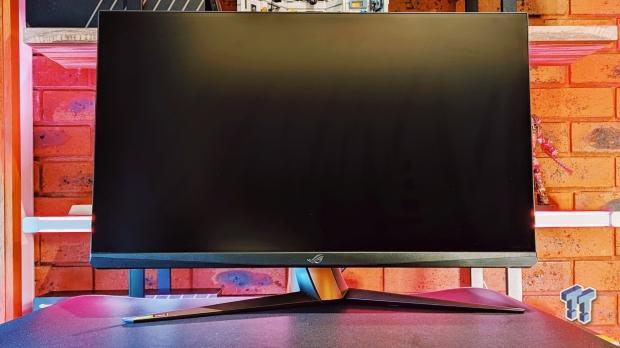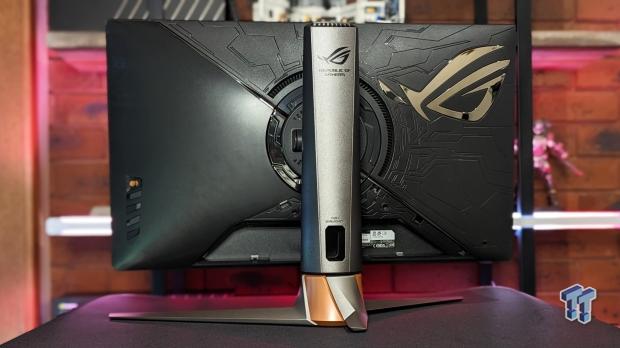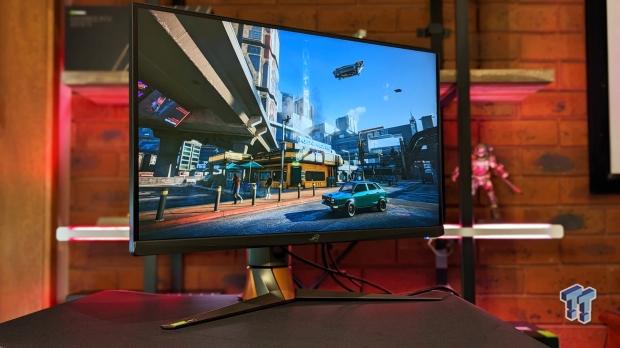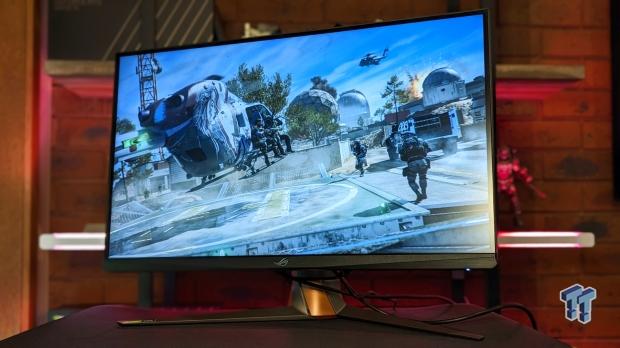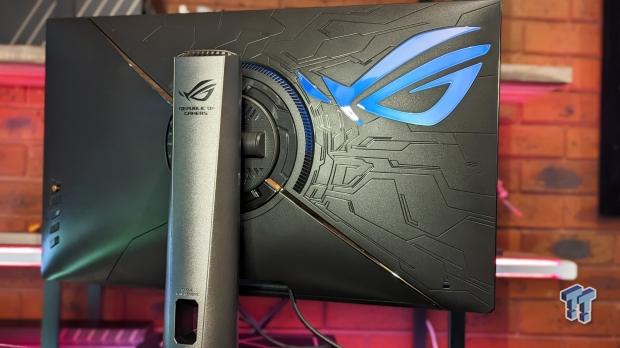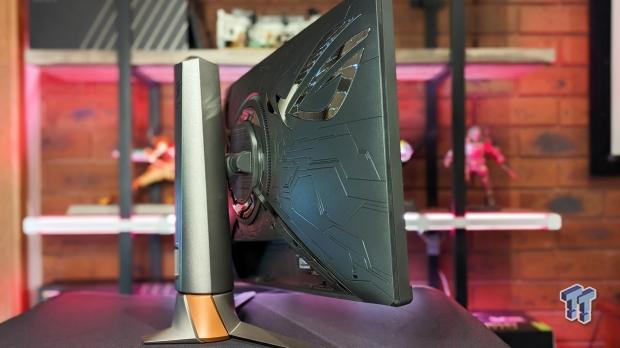 Kosta's Test System Specifications
Motherboard: MSI MPG X670E Carbon Wi-Fi
CPU: AMD Ryzen 9 7900X
GPU: NVIDIA GeForce RTX 4090 Founders Edition
Cooler: Corsair iCUE H100i RGB PRO XT Liquid CPU Cooler
RAM: 64GB (2x32GB) Corsair DOMINATOR PLATINUM RGB DDR5 DRAM 5200MHz
SSD: Sabrent Rocket 4 Plus-G M.2 PCIe Gen 4 SSD 4TB, Sabrent Rocket 4 Plus Plus M.2 PCIe Gen 4 SSD 8TB
Power Supply: Thermaltake Toughpower GF1 850W
Case: Thermaltake Core P3 Tempered Glass Snow
OS: Microsoft Windows 11 Pro 64-bit
Physical Design and Panel Breakdown
Physical Design
The ROG Swift 360Hz PG27AQN's build quality is uniformly excellent, with a sturdy metallic stand and premium plastic materials used to construct the display. It can be tilted for a vertical orientation, too, if need be, with nothing in the way of wobble or drift in our testing - it'll stay in place once you make those viewing adjustments.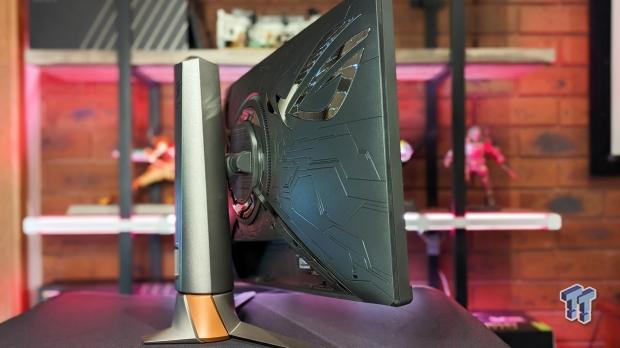 The look of the ROG Swift 360Hz PG27AQN follows what we've seen from ASUS's Republic of Gamers aesthetic for displays, with strong angles, a mix of black and bronze accents, and branding with RGB lighting on the rear. The back of the monitor (design-wise) is split in two, with one half featuring a funky tech aesthetic, the ROG logo prominently placed, the other half sporting the physical controls, and a more minimal, restrained matte finish.
Port-wise, you've got DisplayPort 1.4, capable of handling the 360Hz 1440p signal, and three HDMI 2.0 ports capped at 144Hz. The lack of HDMI 2.1 is disappointing, especially when the modern GPU hardware required to push 360Hz features the newer HDMI spec. In addition to the display stuff, you've also got a 3.5mm headphone jack for a headset (though weirdly no microphone port) and two USB ports for passthrough and taking advantage of the NVIDIA Reflex Latency Analyzer with a wired mouse.
Panel Breakdown
With a refresh rate of 360Hz, the ROG Swift 360Hz PG27AQN is one of the fastest - if not the fastest - 1440p gaming monitors in its size. Outside of that, it's worth noting that the color calibration out-of-the-box is excellent, accurate, and capable of delivering a wide-color HDR image or a crisp and precise SDR image using the sRGB color space. Color calibration can be hit-and-miss for gaming monitors, so it's great that ASUS put as much effort into the image quality as it did the speed side.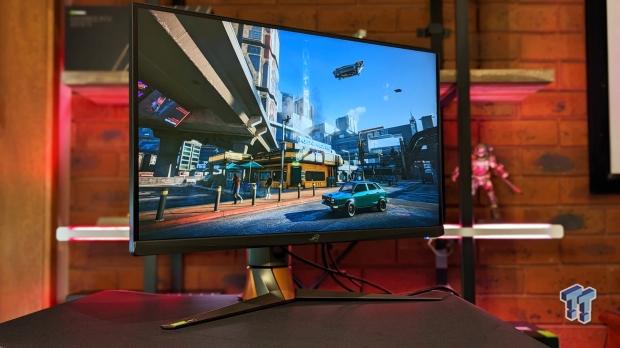 The ROG Swift 360Hz PG27AQN uses a fast IPS panel from AU Optronics paired with a Dual-Layer Voltage Driver to ensure the pixel response is up to the 360Hz task. There are various refresh rate overdrive modes as a gaming display, including one for Esports and one called Extreme. The latter is an overdrive mode that pushes the monitor too far, leading to some inverse ghosting (aka overshoot), but the rest of the overdrive options are exceptionally well-tuned.
As a gaming monitor that features native G-SYNC support (also compatible with AMD FreeSync), you've got an incredible dose of VRR that can go as low as 20Hz or up to 360Hz displaying a tear-free and smooth image every step of the way.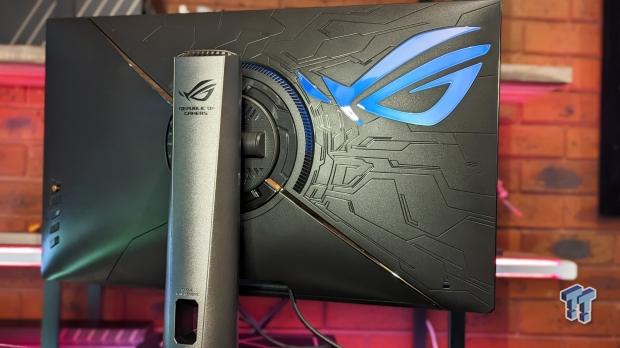 With ASUS listing a 1ms response time, even at 360Hz, the overall result is close to this, and that's pretty remarkable for something this fast. At the full 360Hz, motion, smoothness, and fast-moving objects all carry a level of detail that is a noticeable improvement of the 60Hz displays of hold - and even 144Hz displays that, up until recently, were the fastest you could get.
Of course, hitting 360Hz is one thing; maintaining a stable and high-quality image is another, and the ROG Swift 360Hz PG27AQN delivers on both fronts.
But it's not all a slam dunk. The ROG Swift 360Hz PG27AQN features an edge-lit IPS panel, so there is a trade-off regarding black levels, overall contrast, and things like light bleed. This sometimes impacts the quality of the HDR, especially in bright scenes that require a bit of difference. Seeing a more advanced backlight system for a high-end gaming monitor would have been nice.
On the plus side, the color accuracy is excellent, and the overall brightness and crispness of the image are outstanding for productivity and creative tasks.
Customization and Performance
Customization
With detailed on-screen controls, you've got various options for settings with multiple modes on offer covering different styles of gaming and things like sRGB for productivity and SDR content.
You also have detailed control over the backlight levels, brightness, color temperatures, and other settings. For those that like to do their in-depth color calibration when it comes time to set up a new display, the ROG Swift 360Hz PG27AQN has you covered and then some.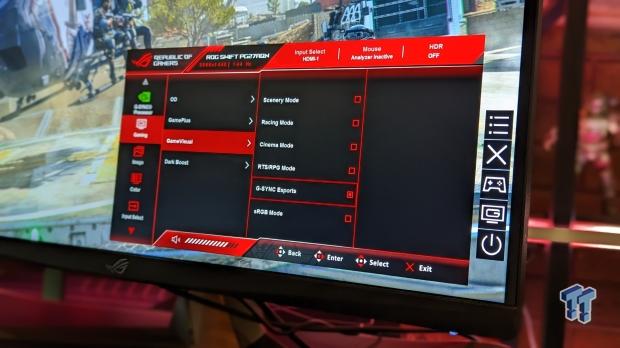 ASUS has also thrown in a special mode called 25 that shrinks the image (with added black bars) to simulate a 25-inch 1080p gaming monitor, which is a nice touch. Especially for titles where you might not quite hit 360 frames-per-second but could in 1080p. This lets you maintain the monitor's excellent performance without sacrificing pixel density or image clarity.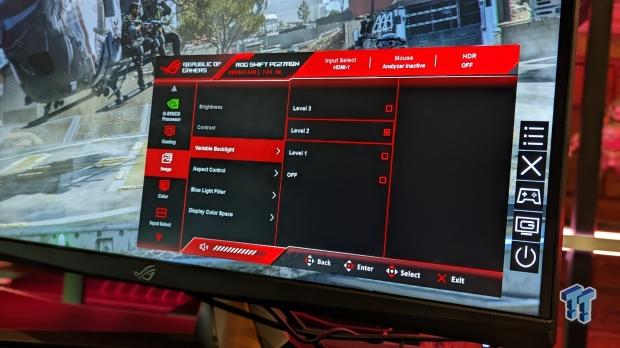 Regarding post-processing and other features, ASUS includes blue light filters, FPS counters, crosshair overlays, and a gamma-focused Dark Boost to amplify detail in darker scenes. However, that last bit isn't all that great, thanks to the edge-lit panel and the overly grey effect it can have. So it's better left disabled unless you're looking for pure esports performance and willing to sacrifice quality for more visual info.
Speaking of esports and pro-gaming features and info, the NVIDIA Reflex Latency Analyzer is a welcome addition to the ROG Swift 360Hz PG27AQN. By plugging a mouse directly into the monitor using one of the ports on the back, you can get a detailed readout of your entire system's latency to help reduce that number, improving your in-game performance.
Performance
With a GeForce RTX 4090 (not that this monster is required), I could hit 360 frames-per-second in titles like Overwatch 2 and push the ROG Swift 360Hz PG27AQN to its impressive refresh rate limit. Before connecting it to my rig, the big question was whether I could tell the difference between a 360Hz signal and a 60Hz or 144Hz one.
The answer is a clear and resounding yes, with fast-moving objects (including characters) being more legible, detailed, and smooth on a higher-refresh-rate panel. Here, the ROG Swift excels and cements a name for itself as one of the world's fastest and most impressive competitive gaming monitors.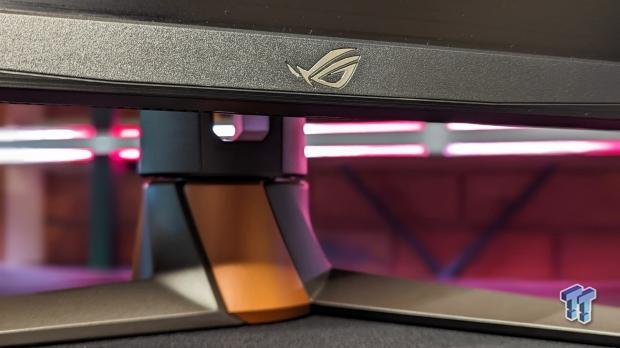 Slowing things down, that is playing games like Cyberpunk 2077 and The Last of Us Part I with a frame rate more in the 100-200 fps region (or higher with DLSS 3 enabled), and the ROG Swift 360Hz PG27AQN still excels thanks to the excellent color accuracy and super-bright panel.
That said, with the price sitting at or above USD 1,000 due to the blisteringly fast IPS panel, you do begin to wonder that you're not quite getting the most out of the monitor unless you're pushing over 300 frame-per-second.
Final Thoughts
ASUS has delivered something awe-inspiring about the ROG Swift 360Hz PG27AQN, a 27-inch 1440p display with an incredible 360Hz refresh rate and outstanding color accuracy, calibration, and overall image quality. It's not only fast, but it looks good, too - and when you see it in action when playing Overwatch 2 or Call of Duty, the difference can be a game changer.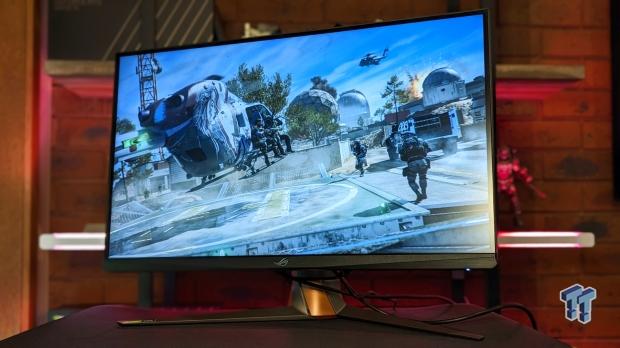 There's a lot to love about the design, too, from the robust physical build to the native G-SYNC support that offers up some of the best VRR technology today. Some negatives include a somewhat standard contrast level of IPS panels and an edge-lit lighting setup that isn't as cutting edge as featuring a 360Hz refresh rate, but the good and really-good outweigh the not-so-good.
But, with a price in the region of USD 1,000, you'd need to have the GPU and CPU hardware capable of pushing in-game performance for esports-style titles into the 300-fps region at 1440p to justify picking this up.