TweakTown's Rating: 62%
The Bottom Line
The Next Generation crew warp to the big screen in a flawed debut, which nevertheless shines anew in 4K.
Pros
+

Impressive remaster

+

4K

+

7.1 audio mix
Cons
Should you buy it?
Avoid
Consider
Shortlist
Buy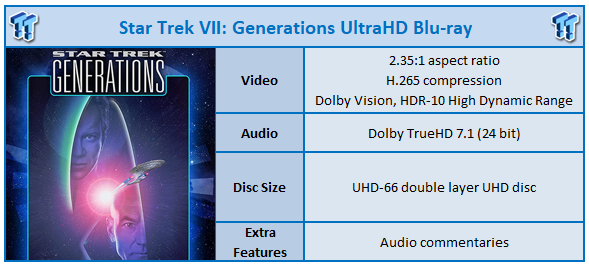 By the early 1990s, Star Trek was in a boom phase with two successful shows on air, the development of a third (later to be titled Voyager), and merchandise flying off shelves. When the long-running The Next Generation series completed its seventh and final season, attention immediately turned to returning the franchise to the big screen, with a story befitting a much larger canvas.
The result did the job, grossing four times its production budget worldwide and ensuring that more feature films would come. However, the film remains an odd curiosity, with a flawed execution of a problematic script but enough ambition that it remains relevant in the wider canon.
During a media event to christen the new Enterprise B, decorated Starfleet Captain James T. Kirk (William Shatner) becomes lost and presumed dead when the ship comes into contact with a mysterious ribbon of energy. On a routine mission eight decades later, the crew of the Enterprise E (the Next Generation crew) investigate an attack on a nearby observatory, which not reveals a much deeper plan hatched by Klingons and a damaged scientist (Malcolm McDowell) but that also may hold the key to the whereabouts of the legendary starship captain.
Whether it was a lack of confidence in the ability for casual cinemagoers to fully embrace the notion of Star Trek without its more iconic characters, or whether the studio wanted something bold and cinematic (perhaps both), Generations remains fatally flawed by shoe-horning in William Shatner's final Star Trek performance (especially since the original crew's goodbye in the previous film The Undiscovered Country was so poignant).
Few Trekkers regard it as a high point, and the narrative gymnastics required to include him made the film confusing and unapproachable to casual audiences. Still, there's a lot to like in the film (including the visually stunning crash sequence), and the filmmakers had the insight to take these learnings and simplify the next few entries, which took the series to even greater heights.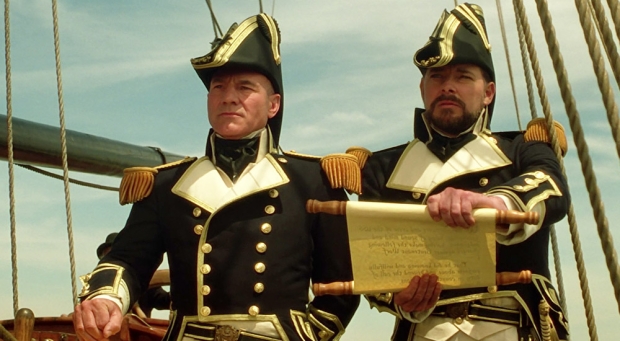 Video transfer
Star Trek VII: Generations is presented in its original aspect ratio of 2.35:1, encoded with H.265 compression, and finished with a Dolby Vision pass, in addition to a base HDR-10 layer.
As with its six predecessors, Paramount has dusted off the original conformed camera negative to produce a stunning new 4K transfer, which replaces the previous, nearly 20-year-old HD master in an entirely comprehensive manner. The image here is stable, bright, and crisply detailed, with superb definition. The color balance is excellent, with rich and saturated tones where appropriate.
Like its newer 4K predecessors, this is an extremely 'filmic' presentation that removes noise, film artifacts, and egregious digital noise reduction and edge enhancement techniques, which marred the original release.
Overall, this is a really impressive remaster, and Paramount should be applauded for the care and attention they've given their crown jewel franchise in 4K.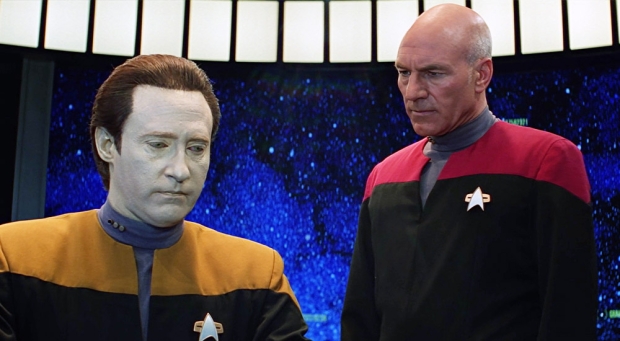 Audio transfer
Star Trek VII: Generations is presented in a Dolby TrueHD 7.1 remix at 24 bits.
While the previous Blu-ray featured the same 5.1 audio track utilized for the last few home video releases, Paramount now appears to provide a brand new 7.1 mix. This would normally be welcomed and now provides technical uniformity with the other 4K releases, but it also piqued my curiosity - if they went to the effort to remix, why not update to the industry standard Atmos?
Well, my answer was revealed through an analysis of the underlying audio channels spectrums following a tip-off from a Blu-ray.com forum member. The rear surrounds are identical and duplicated. There's no new additional audio information or more aggressive placement - this is a fake 7.1 remix. Cheeky!
Duplicity aside, there's not a whole lot else to complain about, with no problems on audio sync or dialogue intelligibility. Bass is responsive when requested and effectively underscores some of the more intensive sequences. The score provided by legacy TV composer Dennis McCarthy is appropriate, but one of the lesser soundtracks composed for Trek movies and a far cry from the grandness of Jerry Goldsmith or James Horner. However, it's well mixed into the soundtrack, taking center stage where appropriate.
Overall, this is a solid effort, but perhaps it would have been a bit more honest if Paramount had simply repurposed the previous 5.1 mix - or actually put the effort in to produce a genuine 7.1 (or Dolby Atmos) mix.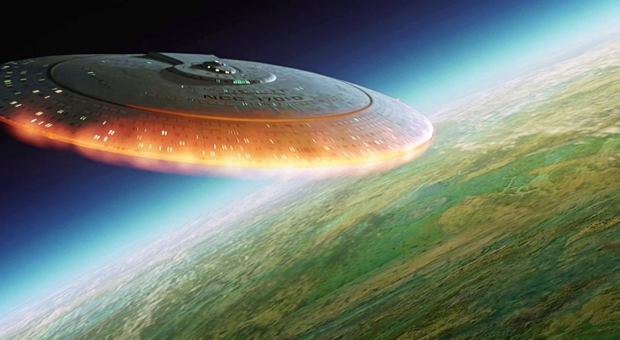 Bonus materials
Unfortunately, unlike other international releases, Paramount has again not included a copy of the standard Blu-ray in the Australian release, which means all the video-based features are absent from this edition. Trekkers would be advised to hang on to the previous Blu-ray release or import the U.S. or U.K. editions to retain everything.
However, the 4K disc does include two previously released Audio Commentaries, the first provided by Director David Carson, alongside Star Trek: Enterprise producer Manny Coto, and the second featuring screenwriters Brannon Braga and Ronald D. Moore.