TweakTown's Rating: 74%
The Bottom Line
Enermax's StarryKnight SK30 inherently is a good case with some flaws that make it hard to justify for $120. We would rate it higher if there were better quality PWM fans or if it was priced lower.
Pros
+

Three included 140mm SquA fans (pre-installed intake) and one 120mm SquA fan (pre-installed exhaust)

+

Separate two-slot vertical GPU slot support

+

Front intake is completely meshed out
Cons
-

Molex Fan/3 pin connections

-

Bend out PCIe slot covers

-

Cables are an absolute mess

-

Could not get aRGB controller to work via motherboard software

-

Cumbersome PCIe slot removal process in conjunction with a vertical GPU mount
Should you buy it?
Avoid
Consider
Shortlist
Buy
Introduction, Specifications, and Pricing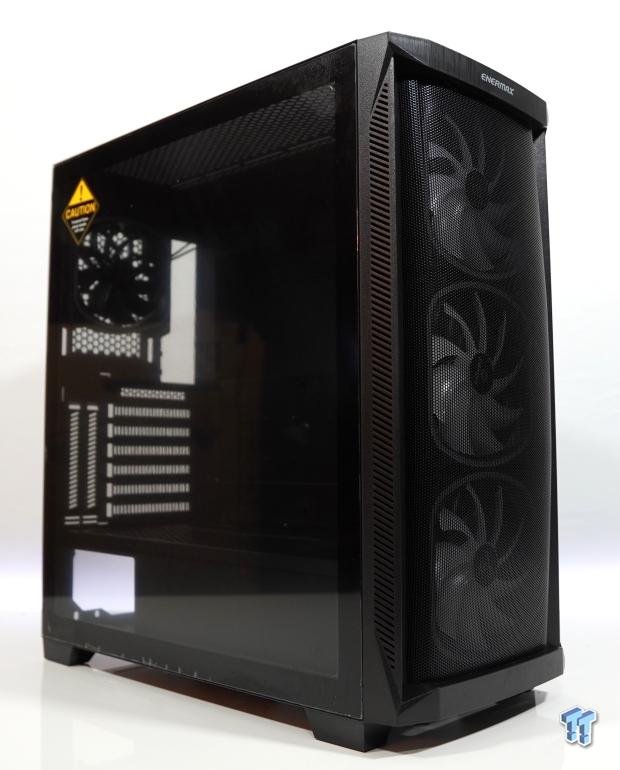 Enermax has now entered the ring with the StarryKnight SK30 mid-tower ATX case. Having tempered glass and four included fans, let's find out if this mid-tower case deserves your hard-earned money. Let's go.
Packaging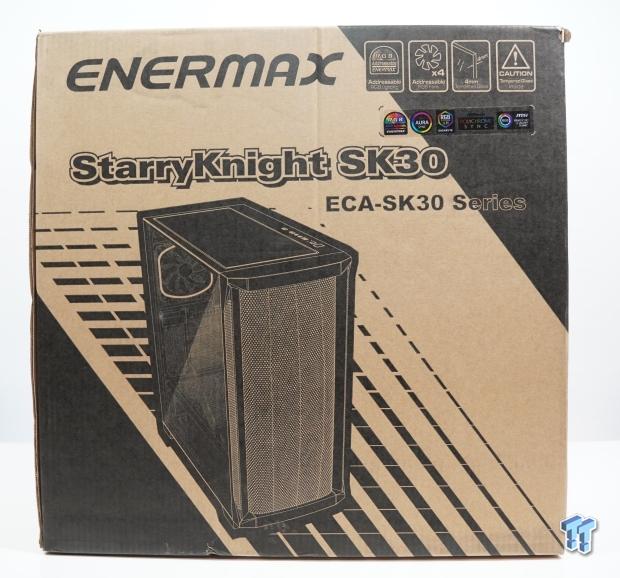 The packaging on the Enermax StarryKnight SK30 is in the standard brown cardboard box with black lettering and illustrations of the product inside. Also present is a sticker showing support for various RGB software.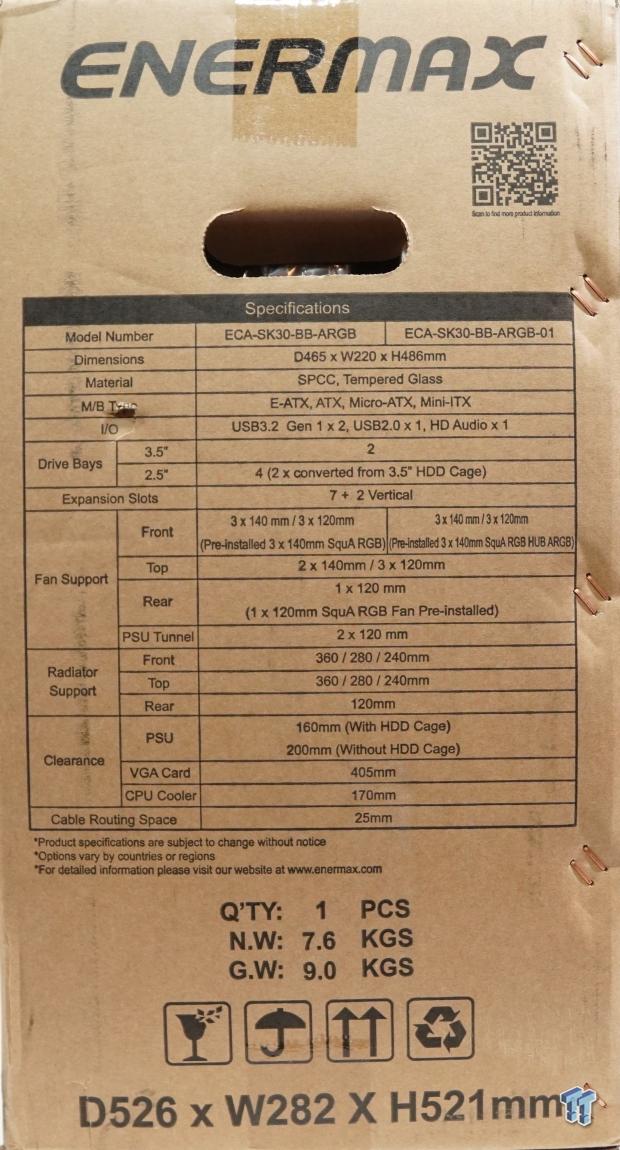 This side of the box has all the necessary specifications and dimensions on the bottom, measuring 526mm deep, 282mm wide, and 521mm tall.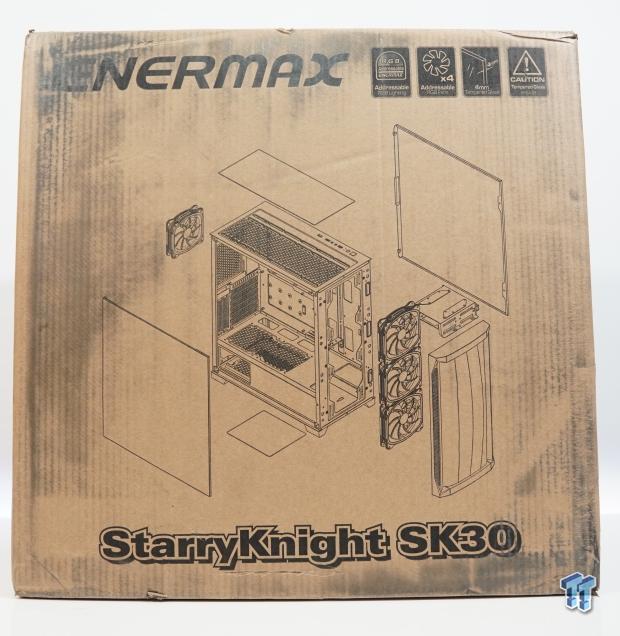 The back of the packaging shows a blown-out illustration of the StarryKnight SK30, including 140mm and 120mm fans.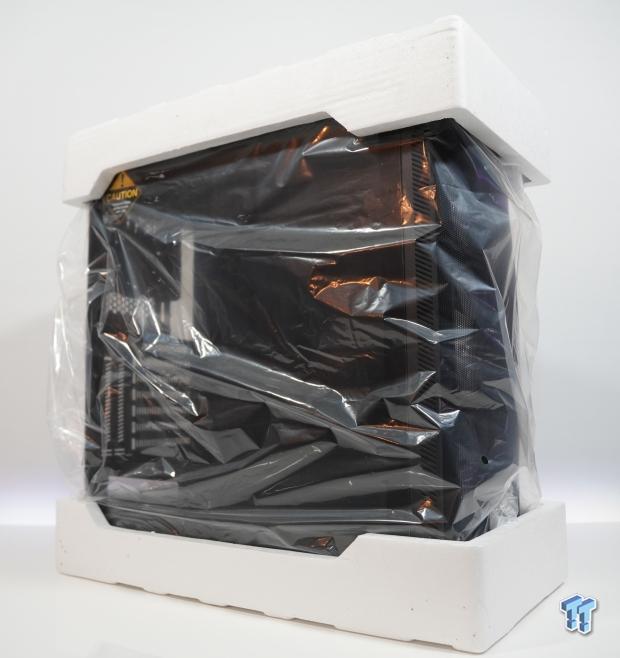 Finally, we get to the two foam end pieces, which protect the StarryKnight SK30 from any shipping damage. Lastly, a clear plastic bag to keep the dust away while in transit.
Outside the Enermax StarryKnight SK30 Mid Tower Case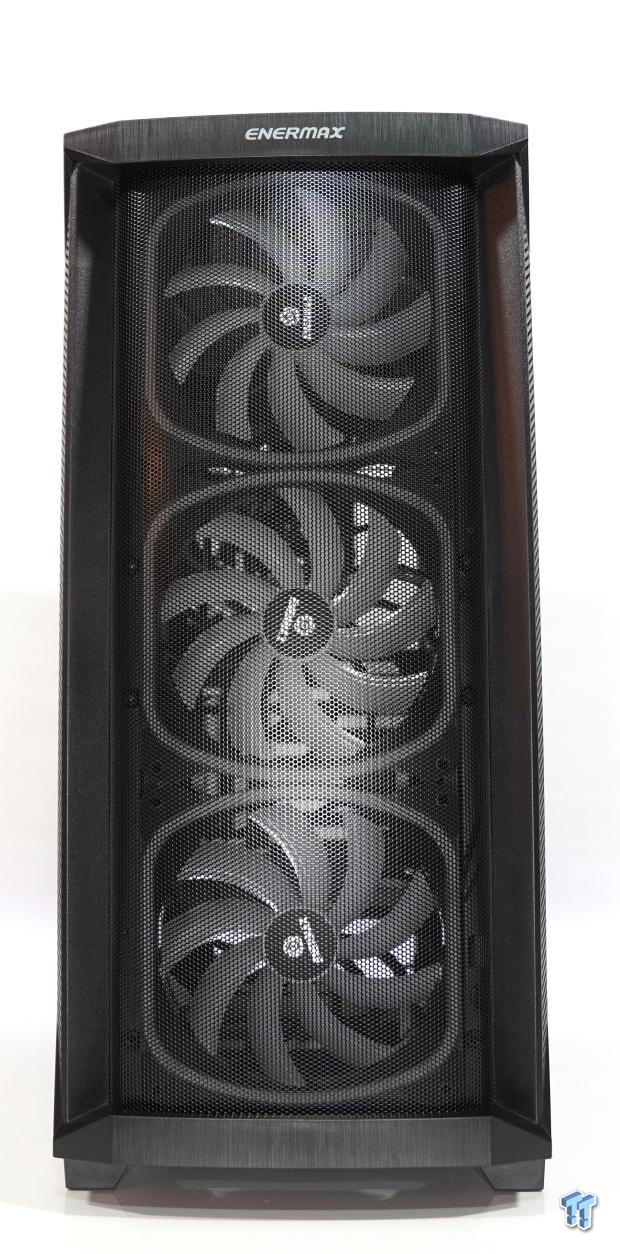 Starting with the front of the SK30 is a metal mesh front panel, which shouldn't impede airflow. This mesh front panel also does not have any sort of filtration, so keep that in mind.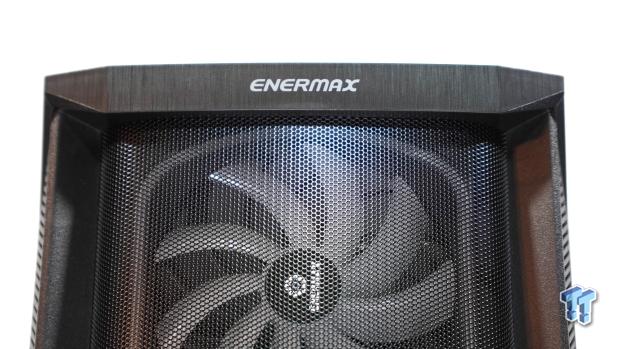 The top of the front panel also has Enermax's branding, which is tastefully done.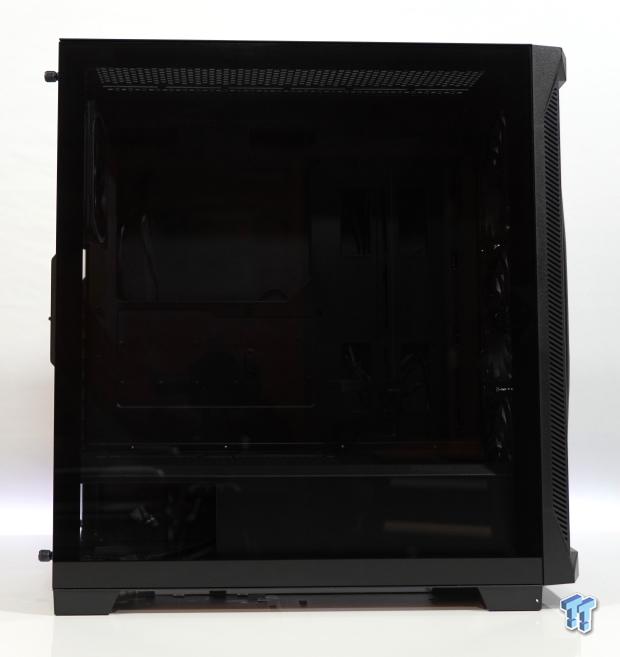 The tempered glass side panel has a slight tint, but we shall see if that makes the internal hardware harder to see. This side panel is held on with captive thumbscrews.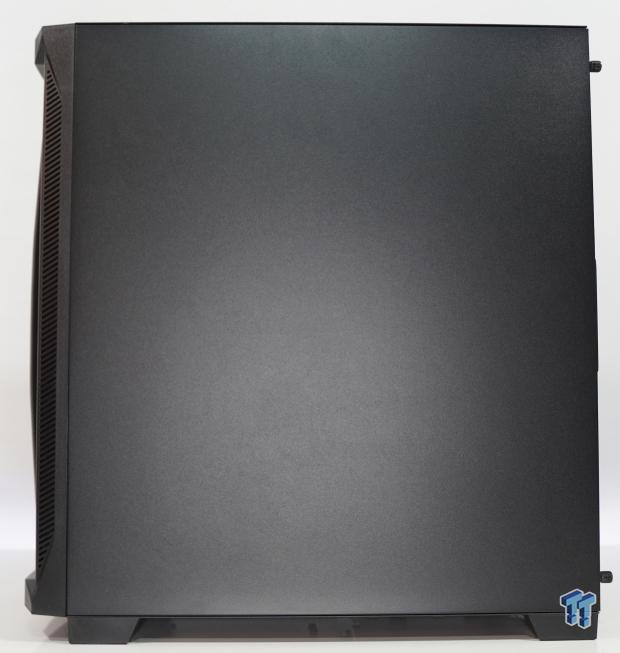 Moving to the other side panel, which is kind of boring, but again is held on with captive thumbscrews.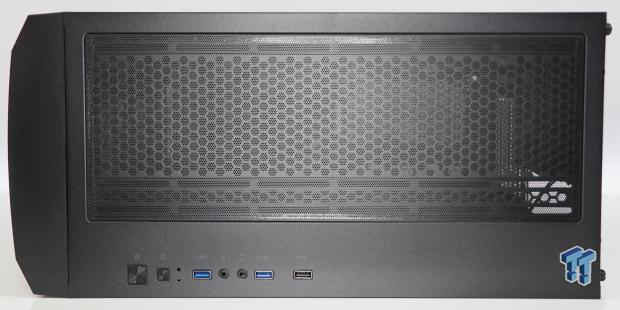 The top seems familiar to a certain degree, supporting up to a 360mm radiator, three 120mm fans, a 280mm radiator, or two 140mm fans.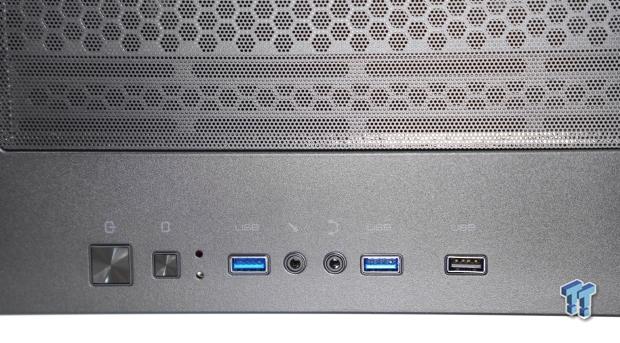 The front I/O includes a square power button, a smaller square reset button that has been repurposed for LED control, two system indicator lights, a blue USB 3.0 Type-A port, 3.5mm headphone and mic jacks, another blue USB 3.0 Type-A port, and lastly a black USB 2.0 Type-A port instead of a USB Type-C port. I also would have liked to see all the USB ports color matched.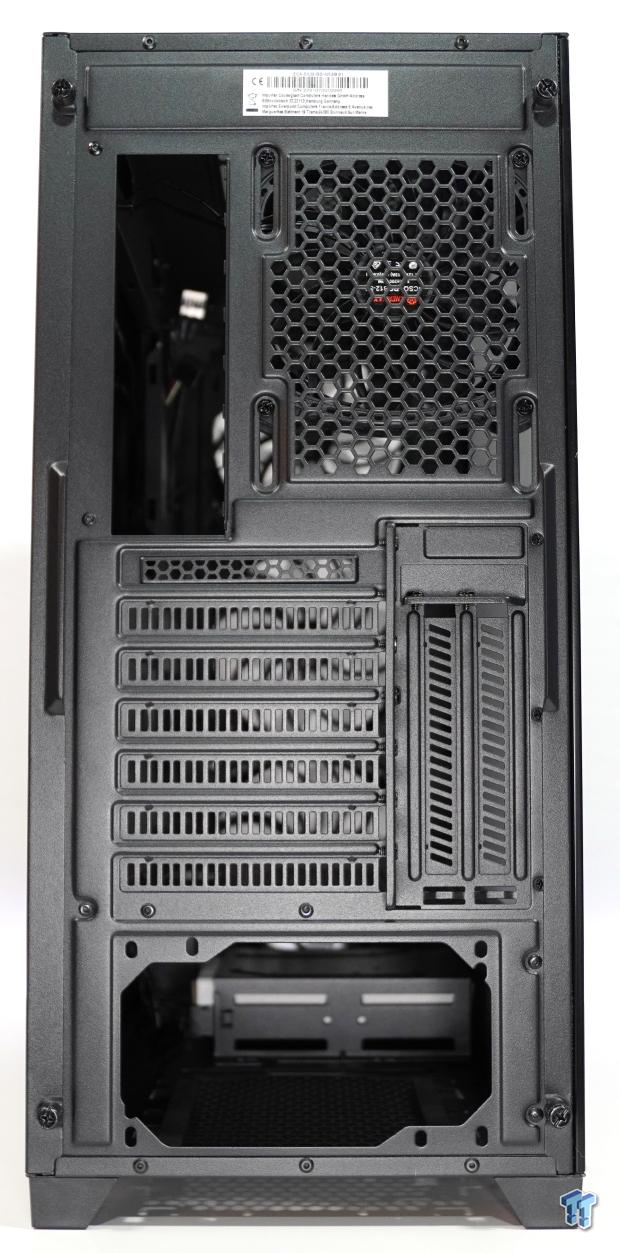 The rear I/O has a few things going on that I would have thought were standard, but Enermax is used for cost-saving measures. Every PCIe slot except for the top slot is the bend-away type of slot cover. A vertical GPU with up to two slots is also supported here. A removable PSU plate also would have been nice to add here too however, it is not present.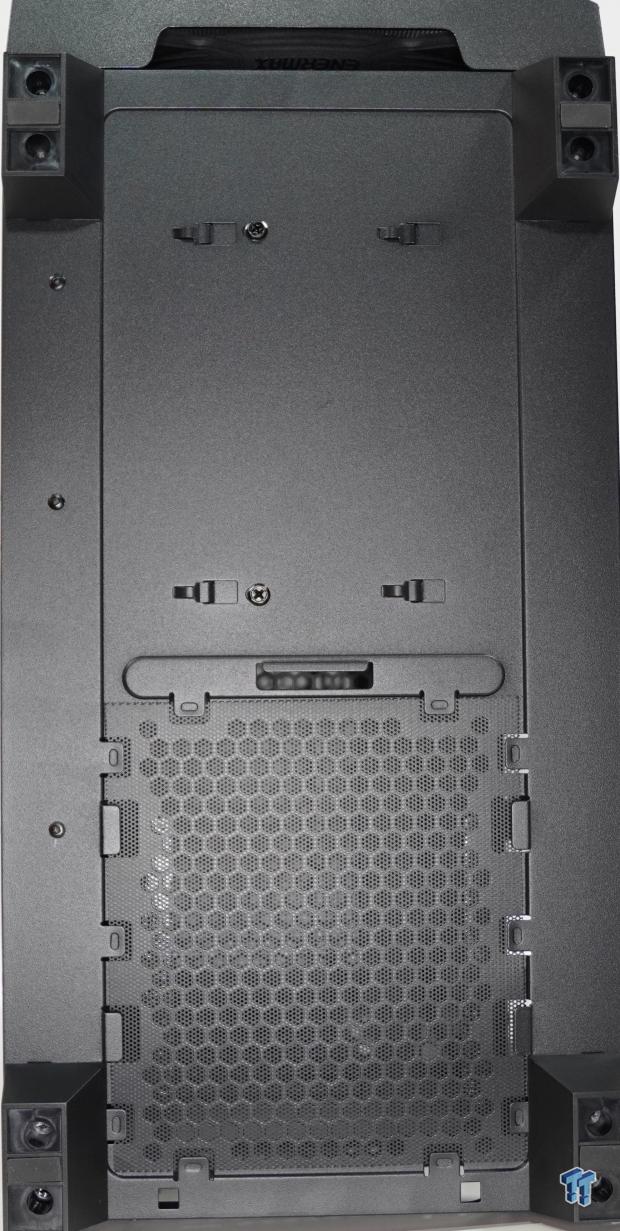 Wrapping up the outside of the StarryKnight SK30 is the underside which is fairly plain, indicative of a cheap flimsy attempt at a PSU filter. Hey, at least it's there.
Inside the Enermax StarryKnight SK30 Mid Tower Case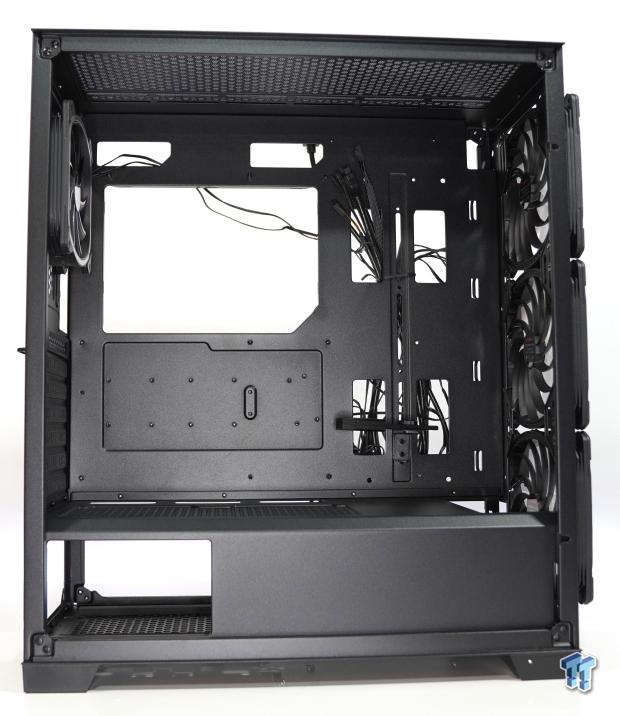 Heading inside the StarryKnight SK30, by removing the tempered glass side panel, reveals the interior. Its cable mess is clearly visible from this side, and with no rubber grommets present, I hope I can clean this up during the build. Enermax also has included and pre-installed the GPU support bracket. Two more locations for 120mm fans are located on top of the PSU shroud.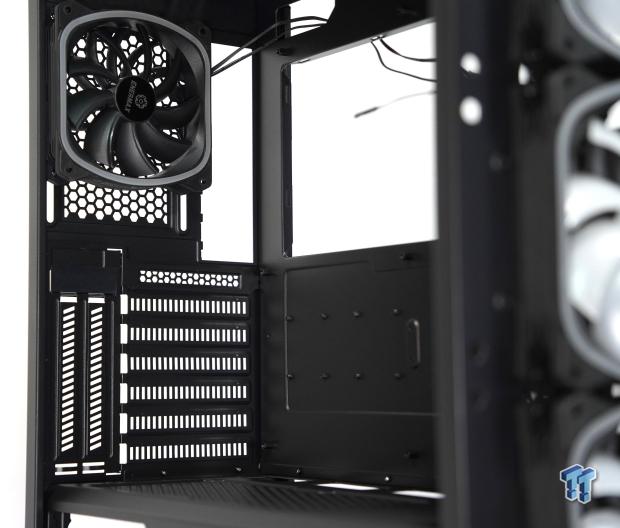 The included 120mm SquA RGB fan is in black. Model number UCSQARGB12-SA.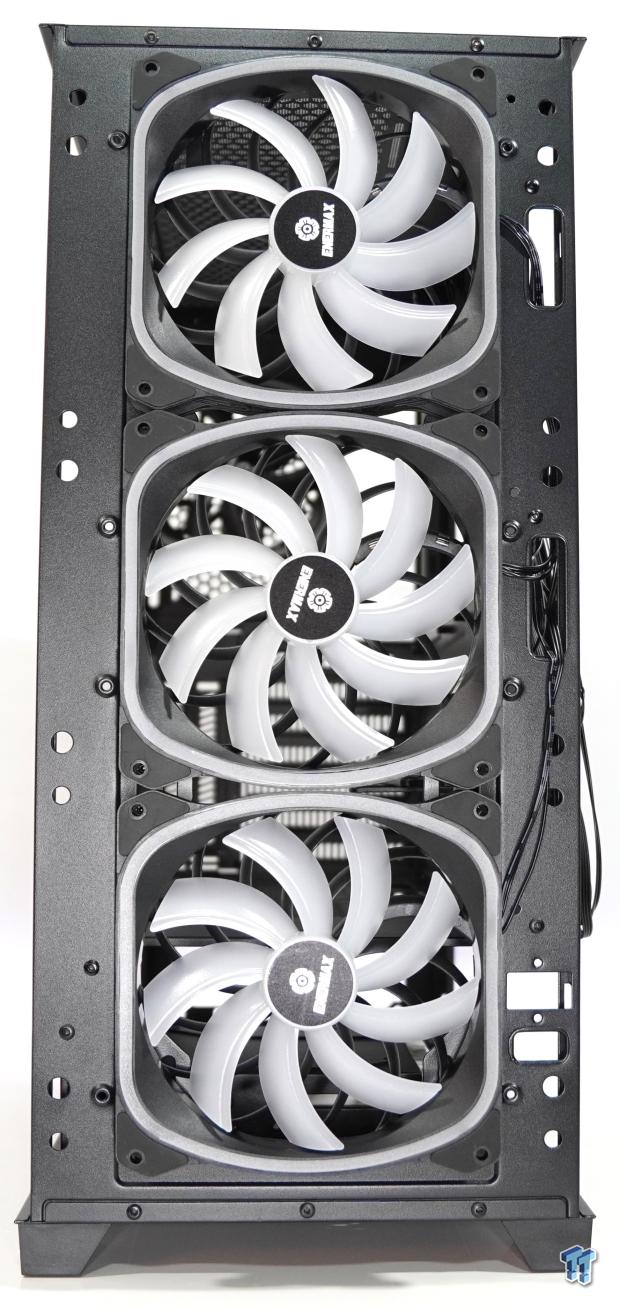 Removing the front panel shows the three included 140mm fans that are pre-installed. These fans are airflow-focused, with several thinner fan blades and the directional fins in the rear of the fan frame.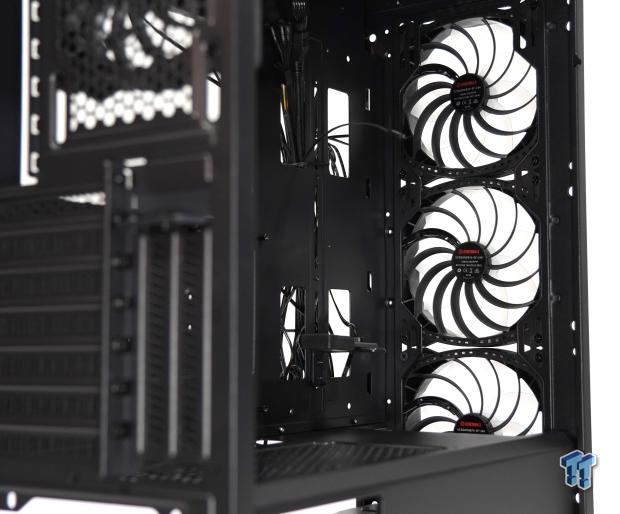 The backside of the three included 140mm SquA RGB fans, model number UCSQARGB14-SF-24H. The front support is identical to the roof, with up to a 360mm/280mm radiator and/or fans.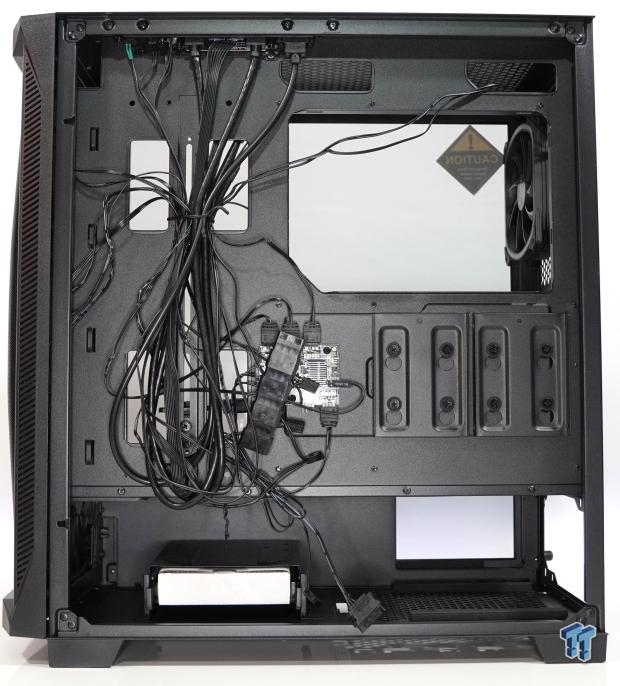 Removing the back steel side panel now shows the cable mess that I have to tackle soon enough. Storage support for two 2.5" SSD/HDDs on the motherboard tray and an additional 3.5" HDD via its drive sled. Another 2.5" drive can be installed on the top as well.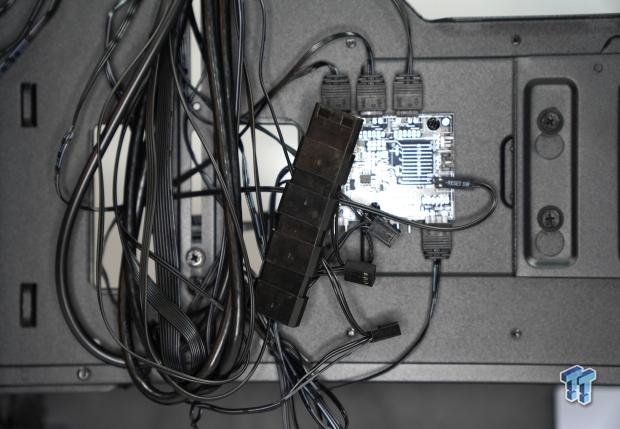 For the astute among you, yes, those are four-pin MOLEX connectors on all four included fans. Thankfully a three-pin fan header is also in series with the MOLEX connector on the front three 140mm fans. Also pictured is the aRGB controller that can control up to five devices, which the reset switch is hooked up to for front I/O control. Alternatively included is an aRGB cable that allows it to be plugged into the motherboard for broader control via motherboard RGB software.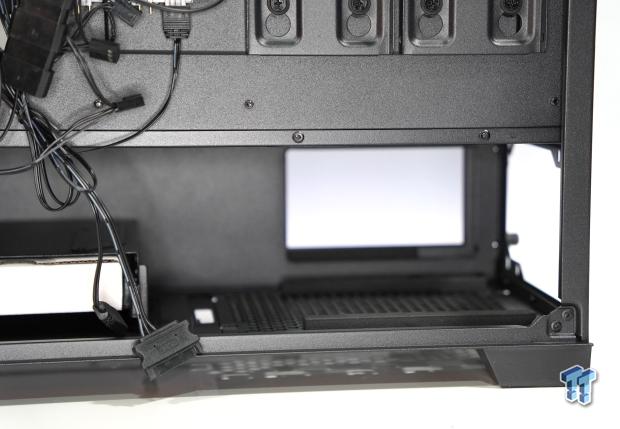 Enermax states that PSUs up to 160mm in length can be installed with the HDD cage installed. Remove the HDD cage, and PSU support is increased to 200mm.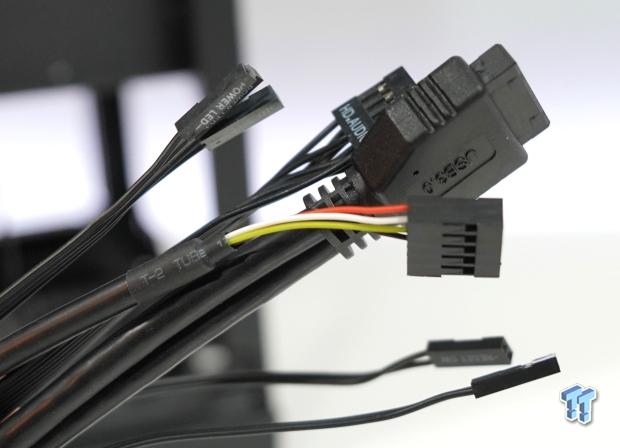 The front I/O connections are all blacked out, except for the hideous USB 2.0 connector.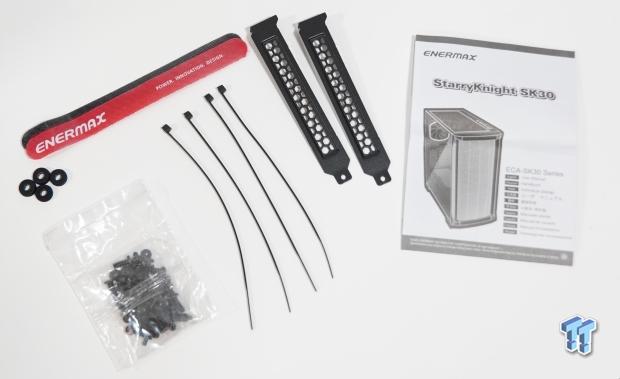 The accessories that Enermax included are pretty basic but are adequate. Included is an instruction manual, two PCIe slot covers, four cable ties, a bag of various screws and standoffs, four rubber noise dampeners, as well as two Enermax labeled cable straps.
Test System, Installation, and Finished Product
Motherboard: GIGABYTE Z690 AORUS PRO (INTEL Z690) - Buy from Amazon
CPU: Intel Core i5 12600K - Buy from Amazon
Cooler: Bequiet! Dark Rock 4 - Buy from Amazon
Memory: Patriot Viper Venom DDR5 5600 RGB - Buy from Amazon
Graphics Card: NVIDIA RTX 3090 Founders Edition - Buy from Amazon
Storage: Corsair MP600 PRO XT Gen4 PCIe x4 NVMe M.2 SSD - Buy from Amazon
Case: Enermax StarryKnight SK30 - Buy from Amazon
Software: AIDA64 Engineer 6.32.5600, and CPU-z 1.94.0 x64
Power Supply: XPG Fusion 1600w Titanium ATX 3.0 PSU
OS: Microsoft Windows 11 Pro 64-bit Build 22621 - Buy from Amazon
Software: AIDA64 Engineer 6.8.6300, and CPU-z 2.03.0 x64
Final Thoughts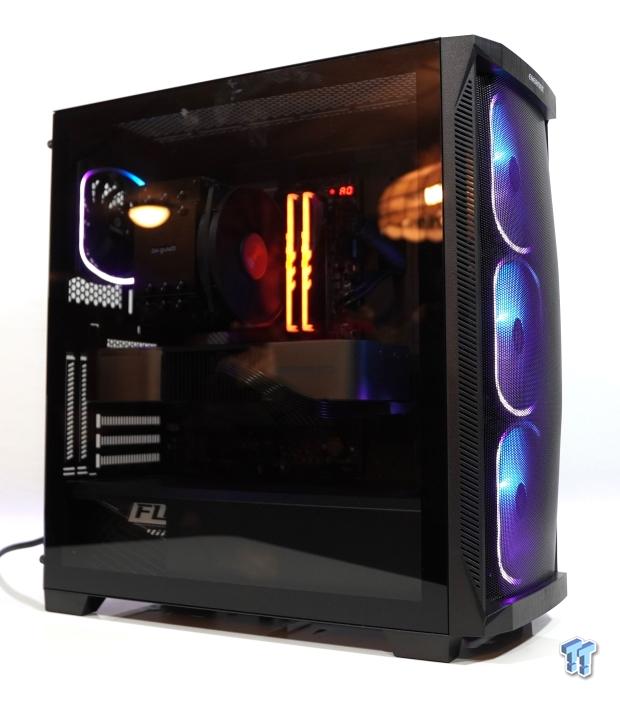 The build is complete, and I have some collective thoughts. Initially, I thought this was going to be like the last few case reviews, mainly because the frame of the StarryKnight SK30 is a carbon copy of the Antec P20C, DP505, DP503, and so on. Well, it's the little finishes that set cases apart from each other. It depends on the direction the brand wants to take with this case. Enermax likes RGB, that's for sure.
In the case of StarryKnight SK30, there are four included case fans, three of which are 140mm that feature an aRGB ring, as well as the hub and fan blades that are aRGB lit. The rear 120mm fan only has an aRGB ring.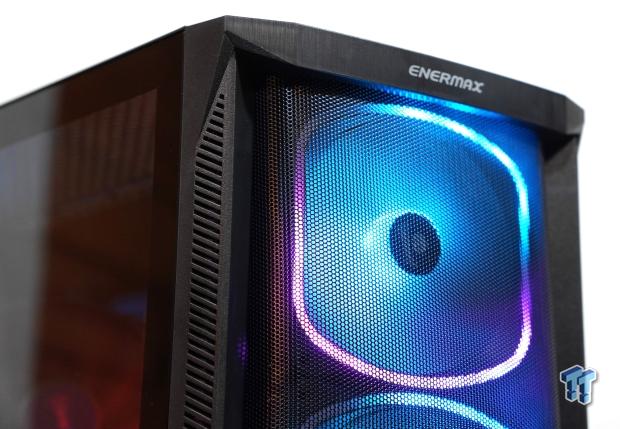 Starting with the things that could be improved on with Enermax's StarryKnight SK30 are the fans. Yes, they look pretty. Yes, they are quiet, but the MOLEX connections are horrible and outdated. I expect to see MOLEX connections in a sub-$60 case, but not one that costs $120.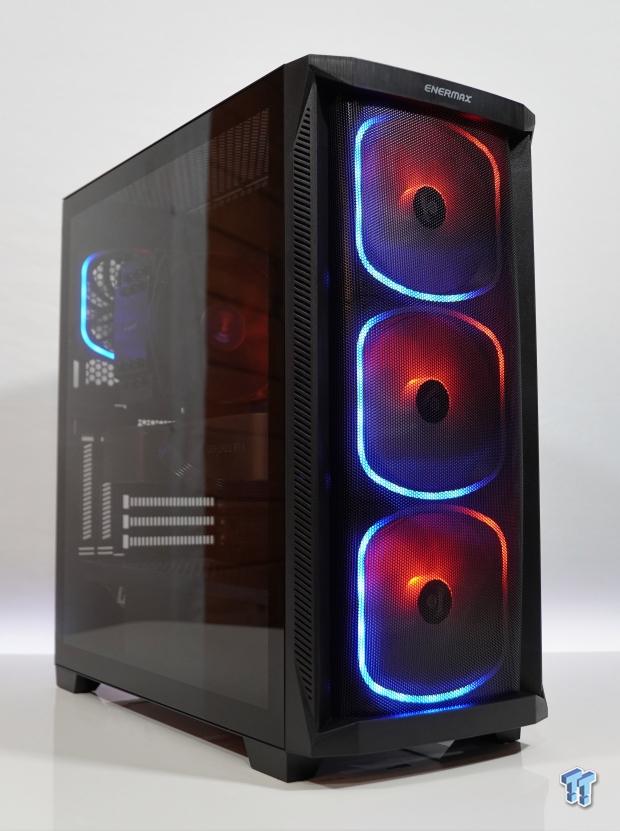 The build process was easy enough, while only having to remove the 3.5" HDD mount in the basement to make room for the extra large XPG Fusion 1600w Titanium ATX 3.0 PSU.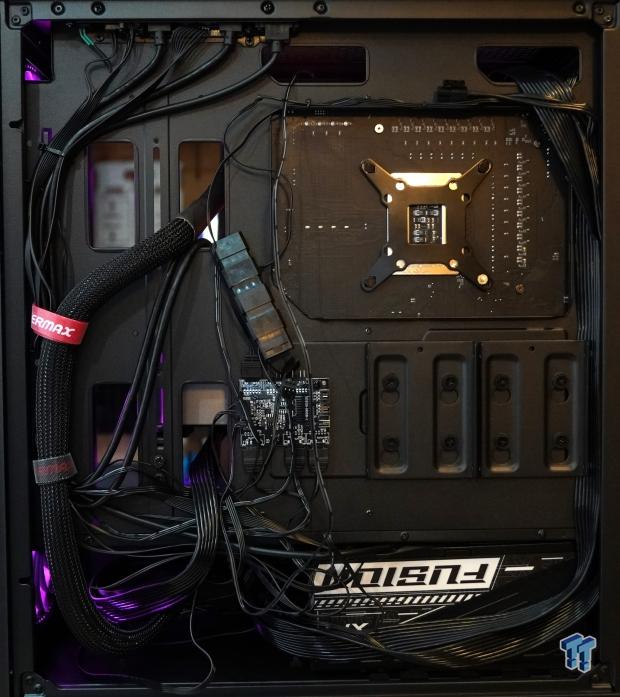 This leads us into cable management, which is a give-and-take. On the one hand, there are a decent amount of cable ties and cutouts but no cable grommets to help hide unsightly cabling, which, when RGB is added, only gets worse. Another point I want to make is with the included aRGB controller, which only worked if the reset switch was hooked up; the motherboard software could not see nor control any RGB function.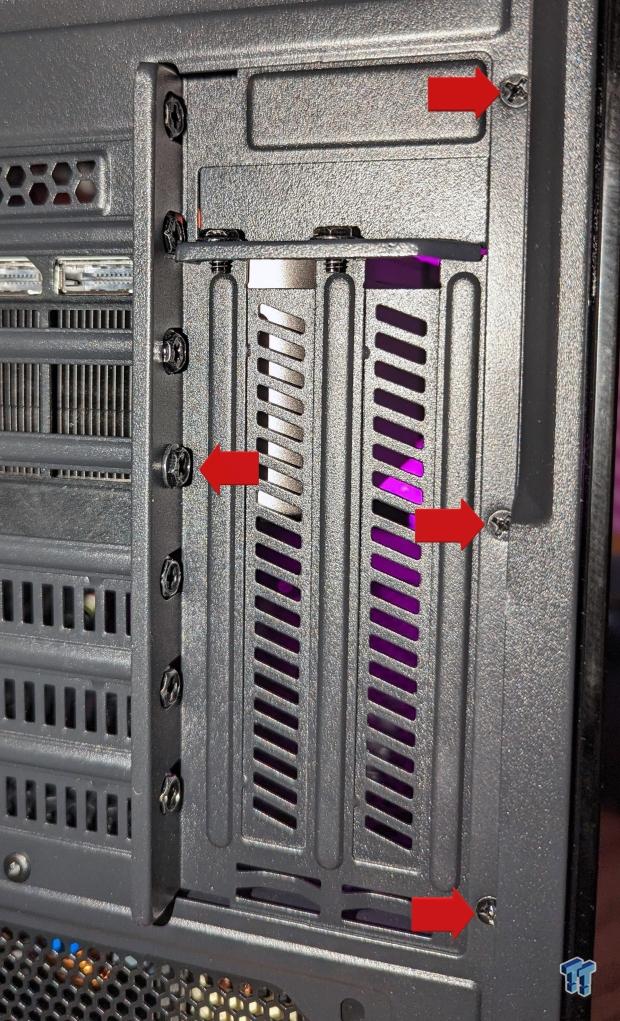 Another point of contention was the PCIe brackets and installation. This was the oddest way to install a GPU I have ever seen. Not only does the end-user have to bend off the PCIe slot covers (three in the case of the GeForce RTX 3090 FE), three screws on the side of the two-slot vertical GPU mount, as well as the center PCIe slot screw must be removed to even remove any mounted PCIe card.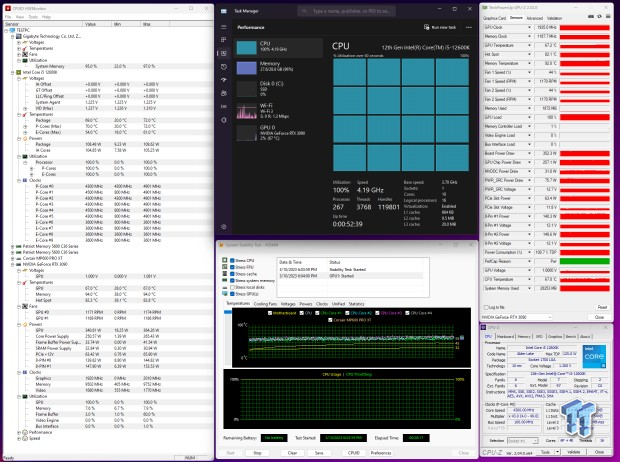 Moving to cooling, which the StarryKnight SK30 did well at, keeping the test system under wraps. Temps never exceeded 72C on the Intel Core i5-12600K CPU, while the NVIDIA GeForce RTX 3090 FE never reached 70C. The CPU and GPU were loaded up using Aida64 Engineer system stability test for 20 minutes.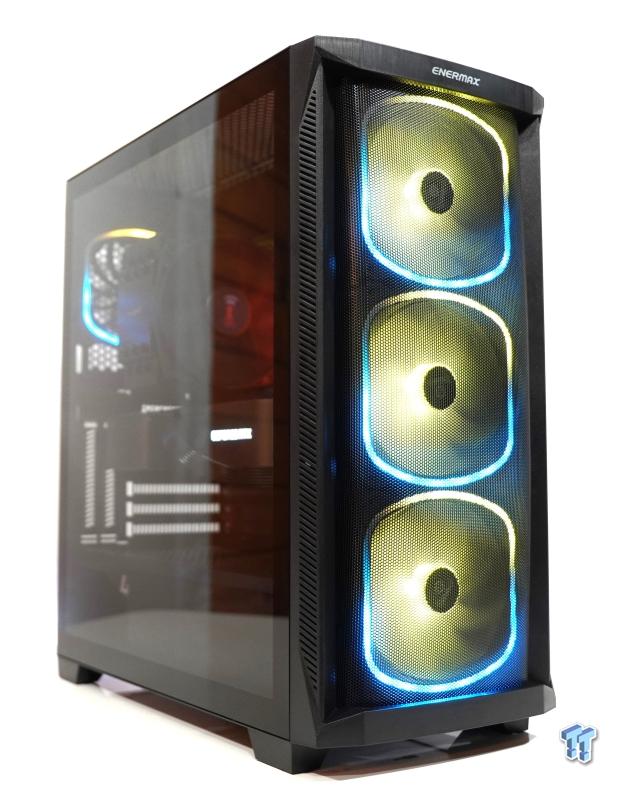 Final thoughts time. Was the Enermax StarryKnight SK30 any good? While thermal performance was excellent, the SK30's fans are just not what you would expect in a mid-tower case for $120. This is 100% correctable. In 2023, having a MOLEX connection on anything is unacceptable.
Enermax's StarryKnight SK30 inherently is a good case with some flaws that make it hard to justify for $120. We would rate it higher if there were better quality PWM fans or if it was priced lower.