TweakTown's Rating: 94%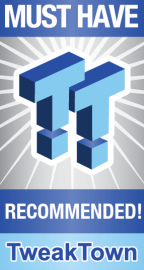 The Bottom Line
Fortis grade performance at bargain pricing - you've got to love that.
Pros
+

Pricing

+

Throughput

+

PS5 / PC gaming performance
Cons
Should you buy it?
Avoid
Consider
Shortlist
Buy
Introduction & Drive Details
We just got our first taste of the value SSTC has on offer with its HammerHead E18 series SSDs via its 2TB model, offering up 7,400 MB/s throughput at a mere 7.5 cents per gigabyte. In our opinion, the 2TB model currently offers the best value proposition going for a dedicated gaming SSD. The 2TB model, as we discovered, comes arrayed with Media grade Micron B47R flash behind its Phison E18 controller. Media grade B47R is much more cost-effective than Fortis grade B47R, the tradeoff being lower, low queue depth random read performance.
Low queue depth random read performance is the most significant performance metric related to typical consumer workloads. As we saw with the Media grade arrayed 2TB model, it underperformed when running consumer workloads. However, where the 2TB model did very well was gaming. As it relates to gaming storage duties, the 2TB model's throughput, coupled with the inherent gaming prowess of Phison's E18 controller, delivers an excellent gaming experience for PC or PS5 console.
The Hammerhead E18, as the name insinuates, is a Phison E18-controlled SSD. The 1TB model we have on our bench today differs from its 2TB sibling in that it comes arrayed with Fortis grade Micron B47R TLC. The premium stuff. As we alluded to, Fortis grade B47R is more costly but better performing than Media grade. Nevertheless, SSTC is again offering best-in-class pricing for its 1TB model. At a mere 9 cents per gigabyte or $89.99, the 1TB HammerHead E18 is the lowest priced 1TB E18 controlled and Fortis arrayed SSD we could find. Outstanding.
So, what can we expect from the Fortis arrayed HammerHead E18 1TB? Well, we should see this model delivering similar overall performance to that of similarly configured SSDs, such as the first SSD configured this way, Seagate's FireCuda 530, which at 1TB is currently selling for north of $100, or a minimum of 10% more than our test subject.
SSTC states that its products are value-focused first and foremost. Our test subject can attest to this claim. Additionally, SSTC is an environmentally conscious company, as demonstrated by our test subject's completely biodegradable packaging. SSTC states they are dedicated to minimizing plastic, and even when they have to use plastic in the packaging, that plastic is biodegradable as well. Nice.
Drive Details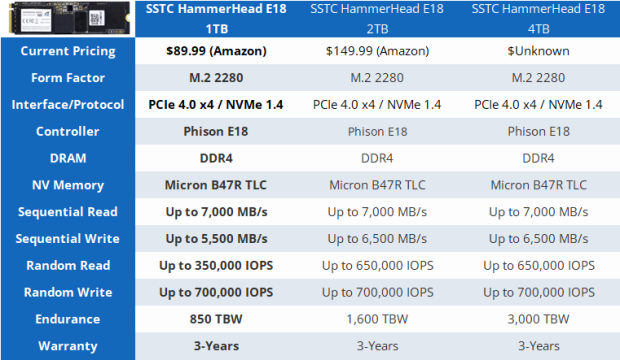 Pricing is exceptional for a TLC SSD with its hardware configuration. The endurance rating is about as good as it gets for a consumer SSD. A 3-year warranty is plenty good enough for our liking.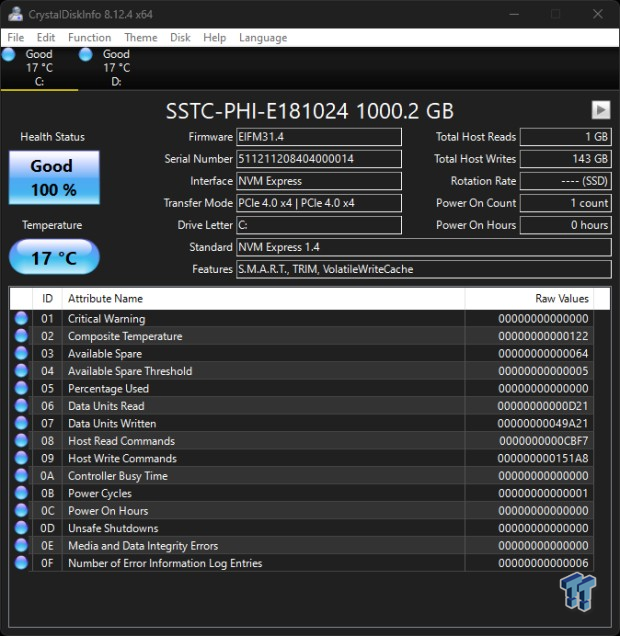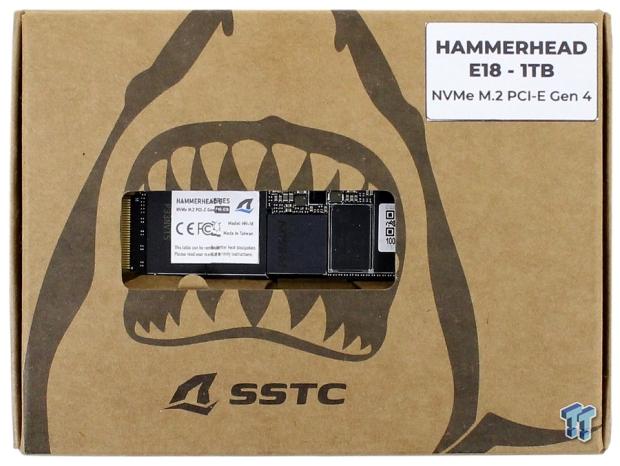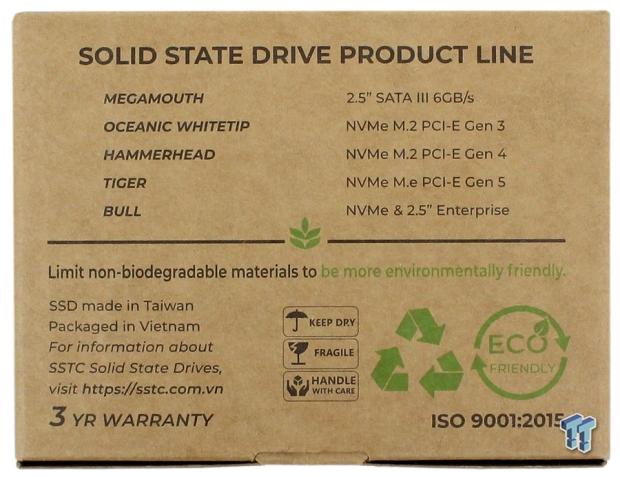 A removable label? Hey, we like this! SSTC allows users to remove the label to optimize heat dissipation without voiding the warranty. Additionally, SSTC makes RMA's easy. The user can scan the QR code to access the RMA site and arrange for onsite warranty, including free two-way pickup and return.
Jon's Test System Specifications
Intel Test System
AMD Test System
Because we at TweakTown like to be first at everything whenever we can, we will present our storage performance results for the test subject on both 13th Gen Intel and 7000 Series AMD platforms going forward for the foreseeable future. Because Intel still delivers the best real-world storage performance, (Look Here), our running chart will continue to be Intel-based until AMD can deliver better real-world storage performance than its rival.
Sony PlayStation 5 - M.2 Storage Expansion
PS5 Read Performance
With Sony's wildly popular PlayStation 5 console now enabled for M.2 NVMe SSDs to be used as fast storage expansion, we include results for PS5 compatible SSDs we test as a part of our reviews going forward.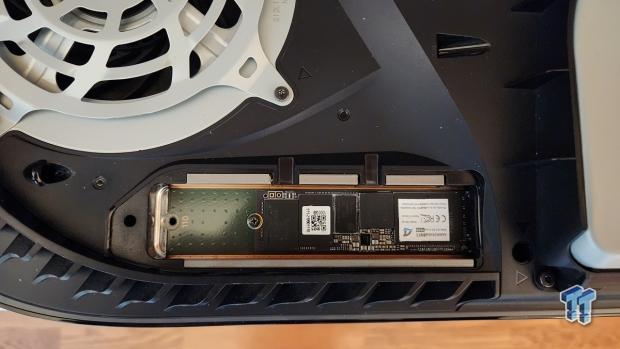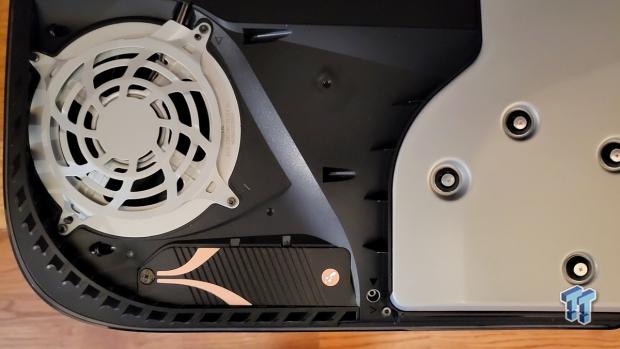 For 5,500 MB/s plus capable SSDs that don't have an adequately sized PS5 compatible heatsink or other SSDs where the heatsink provided doesn't fit right and can be removed, we both use and recommend Sabrents unparalleled PS5 heatsink available here.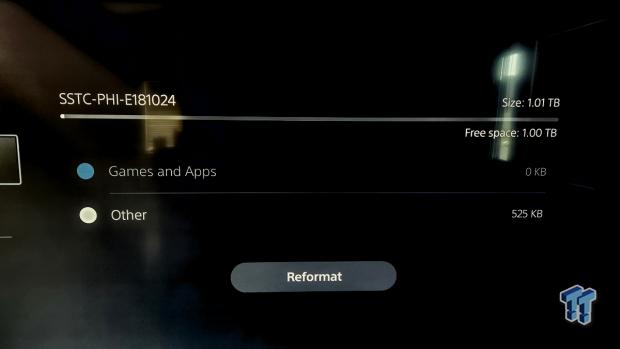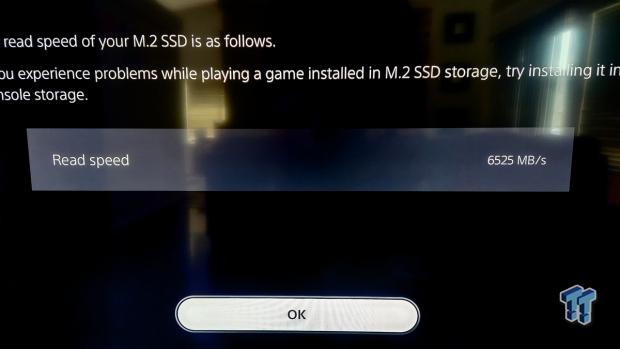 We only chart SSDs that can deliver a minimum of 5,500 MB/s read, which is Sony's original recommendation.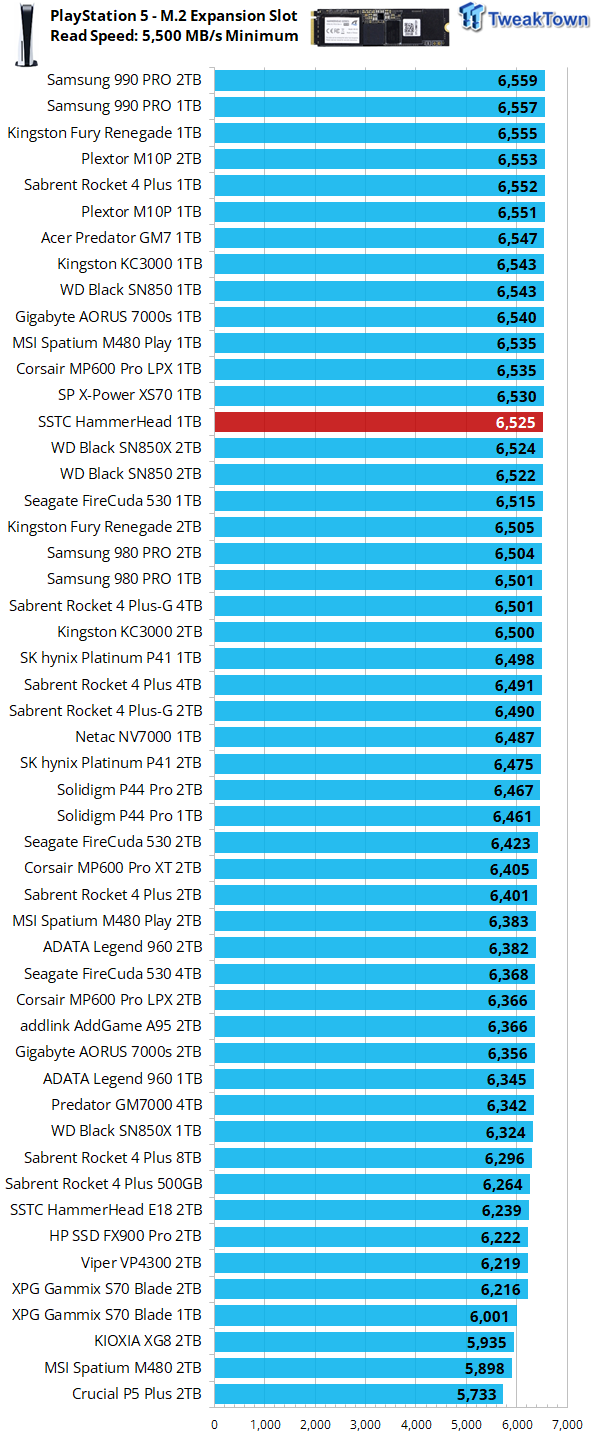 6,500 MB/s is the upper echelon for any SSD employed for PS5 storage expansion duties. Impressive.
Synthetic Benchmarks: CDM, Anvil, ATTO
CrystalDiskMark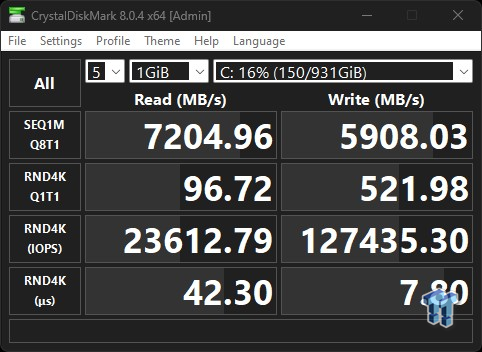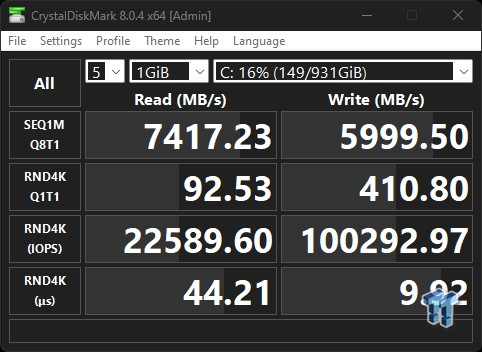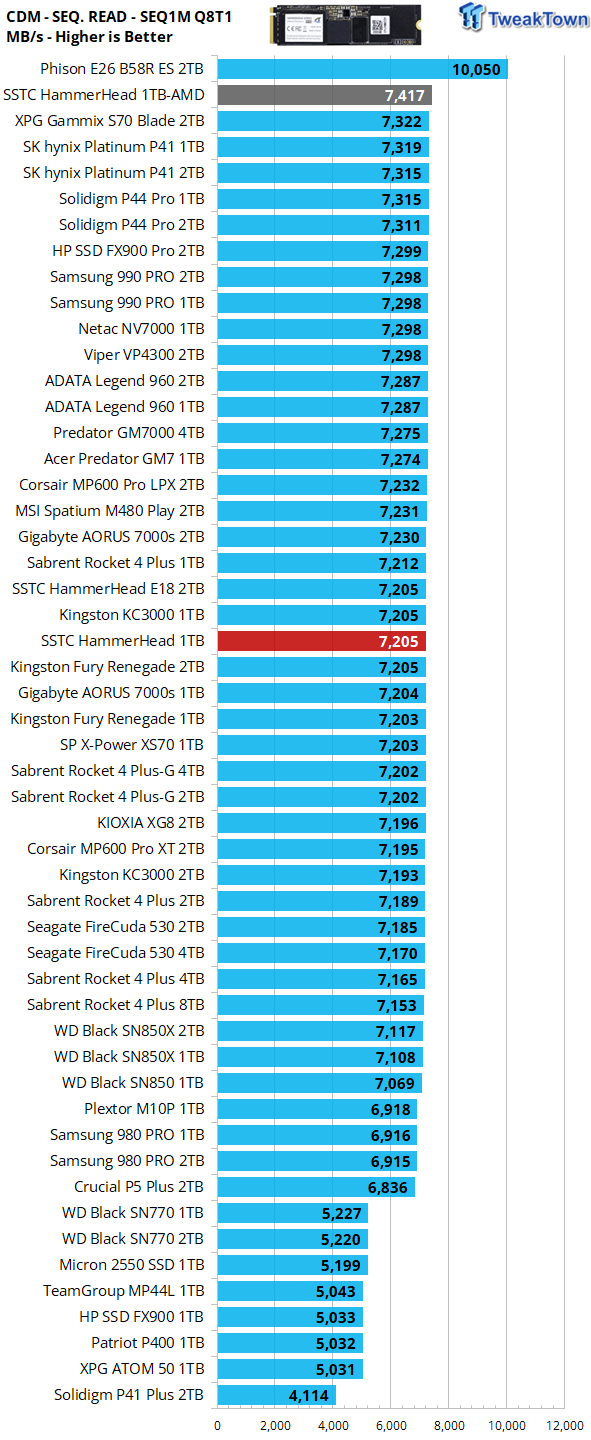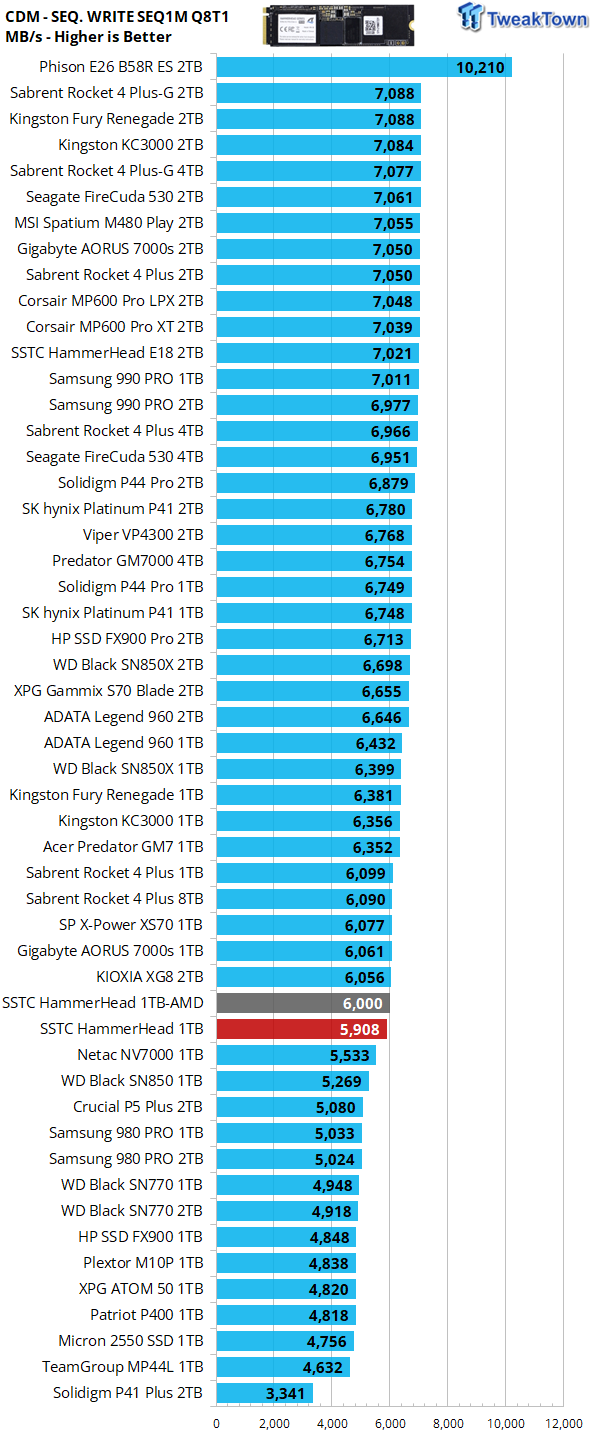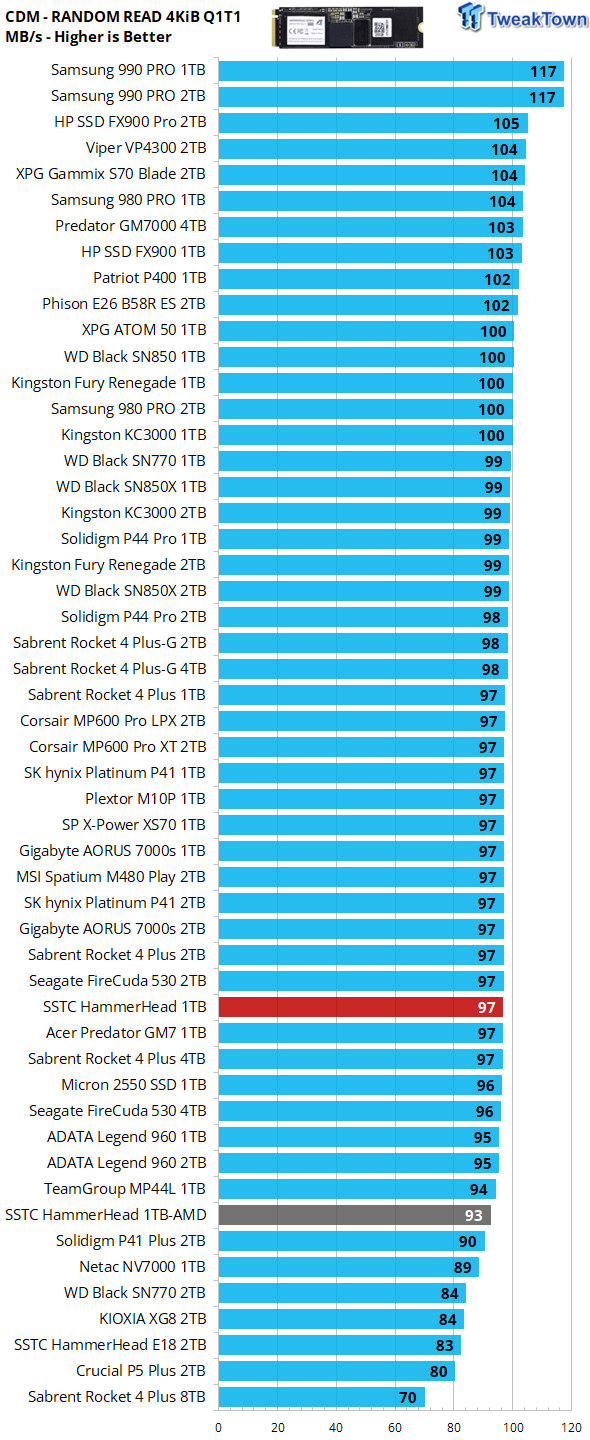 With up to 7,400 MB/s sequential throughput, our test subject is delivering exactly as expected for this hardware configuration. More importantly, as it relates to well-rounded enthusiast-level performance, we are getting excellent QDT1 random reads at a very stout 97 MB/s. Contrast that to the 2TB model, where we are getting a much more modest 83 MB/s. This is where Fortis grade flash has a distinct advantage over Media grade.
Anvil's Storage Utilities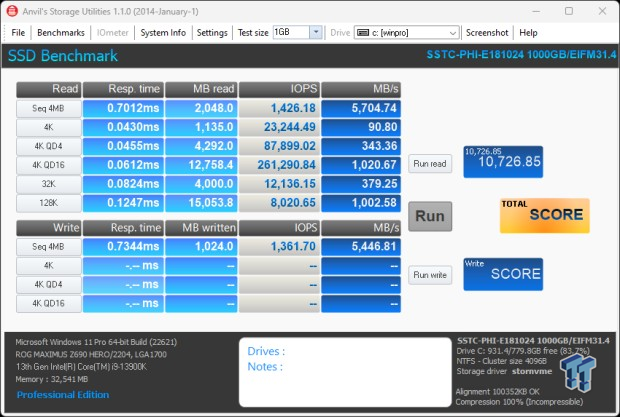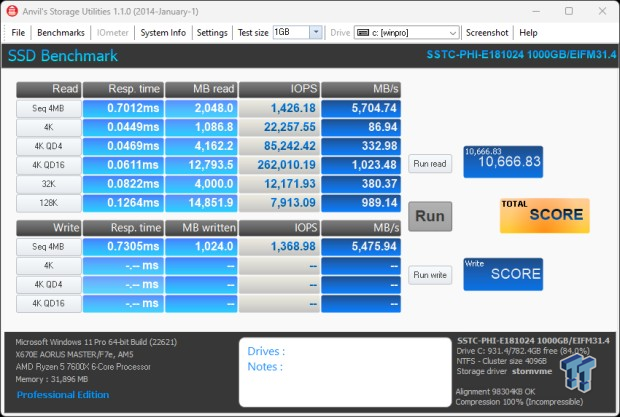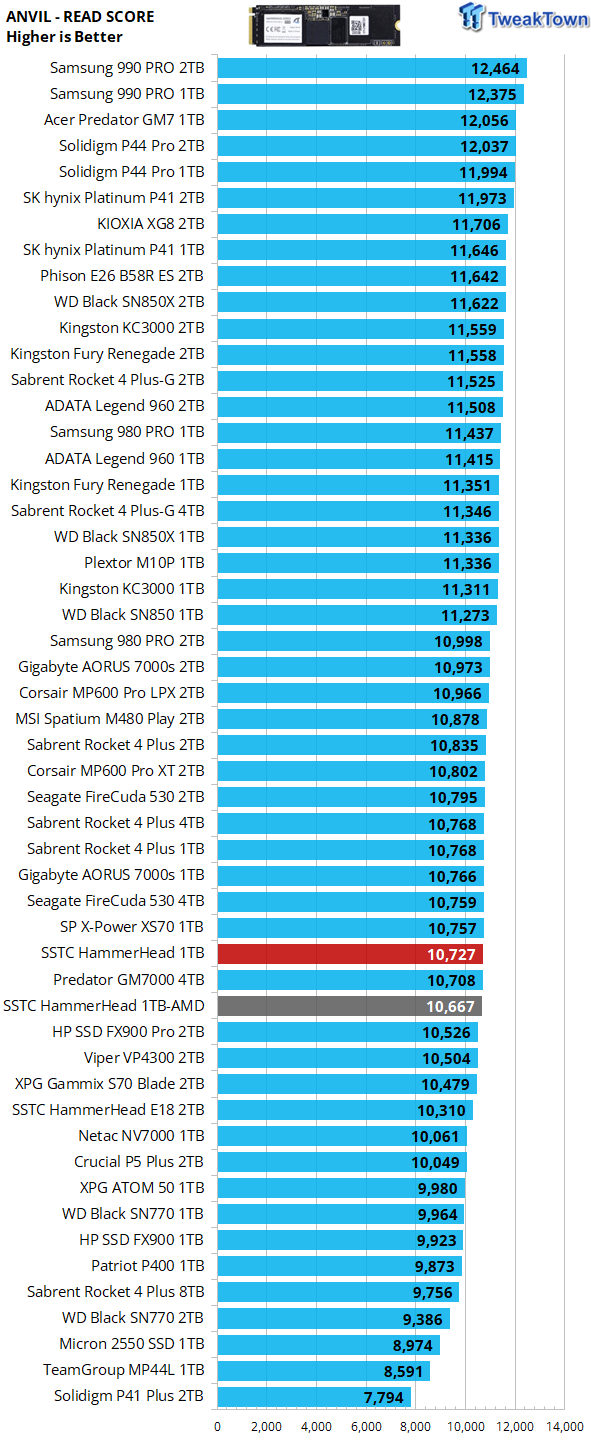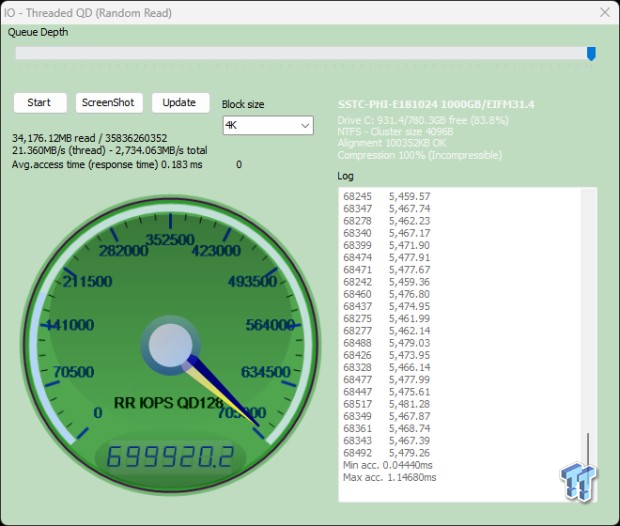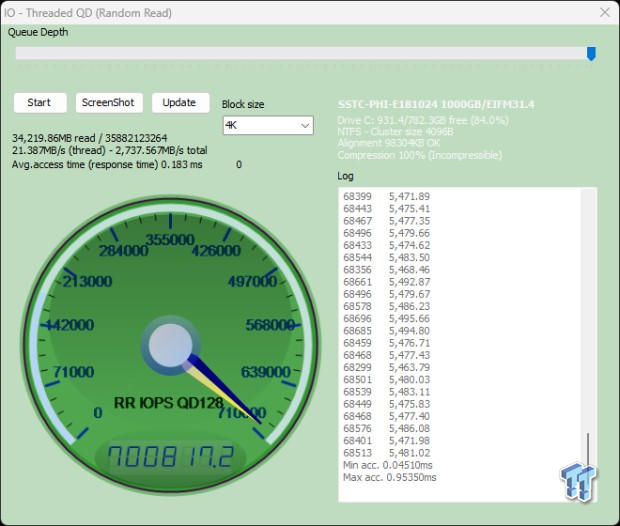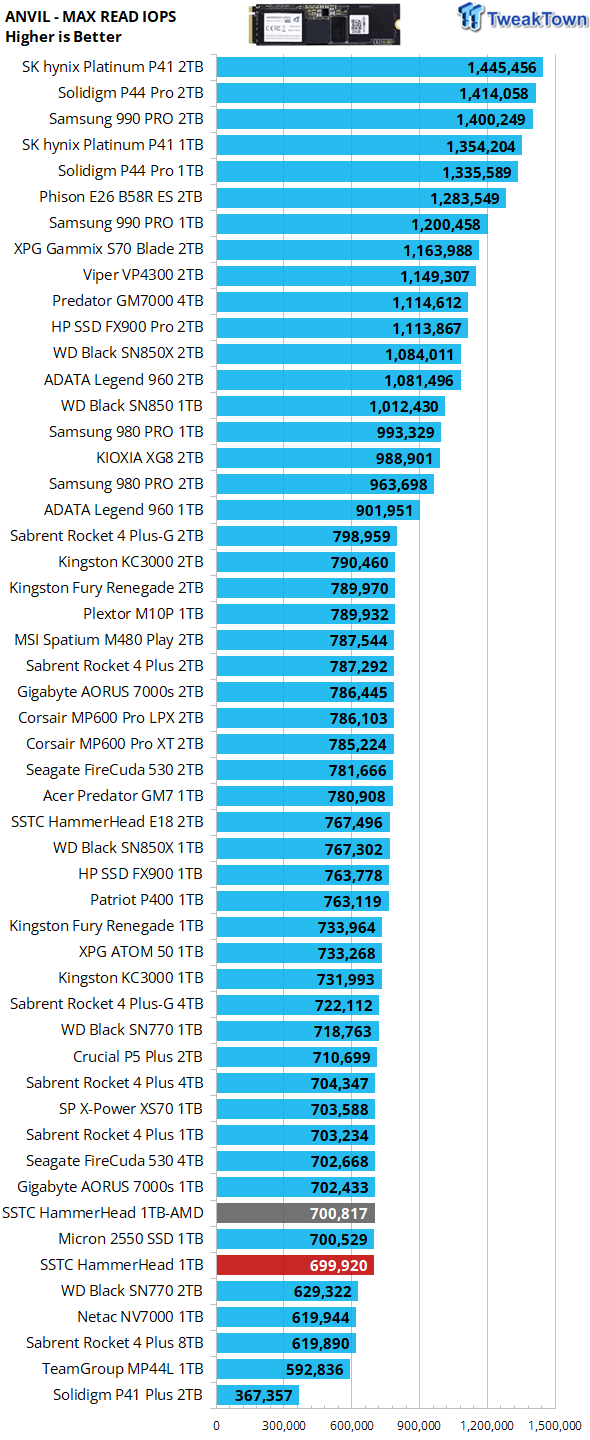 More of what we expect from a 1TB E18 controlled SSD arrayed with 1,200MT B47R Fortis grade flash. This is evidenced by our test subject placing alongside similarly configured SSDs such as GIGABYTE's AORUS 7000s 1TB and Silicon Power's XS70 1TB.
ATTO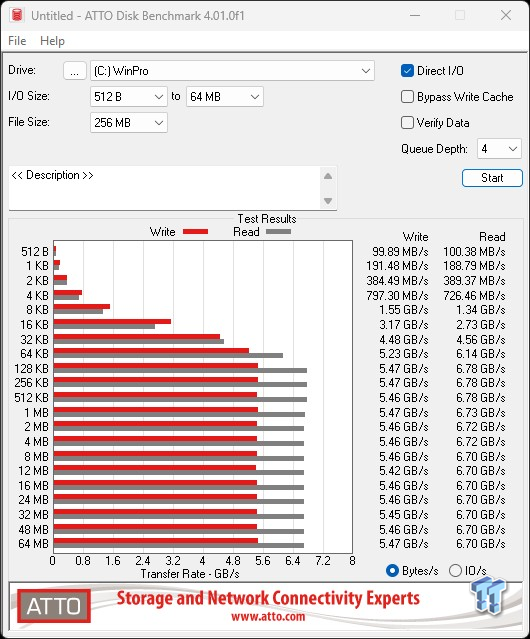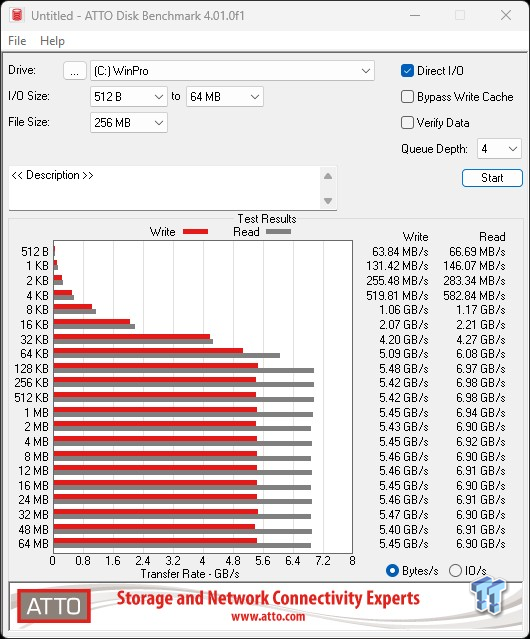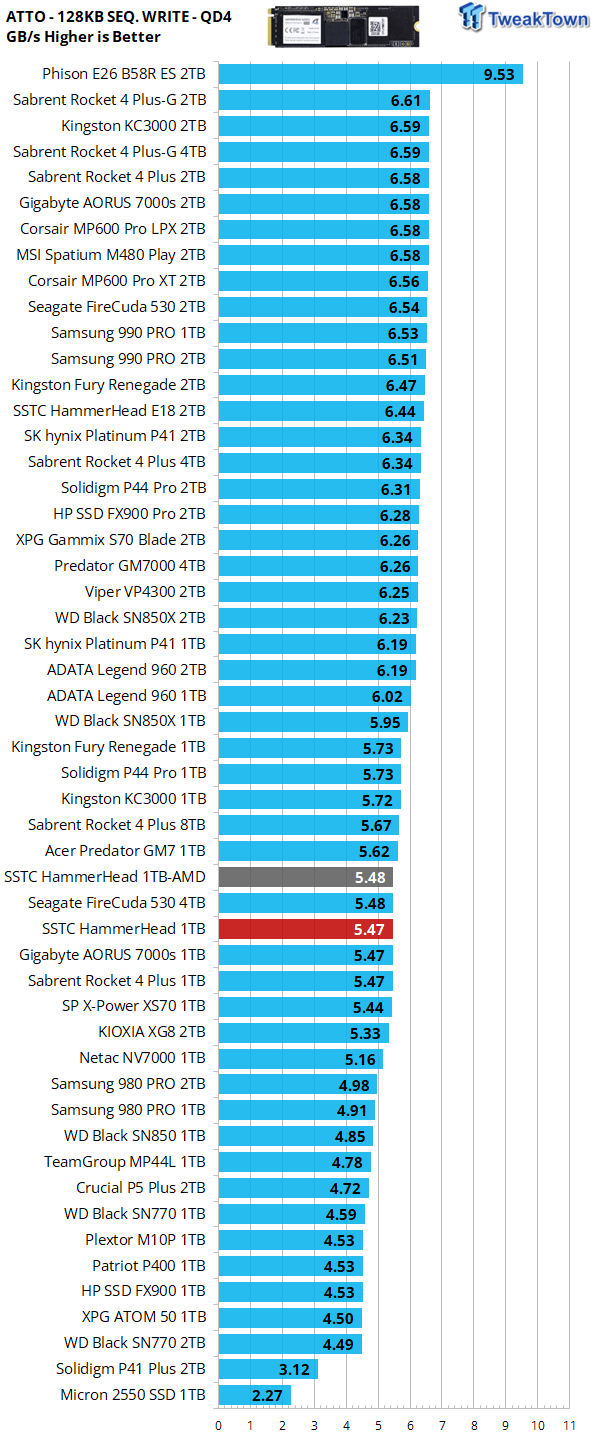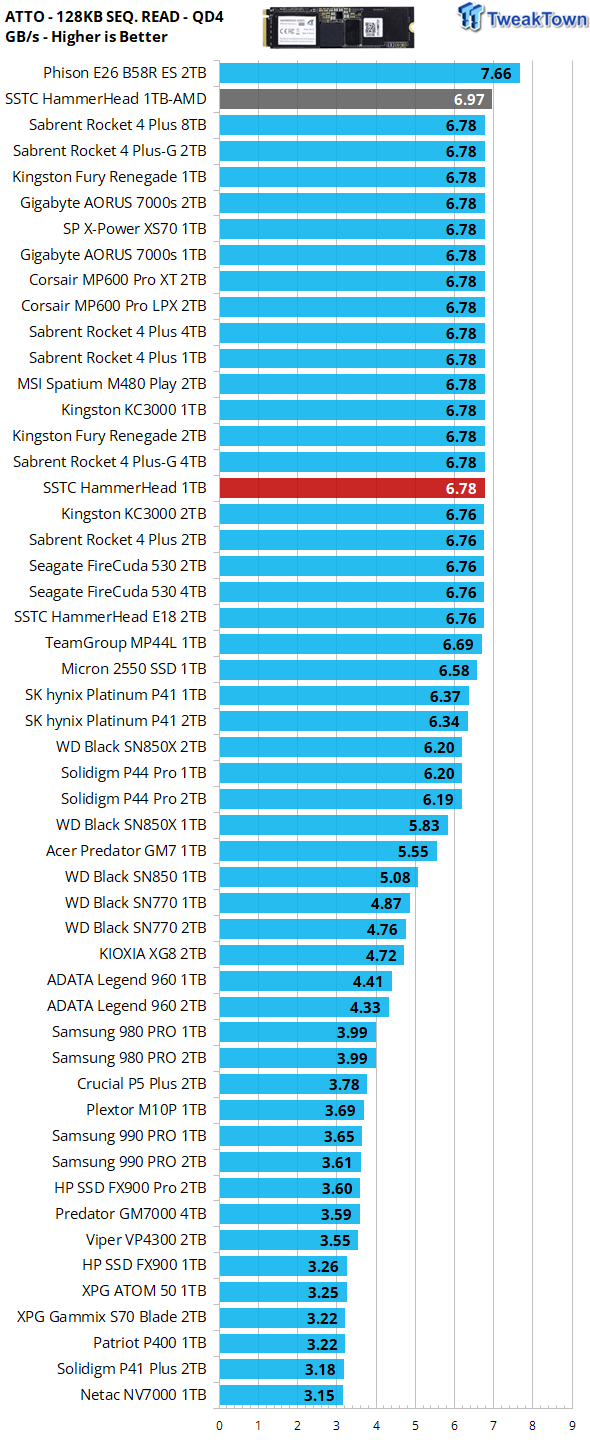 More than anything else, ATTO gives us a clear picture of what transfer sizes a particular SSD favors in terms of sequential throughput. The HammerHead E18 1TB favors sequential transfers of 128KB or larger when serving data to the host (reading) or when programming (writing) data. Hitting full stride at 128K is exactly what we want to see from any SSD. Excellent.
Real-World Testing: Transfers, 3DMark SSD Gaming Test, PCM10 Storage
Transfer Rates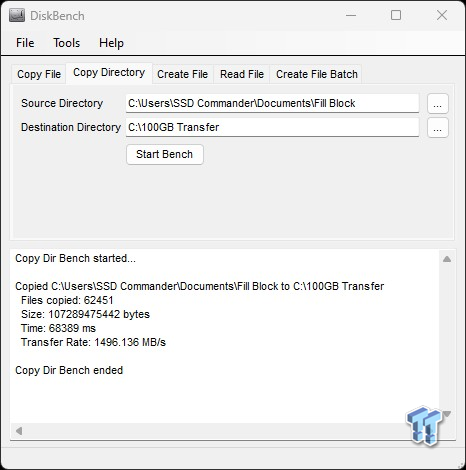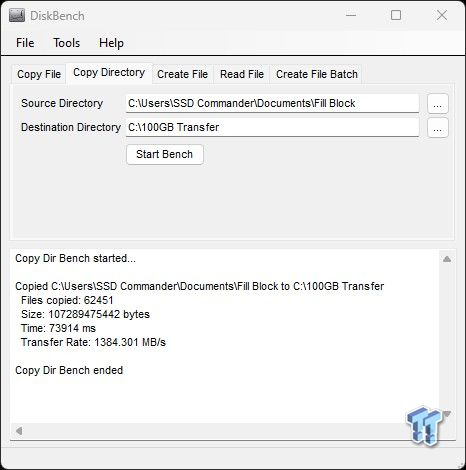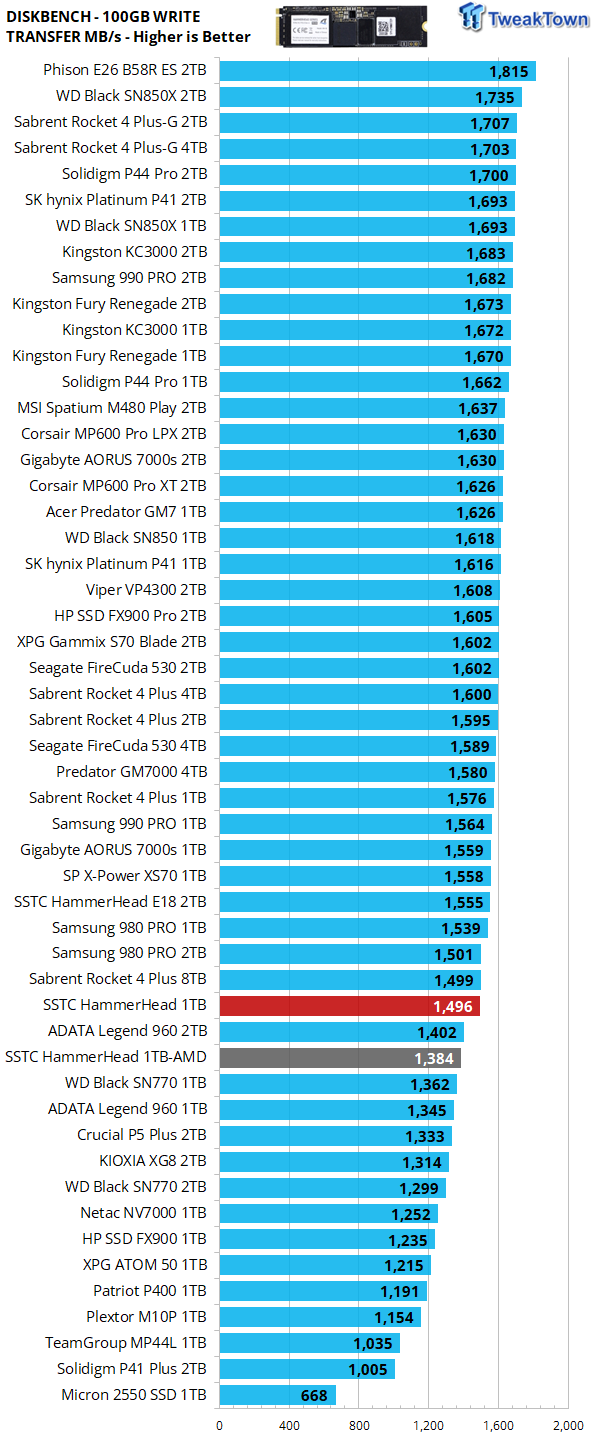 Our 100GB data transfer test is not your ordinary 100GB of data. Ours is a crushing mix composed of more than 62K files. Write performance random or sequential, is an infrequent operation, and as such, we do not consider it to be an important performance metric in the consumer space. An example being how many times is a game installed vs. how many times it's played. Here we see our test subject delivering a bit more than ADATA's powerful 960 Legend SSD.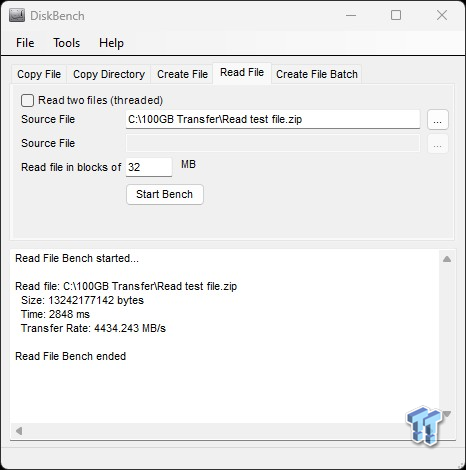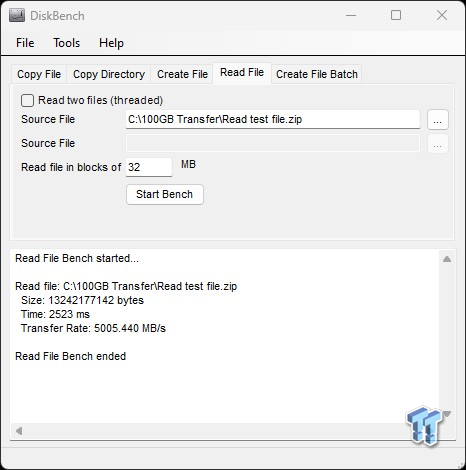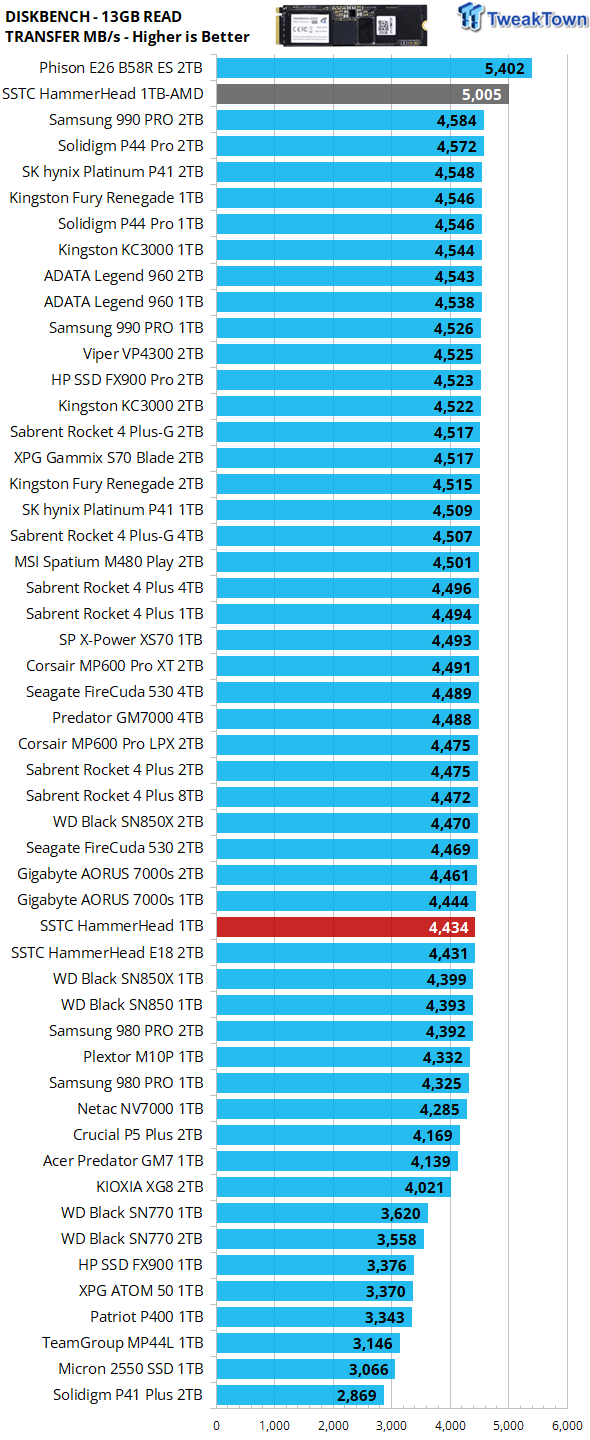 Our test subject is outperforming many of the premium class SSDs here and doing so for far less of your hard-earned dollars. Impressive.
3DMark SSD Gaming Test
UL's newest 3DMark SSD Gaming Test is the most comprehensive SSD gaming test ever devised. We consider it superior to testing against games themselves because, as a trace, it is much more consistent than variations that will occur between runs on the actual game itself. This test is in fact the same as running the actual game, just without the inconsistencies inherent to application testing.
In short, we believe that this is the world's best way to test an SSDs gaming prowess and accurately compare it against competing SSDs. The 3DMark SSD Gaming Test measures and scores the following:
Loading Battlefield V from launch to the main menu.

Loading Call of Duty Black Ops 4 from launch to the main menu.

Loading Overwatch from launch to the main menu.

Recording a 1080p gameplay video at 60 FPS with OBS (Open Broadcaster Software) while playing Overwatch.

Installing The Outer Worlds from the Epic Games Launcher.

Saving game progress in The Outer Worlds.

Copying the Steam folder for Counter-Strike Global Offensive from an external SSD to the system drive.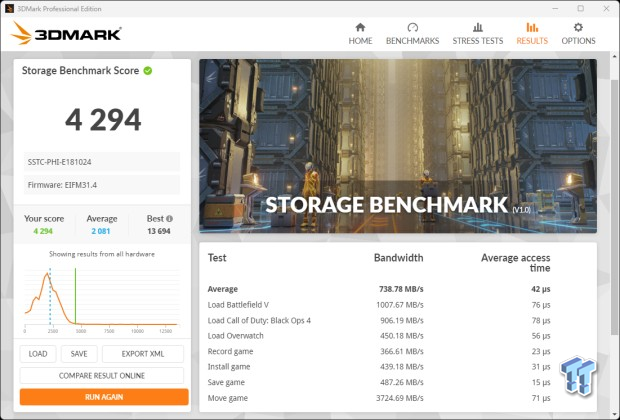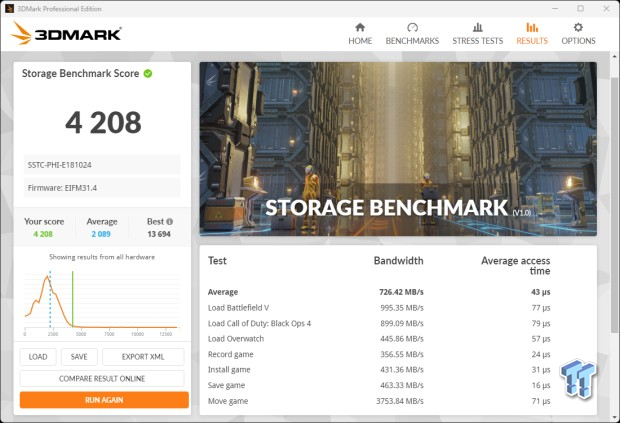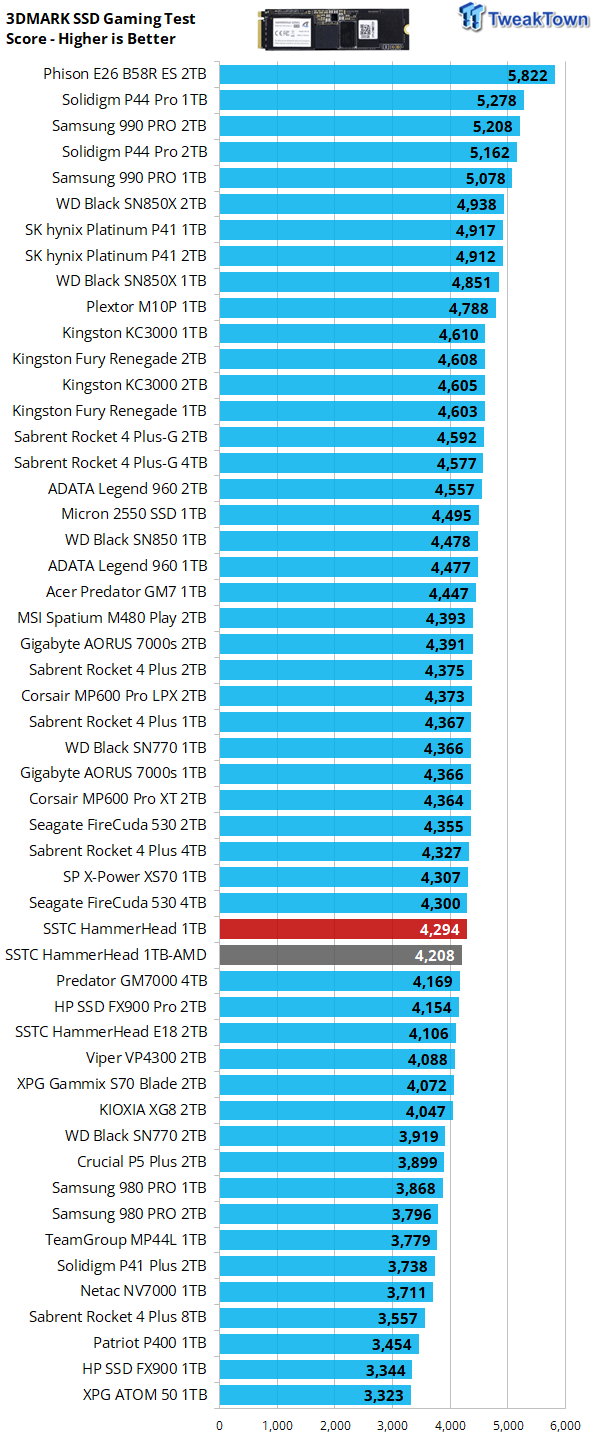 Gaming is a performance metric that matters to the majority of DIY consumers, especially to the enthusiast crowd that TweakTown caters to.
Here we find our bargain-priced enthusiast-grade test subject delivering exactly as expected for a 1TB SSD with its hardware configuration. As it relates to gaming storage duties, the HammerHead E18 1TB shows itself superior to the IG5236 controlled SSDs and Samsung's 980 Pro. Very nice.
PCM10 Storage Tests
PCMark 10 Storage Test is the most advanced and most accurate real-world consumer storage test ever made. There are four different tests you can choose from; we run two of them.
The Full System Drive Benchmark and the Quick System Drive Benchmark. The Full System Drive Benchmark writes 204 GB of data over the duration of the test. The Quick System Drive Benchmark writes 23 GB of data over the duration of the test. These tests directly correlate with mainstream user experience.
PCMark 10 Full System Drive Benchmark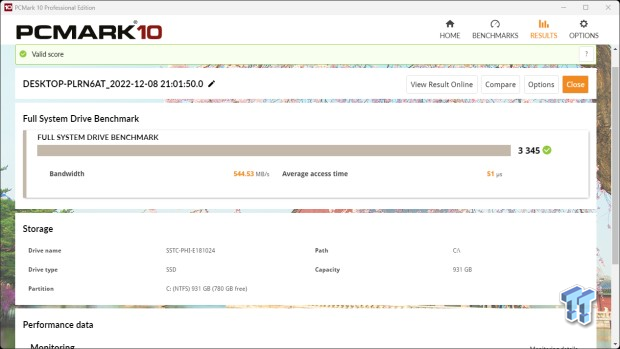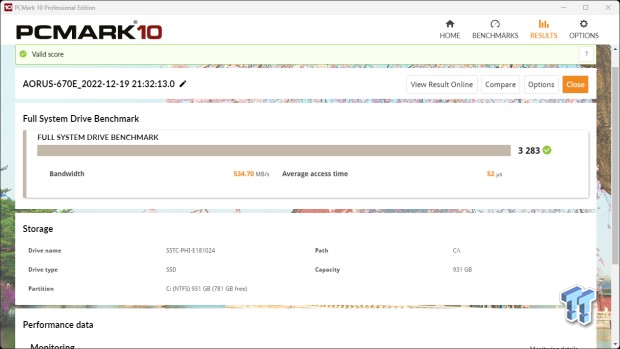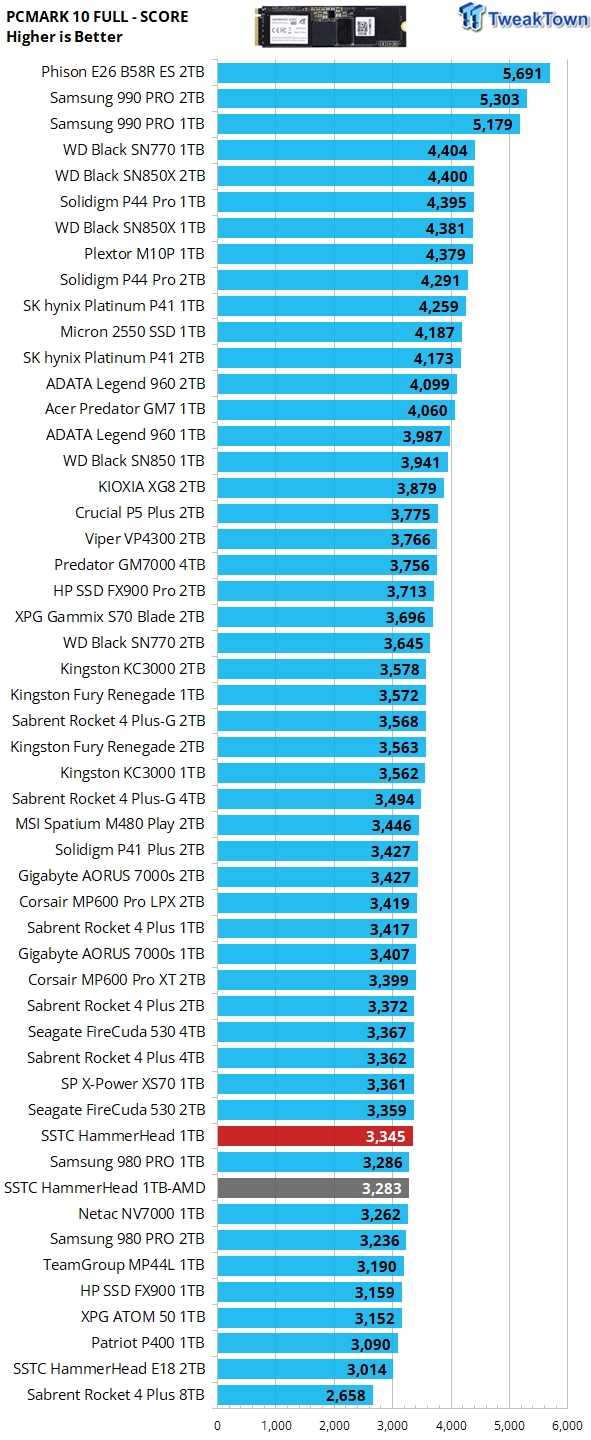 This particular test writes 204GB data and covers a broad range of common consumer tasks, including booting Windows 10, file transfers, Adobe and Office applications, and startup times for games, including Battlefield V, COD Black Ops 4, and Overwatch. Unlike synthetic numbers, this is comprehensive real-world data which is why we use it to rank SSDs in terms of user experience.
As expected for what it is, our test subject is delivering exactly as its similarly configured Phison E18 brethren arrayed with 1,200MT B47R Fortis grade flash.
PCMark 10 Quick System Drive Benchmark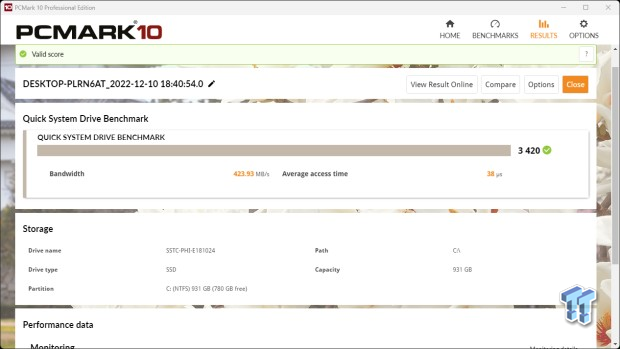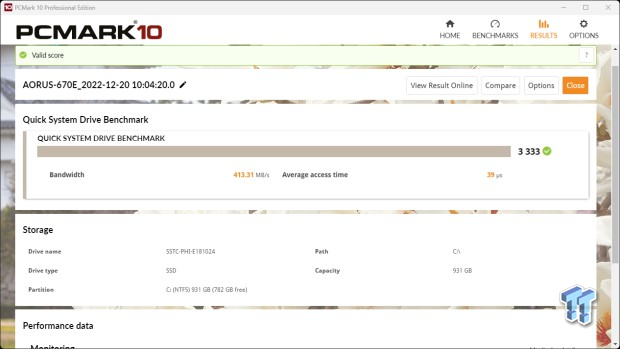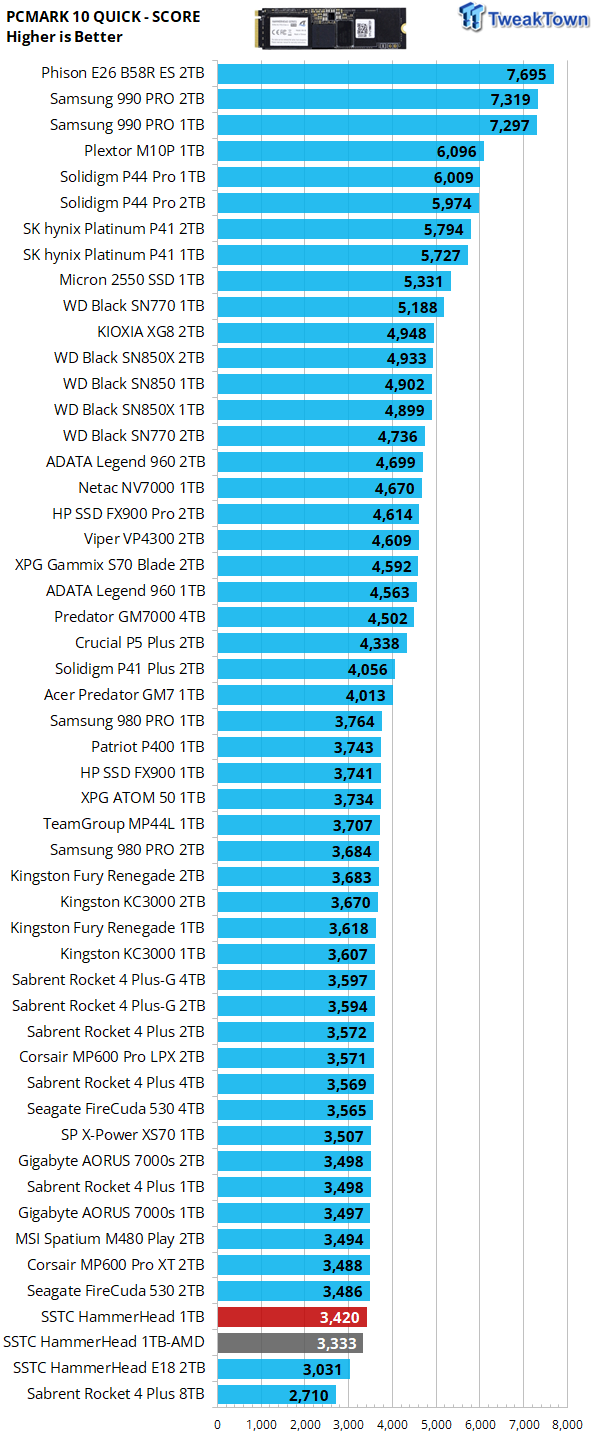 As it is with all E18-controlled SSDs, our test subject delivers underwhelmingly here.
Final Thoughts
Yet again, SSTC is offering up best-in-class pricing with its HammerHead E18 series. As far as we could find, the 1TB model we just put through its paces is at least 10% cheaper than any similarly configured competitor. All the performance for less of your hard-earned cash. This is a winning strategy for SSTC and consumers alike.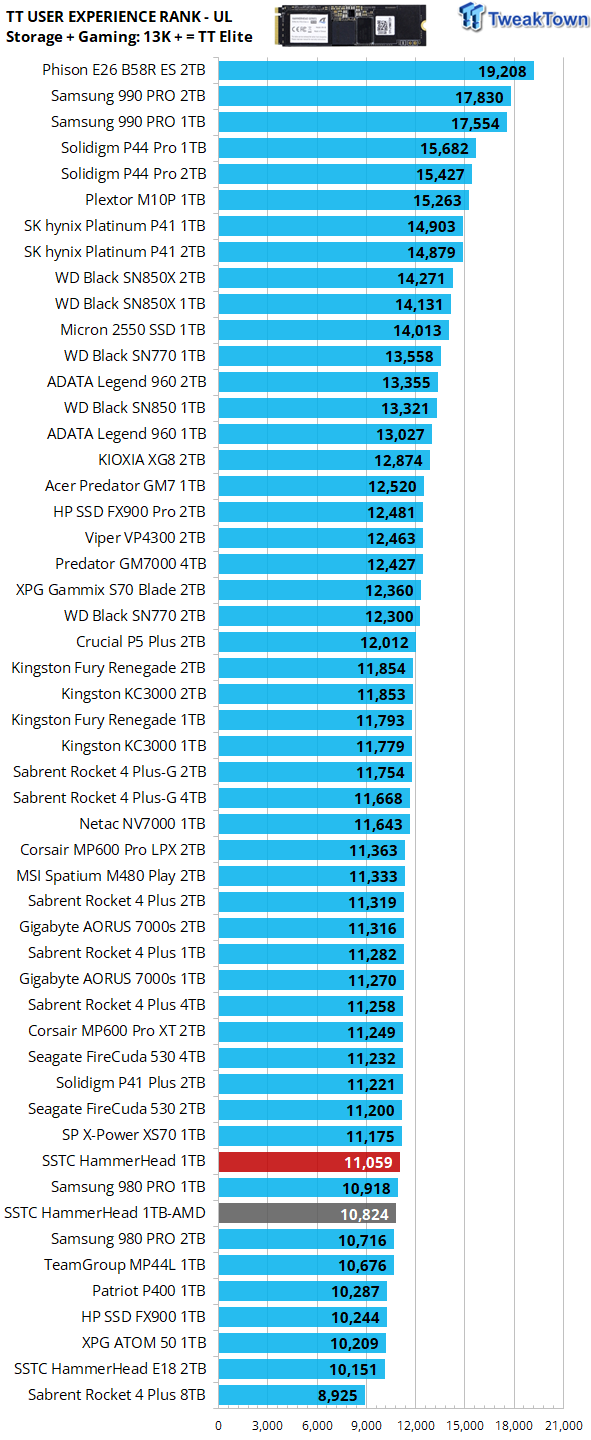 We rank SSDs in terms of overall user experience (performance where it matters most) as expressed by PCMark 10 storage and 3DMark gaming storage tests. We consider a user experience score of 13K or more to verify an SSD as a TweakTown Elite performer.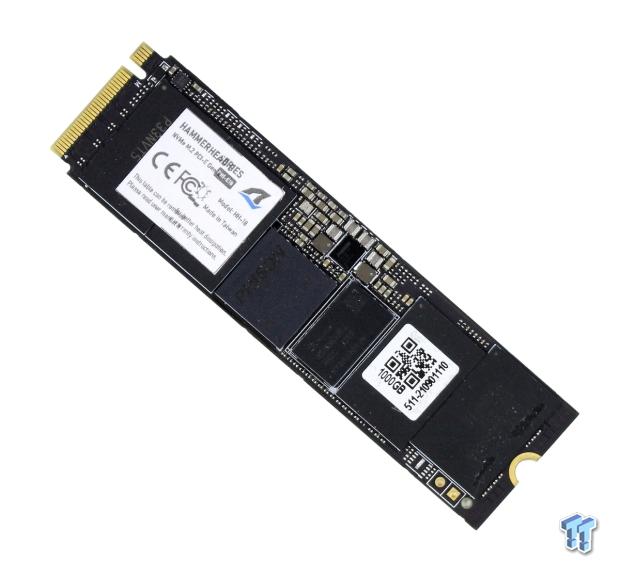 SSTC is a hardware retailer on the rise, and it's easy to see why with real value propositions like its HammerHead E18 SSDs have on offer. SSTC is surging even as many others are contracting due to the current global economic climate. Now that's saying something. Exceptional performance and best-in-class value have earned the HammerHead E18 1TB one of our highest awards.