Silicon Power X-Power XS70 1TB SSD Review - Most Affordable
With the lowest price we've seen yet for an E18 controlled SSD arrayed with B47R flash, Silicon Power's newest is very attractive.

Published Mon, Mar 21 2022 9:20 AM CDT
Introduction & Drive Details
Silicon Power is a long-time partner with Phison Electronics, so we've been waiting on an E18 based SSD from them for some time now. Well, that day has arrived. When Silicon Power approached us to do a review of their latest and greatest, we weren't exactly sure of the XS70's hardware composition. Looking at the speeds advertised on the 1TB model and its pricing, we suspected this might be an InnoGrit based SSD. A 1TB SSD with sequential write speeds of 6,800 MB/s? That doesn't sound like an E18 SSD, and the closest to hitting that sequential write speed at 1TB would be an IG5236 controlled SSD. Then when we noticed the price, we were all but certain the X-Power XS70 was an InnoGrit based SSD.
The first thing we do when we get an SSD with advertised read speeds of 5,500 MB/s or better is toss it into our PS5 for testing. Man, this thing is perfect because even though Silicon Power never even mentioned the XS70 as PS5 compatible, it is eminently so due to its perfectly sized integrated heat sink and advertised read throughput of up to 7,300 MB/s. The moment we saw a PS5 read speed of 6,500 MB/s we knew our assumption of an InnoGrit based SSD had to be incorrect unless this drive was outfitted with BiCS flash, which is highly unlikely. Price says InnoGrit, and performance says E18 with B47R.
Upon further investigation, we confirmed that our 1TB X-Power XS70 is indeed an E18 controlled SSD with a Micron B47R Fortis Grade flash array. This means two things, the advertised sequential write speed printed on the 1TB packaging applies to its 2 and 4TB models, and more importantly, Silicon Power is selling this premium hardware configuration for considerably less than anyone else. In fact, Silicon Power is selling its XS70 1 and 2TB SSDs for the same price as we see IG5236 SSDs with B47R flash going for on sale. Totally unexpected. What a nice surprise.
Now, back to what the actual "up to" sequential speeds for the 1TB model we are reviewing today actually are as tested on our AMD X570 SSD test bench.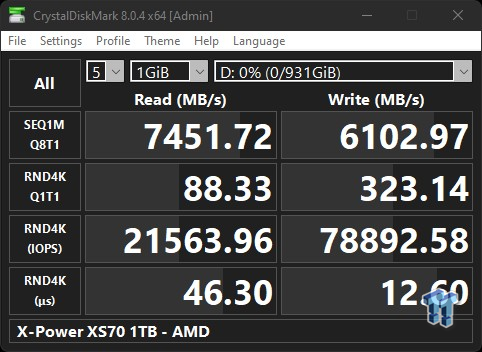 We ran this test on our AMD X570 system with a 5900X 12-core CPU. This hardware combo is capable of extracting every drop of sequential throughput from Phison E18 powered SSDs arrayed with B47R flash. Overall, AMD systems cannot match the real-world performance levels of current Intel systems but can provide better "up to" sequential numbers.
Drive Details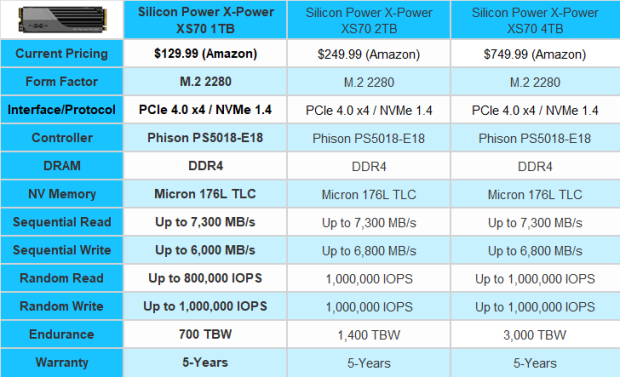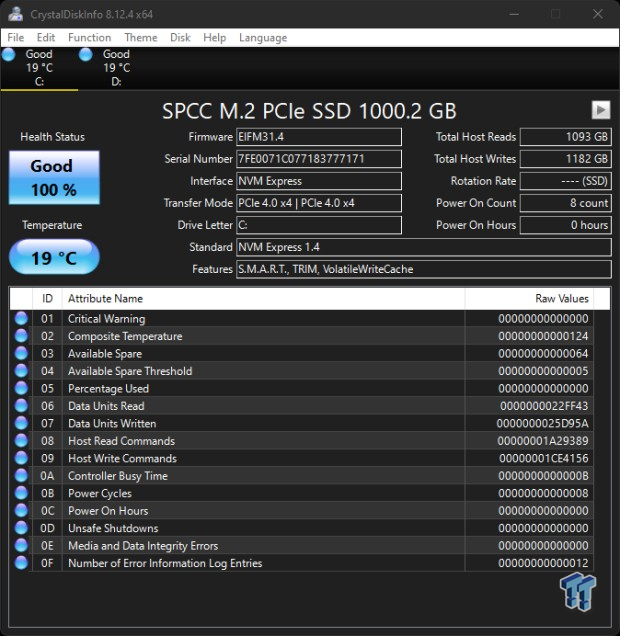 Silicon Power SSDs don't come with value-add software which helps them keep costs lower than the competition. We are fine with this simply because there is plenty of readily available freeware for cloning and monitoring SSD health. TBW is a bit lower than we've come to expect from B47R arrayed SSDs, but still plenty good for a consumer SSD.
Jon's Test System Specifications
Sony PlayStation 5 - M.2 Storage Expansion
PS5 Read Performance
With Sony's PlayStation 5 console now enabled for M.2 NVMe SSDs, they can be used as fast storage expansion, which is why we include results for PS5 compatible SSDs we test as a part of our reviews going forward. We are using the newest PS5 hardware and software versions.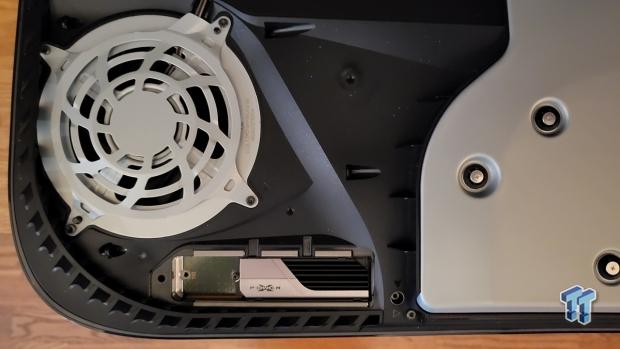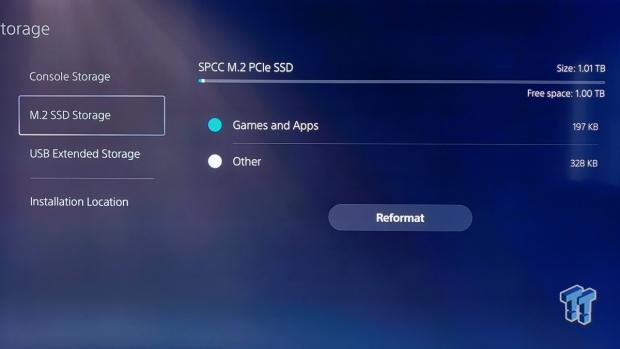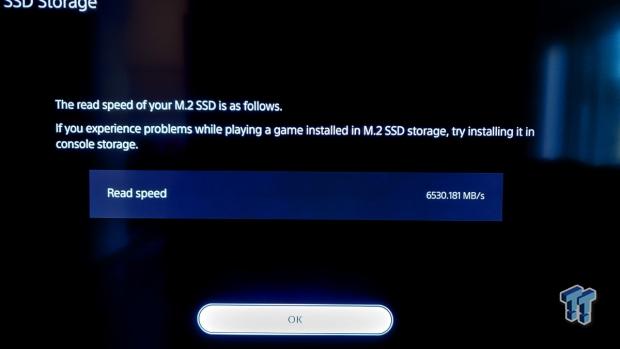 As the photos above demonstrate, the Silicon Power X-Power XS70 1TB with integrated heat sink fits perfectly into the PS5's M.2 storage expansion slot.
Our PS5 chart is exclusively populated by SSDs that can deliver a minimum of 5,500 MB/s read, which is Sony's original recommendation. We note that with the latest PS5 software update, even SSDs that only do 4,200 MB/s no longer trigger a low-performance warning; nevertheless, we are sticking by Sony's original recommendation of 5,500 MB/s minimum read requirement.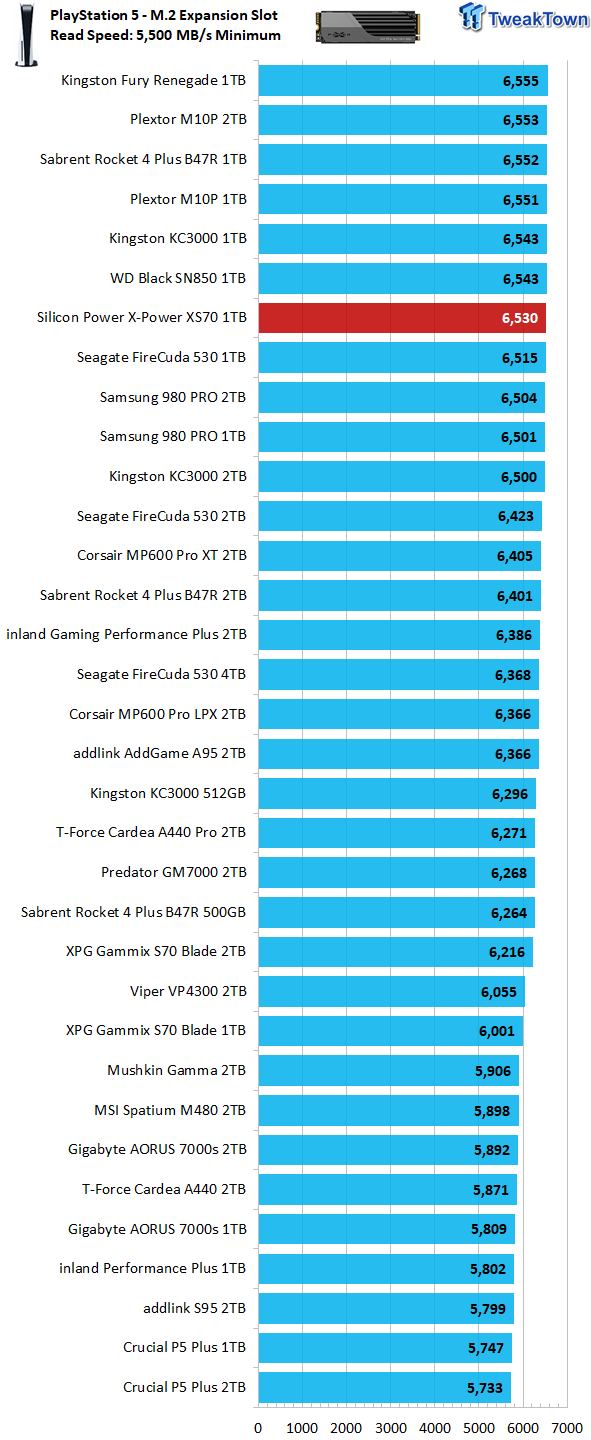 6,500 MB/s read performance on the PS5 is what we've come to expect from a Phison E18 controlled 1TB SSD arrayed with B47R 1200 MT Fortis grade flash. This is essentially as good as it gets for any current Gen4 SSD. Excellent. Keep in mind the only difference between this SSD and similarly configured competitor SSDs is the price.
Synthetic Benchmarks: CDM, Anvil, ATTO
CrystalDiskMark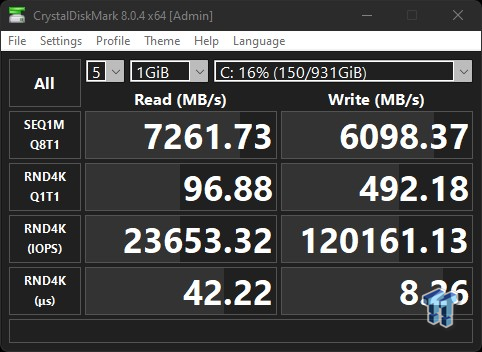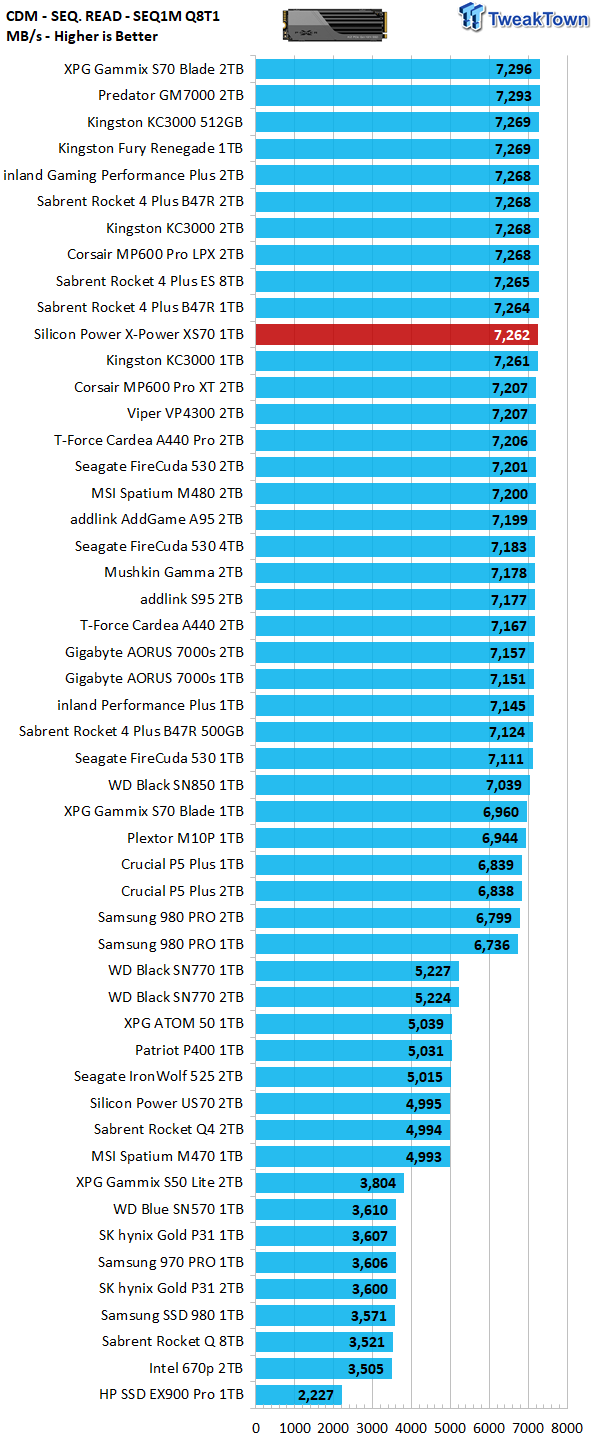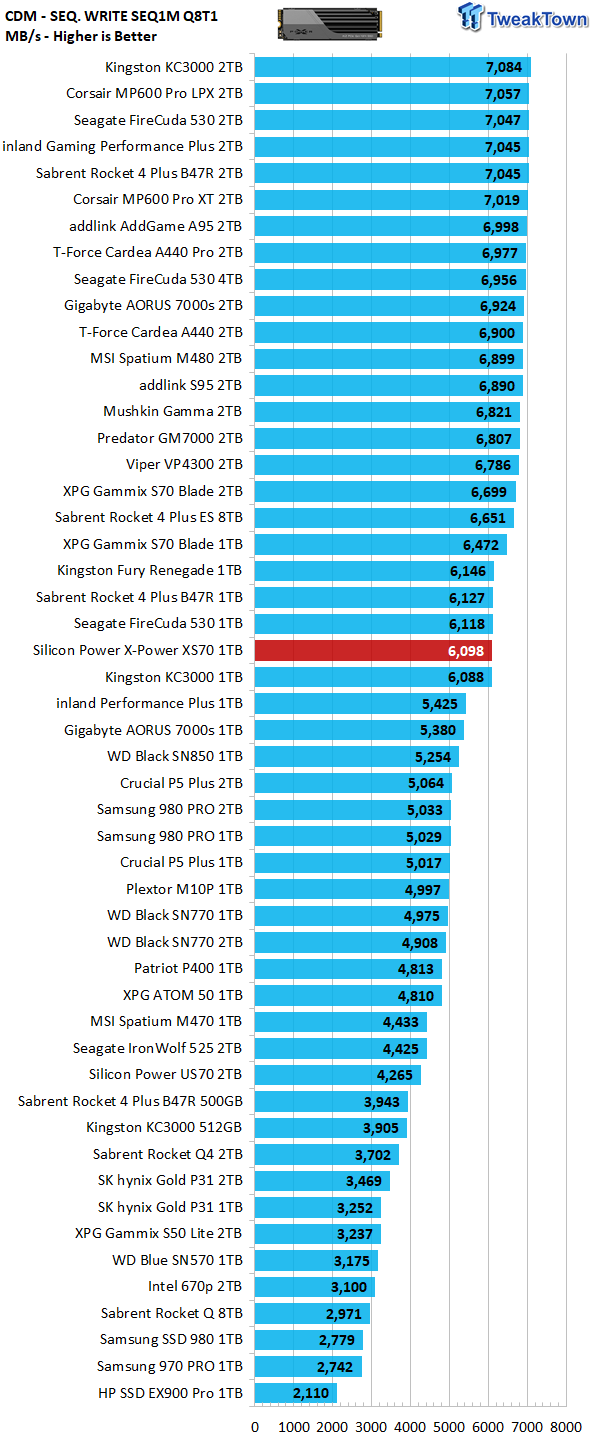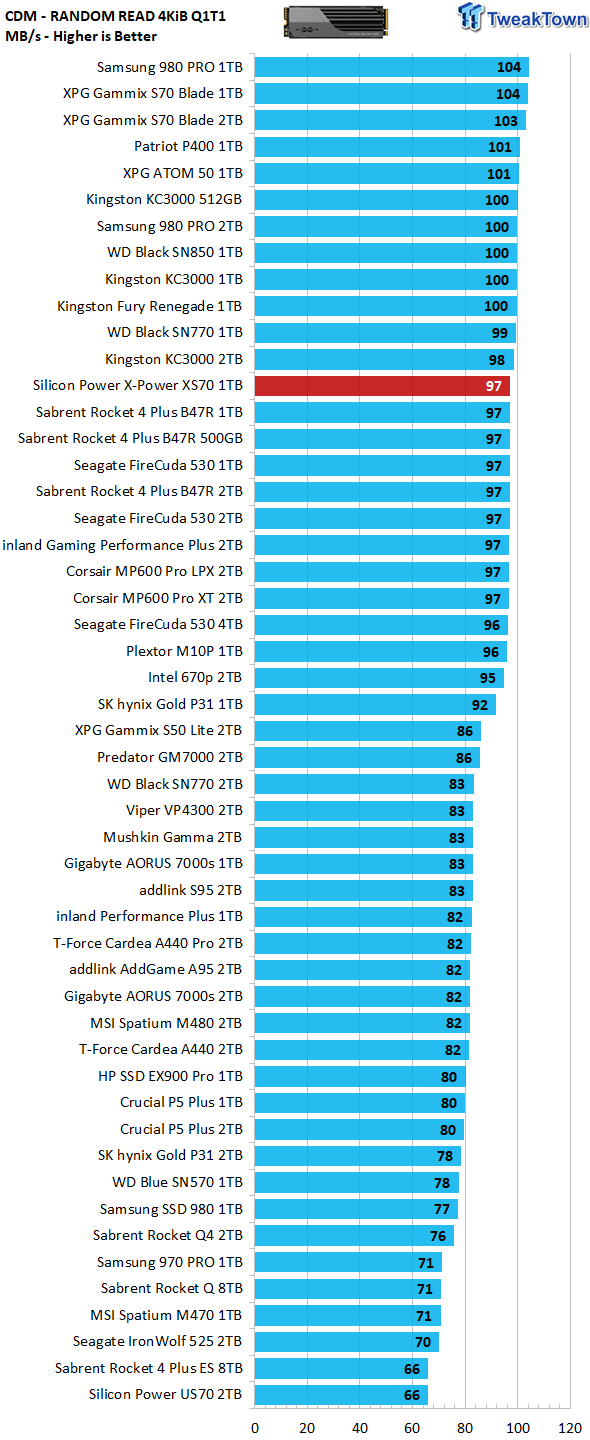 CDM results look excellent. The bargain-priced XS70 1TB demonstrates that it offers every bit the throughput of more expensive similarly configured competitor SSDs. Outstanding.
Anvil's Storage Utilities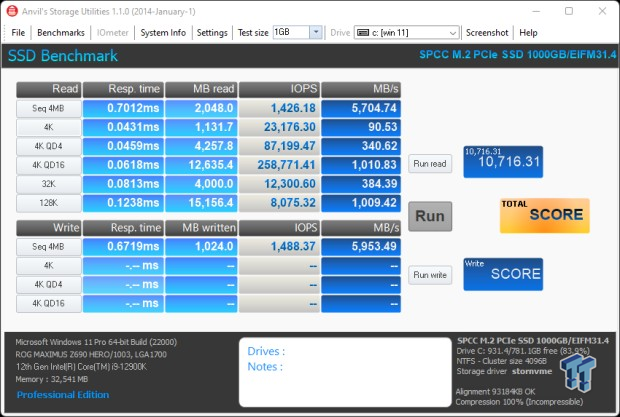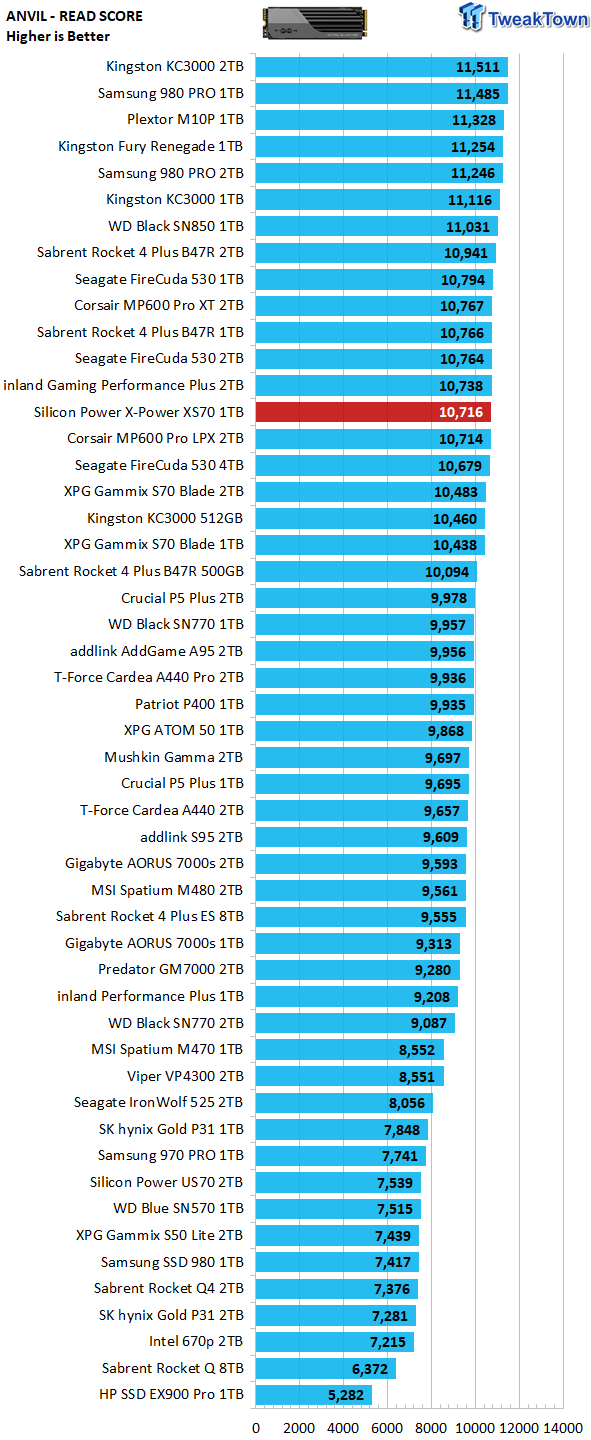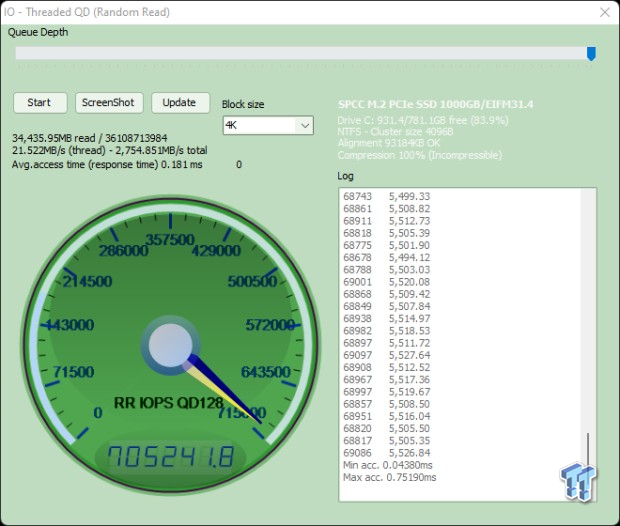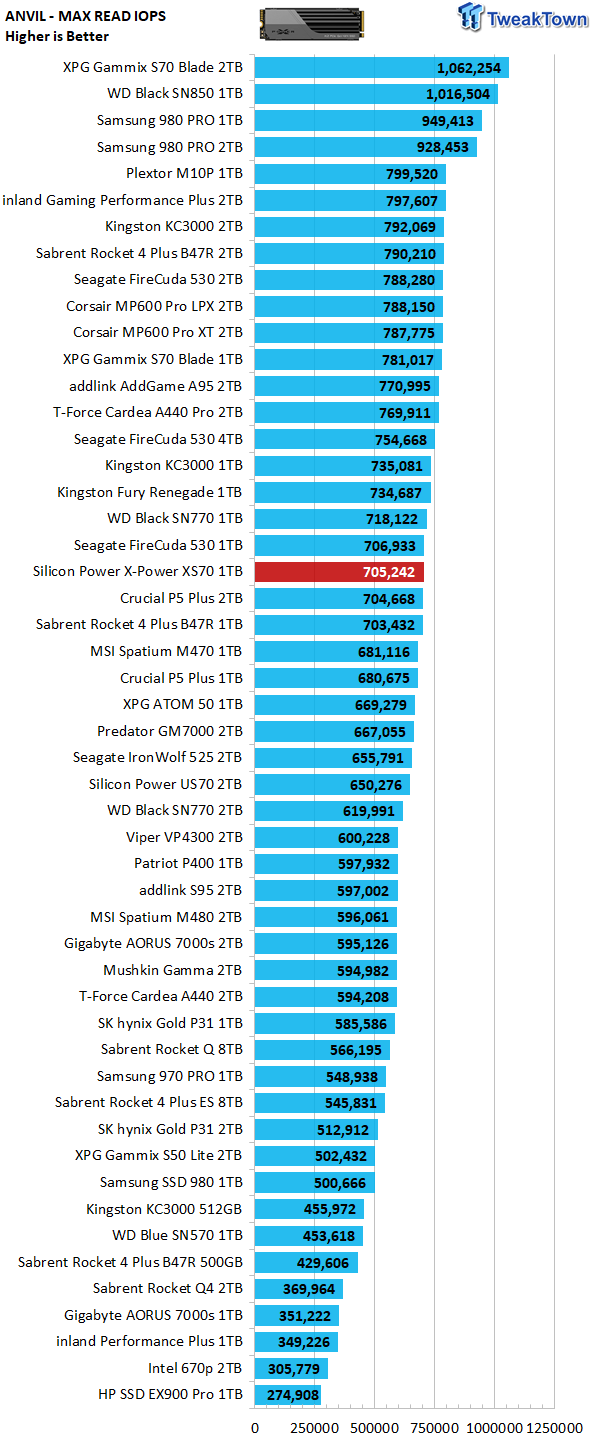 The X-Power XS70 1TB delivers the 10K or better score we are looking for. As to its max random read performance, the drive is giving as good as any similarly configured 1TB Phison based SSD.
ATTO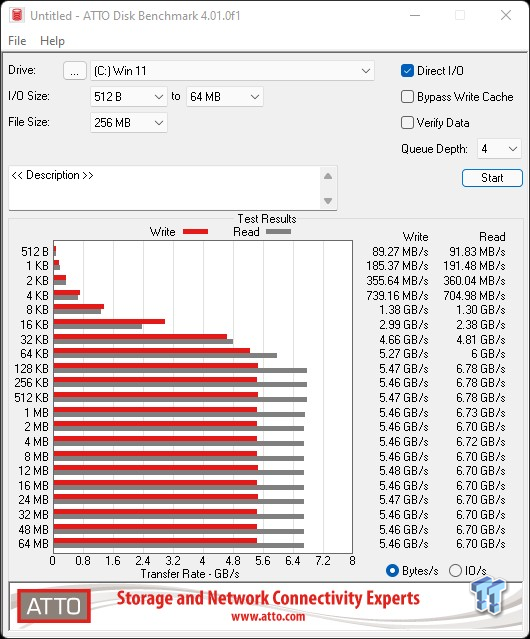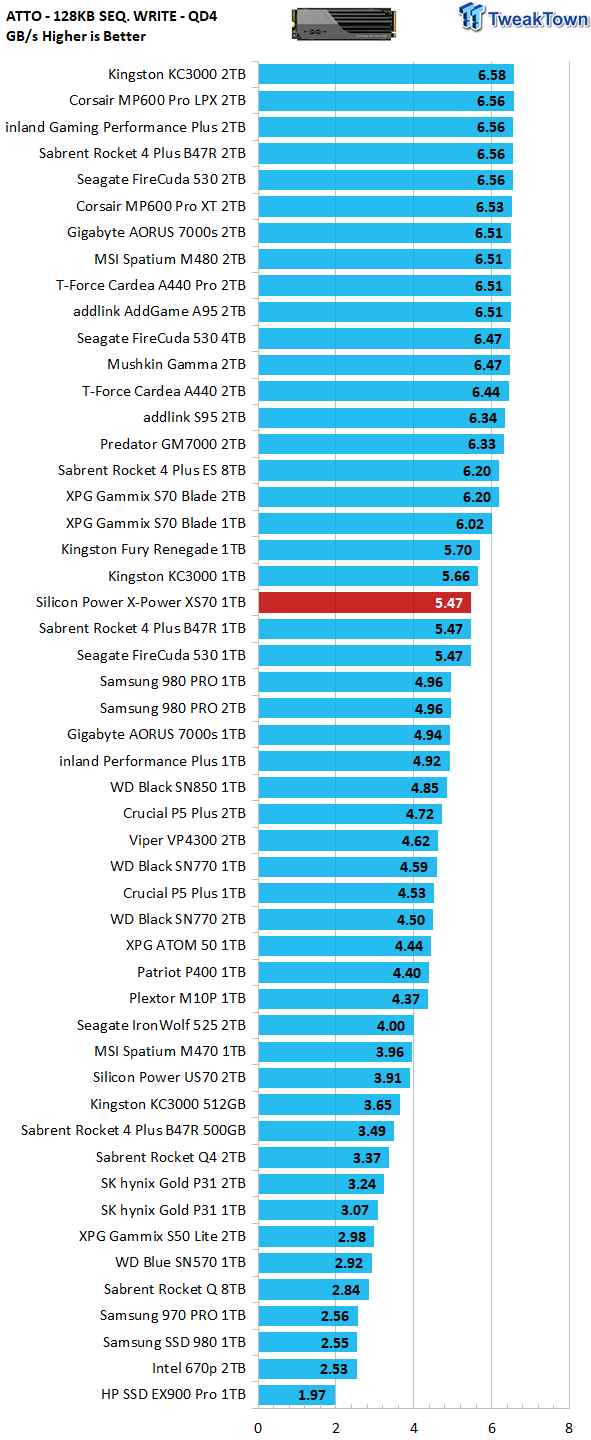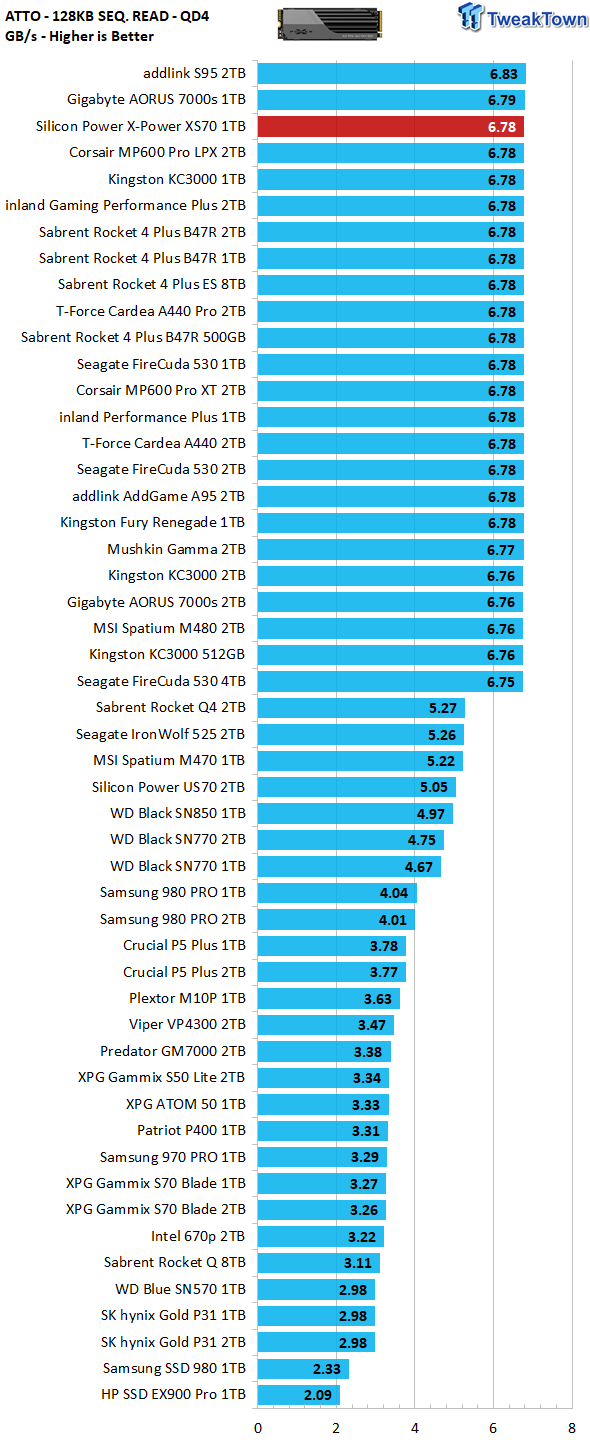 128K sequential performance is exactly as expected for an E18 based SSD arrayed with 1,200 MT Micron B47R Fortis grade flash. Everything in terms of synthetic performance is on par with similarly configured competitors. Now let's see if that holds true for real-world usage.
Real-World Testing: Transfers, 3DMark SSD Gaming Test, PCM10 Storage
DiskBench - Transfer Rates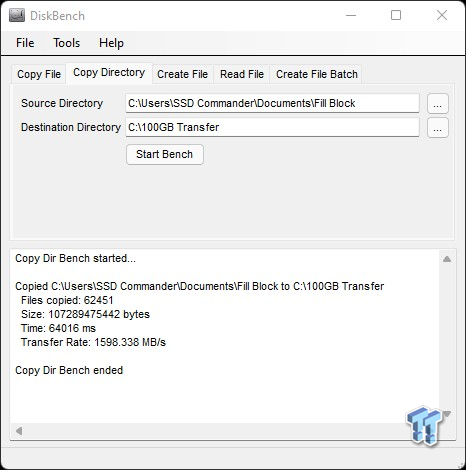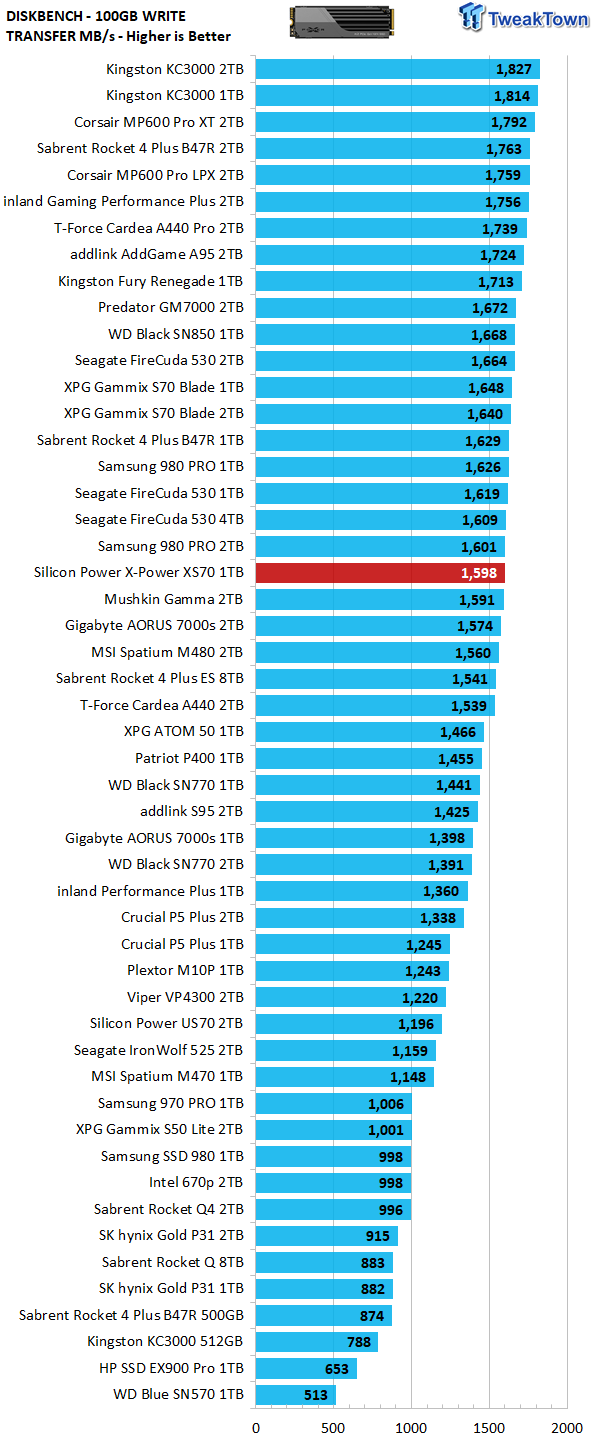 Our write transfer is not your ordinary 100GB of data; ours is a crushing mix of data composed of more than 62K files. Our XS70 lands within the margin of difference between runs as compared with similarly configured SSDs like the 1TB Rocket 4 Plus and Seagate FireCuda 530.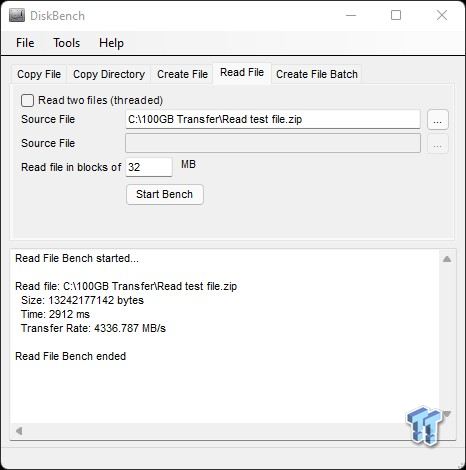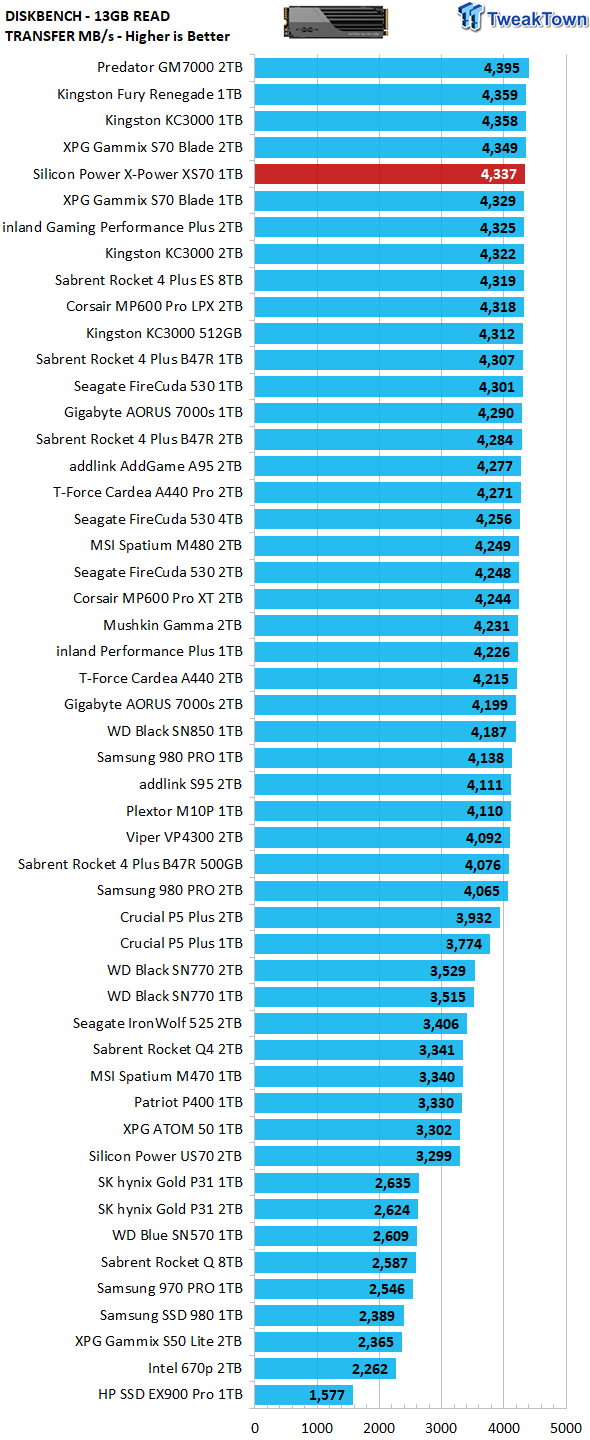 Impressive. This is performance where it matters. The X-Power XS70 1TB delivers the best performance we've extracted from a 1TB flash-based SSD arrayed with 1,200 MT B47R flash.
3DMark SSD Gaming Test
UL's newest 3DMark SSD Gaming Test is the most comprehensive SSD gaming test ever devised. We consider it superior to testing against games themselves because, as a trace, it is much more consistent than variations that will occur between runs on the actual game itself. This test is in fact the same as running the actual game, just without the inconsistencies inherent to application testing.
In short, we believe that this is the world's best way to test an SSDs gaming prowess and accurately compare it against competing SSDs. The 3DMark SSD Gaming Test measures and scores the following:
Loading Battlefield V from launch to the main menu.

Loading Call of Duty Black Ops 4 from launch to the main menu.

Loading Overwatch from launch to the main menu.

Recording a 1080p gameplay video at 60 FPS with OBS (Open Broadcaster Software) while playing Overwatch.

Installing The Outer Worlds from the Epic Games Launcher.

Saving game progress in The Outer Worlds.

Copying the Steam folder for Counter-Strike Global Offensive from an external SSD to the system drive.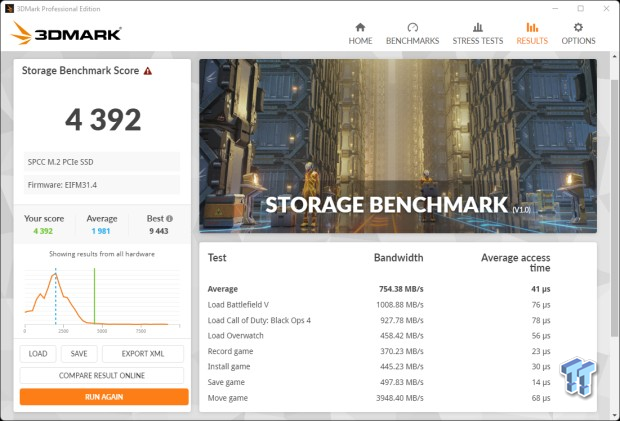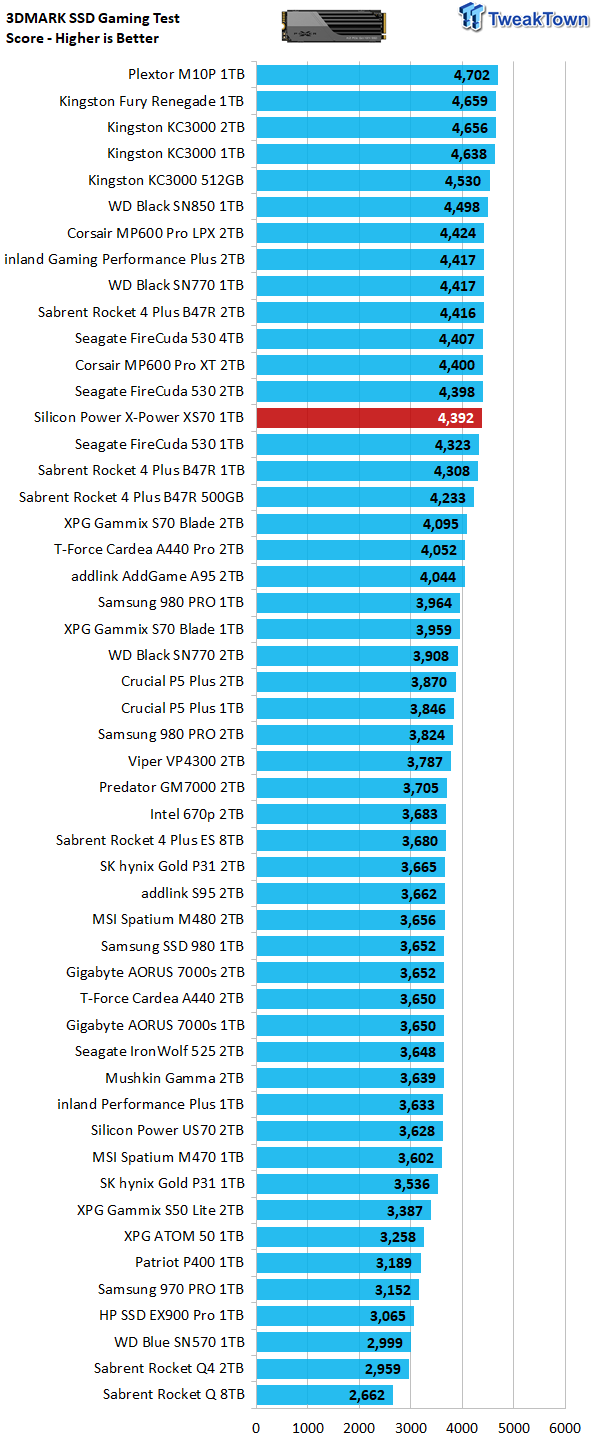 Gaming is a performance metric that matters to the majority of DIY consumers, especially to the enthusiast crowd that TweakTown caters to. Monster performance here. More performance where it matters most. Yet again, the X-Power XS70 records the highest score we've extracted from any 1TB E18 SSD arrayed with 1,200 MT Fortis grade flash and does so for less cash out of pocket.
PCM10 Storage Tests
PCMark 10 Storage Test is the most advanced and most accurate real-world consumer storage test ever made. There are four different tests you can choose from; we run two of them.
The Full System Drive Benchmark and the Quick System Drive Benchmark. The Full System Drive Benchmark writes 204 GB of data over the duration of the test. The Quick System Drive Benchmark writes 23 GB of data over the duration of the test. These tests directly correlate with mainstream user experience.
PCMark 10 Full System Drive Benchmark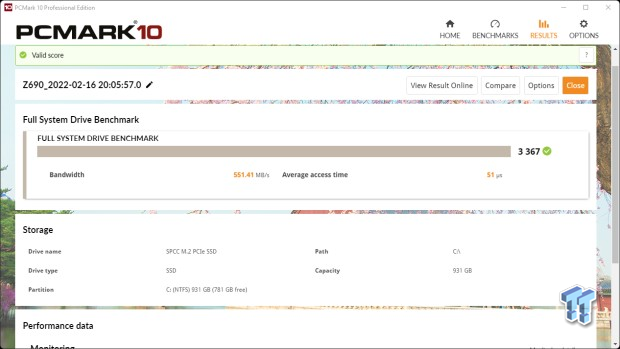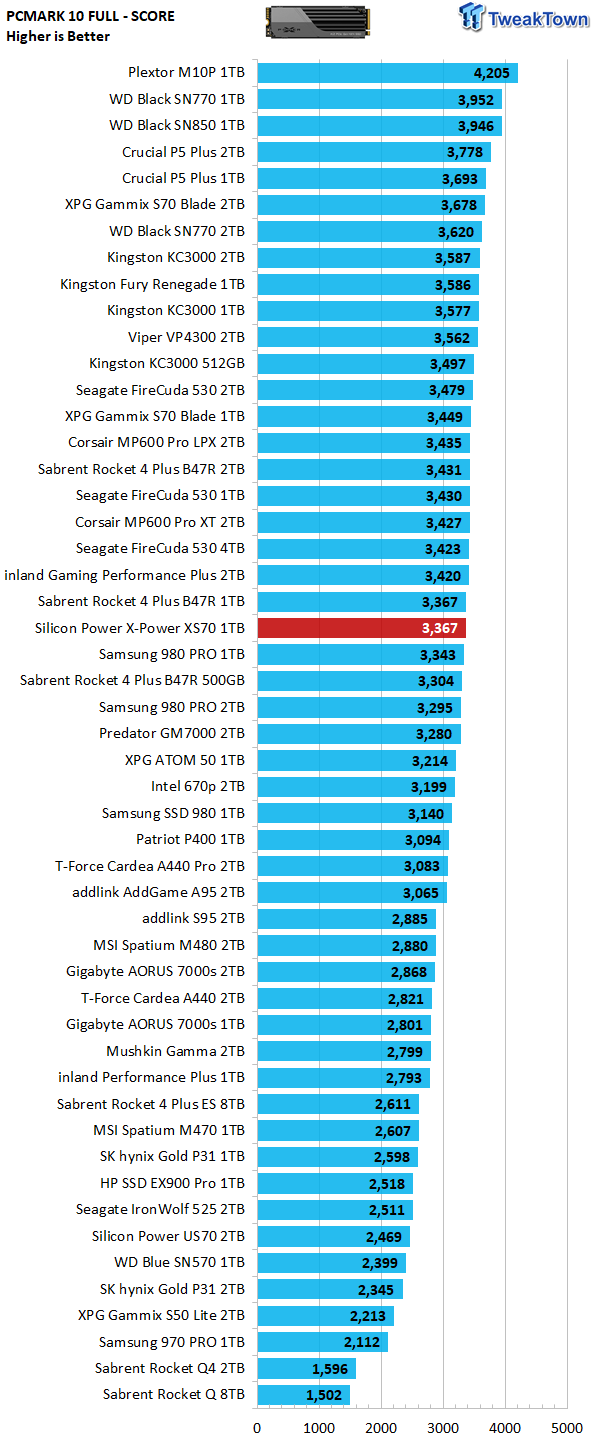 This particular test writes 204GB data and covers a broad range of common consumer tasks, including booting Windows 10, file transfers, Adobe and Office applications, and startup times for games including Battlefield V, COD Black Ops 4, and Overwatch. Unlike synthetic numbers, this is comprehensive real-world data which is why we use it to rank SSDs in terms of user experience.
We are looking for a minimum 500MB/s storage bandwidth along with 3000 points here. We get that and then some with the X-Power XS70 1TB cranking out 3,367 points at 551 MB/s storage bandwidth.
PCMark 10 Quick System Drive Benchmark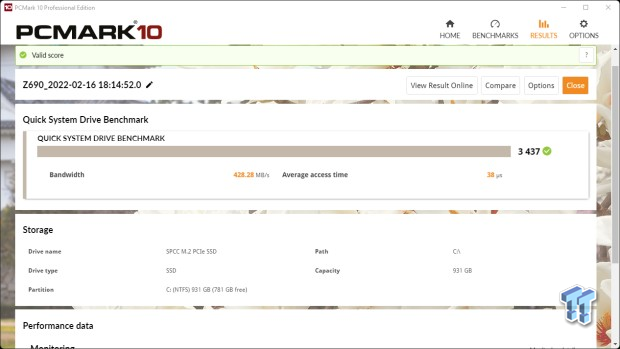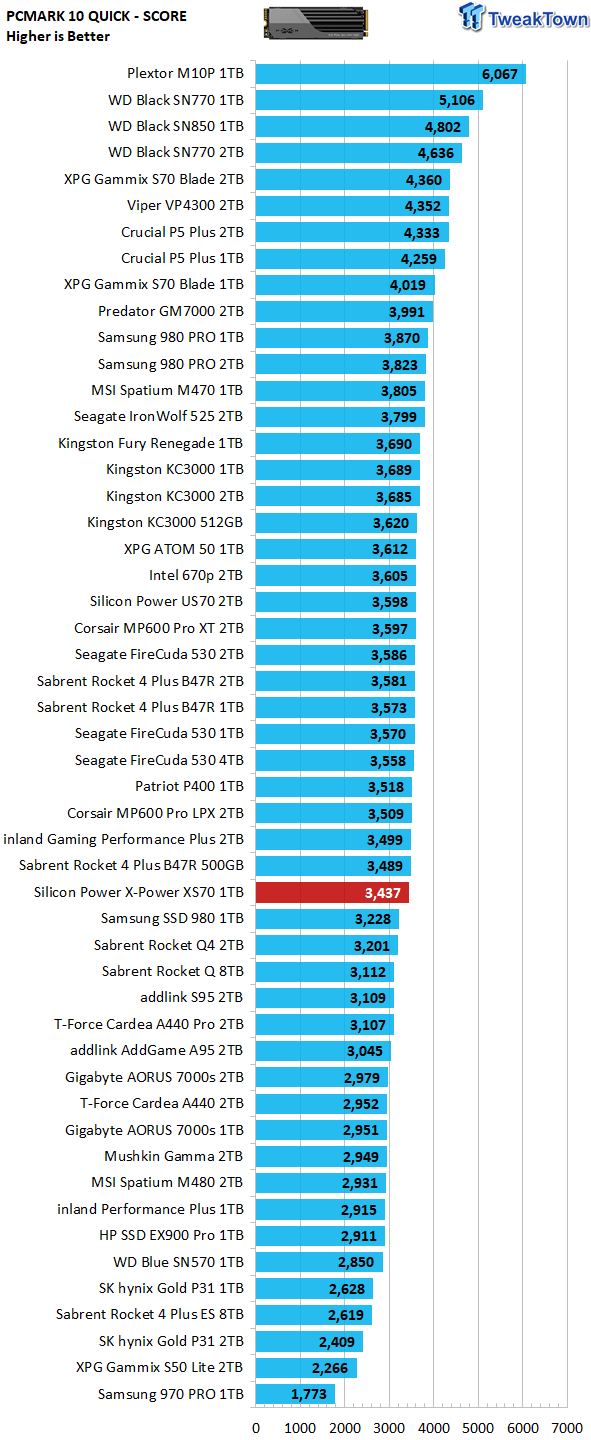 E18 controlled SSDs, with the exception of those arrayed with 1,600 MT flash, severely underperform when tested against PCMark 10 Quick System Drive test. As expected, the X-Power XS70 1TB underwhelms here as well.
Final Thoughts
Silicon Power has built a well-deserved reputation for value-priced SSDs that perform every bit as good as direct competitor SSD offerings with similar hardware configurations. In the case of its latest offering, the X-Power XS70, Silicon Power has done it yet again. The XS70 Series is priced so well at 1 and 2TB, we were initially expecting lesser hardware, but to our surprise, we got the good stuff. After looking around, we are certain the XS70 currently offers the best value for what it is, bar none.
Additionally, with its highly effective heat sink sized just right, the XS70 can pull double duty as a fully compatible PS5 storage expansion SSD and do so for less cash out of pocket than any similarly configured SSD, even those without heat sinks.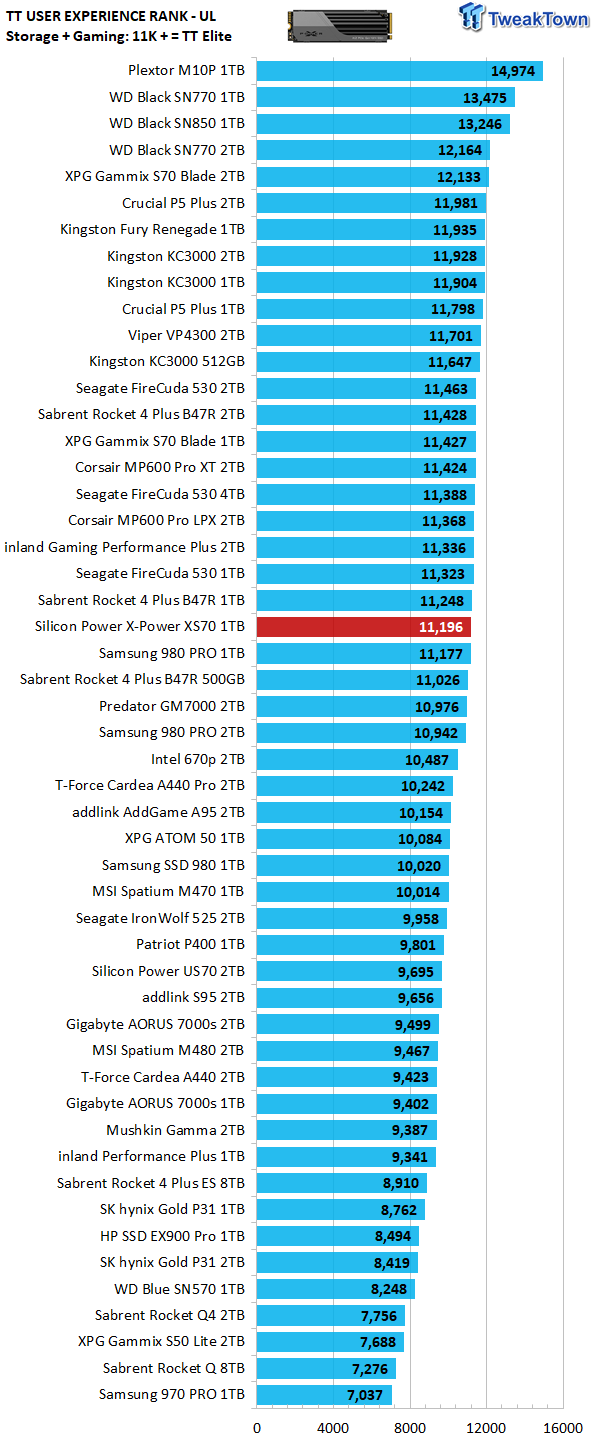 We rank SSDs in terms of overall user experience (performance where it matters most) as expressed by PCMark 10 storage and 3DMark gaming storage tests. We consider a user experience score of 11K or more to verify an SSD as a TweakTown Elite performer. Bargain priced, and TT elite. Got to love that.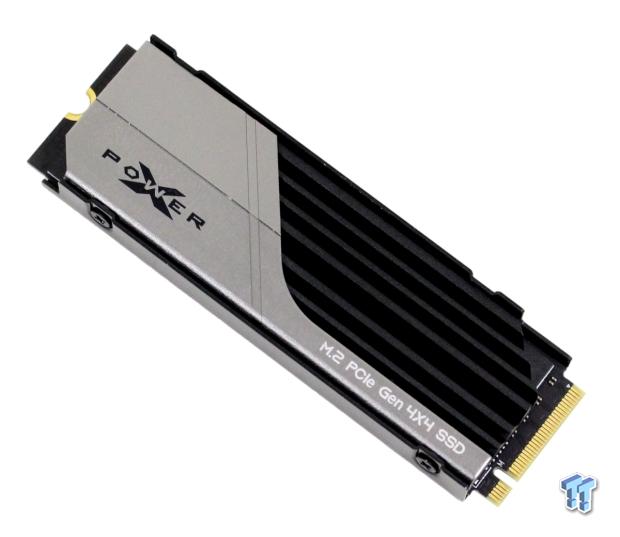 PC or PS5, Silicon Power's X-Power XS70 1TB NVMe SSD will deliver gaming performance as good as it gets for a flash-based SSD. TweakTown Elite performance, heat sink perfectly designed to maximize PS5 performance and the lowest price to date for what it is, have earned it our highest award.
Pros
Gaming

PS5 Heatsink

Pricing
Cons
| | |
| --- | --- |
| Performance | 97% |
| Quality | 100% |
| Features | 90% |
| Value | 100% |
| Overall | 97% |
The Bottom Line
Currently the best value going for an ultra-fast B47R arrayed SSD.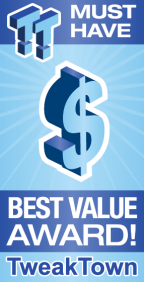 We openly invite the companies who provide us with review samples / who are mentioned or discussed to express their opinion. If any company representative wishes to respond, we will publish the response here. Please contact us if you wish to respond.