ASUSTOR Inc., a leading innovator and provider of network storage solutions, has announced the launch of the brand-new AS1002T and AS1004T models, the first generation of ASUSTOR NAS products to make use of the ARM architecture. These 10 series models are powered by Marvell 1.00 GHz dual-core processors, 512 MB of memory and hardware encryption engines, providing read and write performance of 95 MB/s and 110 MB/s.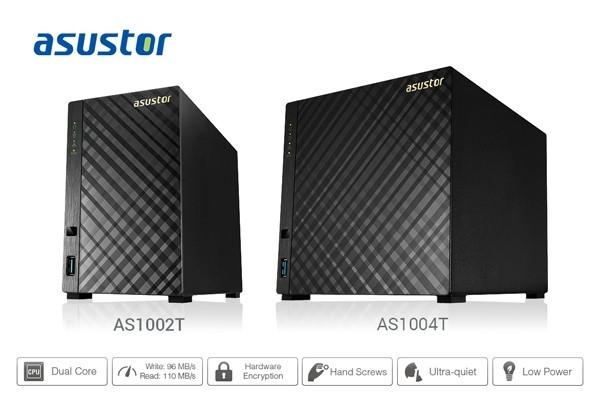 The exterior features a compact and stylish design, featuring an eye-catching diamond plate finish that allows the NAS to add a touch of modern flair to any space. The 10 series devices also feature low power consumption and ultra-quiet operation, producing only 19 decibels of noise during system standby, comparable to the almost inaudible sound of a pin drop. This allows it to seamlessly fit into any living space without disrupting the quality of life, making it the optimal personal cloud storage platform for the modern digital age.
NAS systems have always had a false reputation for being a costly digital storage option. ASUSTOR's 10 series launches at an extremely affordable price point, lowering the barriers for consumers that want to create their own cloud storage, allowing them to enjoy the benefits of a cost-effective, secure and high performance NAS system. "ASUSTOR's 10 series was designed with both hardware performance and modern aesthetics in mind, "said Johnny Chen, Product Manager at ASUSTOR. "The devices also feature the convenient use of hand screws, which allows users to easily remove the outer cover and complete hard disk installation without the use of any extra tools."
ASUSTOR's 10 series devices feature a built-in CPU floating-point unit that is able to quickly process large amounts of photo thumbnails, a rich variety of multimedia applications, ultra-quiet operation, low power consumption, and ASUSTOR's exclusive smart fan temperature control mechanism that allows for 24/7 availability. Furthermore, all devices come with ASUSTOR's ADM (ASUSTOR Data Master) 2.5 firmware, providing users with the latest enhanced core functions such as internal backup, shared folder based network recycle bins and iSCSI LUN snapshots. Additionally, users can access ASUSTOR's App Central to download new Apps such as ASUSTORServer and DataSync for Microsoft OneDrive along with newly upgraded versions of existing Apps such as Photo Gallery and LooksGood. Moreover, ASUSTOR also provides dedicated mobile apps for tasks such as system management, file management, backup, downloading, media sharing, home surveillance and more, allowing users to have effortless and continuous access to their NAS while on the go.
Key Features for the AS1002T and AS1004T
Marvell 1.00 GHz Dual-Core ARM Processor

Pre-installed 512 MB Memory

1 x Gigabit Ethernet Port

Front of Device: 1 x SuperSpeed USB 3.0 (5 Gb/s) Port, LED Indicators

Back of Device: 1 x SuperSpeed USB 3.0 (5 Gb/s) Port, Power Button, Reset Button

Hand Screws, Easily Remove Cover and Install Hard Disks Without Additional Tools

Supports Hardware Encryption Engine

Supports RAID Volume Management RAID 0/1, Single, JBOD (AS1002T)

Supports RAID Volume Management RAID 0/1 /5 /6 /10, Single, JBOD (AS1004T)

Maximum Supported Capacity of Hard Disks: 12 TB (AS1002T)/ 24 TB (AS1004T).

Supports Seamless System Migration
For more information, visit the product pages of the AS1002T and AS1004T.
Last updated: Apr 7, 2020 at 12:10 pm CDT