Samsung Rolls Out Strong Line-up of V-NAND SSDs Primarily Geared to Enterprise and Data Center Customers
Aug 12, 2015 10:58 PM CDT
Samsung Electronics Co., Ltd., the world leader in advanced memory technology, today announced that it is adding three TCO-optimized, high-performance SSDs, based on 3-dimensional (3D) Vertical NAND (V-NAND) technology, to its industry-leading portfolio of advanced enterprise and data center SSDs. The drives are available now.
"We are providing high-end capabilities and capacities for all of our latest SSDs, something we believe will elicit a high degree of interest from OEMs and computer enthusiasts throughout the world," said Jim Elliott, corporate vice president, Samsung Semiconductor, Inc. "We understand the performance needs of our customers in a rapidly expanding SSD universe and are determined to meet those needs."
Designed for OEMs, Samsung's new SSDs - the PM1633, PM1725 and PM953 all utilize Samsung's 3-bit MLC (multi-level-cell) V-NAND flash memory, while providing outstanding performance and reliability, as well as high capacities.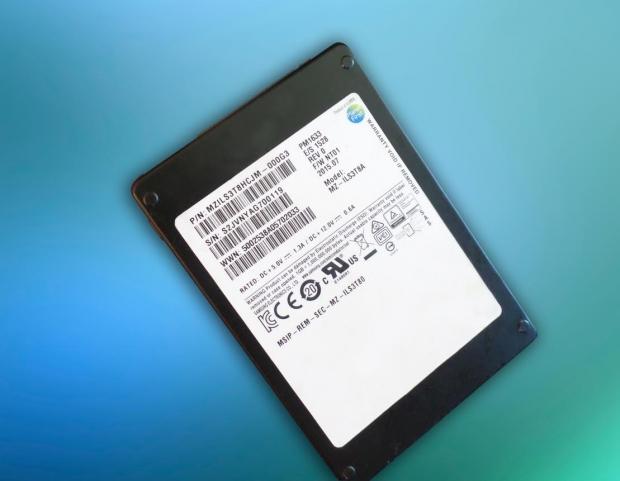 PM1633: a 2.5" 12Gb/s SAS SSD designed for enterprise storage
Samsung's latest SAS SSD, the PM1633, is designed to meet all requirements of Serial Attached SCSI (SAS) interface based systems. The 2.5" 12 gigabit-per-second (Gb/s) SAS SSD will be offered in 480GB, 960GB, 1.92 terabyte (TB) and 3.84TB versions.
The PM1633 delivers random read and write speeds of up to 160,000 and 18,000 IOPS respectively, and boasts sequential read and write speeds of up to 1,100MB/s and 1,000MB/s.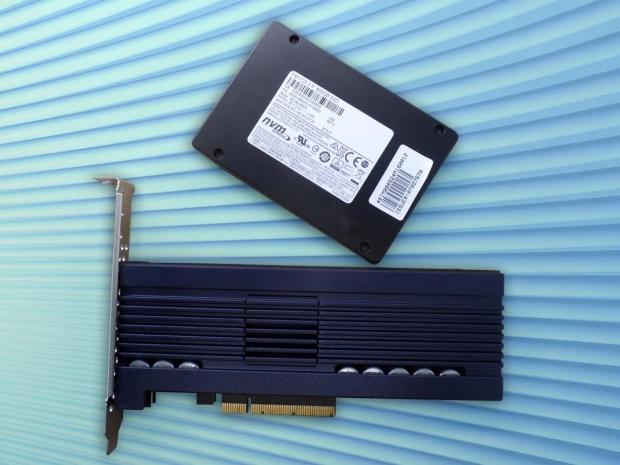 PM1725: can randomly read 1 million IOPS with a 6.4TB HHHL-card NVMe PCIe* SSD design
Targeting the next-generation enterprise storage market, Samsung is introducing a half-height, half-length (HHHL) card-type NVMe SSD, the PM1725, offering blazingly fast data transmission and a 3.2TB or 6.4TB storage capacity.
The PM1725 provides a random read speed of up to 1,000,000 IOPS (input output operations per second) and writes randomly at up to 120,000 IOPS. It also sequentially reads at up to 5,500 megabytes per second (MB/s) and writes sequentially at up to 1,800MB/s, which enables users to save a 5GB video in less than three seconds.
In addition, the 6.4TB PM1725 features outstanding reliability with five DWPDs (drive writes per day) for five years, which translates to writing a total of 32TBs per day during that time. This means users can write 6,400 files of 5GB-equivalent data or video every day, which represents a level of reliability quite sufficient for enterprise storage systems that have to perform ultrafast transmission of large amount of data.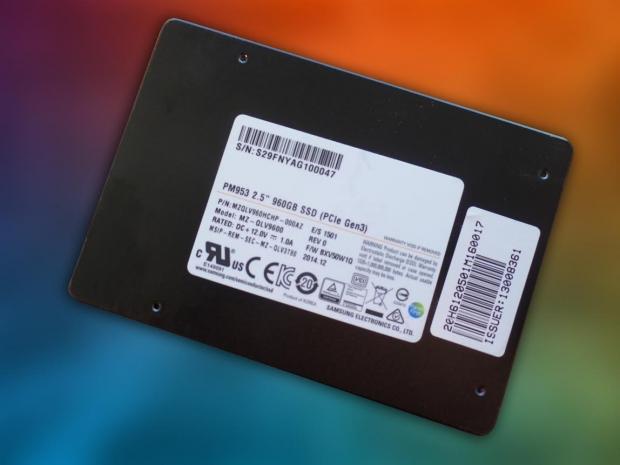 PM953: an advanced NVMe SSD in M.2 and 2.5" form factors offering up to 1.92TB storage
Samsung is introducing an update to the industry's first NVMe SSD (SM951) in an M.2 form factor that was announced earlier this year.
The new PM953 comes in NVMe interface and is available in both M.2 and 2.5" form factors to satisfy a variety of next-generation system requirements such as large-scale data centers and mobile workstations as well as ultra-slim notebook PCs and high-end desktops. The M.2 version will be offered with either 480 or 960 gigabytes (GBs), while the 2.5" version will be out in 480GB, 960GB and 1.92TB capacities.
Last updated: Apr 7, 2020 at 12:09 pm CDT
PRICING: You can find products similar to this one for sale below.

United States: Find other tech and computer products like this over at Amazon.com

United Kingdom: Find other tech and computer products like this over at Amazon.co.uk

Australia: Find other tech and computer products like this over at Amazon.com.au

Canada: Find other tech and computer products like this over at Amazon.ca

Deutschland: Finde andere Technik- und Computerprodukte wie dieses auf Amazon.de
Related Tags