SanDisk Corporation, a global leader in flash storage solutions, at Computex Taipei 2015 today announced its new CloudSpeed Eco Gen. II SATA SSD, a purpose-built storage device for cloud service providers with up to 2TB capacity. This new SSD is now sampling with select hyperscale customers. Based on 15 nm NAND flash, the new CloudSpeed Eco Gen. II SSD delivers greater storage density with 3x the streaming bandwidth vs. hard disk drives (HDDs). Designed as a drop-in replacement for HDDs, CloudSpeed Eco Gen. II provides datacenters with a lower cost-per-square-foot for hyperscale applications such as analytics, media streaming and content repositories.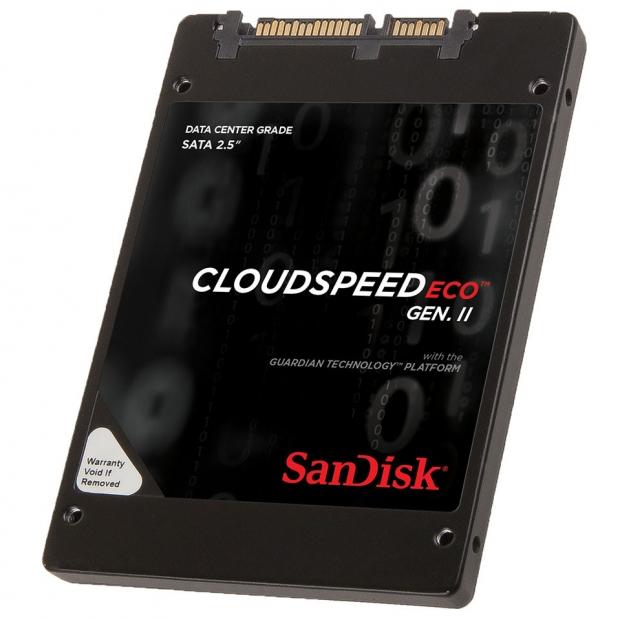 Cloud Data Services, such as Big Data Analytics, SaaS, IaaS and PaaS environments, are driving radical data center transformation. The number of connected 'things' is set to explode, with Gartner forecasting this number will reach 25 billion by 2020, generating a deluge of data that will need to be analyzed in real-time. Micropayments, online commerce and similar applications are read-intensive and require high data throughput and scalable storage capacity.
"Digital business transformation has put tremendous pressure on cloud service providers to deliver massive capacity and performance with increasing cost efficiency," said John Scaramuzzo, senior vice president and general manager, Enterprise Storage Solutions, SanDisk. "As a trusted provider of flash-based solutions for three of the largest cloud service providers, SanDisk understands hyperscale application demands. We've designed CloudSpeed Eco Gen. II to deliver better cloud-scale economics with specific features so that cloud service providers can deliver superior customer experiences."
Historically, cloud service providers have relied on HDDs for data storage requirements because they offered large pools of low-cost capacity. However, as datasets continue to grow, and access to real-time information becomes paramount, cloud service providers are finding that HDD-based storage can no longer keep pace with increasing demands without significantly expanding data center footprint. As the cloud economics of flash - such as price/performance density, endurance, heat, power, cooling and footprint - continue to be a focal point for IaaS, PaaS, and SaaS decision makers, many of them have turned to SanDisk.
"We've been very pleased with the level of innovation coming out of SanDisk to jointly address the demands of new and emerging markets powered by cloud, mobility and B2B/B2C businesses," said Albert Mu, Vice President of MiTAC Computing Technology Corporation's TYAN Business Unit. "We look forward to continuing to work with SanDisk to bring these solutions to market, so our joint customers can realize the benefits of the next era in cloud computing."
"The compelling value proposition of NAND flash memory, coupled with increasing capacities is enabling wide-spread adoption of SSDs for today's emerging and demanding cloud requirements," said Jeff Janukowicz, research director for SSDs and Enabling Technologies at IDC. "More cost-effective SSD solutions based on smaller process technologies such as SanDisk CloudSpeed Eco Gen. II, make SSDs feasible for a growing number of cloud and hyperscale applications, which is helping to propel SSD unit shipments to grow at a 34 percent compound annual growth rate (CAGR) between 2013 to 2018."
As with all CloudSpeed SSDs, CloudSpeed Eco Gen. II 2TB SSD includes the company's innovative Guardian Technology Platform, which works to provide a combination of powerful error correction and detection technology, full data path protection, and data fail recovery. The CloudSpeed Eco Gen. II SSD also comes with a limited five year warranty.
CloudSpeed Eco Gen. II 2TB SSD will be available through SanDisk Original Design Manufacturers (ODMs) and select Enterprise Channel Partners later this year.
Last updated: Apr 7, 2020 at 12:09 pm CDT