Transcend Information, Inc. (Transcendhttp://www.transcend.com.tw/pr/press/images/small_r2.gif), a worldwide leader in storage and multimedia products, takes the lead to announce the launch of its 256GB JetDriveTM Lite Series of expansion cards aimed at MacBook Pro® with Retina® display and MacBook Air® users. With different models offered in up to 256GB capacities, Transcend's new JetDrive Lite cards are tailor-made to have a flush profile with each specific model while providing an easy way to increase available storage for media. With optimized compatibility, the expansion cards can now be used on a wider variety of models.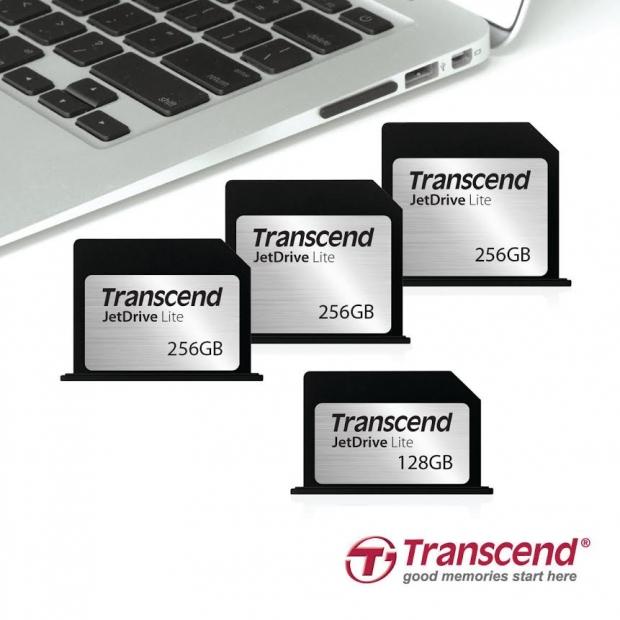 Seamless Design, 256GB Storage Capacities
With their substantial amount of storage space, Transcend's JetDrive Lite expansion cards provide plenty of space to backup, store and carry personal documents, photos, movies and music. JetDrive Lite 130/350/360 are now offered in storage capacities up to 256GB, and JetDrive Lite 330 in 64GB and 128GB capacities. Each 256GB card, for instance, can store over 120,000 high-resolution photos, 64,000 mp3 songs, 64 hours of Full HD video, or seemingly limitless number of documents. When inserted into the SD card slot of a compatible MacBook Pro with Retina display or MacBook Air, the low-profile JetDrive Lite will not stick out like an SD card and can be left in place for on-the-go storage.
Guaranteed Performance, Full Compatibility
Manufactured with reliable, top-tier MLC NAND flash chips, JetDrive Lite expansion cards boast blazing fast read and write speeds of up to 95MB/s and 60MB/s respectively. This outstanding performance translates into reduced data transfer times regardless of file size; especially useful for photographers, video editors, and graphic artists working with extremely high-resolution images and videos. With improved compatibility, the users have now a wider range of models which fit with JetDrive Lite expansion cards.
Robust, Long-life Durability
Transcend's JetDrive Lite expansion cards are equipped with built-in ECC (error correction code), which automatically corrects potential transfer errors, and utilize a sophisticated wear-leveling algorithm for consistent long-life operation. For further peace of mind, JetDrive Lite cards are manufactured using a special COB (Chip-on-Board) technique, making them completely resistant to dust and water.
Transcend's Exclusive JetDrive Toolbox
Transcend's JetDrive Lite expansion cards come with JetDrive Toolbox a useful and free-to-download software that offers the Recovery and Power Save functions, allowing users to bring back accidentally deleted files and save power.
Pricing and Warranty
The JetDrive Lite 130/350/360 expansion cards are available in 64GB ($49), 128GB ($99) and 256GB ($199) while JetDrive Lite 330 cards are offered in 64GB ($49) and 128GB ($99) capacities. All Transcend memory cards are fully tested for compatibility and reliability, and carry Transcend's renowned Limited Lifetime Warranty.
Compatibility Table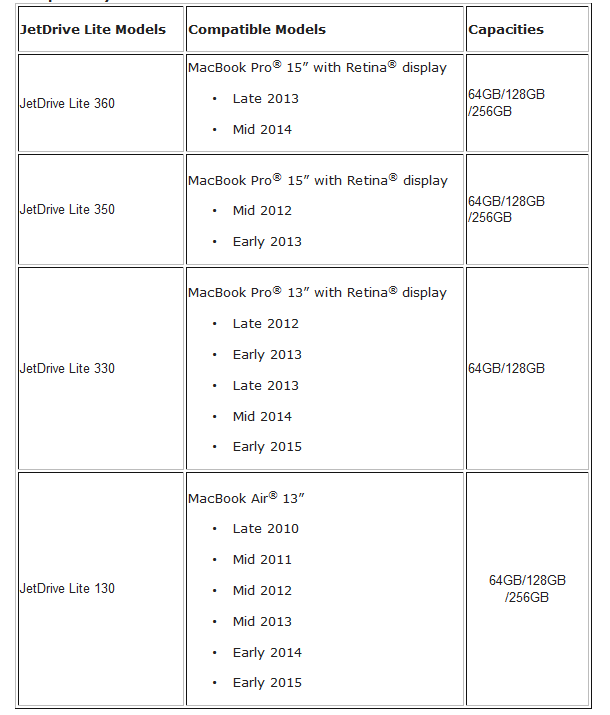 Last updated: Apr 7, 2020 at 12:09 pm CDT