Screencheat Gets Supersized
Developer Samurai Punk and publisher Surprise Attack Games will tomorrow unleash a torrent of new content for Screencheat, the chaotic party split-screen FPS where everyone is invisible. The huge update essentially brings Screeencheat up to the fevered dream version of the game that the developers originally envisioned.
Going live on Steam on May 1 with DRM-free versions following a week later, the update is the last major additional content planned for the PC, Mac and Linux version of Screencheat and the Samurai Punk team are now focusing their efforts on the Xbox One and PlayStation 4 versions of the game, due to release in Q3 2015.
Samurai Punk are also planning to add localisation to all versions of the game this year, and are inviting fans to help them create localised versions of its infamous kill messages, opening up community submissions via a web form here.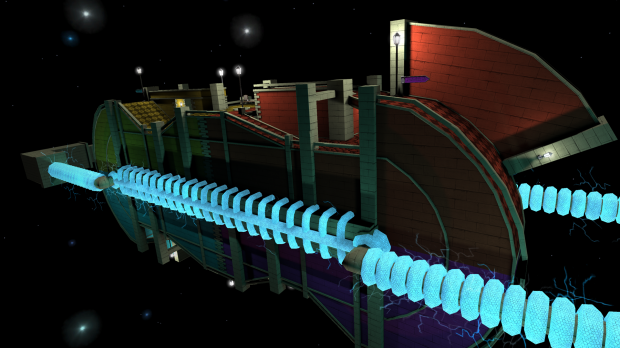 "We've been dropping new content every couple of months so far but this is the motherload of updates," said Nicholas McDonnell, director and lead artist at Samurai Punk. "It includes almost all the things on our development wishlist and a lot of the crazier ideas we had such as eight players or a gravity defying level that loops around on itself."
"It's awesome to see the team at Samurai Punk so committed to providing content updates for their fans" added Chris Wright, Managing Director at Surprise Attack Games. "Since launch they've more than doubled the size and scope of the game and all for free."
Full details of the update:
Two new maps, bringing the total to ten:
Temple is a zen temple featuring jump pads, vent shortcuts and super high vantage points.
Loop is a gravity defying map withj a track running around the outside which the players follow all the way until the map flips and loops around back to the top.
One new mode, bringing the total to nine:
In Gold Rush players must rush to grab all the coins on the map within 90 seconds. Once they have the coins, they must stay alive to hold onto them before the round ends.
One new weapons, bringing the total to ten
The Wallhacker is a high powered projectile rifle that firest through walls, penetrating any surface. The single shot gun features a laser sight which can be used to help track against player posiitons by looking at where it appears on the other screens.
Team versions of Deathmatch, Capture the Fun, Hillcampers, Gold Rush, Elimination, Murder Mystery, One Shot and Bombs Away modes.

Support for up to eight players on screen at the same time in either local or online play.

The introduction of Towerfall-style Mutators which can be selected and stacked to spice up and throw a little extra chaos into the gameplay.

Four new ragdolls that can be unlocked through levelling:
- Steve (reference to one of our old games)
- Hotdog
- Kangaroo
- Robot
Bug fixes and graphical polish
Screencheat is a ridiculous competitive split-screen first-person shooter where everyone is invisible, so players are forced to look at other players' screens in order to win. At its heart, Screencheat takes the once taboo act of peeking at your opponents screen and blends it together with some of the most memorable competitive split-screen gameplay of recent time, paying homage to legendary FPS experiences such as Perfect Dark and Goldeneye along the way.
Supporting both local and online multiplayer, combat in Screencheat is fast and furious with a wide variety of one-hit kill weapons ranging from traditional guns like the blunderbuss or grenade launcher through to unique options such as a hobby horse, a modified car engine that shoots bouncing plasma balls and a teddy bear loaded with explosives. Maps are designed to support the screencheating mechanic with colour coded areas and landmarks that allow for quick identification of where other players are situated.
Screencheat is available on PC, Mac and Linux from the game's website and all major digital storefronts including Steam, The Humble Store, and GOG.com for US$14.95 for a single copy and US$44.99 for a four pack. The Xbox One and PlayStation 4 versions of the game are expected to launch in Q3 2015.
Last updated: Apr 7, 2020 at 12:09 pm CDT
PRICING: You can find products similar to this one for sale below.

United States: Find other tech and computer products like this over at Amazon.com

United Kingdom: Find other tech and computer products like this over at Amazon.co.uk

Australia: Find other tech and computer products like this over at Amazon.com.au

Canada: Find other tech and computer products like this over at Amazon.ca

Deutschland: Finde andere Technik- und Computerprodukte wie dieses auf Amazon.de
Related Tags