Now store and transfer large files faster than ever with plenty of room to spare with the HP x755w. PNY Technologies, world renowned manufacturing giant for USB and Memory products, has officially released the massive 128/256GB memory sized HP x755w on the global market. With USB 3.0 specification, enjoy next generation speed performance with transfer speeds up to 10X faster than any other standard USB 2.0 Flash Drives available. With up to 128/256GB of memory space, it's the perfect solution for easily storing and quickly transferring all your large documents, high-resolution photos, HD videos, and more.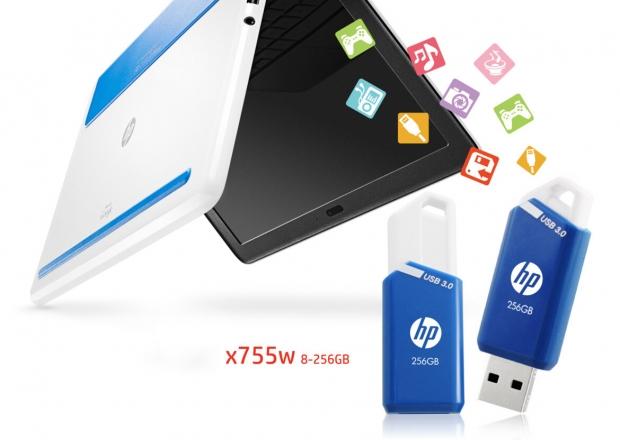 The drive is ideal for students or working professionals who need to store large amounts of data everyday for school projects or work projects. The HP x755w is a high-capacity pen drive that comes packed inside a sleek and smooth high-grade plastic casing. It comes in a cool shade of blue and white, a classic yet modern look. The drive incorporates a cap less sliding design that eliminates the worries of a misplaced cap. To connect the drive, simply push it to the end to reveal the USB port underneath it. Designed with portability and convenience in mind, the x755w features a key hole located at the end of the drive, which can be easily attached to key chains, mobile straps, wallets or backpacks.
Slim and compact, the drive weighs in at 8.8g and measures at H 9.5 mm x W 17.2mm x L 55mm. Simple plug and play operation indicates that no extra software or installation is required to use the drive. Transfer and share your important files with exceptional speed improvements, which allow quick and easy transfer of all content. The drive is backwards compatible with USB 2.0 ports, so you can utilize any USB 2.0 or USB 3.0 port with full support.
The x755w works virtually with any operating system and is compatible with Windows 2000/ XP / Vista, Windows 7, 8, Mac OS: 10.3 and above. Now available in 128GB and 256GB memory space, perfect for storing all the large media files or software applications. It comes backed with a promised warranty of 2 years within the date of purchase. The HP x755w is light in weight, but big on performance.
Last updated: Apr 7, 2020 at 12:09 pm CDT