Worldwide PC shipments totaled 68.5 million units in the first quarter of 2015 (1Q15), a year-on-year decline of -6.7%, and slightly ahead of previous projections, according to the International Data Corporation (IDC) Worldwide Quarterly PC Tracker.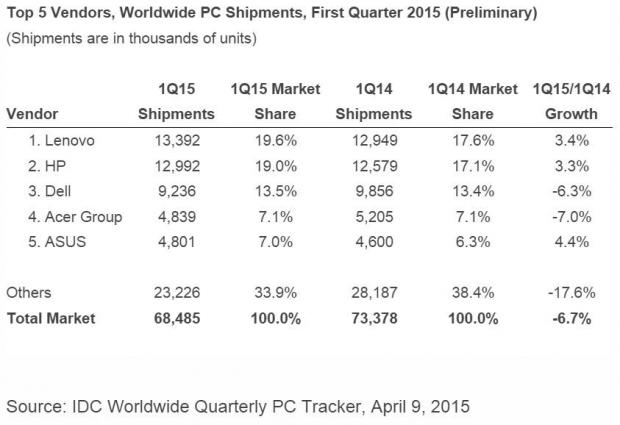 Following a strong second half of 2014, which benefitted from the tailwind of the Windows XP refresh and pockets of price-driven consumer activity, the Q1 market faced multiple headwinds - including inventory build-up of Windows Bing based notebooks, commercial slow down following the XP refresh and constrained demand in many regions due to currency fluctuations and unfavorable economic indicators. As a result, growth and volume declined with Q1 shipments below 69 million units, the lowest recorded volume since Q1 2009.
"Despite the decline, PC shipment in the United States declined at a slower rate than all other regions in first quarter, outperforming worldwide trends for the eleventh consecutive quarter. The strength from key vendors, adoption of emerging products, improvements in the consumer market and in the broader economy are all positive signals," said Rajani Singh, Senior Research Analyst, Personal Computing. "The upcoming launch of Windows 10 will consolidate the best of Windows 7 and Windows 8.1. In addition to the free upgrade for consumers for a year after the release, Windows 10 should be a net positive as there is pent-up demand for replacements of older PCs. Only part of the installed base needs to replace systems to keep the overall growth rate above zero for rest of the year."
"Although shipments did exceed an already cautious forecast, the market unfortunately remains heavily dependent on pricing being a major driver, with entry SKU volume masking a still tenuous demand for higher priced systems that is needed to sustain a more diverse PC ecosystem. Pricing pressure is bringing many premium SKUs into formerly mid-level pricing tiers," said Jay Chou, Senior Research Analyst, Worldwide PC Trackers. "As more vendors find it increasingly difficult to compete, we can expect additional consolidation in the PC market."
Regional Highlights
United States - With shipments totaling 14.2 million PCs in 1Q 2015, the U.S. market shrank -1.0% from the same quarter a year ago. Growth was centered in portables, particularly around emerging product categories such as Chromebooks, Bing, Ultraslims and Convertibles. Desktop shipments were also relatively sluggish this quarter.
Europe, Middle East, and Africa (EMEA) - Shipments of personal computers in EMEA contracted in the first quarter of 2015, as vendors focused on depleting attractively priced Bing inventory built up during 4Q 2014. The end of Bing promotions on 15 inch notebooks, unfavorable currency exchange rates and consequently an increase in prices of components, all led to a rise of average selling prices and decline in PC shipments. In addition, growth was constrained by a difficult year-on-year comparison. Where year-ago shipments were boosted by the end of support for Windows XP, those replacements have declined significantly in the current quarter - particularly in the commercial desktop segment.
Asia/Pacific (excluding Japan) - volume was close to expectations as scaled-back IT spending due to the ongoing currency fluctuation hit many countries in the region. Outside of the Lunar New Year effect, China was also impacted by excess commercial notebook inventory from earlier quarters as the anti-corruption campaign continues to suppress commercial spending.
Japan - volume declined -44% from a year ago, a bit worse than forecast. A strong Q1 2014 was significantly bolstered by commercial projects and consumer buy-in before a tax-hike, which set the stage for very difficult year-over-year comparisons. A weak Yen further dampened purchasing across segments.
Vendor Highlights
Lenovo held onto the top position with 13.4M units, and grew 3.4%. The vendor continued to aggressively court expansion outside of Asia, especially closing the gap with competition in EMEA. The company also moved ahead of Apple to capture the third position in the U.S.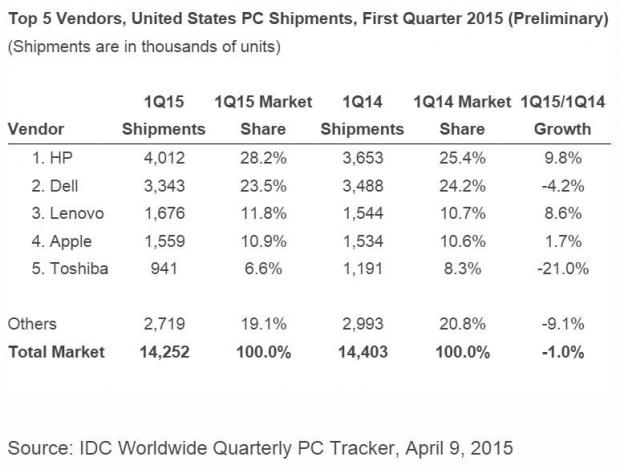 HP remained in the number two position, shipping nearly 13 million PCs with growth surpassing 3%, driven primarily by resilient growth in US and EMEA. Although growth slowed from earlier in the year, HP & Lenovo continued to outpace the market and their nearest competitors.
Dell came in at the number 3 position, shipping over 9.2 million units, registering a year-over-year decline of -6.3%, its first negative quarter since 2013Q2. Strong results in the U.S. and EMEA in Q1 2014 contributed to a poor year-over-year comparison.
Acer though the vendor continued to see good acceptance of its Chrome offerings, Acer shipments slowed in the first quarter - particularly in EMEA where it had seen a strong rebound in mid-2014 but faced pressure from other market leaders in the fourth quarter.
ASUS had a solid quarter with worldwide volume of 4.8 million and growth of 4.4%, supported by growth in Asia. This brought the company just behind Acer - effectively a tie for fourth place.
Last updated: Apr 7, 2020 at 12:09 pm CDT