Lenovo, today introduced a refreshed lineup of its ThinkVision T Series monitors featuring the latest green certificates and a new more refined ThinkVision design. The new generation models have thinner profiles and a new LTPS (Lift, Tilt, Pivot, Swivel) stand design allowing perfect ergonomic positioning and a swivel capability for portrait mode viewing. Equal bezel width on all sides make for a seamless and improved multi-monitor set-up and a new ThinkCentre Tiny Clamp Bracket solution enables a picture-perfect desktop environment. The ThinkVision monitors continue to provide an unmatched visually-rich experience while meeting the latest environmental and regulatory standards.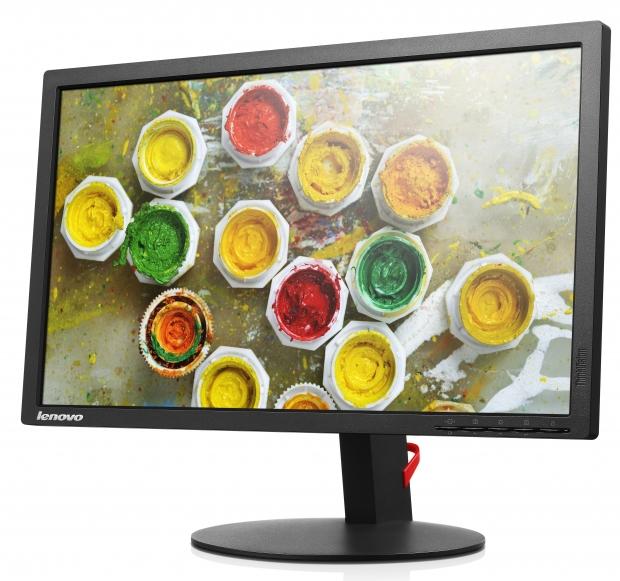 The ideal companion for all Lenovo PCs, users are able to boost productivity with excellent screen quality, while comfortably adjusting the monitor to suit height, tilt, swivel and pivot angles. The lineup includes - In-plane switching 178/178 wide viewing angle models consisting of the T2424p, T2324p, T2224p, T2454p and T2224z VOIP monitor, that all tout enhanced connectivity with USB 3.0 ports, HDMI 1.4 and DisplayPort 1.2. In-place switching panels not only allow consistent wide viewing angles, but better color fidelity and improved contrast and response times. The T2224z boasts best in class VOIP experience with an integrated FHD webcam, digital microphone, and dedicated VOIP buttons including physical camera lock, mute and volume controls.
The series also includes T2254p and T2254 monitors that offers large screen real estate in 22-inch 16:10 aspect ratio. These TN monitor models are perfect of everyday needs with 1680 x 1050 display resolution, 1000:1 contrast ratio for a visually stunning picture. Other features include a 170/160 degree viewing angle and super-fast 5ms response time.
"The new ThinkVision T Series portfolio is all about delivering a brilliant user experience by offering uncompromised monitors with innovative configuration options to help customers solve space needs and fulfill their creative potential," Darren Chia, Executive Director and General Manager, Lenovo Visuals Business. "Professionals requiring high performance monitors can count on the visual accuracy and quality of the T Series packaged up in a neat and refined design."
Better Together with Tiny Clamp Solution
The T Series' functional design and screen quality performance helps even the most visually demanding jobs get completed faster, easier and more comfortably within the users work environment with its elegant and easy to attach ThinkCentre Tiny Clamp solution. Securely mount a ThinkCentre Tiny desktop on the back of any ThinkVision T Series monitor without the need for tools, saving space and resulting in a clean desk appearance.
Price and Availability
The ThinkVision T2224p is available April 1, 2015, with a list price of 169 EUR

The ThinkVision T2224z is available April 1, 2015, with a list price of 212 EUR

The ThinkVision T2324p is available March 21, 2015, with a list price of 171 EUR

The ThinkVision T2454p is available March 21, 2015, with a list price of 289 EUR

The ThinkVision T2424p is available March 15, 2015, with a list price of 176 EUR

The ThinkVision T2254p is available March 25, 2015, with a list price of 165 EUR

The ThinkVision T2254 is available March 20, 2015, with a list price of 162 EUR

The ThinkCentre Tiny Clamp is available beginning of March, 2015, with a list price of 30 EUR
Last updated: Apr 7, 2020 at 12:09 pm CDT