Moshi is pleased to announce that the iLynx 3.0, an updated and redesigned version of their sleek USB hub, is now available in Australia and coming soon to New Zealand. The iLynx 3.0 is a four-port USB 3.0 hub that connects, charges and syncs up to four USB-enabled devices, supporting data transfer speeds up to 5 Gbps.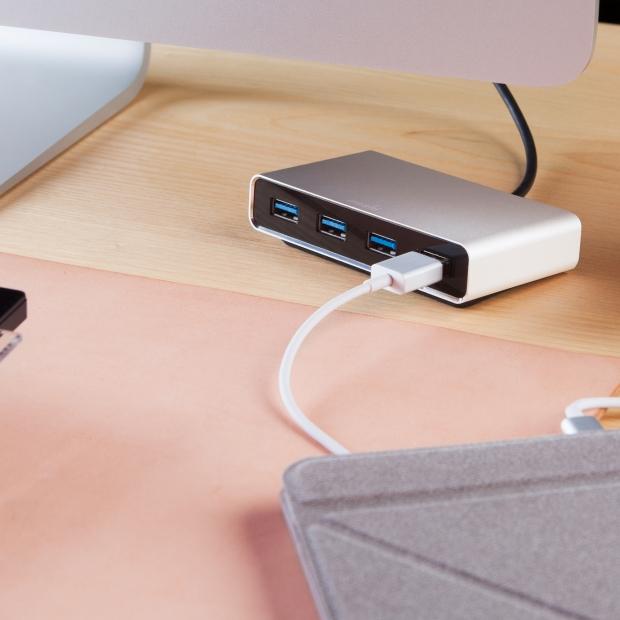 iLynx is completely bus-powered with a unique bonus feature: offline charging. When the USB hub is plugged into the wall with the included 30-watt power adapter, users can continue charging their smartphone, tablet or other device thanks to intelligent power management circuitry.
The new Moshi iLynx seamlessly connects to a Mac or PC via the built-in USB cable just under twelve inches long. Users can fully charge and sync their iPad/tablets through a single, dedicated, 10-watt USB port. The other three 5-watt ports can connect an iPhone, Android, or other USB device.
iLynx has an aluminum housing constructed with EMI shielding to minimise interference from wireless signals. Surge and Electrostatic Discharge protection safeguards are designed to keep your devices and data safe and avoid damage during hot-swapping. iLynx is plug and play, with no additional software required.
Did you know:
- iLynx is currently the only USB 3.0 hub on the market that supports fast charging of iOS devices such as iPhones and iPads.
- Many USB 3.0 hubs on the market use sub-standard components resulting in a performance drop of up to 50% vs. a direct-connection.
- Some hubs are so poorly shielded that when USB 3.0 devices are plugged in, they interfere with wireless peripherals such as keyboards and mice operating at 2.4GHz frequency, rendering them inoperable.
Pricing and Availability
Australian and New Zealand Distributor: MacGear
Website: http://www.moshi.com/ilynx-3#siver
Australian Retailers: JB Hi-Fi, www.modlifeonline.com.au, www.macintoshaddict.com.au
New Zealand Retailers: TBC
iLynx 3.0 - INTL - Silver
$99.99 AUD ($76.89 US Dollar)
Early March 2015
iLynx 3.0 - INTL - Silver
$99.99 NZD ($75.27 US Dollar)
March 2015
Last updated: Apr 7, 2020 at 12:09 pm CDT