Highly Reliable Systems, the innovative American-made server backup storage experts, today announced immediate availability for their NetSwap reverse Cloud server backup NAS. The High-Rely NetSwap family of network-attached appliances provide Reverse Cloud server backup for many popular storage accounts: Amazon S3, Google Cloud Storage, DreamHost DreamCloud, and Dropbox.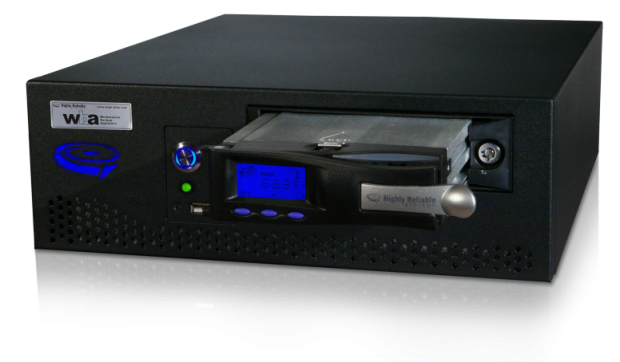 NetSwap is a purpose-built backup appliance that allows multiple Amazon accounts and S3 buckets to be "pulled down" to local disk, and automatically mirrored to a second highly-removable drive. Local storage of Cloud server data provides insurance against Internet outages, malicious or accidental deletion, viruses or malware, and other Cloud mishaps. NetSwap data replication features are bi-directional, enabling this Cloud server backup appliance to be used for local computer or server backup and then configured to automatically upload the data up to Cloud accounts.
"Although redundant Cloud storage is considered reasonably safe, cases exist where companies have been put out of business by hackers, bugs, or accidents. Our NetSwap backup appliances allow corporate users to consolidate multiple Amazon S3 accounts and storage buckets onto our auto backup device. This gives administrators the physical comfort of having their data on one or more local hard drives" said Tom Hoops, Chief Technology Officer at Highly Reliable Systems. "It makes sense for businesses with large amounts of data in the Cloud to retain a local copy for both safety and high speed access. Some customers worry about compliance and long term data retention for HIPAA, SOX, and other laws. Complying with discovery requests during lawsuits is made much easier with a local copy of the data and our appliance insures those copies are constantly updated, even when multiple sources are involved. The reverse Cloud backup features of the NetSwap backup appliance were designed to address all these issues with minimal intervention from IT."
High-Rely network appliances that feature Reverse Cloud Backup are available in storage capacities up to 48TB on NetSwap models, and 72TB on RAIDFrame models. The NetSwap backup NAS device utilizes Gigabit Ethernet network attachment, and support for: CIFS network shares, NFS Linux/Unix/VMware shares, and iSCSI block level drive access. Many NetSwap models include multiple levels of RAID to insure long-term protection and data retention. Integrated Watchdog circuitry monitors each NetSwap backup NAS for even higher reliability, immediately notifying administrators whenever an alert occurs. High-Rely will soon offer a NetSwap models with virtualization, enabling Amazon AWS virtual machines to be spun-up under Xen from within the appliance.
High-Rely Cloud server backup NAS devices are immediately available through partner resellers starting at $849. High-Rely offers a wide range of network-attached and direct-attached backup storage solutions. Please visit http://high-rely.com for more information on our product line.
Last updated: Jul 27, 2022 at 03:42 am CDT