"CF1 - powered by Nanoxia" is the new label for price-sensitive water cooling enthusiasts. With this we take the next step in our product development.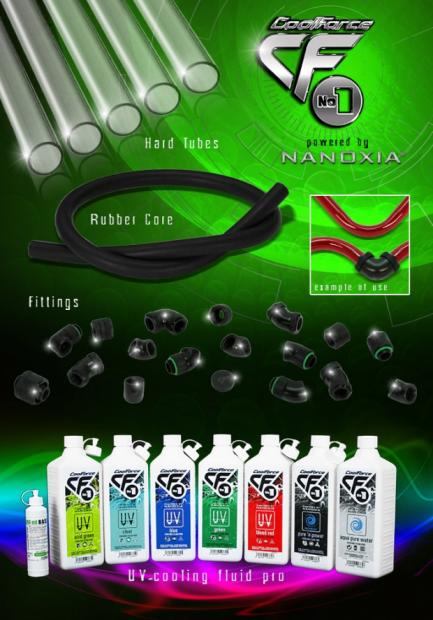 Nanoxia started with fans and accessories in 2011. In 2012, we introduced our first PC-case, the Deep Silence 1. In the course of the next two years, we added additional models, which resulted in a highly praised series of ultra-silent PC-cases, ranging from Mini- to HPTX towers. By now, the cases have won a combined amount of more than 100 awards from international reviewers.
In addition, we added a range of ready-sleeved cables and lately LEDs. Users could purchase a case, additional fans as well as cables for their modding projects. Everything fits together nicely. Additional HDD-cages, window side panels, whatever users demanded, we offered them. But why stop there?
During the development of our cases, we always had an eye for fans of water cooling systems. All models of our Deep Silence series are "water cooling ready"; meaning that users can accommodate either compact water cooling solutions or full-fledged DIY- water cooling systems in our cases. But users still had to acquire things like tubing, fittings or cooling fluids from other manufacturers. We decided we should change that and we now present the "CF1 - powered by Nanoxia" product range.
The Nanoxia CF1 PETG Hard Tubes are perfectly fitted to meet users demand for an individual design of their water cooling system. One set consists of five 50 cm long tubes. The use of PETG means that the tubes are almost unbreakable. By using a heat source, like a heat gun, the tubes can be formed in almost any way imaginable. In order to prevent them from over-bending, we offer the CF1 Rubber Core. It gives the tube the necessary stability during the bending. Our PETG tubes allow users to individualize their systems. They can be easily cut, bended, or - using appropriate fittings - prolonged in order to build a system that will fit perfectly in their case.
The CF1 Fittings are of the highest quality. If users are looking for angled or straight adaptors, Hard Tubes couplings or simply a stopper fitting - we offer a range of different models that will again allow users to modify their system to their own needs - and all that at very competitive prices. One of the main aspects we had in mind is the preventing of any leakages. So all the fittings offer maximum sealing potential!
Finally - what would a water cooling system be without the right cooling fluid? We offer the very best there is on the market. Our CF1 Cooling Fluids Pro are non-conductive, prevent corrosion and the growth of algae inside the system and also help cool the system measurably. It's perfect for those users that want to get the maximum cooling capacity out of their system. It's ready for use and usable for ALL water-cooling systems. We offer it in different colors - and of course it's UV active for maximum modding value).
"CF1 - powered by Nanoxia" products are now available in stores.
Last updated: Apr 7, 2020 at 12:09 pm CDT