QNAP Systems, Inc. today announced that its Enterprise and SMB-class Turbo NAS products now support HGST's Ultrastar He8 helium-filled hard disk drives (HDDs). By incorporating HGST's HelioSeal platform technology, enterprise users benefit from enhanced NAS performance, maximized storage capacity, and optimum energy efficiency for reduced total cost of ownership (TCO).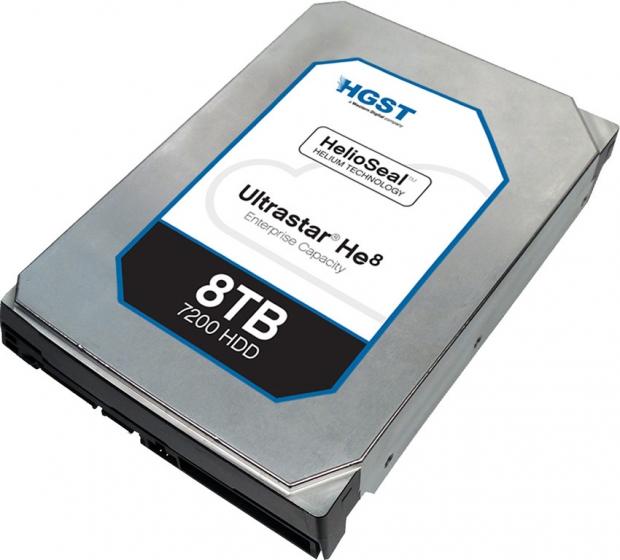 Leveraging the inherent benefits of helium, which is one-seventh the density of air, the HGST Ultrastar He8 advances the TCO value proposition for hyperscale cloud data centers, enterprises, SMBs, and system integrators. Combining industry-leading storage capacity with industry-leading low power consumption, the HGST Ultrastar He8 is an ideal large-capacity 3.5-inch HDD solution for businesses to store, secure and harness the power of data.
QNAP has now certified the HGST Ultrastar He8 HDDs for use in their powerful enterprise-class Turbo vNAS TVS-x80+ series, and REXP expansion enclosures.
"QNAP constantly strives to provide business users with reliable and scalable NAS solutions for storage, backup, iSCSI, virtualization applications, and many other practical business applications," said David Tsao, product manager of QNAP. "With support for HGST's Ultrastar He8 drives on both SATA and SAS, SMB and enterprise users alike can bolster their Turbo NAS solutions with industry-leading capacity, energy efficiency, performance, and lower total cost of ownership provided by these revolutionary hard drives."
"With the explosion of data resulting from mobile devices, Internet services, social media and big data, businesses are constantly looking for ways to improve their storage infrastructure costs and improve their bottom line," said Brendan Collins, vice president of product marketing, HGST. "By utilizing HGST Ultrastar He8 drives, QNAP is enabling more efficient data center designs and operations by improving storage density in the same physical space, without any compromise of performance or reliability, while also lowering power consumption."
The following QNAP Turbo NAS models are also compatible with HGST's Ultrastar He8 HDDs:
The HGST Ultrastar He8 SAS 12Gb/s: TS-x79-SAS series and REXP expansion enclosures

The HGST Ultrastar He8 SATA 6Gb/s: TS-x80, TS-x79, TVS-x71, TS-x70, TVS-x63, TS-x53 Pro, TS-x51, TS-x31+, TS-x31 series, and also the REXP and UX expansion enclosures
Last updated: Apr 7, 2020 at 12:09 pm CDT