Kingston Digital, Inc., the Flash memory affiliate of Kingston Technology Company, Inc., the independent world leader in memory products, today announced a pair of next-generation encrypted USB Flash drives designed to safeguard an organization's valuable data. The DataTraveler 4000 Gen. 2 and DataTraveler 4000 Gen. 2 Management Ready protect sensitive information with high-level encryption.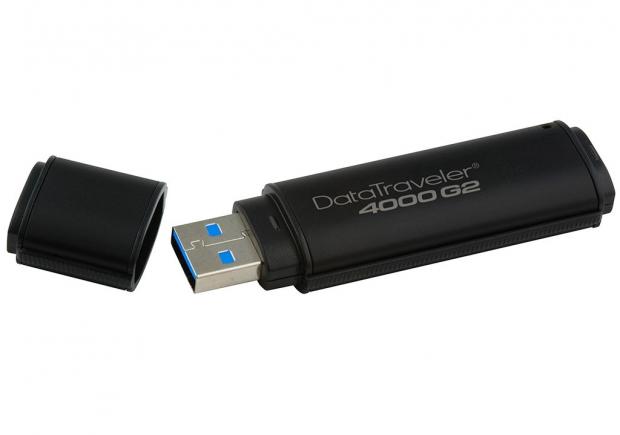 DataTraveler 4000 G2 is FIPS 140-2 Level 3 certified so it provides a tamper-evident seal for physical security to detect and respond to attempts to access, use or modify the cryptographic module. Data is protected by hardware-based 256-bit AES encryption in XTS mode and the drive casing is made of titanium coated stainless steel. The drive is designed to reduce the possibility of successful brute force attacks as it locks down and reformats after 10 failed password attempts.
DataTraveler 4000 G2 Management Ready features the same security and features as DataTraveler 4000 G2 but also offers optional SafeConsole management from BlockMaster. SafeConsole gives organizations powerful tools including the ability to remotely reset passwords, configure password and device policies and activate audit for compliance. DataTraveler 4000 G2 Management Ready gives companies the flexibility to initially deploy the drive as a stand-alone, secure device, and then have the option of adding a central management solution later.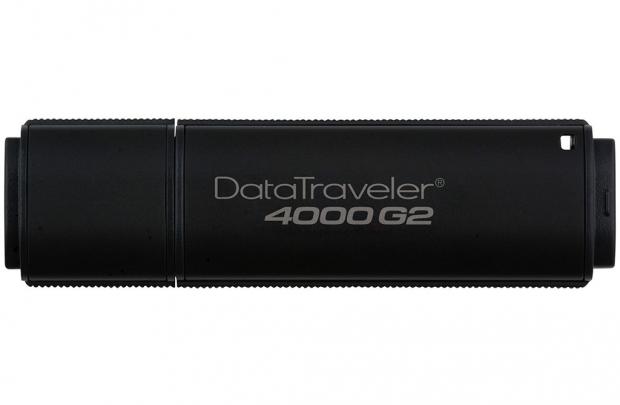 Both drives offer USB 3.0 data transfer rates and are available in 4GB, 8GB, 16GB, 32GB and 64GB capacities. DataTraveler 4000 G2 and DataTraveler 4000 G2 Management Ready utilize industry-leading NAND and controller design that allows the NAND to be interchanged without requalification and certification. This allows enterprise companies to add the drives to their standards list with confidence.
DataTraveler 4000 G2 and DataTraveler 4000 G2 Management Ready are backed by a five-year warranty, free technical support and legendary Kingston reliability.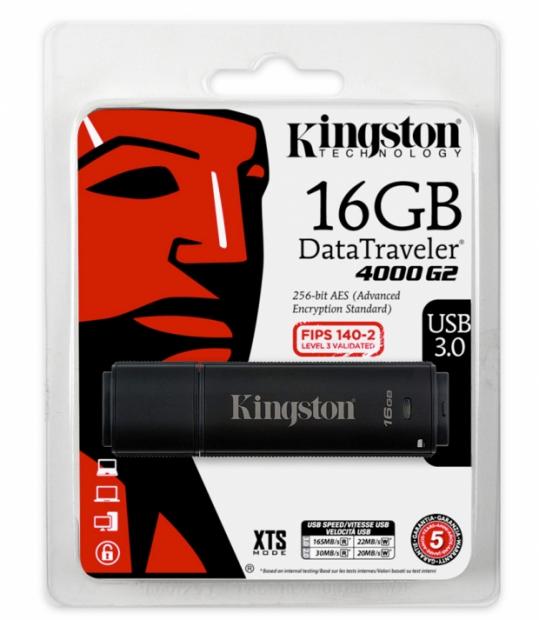 DataTraveler 4000 G2 & DT4000 G2 Management Ready Features & Specifications:
High-end FIPS Validated Security: 100-percent of stored data is protected by hardware-based, 256-bit Advanced Encryption Standard (AES) in XTS mode

Tamper-Evident seal: physical security to detect and respond to attempts at physical access, use or modification of the cryptographic module

USB 3.0: latest USB standard guarantees backwards compatibility with USB 2.0

Read-Only Access Mode: when selected, access files in Read-only Mode to avoid potential Malware risks

Enforced password protection: complex password is user set with minimum characteristics to prevent unauthorized access

Secure: drive locks down and reformats after 10 intrusion attempts

Easy to use: no admin rights or application installation required

Customizable: preload content, password length, maximum number of password attempts and internal/external serialization numbering

Co-logo available

Ruggedized: titanium-coated stainless steel casing

Waterproof1: protected against water damage

TAA Compliant

Guaranteed: five-year warranty with free technical support

Dimensions: 3.00" x 0.9" x 0.47" (77.9mm x 22mm x 12.05mm)

Speed:
o USB 3.0: 4GB: 80MB/s read, 12MB/s write
8GB & 16GB: 165MB/s read, 22MB/s write

32GB: 250MB/s read, 40MB/s write

64GB: 250MB/s read, 85MB/s write
o USB 2.0: 4GB: 30MB/s read, 12MB/s write
8GB-64GB: 30MB/s read, 20MB/s write

Capacities3: 4GB, 8GB, 16GB, 32GB, 64GB

Operating Temperature: 32°F to 140°F (0°C to 60°C)

Storage Temperature: -4°F to 185°F (-20°C to 85°C)

Minimum System Requirements:
o USB 2.0 compliant and 1.1 compatible
o Two free drive letters required for use
Last updated: Apr 7, 2020 at 12:09 pm CDT