Mad Catz Interactive, Inc. announced today the shipping of the TRITTON Swarm Wireless Mobile Headset. Compatible with mobile and smart devices as well as wired connections to PC, Mac and the latest generation video game consoles, the TRITTON Swarm delivers discrete yet powerful Bluetooth technology hidden behind striking aesthetics. With a choice of four metallic iridescent finishes, the TRITTON Swarm combines fashion with technology, designed to blend seamlessly with the lives of the modern gamer. Behind the eye-catching looks, the TRITTON Swarm features a host of powerful technologies which provide optimized audio and control, regardless of audio source.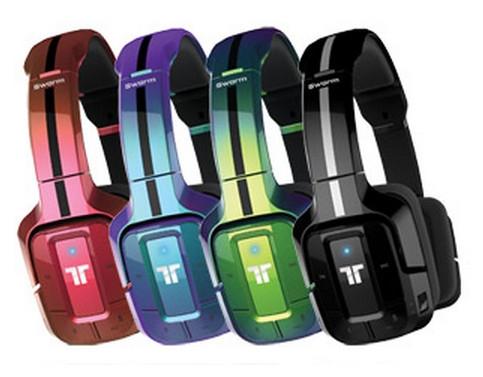 Capable of pairing with two devices simultaneously, the Swarm is ideal for gaming, yet able to automatically switch to the users' smartphone when an important call comes in. Advanced aptX technology eliminates lip sync issues common to Bluetooth headsets, making the Swarm the perfect companion for late night movie watching. Advanced wireless surround sound allows mobile gamers to pinpoint enemy movements and team mate positions with unrivalled accuracy. Based upon the same virtual surround technology used in mission critical missile warning systems by an F-16 Falcon jet fighter, AM3D Audio can convert any standard stereo audio signal into highly realistic military-grade 3D sound.
"TRITTON is known for its outstanding audio quality and we believe now is the time to further broaden the appeal of the brand. We believe the Swarm will resonate with today's fashion conscious gamer, who typically plays across a variety of devices," said Darren Richardson, President and Chief Executive Officer of Mad Catz. "Our headset business continues to account for a sizable percentage of global sales and today's announcement illustrates our commitment to grow our business further throughout 2015."
The TRITTON Swarm will be debuting at CES Las Vegas 2015 and can be seen via appointment only at the Mad Catz suite, located at the Westgate Las Vegas Resort & Casino, suite number: 12121. Mad Catz will also be unveiling the TRITTON Swarm at the ShowStoppers CES event, taking place the evening of January 6, 2015 at The Wynn, Las Vegas.
The TRITTON Swarm Wireless Mobile Headset is available in iridescent Blue, Red, Green and Black colors.
Last updated: Apr 7, 2020 at 12:08 pm CDT