ViewSonic Corp., a leading global provider of visual solution products, unveils its newest visual display technology solutions at CES 2015 in Las Vegas, at the Encore Hotel, January 6-9, 2015. The company's line-up of new products to be showcased at CES will include Ultra HD 4K monitors, newly redesigned and price-competitive digital projectors, comprehensive VDI endpoint solutions and commercial-grade digital signage. With the company's strong display product heritage, ViewSonic continues to lead the visual display industry with innovations such as touchscreen, interactivity, curved, and 5K displays as well as wireless connectivity, cloud and virtual-based technologies that meet today's demanding environments.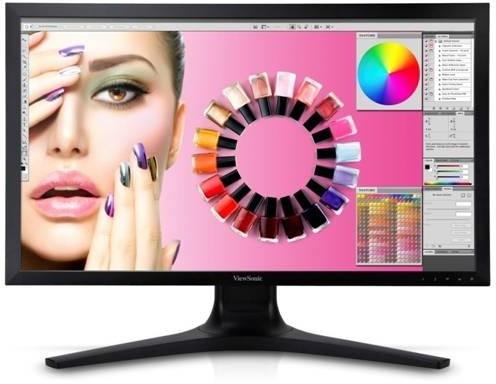 "At the 2015 Consumer Electronics Show, we'll introduce new commercial-grade solutions that demonstrate our strength and leadership in the professional and consumer display market," said Al Giazzon, vice president of marketing at ViewSonic Americas. "With new products like our new brighter and smarter LightStream projectors and feature-rich 4K monitors, our product lines continue to deliver the highest level of commercial-grade quality to meet the challenges of any computing environment."
Digital Projectors
The company introduces its LightStream Line of projectors which features SuperColor for higher brightness levels and a more true-to-life color experience in a sleek and smart new form factor. The LightStream PJD5 Value Series of projectors is the first series announced from the LightStream Line. The LightStream PJD5 Value Series delivers 3200 lumens of brightness and smart integrated functions, making them ideal for settings that need higher levels of brightness like classrooms, boardrooms, or at home.
Bringing professional grade technology to the home, ViewSonic will also showcase the new high-performing PJD7822HDL home entertainment projector. It boasts 3200 ANSI lumens of brightness for a crisp 1080p visual experience, convenient connectivity options, and features a smooth white finish that blends into any home décor. For professionals on-the-go, the award-winning lightweight and bright PLED-W600 and PLED-W800 are solid state LED-based DLP projectors.
Desktop Monitors
ViewSonic introduces three new Ultra HD 4K monitors, a new touch display, and two VDI compatible displays. The flagship VP2780-4K 27-inch Ultra HD 4K professional monitor features a premium IPS panel, 3820 x 2160 resolution at 60Hz, and HDMI2.0 Display Port for advance computing applications. The VG2860Smhl-4K 28-inch 4K monitor offers superior multitasking functionality with Ultra HD 3840 x 2160 and future-proof connectivity including DisplayPort, Mini DisplayPort, HDMI, MHL and DVI inputs, and 4 USB ports for commercial-grade computing. Both the VP2780-4K and VG2860Smh-4K feature MultiPicture mode which supports up to 4 different screen inputs for increased productivity. For a price competitive 4K monitor, the VX2475Smhl-4K is ViewSonic's entry-level 24-inch Ultra HD display featuring 3820 x 2160 resolution at 60Hz with HDMI2.0 Display Port that is positioned to be one of the best valued 4K monitors in the market with an ESP of $449.99 (USD).
ViewSonic's desktop displays are compatible in a variety of settings, including virtual desktop infrastructure environments. During CES, ViewSonic will demonstrate the VDI compatibility of its two new monitors for corporate and enterprise settings. The VG2439Smh 24-inch monitor delivers industry-leading ergonomic swivel, pivot, and height-adjustable options. The VG2847Smh features a unique client-mountable design and delivers superior screen performance with SuperClear MVA panel technology while HDMI and DisplayPort connectivity ensures flexible connectivity with a number of multimedia and computing devices.
A new addition to ViewSonic's growing touch display line, the 24-inch interactive touch display TD2430Sml is enhanced with SuperClear visual technology. The 10-point projected capacitive touch display provides flexible connectivity and ergonomic book stand support for comfort and productivity.
Showcasing the newest technology in gaming and entertainment, ViewSonic will demonstrate three new displays that provide an immersive multimedia experience. The VX3473Smhl 34-inch ultra-wide LED curved monitor makes a technology statement featuring future-proof connectivity options. With ultra-wide 3440 x 1440 resolution, this distinctive multimedia monitor provides for a captivating gaming experience. ViewSonic will also debut its first 5K monitor, the VP2785-5K. The 27-inch 5K monitor delivers stunning 5120 x 2880 5K resolution and 99% of Adobe RGB color space for exceptional clarity for graphic and design applications where detail is critical. For smooth glitch-free gaming experience, the VX2701 27-inch Full HD 1080p monitor is FreeSync supported and features a 144Hz refresh rate and ultra-fast 1ms response.
VDI Client Technology
Expanding on ViewSonic's comprehensive line of VDI endpoint solutions, the SC-U25 Value Client is an easy plug-and-play LAN client that supports Gigabit Ethernet-based installation for easy deployment and simple management. The SC-U25 is optimized to support a mix of virtualized desktops including Microsoft Windows (XP/7/8), Chrome-browser sessions, pre-configured Linux desktop, as well as kiosk and digital signage stations connected to multiple displays in a local area network. Allowing up to 20 users per PC server, the SC-U25 delivers a cost-effective high performing VDI solution.
The SC-T47 Quad Thin Client provides an economical and feature-rich solution for driving multiple displays in a virtual desktop environment, supporting up to four Full HD 1080p displays. Designed for users seeking the richest zero client experience in VMware virtualized environments, the ViewSonic SC-Z56 is certified for VMware Horizon View and supports advanced 2D/3D applications with up to four simultaneous Full HD or dual QHD displays.
An integrated and easy-to-manage VDI solution, the VSD231 LED Smart Display is a 23-inch IPS, Full HD 1080p, 10-point projected capacitive touchscreen with an Android Jelly Bean 4.3 operating system for a versatile PC-less solution. The new 24-inch SD-Z246 integrated zero client monitor is ideal for a seamless deployment in VMware-based VDI environments, while the SD-T225 is a 22-inch thin client display optimized for Citrix or Microsoft based virtualization and features multiple connectivity options, including a DVI output for dual monitor usage, and four USB ports for peripherals.
ViewSonic's VDI solutions are optimized for the major remote networking protocols, including Microsoft RDP with Remote FX, Citrix ICA/HDX, PCoIP for VMware, VMware Horizon DaaS, Amazon WorkSpaces and remote workstation environments.
Large Format Displays/Digital Signage
Reaching customers is vital in today's crowded market and having the perfect interactive display solution is essential to delivering effective communication. ViewSonic's commercial-grade CDE8451-TL is an 84-inch, Ultra HD 4K interactive large format display featuring six-point simultaneous touch capability that delivers ultra-high resolution imaging for collaborative and effective messaging.
ViewSonic's large format displays and digital signage products offer exceptional multimedia messaging performance with flexible and functional designs. The new EP5012-TL 50-inch interactive four-point touch ePoster is an all-in-one free-standing digital kiosk solution that comes with an embedded media player, 8GB internal memory and bundled with content management software for playlist building, scheduling and exporting over your digital signage network. The EP5012-TL also features an embedded Linux operating system for customization of vertical market applications.
Last updated: Apr 7, 2020 at 12:08 pm CDT