ASUSTOR Inc., a leading innovator and provider of network storage solutions, has announced the launch of the brand new 4-bay rackmount AS-204RS NAS device designed for small to medium enterprise. Equipped with a powerful Intel Atom 1.2 GHz dual-core processor and 1GB of DDR3 memory, the AS-204RS also comes with 2 gigabit Ethernet ports and 4 SuperSpeed USB 3.0 ports which provide superior file transfer speeds and flexibility for enterprise network environments.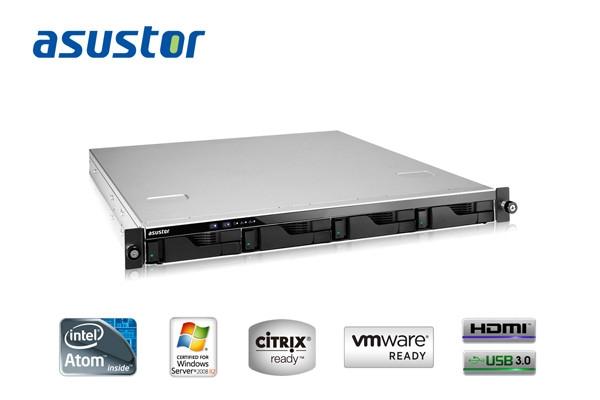 Users can also use the USB ports to attach external devices such as printers, UPS, or external hard drives. All AS-204RS devices come built-in with ASUSTOR's ADM operating system which offers IT administrators a host of complete backup solutions and a rich variety of business applications. Furthermore, a maximum available storage space of 24 TB (using 6 TB hard disks) is featured, meeting the storage demands of small and medium enterprise.
With prices continuing to increase in the current economic climate, we aim to provide users with cost-effectiveness and a competitive advantage," said Johnny Chen, Product Manager at ASUSTOR. "Equipped with a powerful Intel platform, the AS-204RS offers premium performance at an economical price, making it the optimal choice for businesses looking for a cost-effective solution."
All AS-204RS devices come with ASUSTOR's ADM 2.1 (ASUSTOR Data Master) operating system, which offers seamless cross-platform file sharing, 2-way backup support (Rsync, FTP, Backup Plan), Amazon S3 cloud backup, VPN encrypted connections and military-grade AES-256 bit encryption for shared folders. Users can also upgrade to the lastest version of ADM using scheduled live updates to enjoy all of the latest functions and Apps for ASUSTOR.
AS-204RS Key Features:
Intel Atom 1.2GHz dual-core processor

1 GB DDR3 memory

4 x USB 3.0 (5 Gb/s) SuperSpeed ports

1 x HDMI 1.4a port

VMware, Citrix and Hyper-V ready

Supported volume types: single disk, JBOD, RAID 0, RAID 1, RAID 5, RAID 6, RAID 10

Support for hard disk hot-swapping and online RAID level migration and capacity expansion

Maximum hard disk storage capacity of 24 TB (6TBx4)
ADM Unique Features:
Easy installation and intuitive graphical user interface

Industry exclusive - Searchlight search engine

Exclusive Cloud Connect technology helps you to quickly set up your personal cloud

Provides Rsync, FTP, Backup Plan and complete 2-way backup solutions

Mission Mode backup option

Exclusive MyArchive technology essentially provides unlimited storage space

Supports System Sleep Mode and hard disk hibernation

Built-in App Central App repository
Last updated: Apr 7, 2020 at 12:08 pm CDT