AMD today announced revenue for the fourth quarter of 2013 of $1.59 billion, operating income of $135 million and net income of $89 million, or $0.12 per share. The company reported non-GAAP operating income of $91 million and non-GAAP net income of $45 million, or $0.06 per share.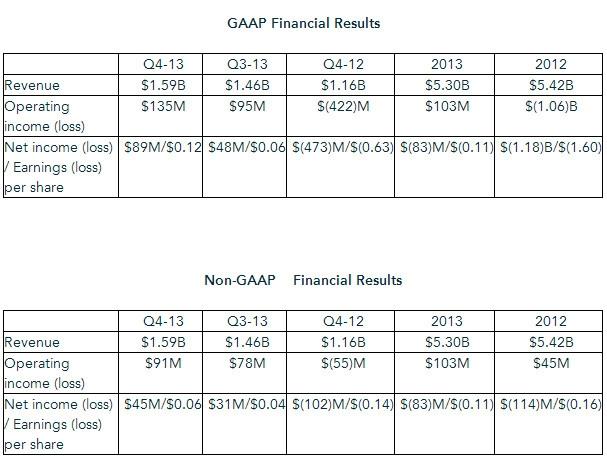 For the year ended December 28, 2013, AMD reported revenue of $5.3 billion, operating income of $103 million and a net loss of $83 million, or $0.11 per share.
"Strong execution of our strategic transformation plan drove significant revenue growth and improved profitability in the fourth quarter," said Rory Read, AMD president and CEO. "The continued ramp of our semi-custom SoCs and leadership graphics products resulted in a 38 percent revenue increase from the year ago quarter. Our focus in 2014 is to deliver revenue growth and profitability for the full year by leveraging our differentiated IP to drive success in our targeted new markets and core businesses."
Quarterly Financial Summary
Gross margin was 35 percent in Q4 2013.

Gross margin decreased 1 percentage point sequentially. Q4 2013 gross margin included a $7 million benefit from the sale of inventory previously reserved in Q3 2012 as compared to a similar benefit of $19 million in Q3 2013.

Cash, cash equivalents and marketable securities balance, including long-term marketable securities, was $1.2 billion at the end of the quarter, in line with expectations.

Computing Solutions segment revenue decreased 9 percent sequentially and 13 percent year-over-year. The sequential and year-over-year declines were primarily due to decreased chipset and notebook unit shipments.

Operating loss was $7 million, compared with operating income of $22 million in Q3 2013, primarily due to lower revenue and higher bonus expense. Operating loss for Q4 2012 was $323 million.

Microprocessor Average Selling Price (ASP) increased sequentially and year-over-year.

Graphics and Visual Solutions segment revenue increased 29 percent sequentially and 165 percent year-over-year primarily driven by our semi-custom SoCs.

Operating income was $121 million compared with $79 million in Q3 2013 and $22 million in Q4 2012, primarily due to increased revenue from our semi-custom SoCs.

GPU ASP increased sequentially and year-over-year.
Recent Highlights
Microsoft and Sony launched their next-generation gaming and entertainment consoles powered by semi-custom AMD APUs. Combined, the two consoles sold more than seven million units in less than two months.

AMD began shipping the next-generation AMD A-series desktop APU codenamed "Kaveri," ushering in the next level of graphics, compute and efficiency for desktops, notebooks, embedded systems and servers. "Kaveri" is the first APU to include Heterogeneous System Architecture (HSA) features, AMD TrueAudio technology and support for AMD's Mantle API.

AMD announced low-power APU offerings for 2014 with the addition of "Beema" and ultra-low power "Mullins" mobile APUs to its roadmap. Raising the performance bar across fanless tablets, 2-in-1s and ultrathin notebooks, the new APUs deliver more than 2x the performance-per-watt of the previous generation(2)(3). AMD showcased the innovative features and potential of both "Beema" and "Mullins" at CES 2014 with the company's award-winning Discovery Project PC gaming and productivity tablet, as well as the "Nano PC," a full-featured Windows 8 PC reference design the size of a smartphone.

AMD launched a new family of mobile discrete GPU products. The AMD Radeon R9, R7, and R5 M200 Series mobile GPUs are powered by the award-winning Graphics Core Next (GCN) architecture and bolstered by the Mantle API. Dell, Lenovo, MSI, and Clevo have announced notebooks featuring the new GPUs.

AMD FirePro professional graphics continued to gain momentum, with Apple launching its new Mac Pro, featuring dual AMD FirePro professional graphics solutions (GPUs.) AMD also announced the new AMD FirePro S10000 12 GB Edition graphics card, the industry's first "supercomputing" server graphics card with 12 GB memory, specifically designed for big data, high-performance heterogeneous compute workloads for single precision and double precision performance.

AMD was awarded a multi-year research project associated with the U.S. Department of Energy (DOE) Extreme-Scale Computing Research and Development Program, known as "DesignForward." The "DesignForward" award supports the research of the interconnect architectures and technologies needed to support the data transfer capabilities in extreme-scale computing environments.
Current Outlook
AMD's outlook statements are based on current expectations. The following statements are forward-looking, and actual results could differ materially depending on market conditions and the factors set forth under "Cautionary Statement" below.
For the first quarter of 2014, AMD expects revenue to decrease 16 percent, plus or minus 3 percent, sequentially.
Last updated: Apr 7, 2020 at 12:08 pm CDT