Mushkin, Inc., an industry-leading designer and manufacturer of high-performance and mission-critical computer products, has introduced the new Atom USB 3.0 flash drive.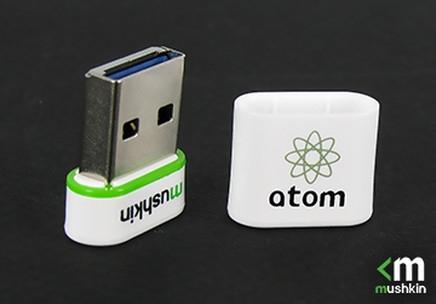 The Atom USB 3.0 flash drive emphasizes its convenience with an extremely small form-factor -- just under the size of a quarter. Taking advantage of its small stature, the Atom retains USB 3.0 extreme performance while exercising low power consumption. The Atom USB 3.0 flash drive is also backwards compatible with USB 2.0 and 1.1. The 8 GB model offers 80 MB/s read, 5.5 MB/s write, and consumes 0.65W while idle, or 0.905W at load. The 16 GB flash drive enables 155 MB/s read and 11.5 MB/s write on 0.25W idle and 0.67W load. The 32 GB model reads at 155 MB/s with 21.5 MB/s write, and low power consumption of 0.2475W when idle and 0.75W under load.
The miniature size of the Atom USB 3.0 flash drive enables users to leave the flash drive into the USB port while working on-the-go without obstruction. Beyond its primary role as a USB flash drive for external storage, the Atom offers inherent versatility for tablet and slim notebook users to plug-in and leave as secondary device storage with its low power usage.
"The Atom USB flash drive is designed with ultimate portability and convenience in mind. Having such a small and accommodating size eliminates the need to eject the flash drive and risk losing it when mobile," said Brian Flood, the Director of Product Management at Mushkin, Inc. "For our users who regularly use slimmer, portable devices such as tablets, the Atom is a definite solution when you need extra storage on a daily basis."
Last updated: Apr 7, 2020 at 12:08 pm CDT