The Storage Products Business Unit of Toshiba America Electronic Components, Inc., a committed technology leader, announces a new addition to its family of enterprise solid state drives (eSSD), the PX02SS. In capacities of up to 800GB1, the new 2.5-inch form factor SAS interface eSSD is designed for various write-intensive enterprise applications and is ideally suited for large workloads, such as data processing and online transactions.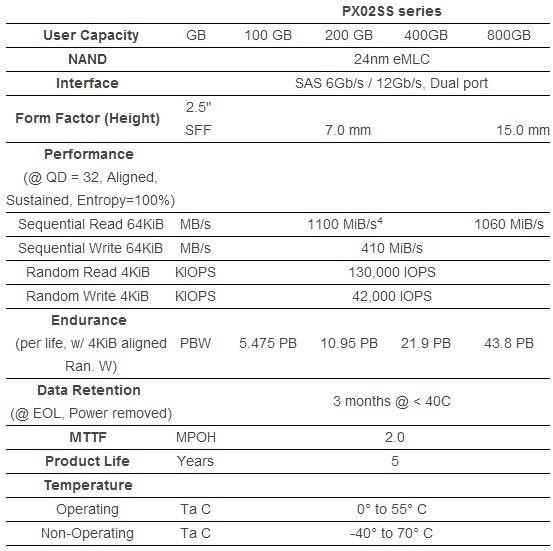 The PX02SS features a 12 Gb/s SAS interface, and select models offer industry standard self-encrypting technology. With high transaction workloads in mind, the newest eSSD supports up to 30 full drive writes per day for all available capacity points and has a layered error correction code (ECC) approach for improved reliability. The PX02SS underscores the breadth of Toshiba's storage products, both SSDs and hard disk drives (HDDs) for mobile and enterprise markets, giving customers a "one stop shop" capability for their storage requirements.
"Toshiba's unique integrated SSD design and manufacturing capability ensures that key components of the SSD, including NAND flash, are designed by Toshiba," said Don Jeanette, senior director of product marketing at Toshiba Storage Products Business Unit. "Component and design commonality reduces qualification time for our customers and reflects Toshiba's partner-driven approach to SSD design and manufacturing, helping our customers save time and money."
Last updated: Apr 7, 2020 at 12:08 pm CDT