ASUSTOR Inc., a leading innovator and provider of network storage solutions, announced today that its NAS devices are now compatible with over 100 different PowerWalker UPS devices from BlueWalker. This integration provides SOHO and small business users, who have a need for uninterruptible power supplies, with greater flexibility and a larger variety of solutions when looking to deploy a NAS with a UPS.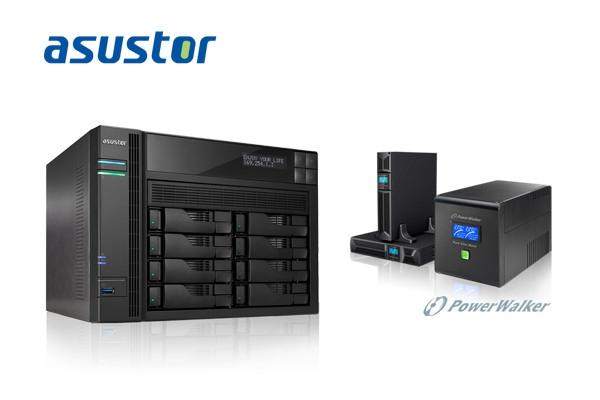 "Due to both European big distribution channel strong request, PowerWalker UPS and ASUSTOR NAS cooperate together to offer end user a reliable solution for their high value device & critical data" said Jörg Bous, Business Development Manager at BlueWalker GmbH. "After 6 months closely testing, we are happy to announce all the customers could have these solution available from now."
"In order to protect their critical electronic equipment against the damage that can potentially be caused by power outages and power surges, modern enterprises can choose to deploy uninterruptible power supply mechanisms," said Quote Lin, Director of Research and Development at ASUSTOR. "After passing our strict verification and testing process, we are happy to announce that PowerWalker UPS devices are now compatible with all ASUSTOR products. This provides our users with a wealth of options when choosing a UPS device to provide protection for their NAS."
The ASUSTOR range of NAS products consists of the 2, 3 and 6 series desktop models along with the AS-604RD and AS-609RD rackmount models which feature redundant power supplies. All of ASUSTOR's NAS devices feature Intel Atom dual-core processors which offer supercharged performance with low power consumption. With regards to software, each and every ASUSTOR NAS comes with the intuitive ADM 2.0 operating system which features ASUSTOR's exclusive App Central NAS App repository. App Central contains over 100 unique Apps that users can download and install for free. Users can choose to install only the Apps that fit their interests and needs, creating a customized device for themselves while maximizing resources and productivity. Additionally, ASUSTOR NAS devices offer significant hardware expandability by supporting a wide range of USB and eSATA devices such as external hard drives, UPS devices, printers and more, meeting the varied demands of small and medium business environments.
Last updated: Apr 7, 2020 at 12:08 pm CDT