VisionTek Products LLC, a leading manufacturer of award-winning, high-performance upgrades and accessories for PC and Apple Macintosh computers, announced today the VisionTek Radeon R9 290X graphics card. Featuring up to 1GHz clock speed, 4GB 512bit GDDR5 RAM, and compute performance over 5.6 TFLOPs, the $549MSRP VisionTek R9 290X is the fastest graphics card available and outperforms other, more expensive GPU brand-based graphics cards. VisionTek will begin shipping the R9 290X by early November.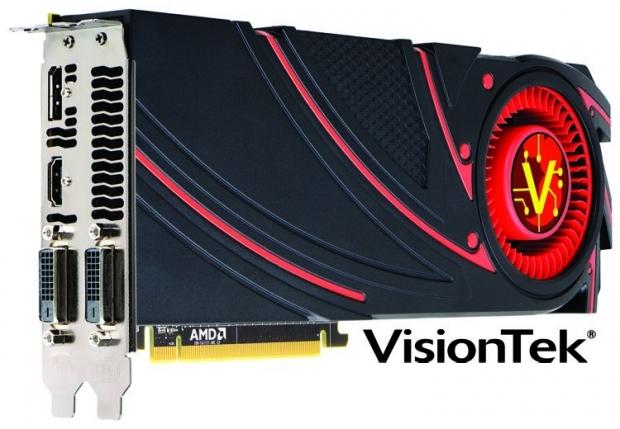 Sets New Performance Standard
Because the VisionTek R9 290X utilizes AMD's Graphics Core Next (GCN) Architecture, which unifies graphics processing and compute cores for higher utilization, this ultra-performance graphics card can deliver over 5 TFLOPS compute performance - a new standard in the graphics card industry - and over 300GB/s memory bandwidth to support 4K gaming with over 100 layers of effects.
Overclocking the Smart and Easy Way
By accessing the Boost State control within an easy-to-use card management GUI, the VisionTek R9 290X can be set to automatically run higher than the base core speed if it is operating below power, current, and temperature specification limits. The card also features two additional automatic performance boosting features. AMD PowerPlay Technology adjusts clock speeds in response to GPU load for energy use efficiency while AMD PowerTune Technology maximizes performance under load conditions by increasing the GPU engine clock to take advantage of unused Thermal Design Power (TDP) headroom.
See What You've Been Missing with 4K Resolution
The VisionTek R9 290X supports Ultra HD 4K (3840 x 2160) resolution, which is 4x the resolution of 1080p. Typically, configuring a graphics card for use with a high resolution monitor must be done manually. However, AMD's Catalyst Graphics Drivers will perform automatic configuration on select popular monitors, such as the Panasonic Viera. Further simplifying the ability to use 4K displays is the card's use of AMD Eyefinity technology which can span multiple monitors into one large panoramic display.
Hear What You've Been Missing with TrueAudio
With an onboard audio processing chip powering AMD's TrueAudio technology, the VisionTek R9 290X can deliver accurate 3D surround sound within games and special audio effects like reverbs and room simulations while reducing CPU load. Now you can hear more real-time voices and situational sounds in-game with any and all audio hardware already owned.
Outperforms Competition in 4K Benchmarks While Costing $100 Less
In a recent performance benchmarking preview publically conducted by AMD, two leading graphics intensive games, BioShock Infinite and Tomb Raider, were both run on the same test machine at 4K (3840 x 2160) resolution settings on the Radeon R9 290X and the NVIDIA GeForce GTX 780 cards. The only variable to the tests was that the R9 290X was run in "Quiet Mode" setting, the less aggressive of two performance profiles that are user selectable via a toggle switch on the card. Below are the results of the $649 street price GTX 780 versus the $549 MSRP R9 290X:
BioShock Infinite:
R9 290X "Quiet Mode": 44.25 FPS
GeForce GTX 780: 37.67 FPS
Tomb Raider:
R9 290X "Quiet Mode": 40.2 FPS
NVIDIA GeForce GTX 780: 34.5 FPS
These tests are further confirmed by independent performance benchmarking site Anandtech.com which found the R9 290X outperforms the GTX 780 in medium quality setting by 14%.
VisionTek Radeon R9 290X Specifications & Pricing
Memory: 4GB 512bit GDDR5

Memory Speed: 5.0Gb/s

Base Clock Speed: up to 1.0GHz

Stream Processors: 2816

Compute Performance: 5.6 TFLOPS

CrossFire Support: Up to four GPUs with no interconnect bridge required

Outputs: 2 x Dual Link DVI, 1 x DisplayPort, 1 x HDMI

Cooling: Single fan 2 slot

Bus Type: PCIe 3.0

3DMark Fire Strike: greater than 8000

OS Support: Windows 8.1, Windows 8, Windows 7, Windows Vista and Linux

MSRP: $549.00
Last updated: Apr 7, 2020 at 12:08 pm CDT