PROMISE Technology, Inc. today announced Pegasus2 and SANLink2, the world's first storage solutions with Thunderbolt 2, the revolutionary technology from Intel that delivers blazing speeds of 20 Gbps and allows for exceptional performance for creative workflows and 4K streaming and display environments.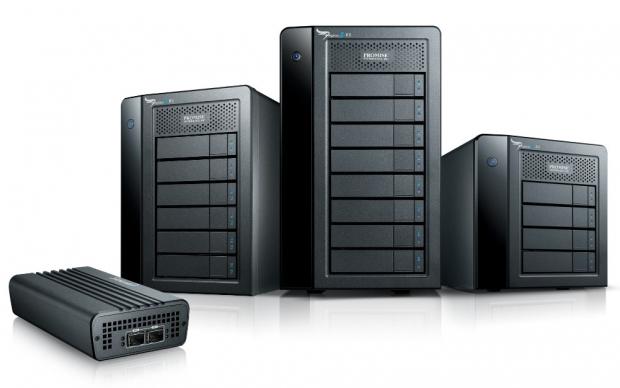 The Pegasus2 line of hardware RAID solutions provides blistering-fast transfer speeds that dramatically accelerates and simplifies 4K workflows, offering industry-leading RAID protection in a sleek, compact, and portable enclosure at maximum data transfer rates allowed through Thunderbolt 2. SANLink2, a Thunderbolt 2 to 8G Fibre Channel bridge, alleviates storage bottlenecks for desktop and portable computing systems by providing direct connectivity to an external Fibre Channel Storage Area Network (SAN) such as a VTrak x30 RAID storage system or a VTrak A-Class shared SAN filesystem for rich media video ingest and editing.
As one of the storage industry's global leaders, PROMISE develops high-performance solutions and cutting-edge Thunderbolt enabled devices optimized for the video bandwidth requirements of the media and entertainment market. Thunderbolt 2 technology, the fastest PC I/O connection, has changed the industry by introducing new capabilities and possibilities for content creators working with high-resolution files including HD, 3D, 2K, and 4K video. Running bi-directionally at 20 Gbps -- twice the 10 Gbps bandwidth of Thunderbolt -- Thunderbolt 2 is a breakthrough technology for video creators and multimedia professionals allowing for simultaneous transfer and display of high-bandwidth 3D and 4K video files, which often requires 15 Gbps.
Pegasus2, the ideal external RAID storage solution, will be available in 4, 6 and 8-bay enclosures, and maximizes the available line rate of Thunderbolt 2 by providing blistering fast transfer speeds for a growing number of 4K applications. With two Thunderbolt 2 ports, 6 devices can be attached -- allowing for daisy chaining of Pegasus enclosure units, Apple Thunderbolt Displays, or Mini DisplayPort devices.
As the first and only RAID 5 solution with Thunderbolt 2 technology, Pegasus2 delivers enterprise-level hardware RAID protection in a portable package that can be taken almost anywhere -- perfect for photographers, filmmakers, and other multimedia professionals:
The Pegasus2 R4 8 TB RAID system offers an easy entry point into the Thunderbolt 2- based storage family.

The Pegasus2 R6 12 TB RAID system offers terrific value, at the lowest cost for BOTH performance and protection.

The Pegasus2 R6 18 TB RAID system offers the best value combination of performance, protection, and capacity.

The Pegasus2 R8 24 TB RAID system is the fastest available RAID storage with Thunderbolt 2.

The Pegasus2 R8 32 TB RAID system offers the highest capacity and protection at Thunderbolt 2 transfer rates.
SANLink2 is a portable device bridge which provides dual 8 Gbps Fibre Channel ports and dual 20 Gbps Thunderbolt 2 ports and can be used to connect Thunderbolt-enabled systems directly to a high-speed Fibre Channel SAN, such as the PROMISE VTrak x30 RAID storage system or a VTrak A-Class shared SAN storage appliance for scale out capabilities and real time raw video HD/4K footage ingest, editing, and collaboration. SANLink2 enables connectivity that provides flexibility to 4K workflows by removing limitations of systems previously unable to connect directly to a Fibre Channel SAN, and is backwards compatible with Thunderbolt 1.
"SANLink2 and Pegasus2 have set new standards for performance and flexibility, creating a whole new realm of possibilities for multimedia pros and power users," said James Lee, CEO, PROMISE Technology. "Being the first company to bring to market storage solutions with Thunderbolt 2 technology further validates PROMISE's position as the leader in designing high-performance devices for the media and entertainment market -- which revolutionizes the creative workflows of our customers so they can be ready for creating, editing, and delivering HD and 4K and beyond content."
Pegasus2 Highlights
Supports maximum throughput allowed by Thunderbolt 2 interface

Supports simultaneous streaming, editing, and backup of 4K video

Dual Thunderbolt ports for daisy chaining

Hot-swappable drive bays for effortless drive access and serviceability

Portable hardware RAID protection for offsite shoots

Massive storage capacity for backing up creative projects and digital libraries

Thunderbolt cable included
SANLink2 Highlights
Enables Fibre Channel connectivity on systems with a Thunderbolt 2 port

Dual 8 Gbps Fibre Channel Ports

Dual 20 Gbps Thunderbolt 2 ports with DisplayPort and device daisy-chain support

Supports OS X and OS X Server

Supports Xsan and StorNext filesystems

Supports all VTrak storage subsystems (4 & 8 Gbps Fibre Channel)

Thunderbolt cable included
Availability
The Pegasus2 Series is available as a 4-bay, 6-bay or 8-bay RAID enclosure starting in November. Pegasus2 can be purchased from the Apple Online Store (www.apple.com) and through the PROMISE global network of distributors and value added resellers. SANLink2 will be available in December.
Last updated: Apr 7, 2020 at 12:08 pm CDT