ASUS Republic of Gamers (ROG) today announced the launch of Matrix R9 280X Platinum edition and Matrix R9 280X standard edition, two new graphics cards powered by the latest AMD Radeon R9 280X graphics-processing unit (GPU). As dedicated gamers have come to expect from ROG, the new Matrix R9 280X graphics cards are tricked out with exclusive technologies and tools including an efficient copper-based thermal design for faster performance at lower temperatures, VGA Hotwire connections for voltage control, DIGI+ voltage-regulator modules (VRMs) for smooth and stable power and GPU Tweak, an easy-to-use tuning software that allows users to squeeze every last drop of performance out of their graphics card.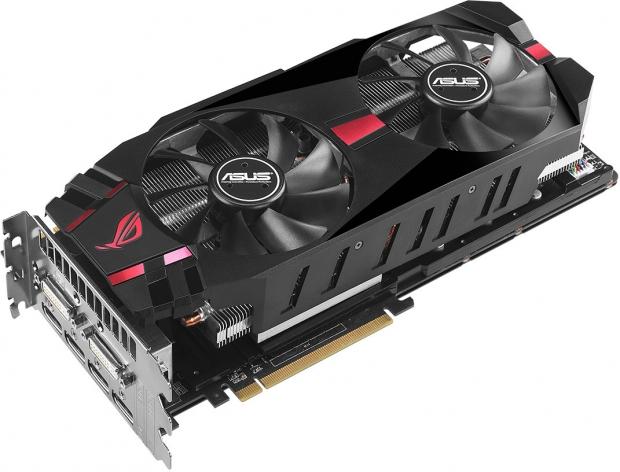 Cool, quiet and faster than the fastest
The Matrix R9 280X graphics cards benefit from a copper-based thermal design that conducts heat away from the GPU with extreme efficiency. Compared with reference Radeon R9 280X designs, ROG Matrix R9 280X cards allow the latest AMD Radeon GPU to run up to 20% cooler and three times (3X) quieter. Coupled with dual 100mm cooling fans, gamers can enjoy ultra-stable, ultra-cool play with very low noise. R9 280X's GPU is clocked at 1000MHz, while R9 280X Platinum's core is cranked up to a blistering 1100MHz - 100MHz higher than reference.
Overclock even more with easy overvolting
Matrix R9 280X graphics cards have exclusive ROG VGA Hotwire technology built in for even more overclocking headroom. By wiring the Matrix R9 280X's VGA Hotwire terminals to header connections on the motherboard, users are able to overvolt right away.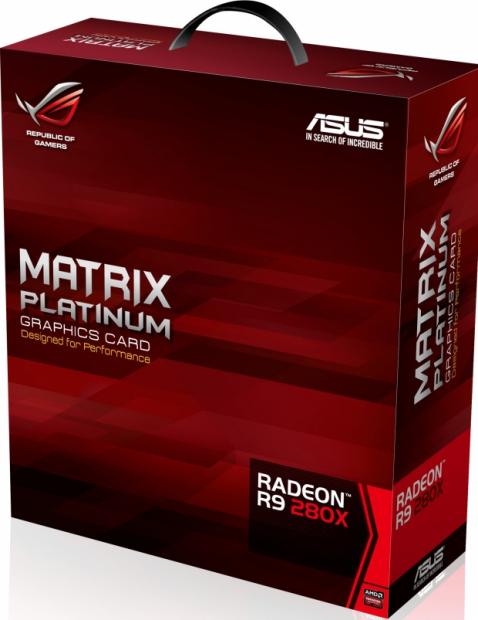 In conjunction with the TweakIt utility and the plus and minus buttons fitted to some ASUS ROG motherboards, VGA Hotwire puts overvolting adjustments at users' fingertips - so they can gradually and safely increase power for higher speeds and smoother gaming. With Matrix R9 280X cards, TweakIt offers a wider voltage-modulation range than ever before and it's also possible to immediately activate the dual 100mm fans - enabling maximum airflow and instant cooling at the touch of a button.
Matrix R9 280X cards also include an overclocking 'safe mode' that can be used to quickly restore default settings - so enthusiasts can restore stability easily at any time. As well, an illuminated Matrix logo allows users to gauge a card's loading at a glance because, cleverly, the lamp changes color to indicate the current load level.
Unmatched stability with DIGI+ Super Alloy Power
Matrix R9 280X graphics cards benefit from exclusive ASUS DIGI+ VRM with Super Alloy Power technology. Super Alloy Power's solid-state capacitors, concrete-core chokes and hardened MOSFETs all withstand much greater stress and heat due to the application of specially-formulated materials - increasing reliability and overall card lifespan. DIGI+ VRM delivers 20-phase power and digital voltage regulation ensuring ample room for experimental performance tuning - to levels unmatched by other graphics cards.
DIGI+ VRM with Super Alloy Power technology also reduces power noise such as buzzing and increases the graphic card's longevity: compared to reference cards, power noise is reduced by as much as 30% and the card's expected lifespan by up to two-and-a-half times (2.5X).
Easy overclocking with load-line calibration and VRM-frequency tuning
The included ASUS ROG GPU Tweak utility gives Matrix R9 280X users intuitive control over GPU and video-memory clock speeds and voltages, cooling-fan speeds and power-consumption thresholds - so they can overclock easily and with high confidence. The exclusive ROG edition of GPU Tweak adds detailed GPU load-line calibration and VRM-frequency tuning, allowing incredibly fine control over multiple parameters for maximum overclocking and the potential to break world records.
As well, the GPU Tweak Streaming tool lets users share on-screen action over the internet in real time - so others can watch live as games are played. It's even possible to add a title to the streaming window along with scrolling text, pictures and webcam images.
AVAILABILITY & PRICING
ROG Matrix R9 280X Platinum and Matrix R9 280X will be available worldwide from 11 October. Please contact your local ASUS representative for further information.
Last updated: Apr 7, 2020 at 12:08 pm CDT