Triathlor ECO series is the brand new 80 PLUS Bronze power supply unit launched by the world renowned brand - Enermax. This series offers 4 different wattage outputs, including 350W, 450W, 550W and 650W with flat modular cable for easy cable management. The new Triathlor ECO is also equipped with Load Balancer technology to stabilize voltage output and to support C6/C7 states of Intel Haswell CPU. Yet, the new Triathlor ECO drives the energy saving standards to a higher level, by meeting the ErP Lot 6 2013 requirements, thanks to the latest 5Vsb standby eco-design.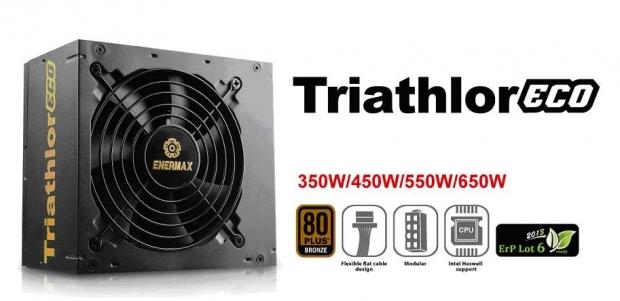 Triathlor ECO has the unique HeatGuard feature that is exclusively available for the top-notch PSU. The HeatGuard function allows a 30 to 60 sec. delayed cooling fan shutdown, enables the excessive warm air to be extracted from the unit and to maximize the product life. The 12cm double ball bearing cooling fan is used for silent operation and heat dissipation.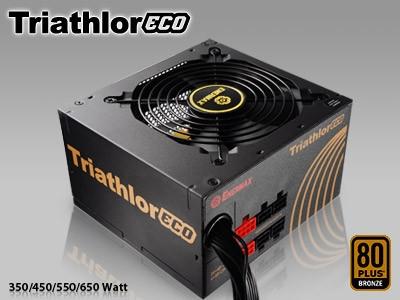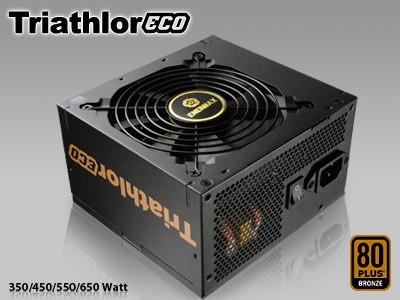 Advanced Cable Management - Flat & Flexible Modular Cables
Triathlor ECO comes with Flat Modular Cables, designed for a better user experience in line management. The flat and flexible cables allow easy routing installation with minimum space required and to maximizing the airflow inside the case.
Eco-efficiency, Quality Re-evolution
Inside the Triathlor ECO, the best quality Japanese main electrolytic capacitor is used for efficient and stable output, with high durability. In addition, Triathlor ECO is equipped with Load Balancer technology to stabilize voltage output and to support C6/C7 states of Intel Haswell CPU. More importantly, Triathlor ECO series is 80 PLUS Bronze certified, with respectable peak 88% efficiency under 230Vac input. Triathlor ECO is an all-time eco-power saver, as it help your system meets ErP Lot 6 2013 requirement, thanks to the latest 5Vsb design (less than 0.5W at standby mode).
Proactive Safety Design - Zero Tolerance
The automatic voltage regulator allows Triathlor ECO to operate between 100-240Vac, with Active PFC. The powerful single 12V output provides exceptional compatibility for power hungry high-end GPU while retaining superb power efficiency. Triathlor ECO also designs to work under high-temperature working condition while maintaining continuous and stable power output. In terms of safety measures, Triathlor ECO comes with multiple advanced technologies to ensure utmost user experience, including: OVP (Over Voltage), DC UVP (Under Voltage), OPP (Over Power), SCP (Short-Circuit) and SIP (Surge and Inrush current).
Triathlor ECO will be available in October 2013, MSRP: $79.99 (350W); $89.99 (450W); $99.99 (550W) and $109.99 (650W).
Last updated: Apr 7, 2020 at 12:08 pm CDT