Greenliant Systems, a leader in energy-efficient, highly secure and reliable solid state storage products, has entered the removable solid state drive (SSD) market and is sampling its new mSATA ArmourDrive GLS86 product line. Based on SATA NANDrive, using Greenliant's internally developed NAND controller, mSATA ArmourDrive is designed for applications that require industrial temperature capability, high reliability and long-life data storage.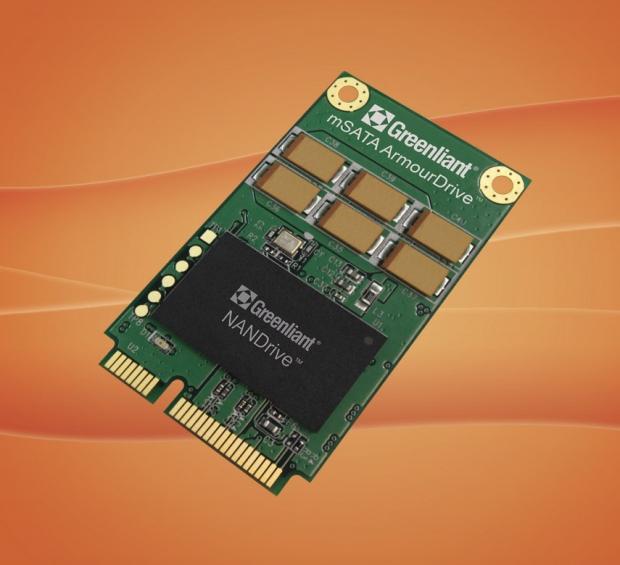 mSATA ArmourDrive operates at extreme temperatures between -40 to +85 degrees Celsius with 1-bit-per-cell (SLC) or 2-bits-per-cell (MLC) NAND flash memory, which gives customers a dependable, industrial temperature mSATA SSD using cost-effective MLC NAND. Addressing the needs of space-constrained embedded systems, mSATA ArmourDrive measures 29.85mm x 50.80mm x 4.80mm (JEDEC MO-300).
Other benefits of GLS86 mSATA ArmourDrive include:
Efficient Wear Leveling Management: Achieves maximum SSD lifespan for critical applications

Built-in Power Interrupt Data Protection: Safeguards data by promptly detecting and recovering from sudden power failures

Configurable Security: Provides user-selectable protection zones and military-grade erase commands

SMART Command Support: Estimates remaining SSD lifespan and provides alerts to prevent costly data loss

TRIM Command Support: Improves performance by freeing up available blocks
"mSATA is growing in popularity in embedded applications and it makes sense for Greenliant to add mSATA ArmourDrive to its industrial SSD portfolio," said Michael Yang, principal analyst for Memory & Storage, iSuppli Corporation. "Leveraging its NAND controller know-how is a significant differentiator for SSD suppliers such as Greenliant."
"Building on Greenliant's expertise in embedded storage, mSATA ArmourDrive complements our NANDrive product family," said Nobu Higuchi, vice president of application engineering and product marketing, Greenliant Systems. "mSATA ArmourDrive gives customers the features and benefits of NANDrive, including technical and long-term support, in a removable, small form factor."
Availability
Greenliant is currently sampling GLS86FB 8, 16, 32 and 64 GByte industrial temperature MLC and GLS86FA 8, 16 and 32 GByte industrial grade SLC mSATA ArmourDrive products.
Last updated: Apr 7, 2020 at 12:08 pm CDT