Galaxy Microsystems, a leading manufacturer of high end NVIDIA graphics cards, announced today the GeForce GTX 770 HOF Edition 2GB, an engineering marvel with unrivalled speeds, brilliant custom white PCB and matching white triple fan cooler. HOF, or Hall of Fame edition cards from Galaxy have overclock optimized designs built with the highest grade components available, and their GPUs are specially selected from the best of the best for the highest factory OC possible.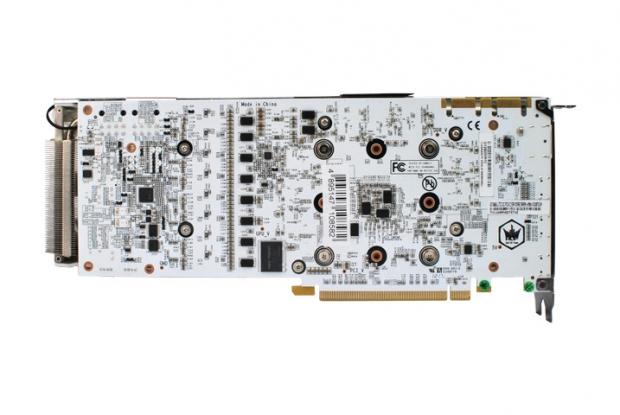 The Galaxy GTX 770 HOF has the fastest core clock of any GTX 770 in the world, but the in-house designed custom PCB is one of its most impressive attributes. The new design includes a premium digital PWM controller, 8 + 2 phase power supply for more stable current and higher overclock potential, and top grade POSCAP and MLCC capacitors for longer life under heavy load. IR DirectFET MOSFETs offer superior cooling and EMI, high quality shielded inductors maintain cleaner signal and eliminate coil whine, and voltage read points allow hardcore overclockers to monitor their card directly using a their own multimeter.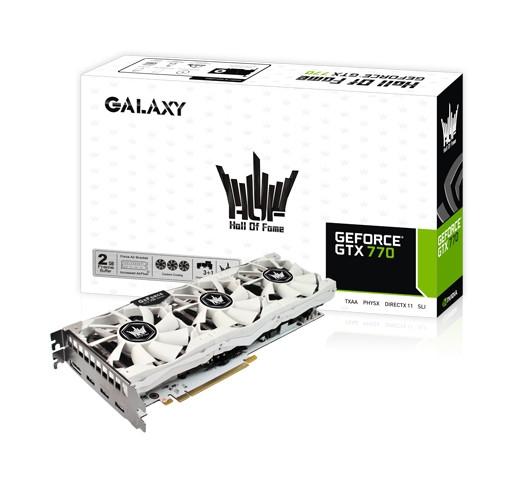 In order to quietly and sufficiently dissipate heat, a graphics card with record breaking clock speeds needs the most effective cooling possible, and the GTX 770 HOF has exactly that. The triple fan cooler has a grand total of five nickel plated heat pipes to move heat efficiently across the massive surface area of its extended length fan sink with aluminum fins. The Galaxy Force Air Bracket with full length vent ensures as much heat as possible is exhausted from the case to help prevent recirculation and keep ambient temps cool..
Last updated: Apr 7, 2020 at 12:08 pm CDT