Japanese cooling expert Scythe expands its wide variety of PC accessories by a brand new card reader. Scythe's new 5-in-1 card reader supports all common media standards and comes with the extremely fast USB 3.0 interface. Thanks to the USB 3.0 port in the front of Scythe Kama Reader USB 3.0, users are able to utilize the full speed of externally connected devices such as USB sticks and Hard Drives.
The biggest advantage of the USB 3.0 interface is the high speed it allows. Compared to the USB 2.0 standard, storage media can surpass the limitations and finally unleash the real potential thanks to USB 3.0. Most USB 2.0 card reader were limiting the read and write speed to approximately 30 Megabyte per second, although the theoretical transfer-rates are often labeled with 60 Megabyte per second. USB 3,0 on the other hand allows theoretical transfer-rates above 600 MB/s, which pushes the limit higher, allowing really fast transfer of files.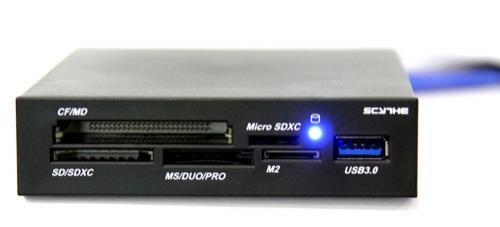 Kama Reader USB 3.0 combines all the features in a very compact chassis, measuring 102 x 25 x 123 mm (4.02 x 0.99 x 4.84 inch) and fitting into a commonly used 3,5 inch bay (8,89 cm). Both the card reader and the external USB 3,0 port are using the USB 3.0 interface, thanks to which only one 19-pin USB 3.0 header-pin connector needs to be plugged into the motherboard.
Scythe Kama Reader USB 3.0 supports a big variety of media formats such as CompactFlash, Microdrive (SD/SDHC/SDXC), Memory Stick (PRO, ROM, Duo, PRO Duo), MicroSD (SDHC, SDXC) and Memory Stick Micro. When using an adapter, which is not included, it is possible to connect even further media formats such as Mini-SD, Mini SDHC, MMC-Micro and RS-MMC! Kama Reader USB 3.0 is supplied with screws required for mounting into a 3,5 inch bay (8,89 cm) and a multi-lingual manual.
As of today, users are able to order the new Scythe Kama Reader USB 3.0 (SCKMRD3). Manufacturer's suggested retail price is set at 18,00 EUR (excl. Taxes).
Last updated: Apr 7, 2020 at 12:08 pm CDT